Military working dogs are among the world's most elite four legged warriors. Serving side by side with U.S. troops since World War II these brave animals have saved thousands of lives and earned their stripes by performing as critical military assets. But before they ever patrol a base or go on a combat mission they must meet the very high standards of military dogs.
These are 11 steps to turning a puppy into a badass military working dog:
1. Breeding Procurement
The Department of Defense acquires puppies from breeders overseas as well as in the United States, but many now come from DoD's own military working dog breeding program at Lackland Air Force base in San Antonio, Texas. Established in 1998, the DoD's state of the art whelping facility has dedicated "puppy development specialists" who take care of them until they are about 8-10 weeks old.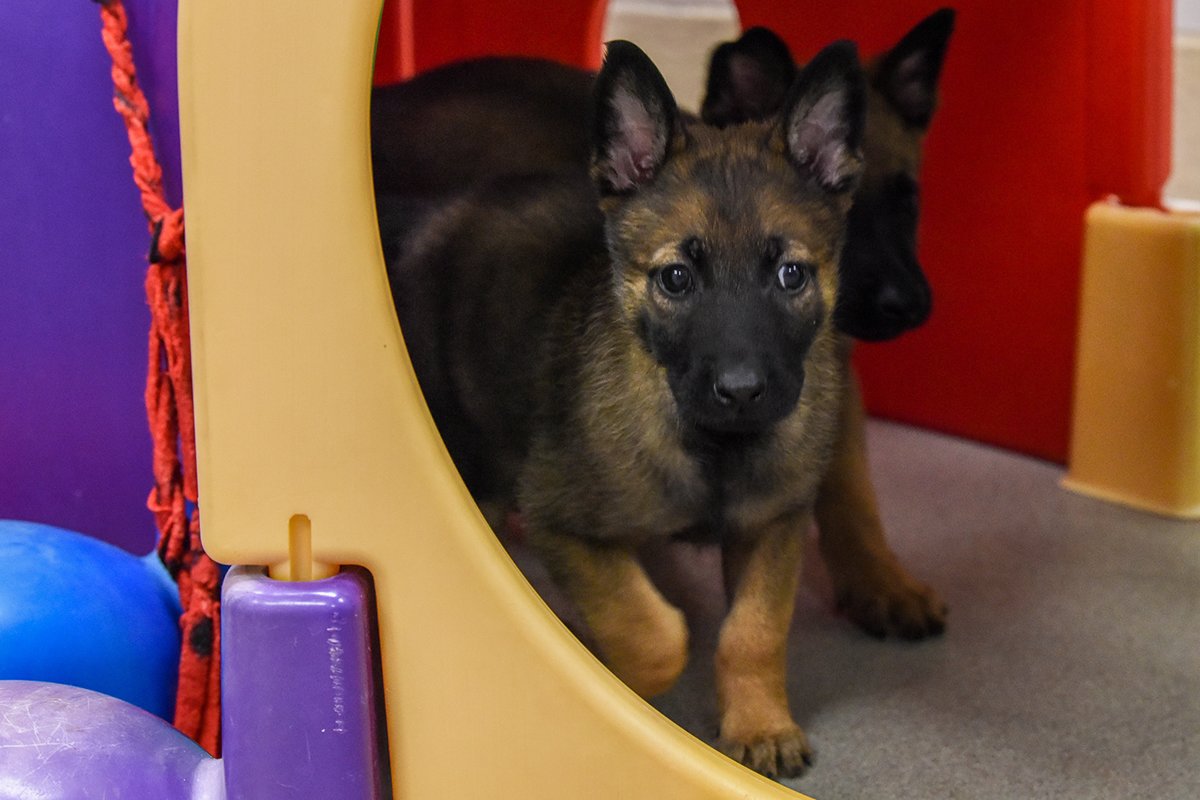 2. Fostering Program
If you live within two hours of Lackland and meet certain requirements you could qualify to foster a future K9 hero. The foster program allows the dogs to have a normal puppyhood by being exposed to different environments and become socially sound. Volunteer foster families take great pride in raising the puppies, like the one pictured above. See if you qualify to foster a puppy by clicking here.
3. Selection Evaluation
The dog will return to Lackland when he or she is around 7 months old and go through puppy training. In the same way civilians must be screened by military recruiters to see if they are a fit for the armed services, the puppies are evaluated to see if they display the attributes needed of military working dogs. If they don't get selected to move on they may still qualify to be used at another agency or they will be adopted out.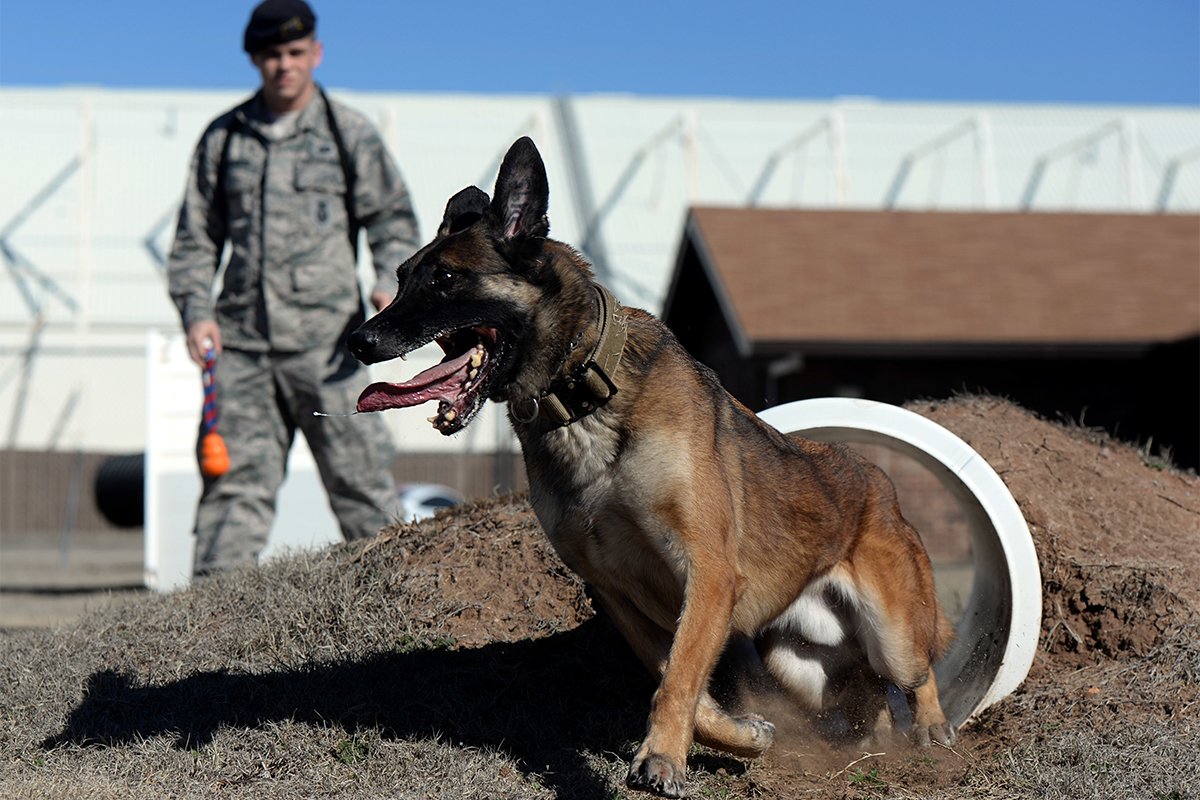 4. Dog Training School
The few dogs selected go to Dog Training School, the military working dog boot camp. The dog trainers at DTS are experienced handlers from all military branches, and for many it's a dream job to get assigned there. The entire mission of DTS is to train and certify dogs in the fundamentals of being an MWD. Each dog is different but typically they will be at DTS anywhere from 4 – 7 months. The head trainers will then assess the dog's ability in detection and patrol work. Even here dogs can fail and wash out of the program. Some wash outs become training dogs for brand new handlers going through basic handlers course. The dogs who pass earn the coveted title of military working dog — but they are still not mission-ready.
5. Base assignment
Each newly-minted MWD will get orders to a kennels at a U.S. military base around the world. Normally, a MWD will work his or her entire career at one base.
6. Handler assigned
Every kennel in the military has a kennel master in charge of all operations of the unit. Once a new MWD arrives the kennel master will assign a handler. Now the MWD has finally been partnered with their first MWD handler, and the real training begins.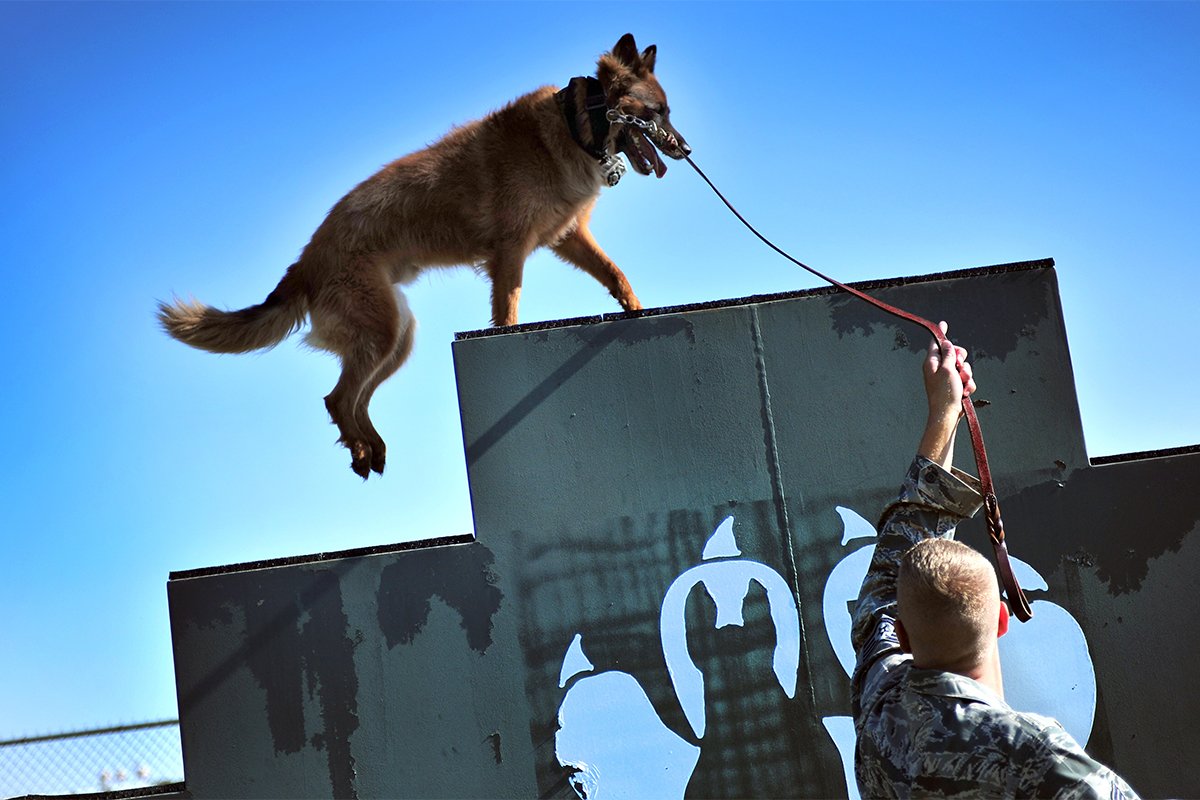 7. Obedience Training
Simply because a handler and MWD are assigned to each other does not mean they can function as a team yet by any means. The dog needs to learn to trust and respect the handler, and that starts with obedience training — the foundation of all good MWD teams. Handlers give basic obedience commands followed by lots of praise, and the team starts to create trust, mutual respect, and an overall bond.
8. Patrol Training
MWD's have an innate drive to pursue (and bite) bad guys. Once a dog team has established a foundation of trust, allowing the MWD to do patrol training helps strengthen that trust while also creating in the MWD a sense of protection over the handler, and it keeps the MWD's morale high.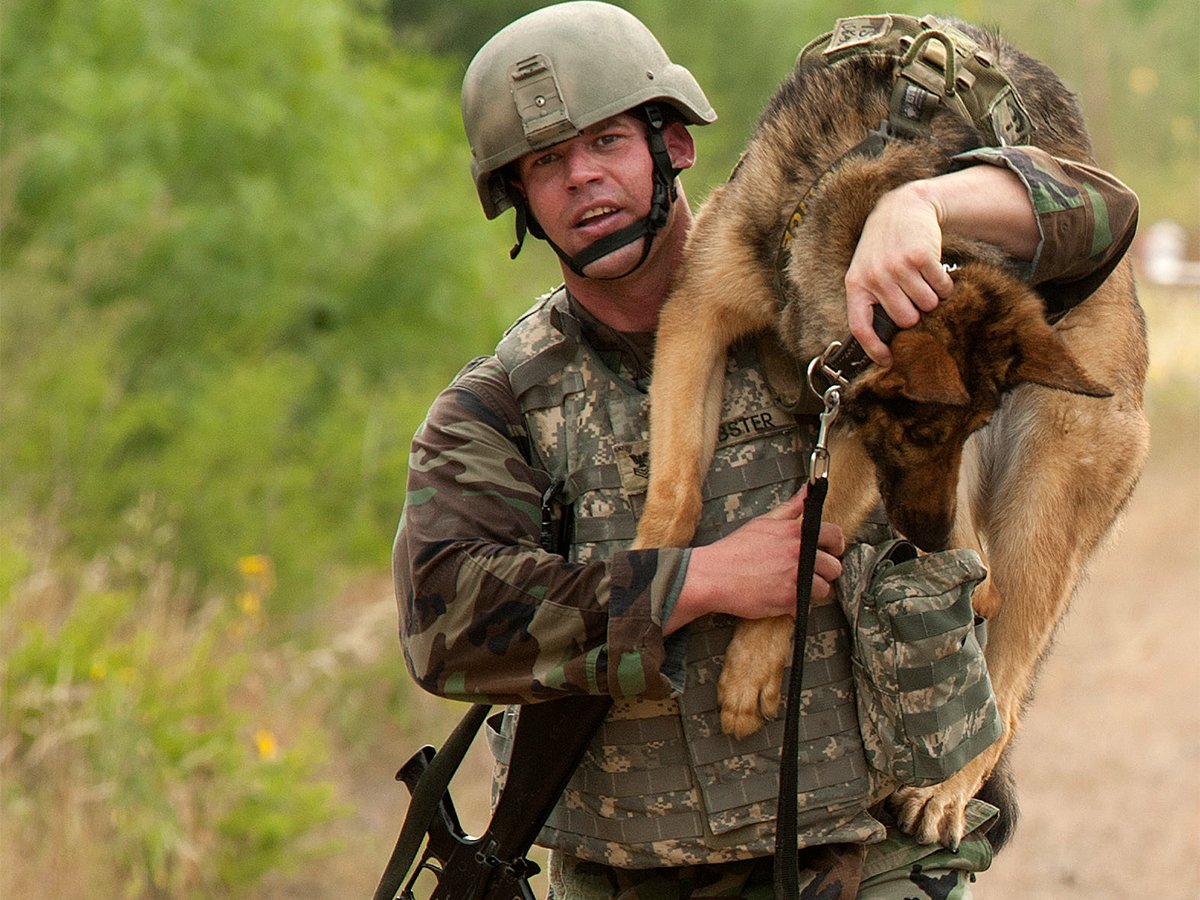 9. Detection Training
While a few MWD's won't be certified in patrol, every MWD must be certified in detection as it is the primary mission of an MWD team. A dog's nose can detect up to 10,000 – 100,000 times better than a human's, they just need guidance on how to properly maximize their gifted olfactory skills. While each MWD is trained to detect either explosives or narcotics by the time they graduate DTS, handlers must train with them to learn each dog's specific behavior when they pick up a scent.
10. Train, Train, Train
Every single day dog teams must train. Whether it's patrol work, detection, or simple obedience they must develop an unbreakable bond in which they fully trust one another with their lives. In order for a dog team to work efficiently they must both be good, not one or the other. In the same way an infantryman must know his weapon inside and out and maintain it every single day, a handler must train, groom, and know everything about his or her MWD. Once the kennel master feels confident the team can work effectively together, an official MWD team certification is scheduled.
11. Dog team certification
To be certified as an official MWD team and granted authority to operate as one, the kennel master puts together a real-life detection training scenario that involves all of the odors the MWD is trained to detect. The commanding officer of the unit must be present and personally witness the MWD team successfully locate every odor. Once complete, they become an official military working dog team. And any handler will tell you that handling a military working dog is not only a tremendous responsibility but also a lifetime honor.
This article was originally posted on April 8, 2022, by We Are The Mighty. Follow We Are The Mighty on Facebook.
Read Next: