Detectives in Washington arrested a career criminal in connection with a cop who was shot multiple times and then run over by the gunman as he fled in a Mini Cooper.
Everett Police Department Officer Dan Rocha, 41, joins a list of six other law enforcement officers who were killed in the line of duty in late March and early April nationwide, according to the Officer Down Memorial Page.
By Tuesday, April 5, officials reported that 91 officers had lost their lives while on duty in 2022. That's down 34% compared to the same time last year.
Daniel Rocha
Detectives believe career con Richard James Rotter gunned down Everett Police Department Officer Daniel Rocha, 41, while the cop was probing reports of a suspicious person around 2:15 p.m. on March 25.
Detectives said Rocha met up with Rotter, 50, in the parking lot of a Starbucks coffee shop. Video footage captured on a cell phone showed that a struggle ensued. Both men fell to the ground, but Rotter fired a handgun multiple times, striking Rocha in the head. Rotter then allegedly hopped into his dark blue Mini Cooper, threw it into reverse, and ran over Rocha's body.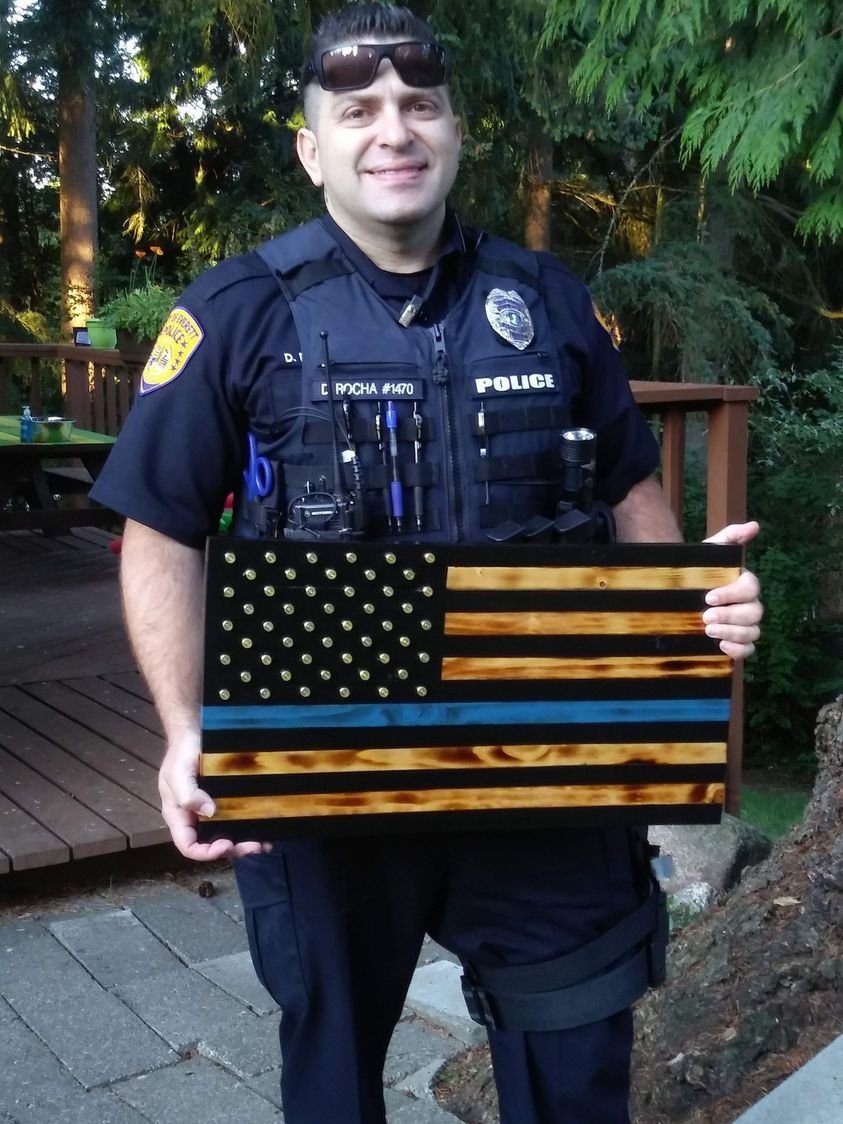 Authorities said Rotter fled the scene, pursued by other officers in police cruisers. The chase ended in a multivehicle pileup at the intersection of 35th Street and Rucker Avenue in Everett, roughly two miles away from the scene of Rocha's death. Rotter was then taken into custody without further incident. He was treated in a nearby hospital and released to officers, who booked him into the Snohomish County Jail.
Although Rotter's bail was initially set at $5 million for two charges — unlawful possession of a firearm in the second degree and murder in the first degree — a court order bars his release on the third charge, murder with a firearm of a police officer, according to jail records.
Kennewick Police Commander Aaron Clem said Rotter had been arrested 51 times, including collars for 18 separate felonies. Most recently, he was a wanted fugitive following a July 2 hit-and-run incident and a July 7 domestic violence accusation in Benton County.
But his rap sheet is far more extensive than that. Records obtained by Coffee or Die Magazine revealed 350 encounters with law enforcement over the past 25 years, including multiple convictions for attempting to elude law enforcement.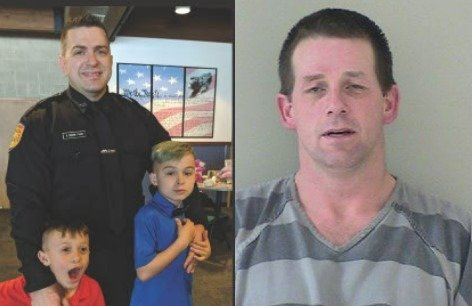 Rocha's death is being investigated by the Snohomish County Multiple Agency Response Team.
During the Monday service at Everett's Angel of the Winds Arena, Rocha's stepfather, Michael Henry, told mourners that, when he first learned of the officer's death, he figured it was a case of wrong place, wrong time.
"Upon further reflection, I knew that Dan would say he was in the perfect place at the perfect time to do what he does: serve and protect and make a better world for his kids," Henry said.
During the service, Everett police officers placed a fourth streamer on the department's colors, honoring Rocha as the fourth officer in the force's history to die in the line of duty.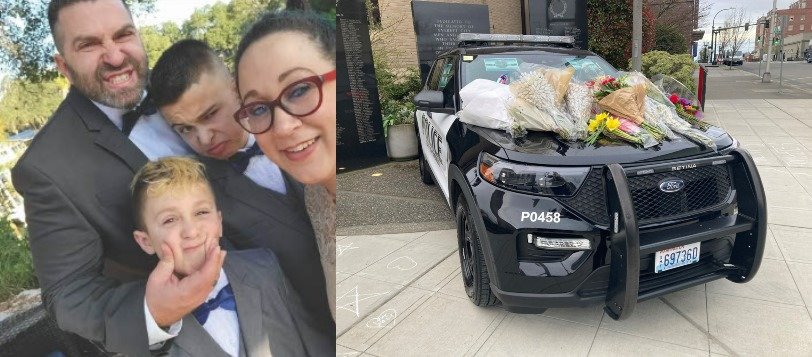 Everett Police Chief Dan Templeman said the outpouring of support from citizens had overwhelmed him.
"Every day a police officer puts on their uniform and goes to work, they and their families know the inherent dangers and risks that are associated with our profession," Templeman said. "But there is nothing, I mean nothing, that can prepare a family or department or community for loss as devastating as this."
Rocha moved to Everett from Las Vegas in 2011. Last year, he and his family moved again to the Snohomish County community of Stanwood. He'd served with the Everett Police Department since 2017, beginning as a parking enforcement officer.
Rocha's brother-in-law, Matt Nicholas, told mourners that the parking enforcement gig sounded "boring," but the officer "did his best. And he worked hard."
Rocha received a full commission as a sworn officer in Everett in 2018 and served as a dayshift patrol officer.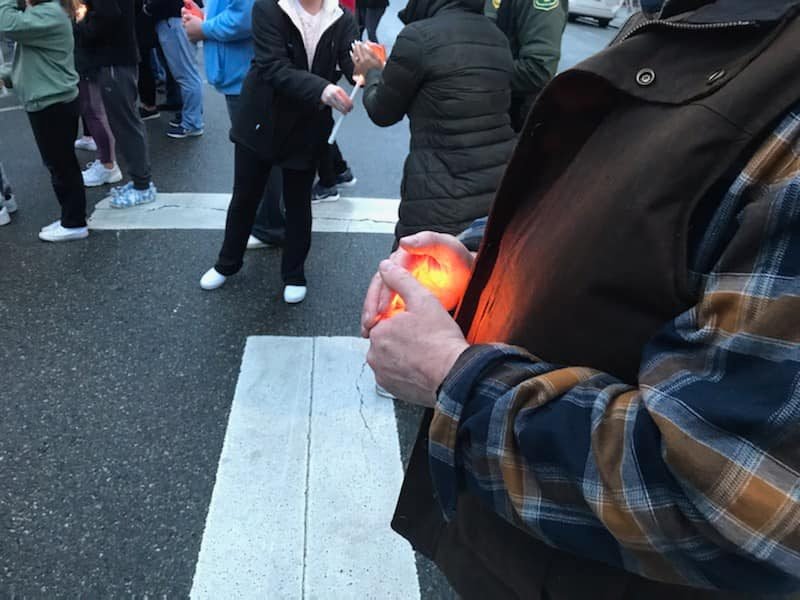 "Dan always wanted to matter," Henry said. "He had a singular dedication to becoming a police officer."
Templeman said Rocha had a way of making the people he encountered feel like they were old friends and like they were important, "like you were the only one who mattered."
"When you think about community policing, and what it means to be a true community police officer, we think of Dan, who is kind and approachable and not afraid to strike up a conversation with someone he'd never met before," Templeman said.
Templeman recalled a neighbor who'd called the police department to report a chair stolen from her front porch. Rocha could've fobbed off the minor incident to the department's online reporting system, but he took the dispatch and told her that he was going to treat her as if his own mother had phoned in the call.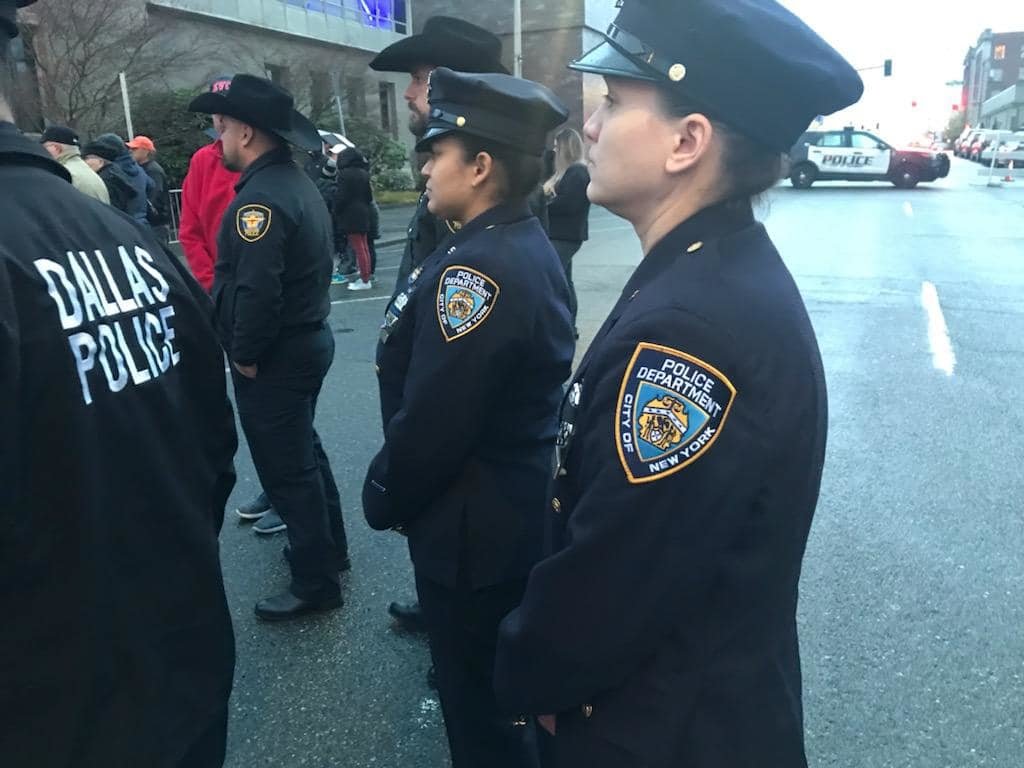 "This made her feel so special," Templeman said. "Like she was all that mattered to Dan in that moment."
Rocha was born July 6, 1980, in Santa Barbara, California, to Charlie and Melanie Rocha.
Officer Rocha is survived by his wife, Kelli; their two sons, Thomas and Harrison; his father, Charlie Rocha; his stepfather, Michael Henry; and his sisters, Morgen Henry and Rae Ann Hismiogullari.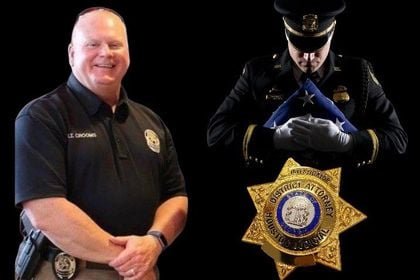 Donald Richard Crooms
A March 30 car collision in Georgia killed Houston County District Attorney's Office Investigator Donald Crooms, 56.
The Houston County Sheriff's Office is probing the accident, which authorities say occurred in Warner Robins. Investigators believe an oncoming vehicle driven by 27-year-old Kandace Jackson crossed the centerline of the roadway and collided with Crooms' vehicle, which then struck a third vehicle.
Crooms had served the Houston County District Attorney's Office for two years, part of a law enforcement career that began 36 years ago and included a quarter-century as a Bibb County Sheriff's deputy, from which he retired as a senior lieutenant.
In Bibb County, he worked on the Driving Under the Influence task force and the Special Weapons and Tactics team. He was the assistant commander of the Middle Georgia Drug Task Force and the department's training division and led the sheriff's patrol deputies.
He also trained future cops as an instructor for the Georgia Public Safety Training Center. His official obituary remembered Crooms as a "true 'Brother in Blue'" who also loved Auburn University football, camping, riding motorcycles, and fishing.
Acting DA Will Kendall said Crooms had been a kind professional who set the standard for other law enforcement officers to follow.
"Richard was an asset to this office and the people of Houston County," Kendall said in a prepared statement. "He had helped train and mentor hundreds of law enforcement officers throughout his life."
Crooms was born on April 27, 1965, in Dublin, Georgia, to Mary Frances Crooms (née Lumley) and Benny David Crooms.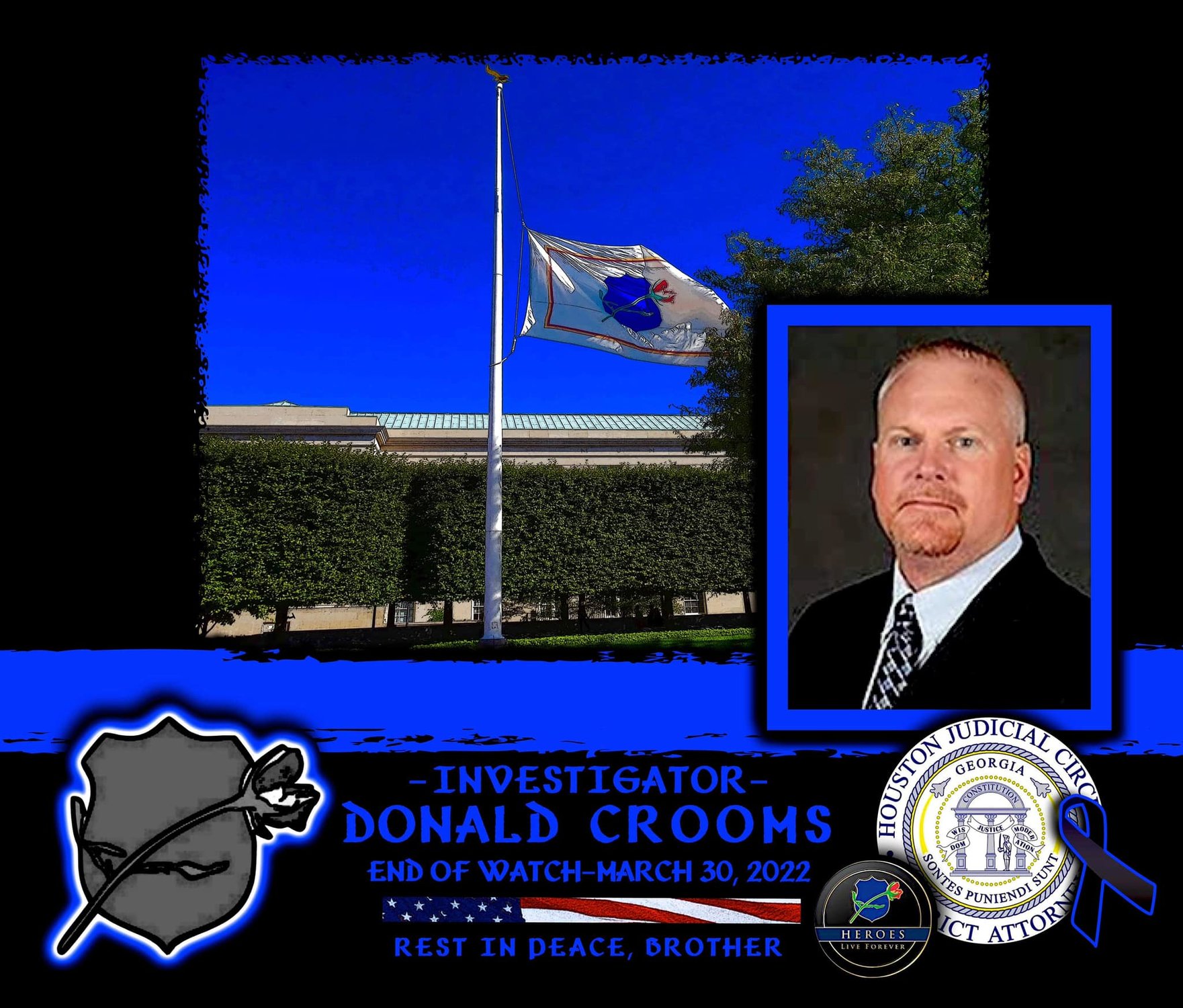 Police Sgt. Tim Gray told mourners at Crooms' Monday service at Southside Baptist Church that the deceased investigator never had an acquaintance. Gray said Crooms had liked to tell everyone, "I just have friends."
Gray met Crooms two decades ago. Crooms responded to a call reporting Gray being shot with a pellet gun.
"And from there … a friendship grew from two strangers meeting," Gray said. "If you met Richard, you had a friend."
When Gray had a bad day, he'd "go talk to Richard, and I guarantee, your day would get a whole lot better."
"That's just how Richard was," Gray said. "Anyone that had any kind of dealings with Richard, you couldn't help but like him; he just had that personality. Always smiling, always a great personality."
Crooms was preceded in death by his father. He is survived by his mother; his wife, Julie Marrett Crooms; his children, Kelly Crooms, Christopher Crooms, Brandon Crooms, Sarah Crooms, and Christopher Smith; and his brother, Benny "Raymond" Crooms.
He was buried at Bonaire Community Cemetery.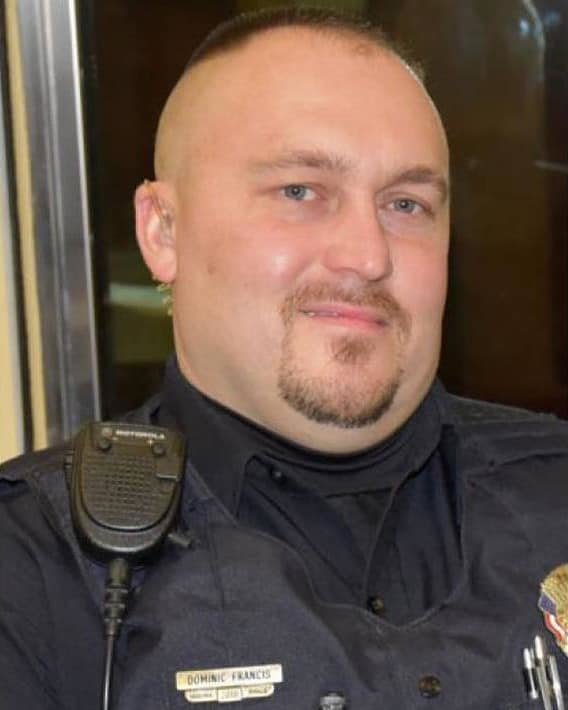 Dominic Francis
Early on March 31, Bluffton Police Department Police Officer Dominic Francis was deploying tire-shredding spike strips on Interstate 75 in Ohio when the vehicle he wanted to stop hit him at roughly 130 mph, killing him.
Francis was 42.
Ohio State Highway Patrol troopers began chasing a black Infinity sedan after it bolted from a traffic stop on State Route 15. Delaware County Sheriff's deputies also tried to pull the car over and failed.
The Infinity's three passengers — Zachary Love, 21; Emin Johnson, 20; and Dante Tate, 19 — ran from the crash site. After a 10-hour manhunt, law enforcement officers captured all three of them.
Love and Johnson remain in the Hancock County Jail while Tate is incarcerated in the Medina County Jail.
Visibly shaking, Bluffton Police Chief Ryan Burkholder told reporters on March 31 that his department had "lost a hero" when Francis died.
"He is an outstanding police officer. His heart was big. He had a heart of gold. He will be sorely missed," Burkholder said.
The Bluffton Police Department employs nine full-time and five part-time officers. It had not lost an officer since the 1920s, according to the department.
Francis had served in law enforcement for 19 years, 11 of them with the Bluffton department, where he was named officer of the year in 2018. He previously served the Findlay Police Department and the Hancock County Sheriff's Office.

According to his official obituary, Francis was a captain for the Southwestern Hancock Joint Fire District. He also worked as a football and strength and conditioning coach, substitute teacher, and bus driver for the Cory-Rawson High School.
Francis was born Aug. 9, 1979, in Bluffton to Robert Francis and Vicky Francis (née Bratcher).
He is survived by his parents; wife, Ricki (née Davis); son, Blake; daughter, Taylor; and sister, Chase.
His funeral service is slated for Friday at the Sommer Center at Bluffton University, with the burial to follow in Clymer Cemetery.
William D. Lebo
Detectives suspect a mentally disturbed Pennsylvania man shot and killed Lebanon City Police Lt. William Lebo on March 31 shortly after the officer responded to a domestic disturbance call.
Prosecutors say 34-year-old Travis Shaud had broken into his family's home and barricaded himself inside. When Lebo and three other cops pulled up, Shaud opened fire, hitting Lebo and two other officers, Ryan Adams, 32, and Derek Underkoffler, 32.
The officers returned fire. Authorities later found Shaud inside the home, dead.
First responders transported Lebo to a nearby hospital, where he was pronounced dead. He was 63 and had served the Lebanon City Police Department for four decades. He was slated to retire on May 1.
"The Lebanon City Police Department acted with utter bravery and every officer deserves to be commended for the fearless actions undertaken yesterday," Lebanon County District Attorney Pier Hess Graff said in a social media post.
Officials promoted Lebo to lieutenant in 2012 and tasked him with leading the department's patrol platoons.
Lebo enjoyed traveling, golfing, and India pale ales, and he was a member of the Antique Automobile Club of America, according to his obituary.
"Even though it was not obvious, he was hysterically funny," his obituary stated. "Everyone who loves him will have a hole in their heart forever."
Lebo was born May 22, 1958, to US Army soldier Sterling "Bud" Lebo and Onorina "Rina" Lebo in Vicenza, Italy.
He is preceded in death by his father and by his sister, Patricia Lebo. He is survived by his mother; wife, Lora; daughter, Corinne; and brothers, Richard and Jerry.
A celebration-of-life service is slated for Friday at the Giant Center in Hershey.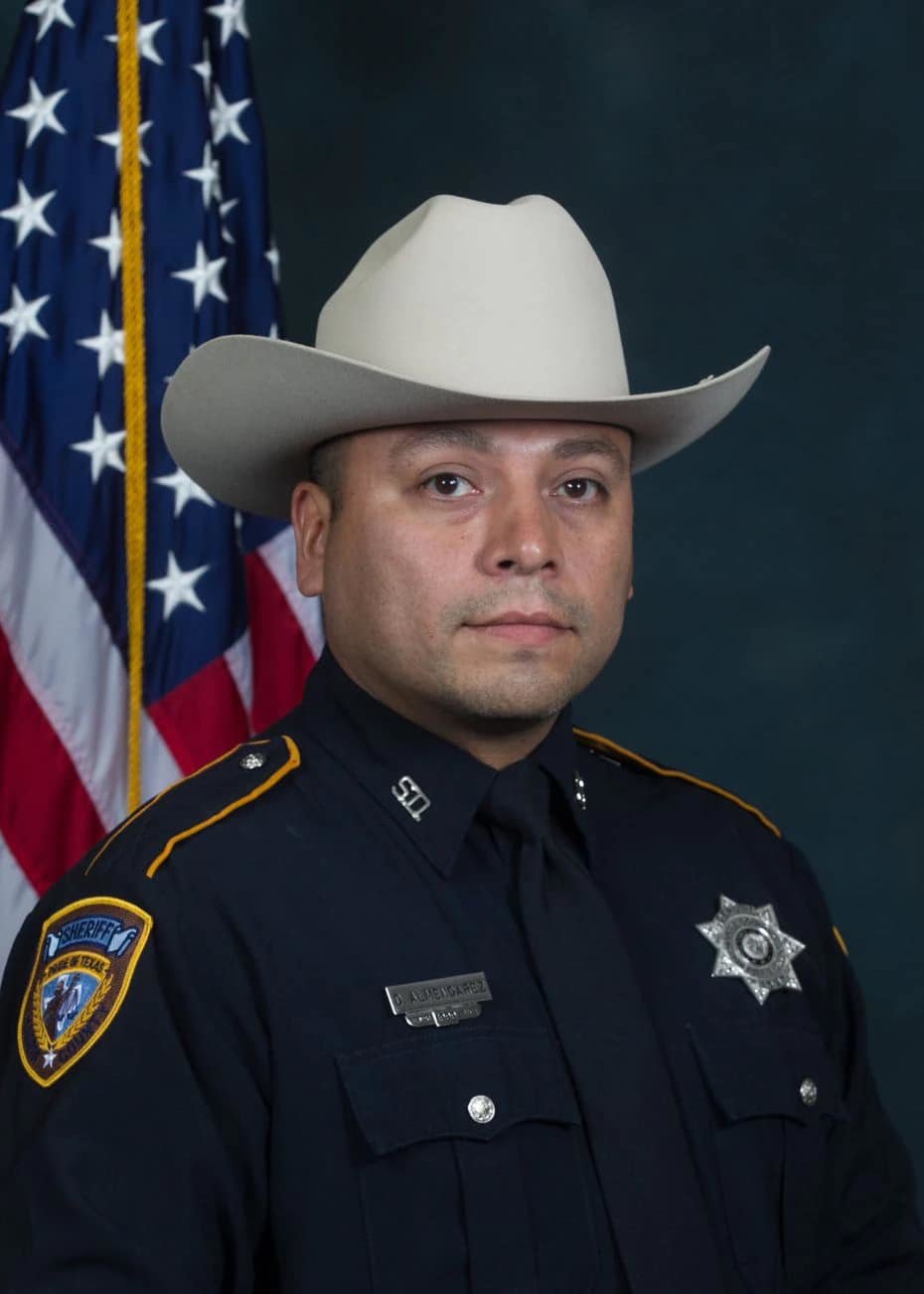 Darren Almendarez
Harris County Sheriff's Deputy Darren Almendarez died after being shot March 31 while trying to stop three men from stealing a catalytic converter in a Houston grocery store's parking lot.
He was 51.
Officials at the Harris County Sheriff's Office said the off-duty Almendarez and his wife had been walking in the parking lot of the Joe V's Smart Shop at 2929 FM 1960 in Houston when he saw a black Nissan Altima sedan backed up to his truck. The deputy noticed three men working under the truck, trying to pry off the catalytic converter.
Almendarez urged his wife to seek safety before he allegedly confronted the men, who were later identified as Fredrick Tardy, 17; Joshua Stewart, 23; and Fredarius Clark, 19. Investigators believe they shot Almendarez, but he returned fire, striking Stewart and Clark before the suspects fled the scene in the Altima.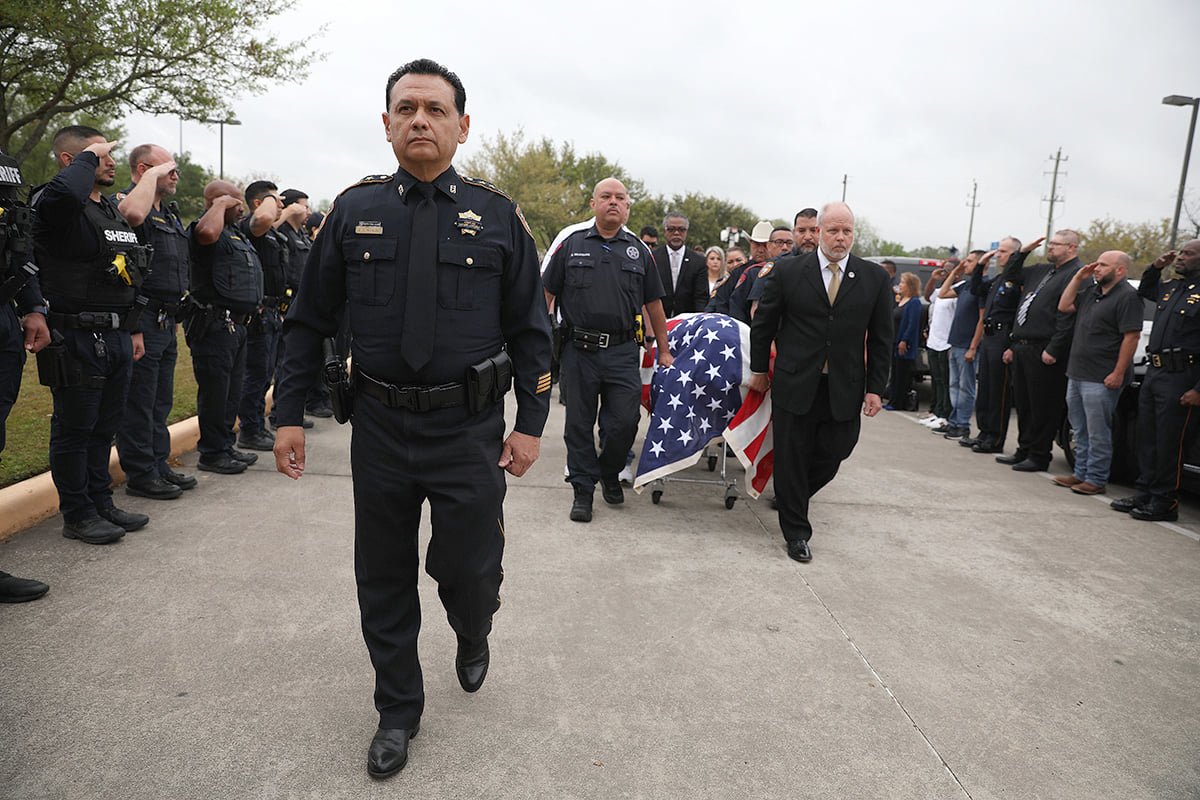 First responders rushed Almendarez to Houston Northwest Hospital, where he died. Authorities said Stewart and Clark also drove to the same hospital for treatment and were placed into custody.
Prosecutors charged the three suspects with capital murder. The Harris County Sheriff's Office Homicide and Crime Scene Units are leading the ongoing investigation.
Almendarez had served the Harris County Sheriff's Office for 23 years and was assigned to the Auto Theft Task Force.
Almendarez was born Aug. 15, 1970. He is survived by his wife.
His funeral service is slated for Friday at Houston's Humble First Assembly of God. Burial will follow at Brookside.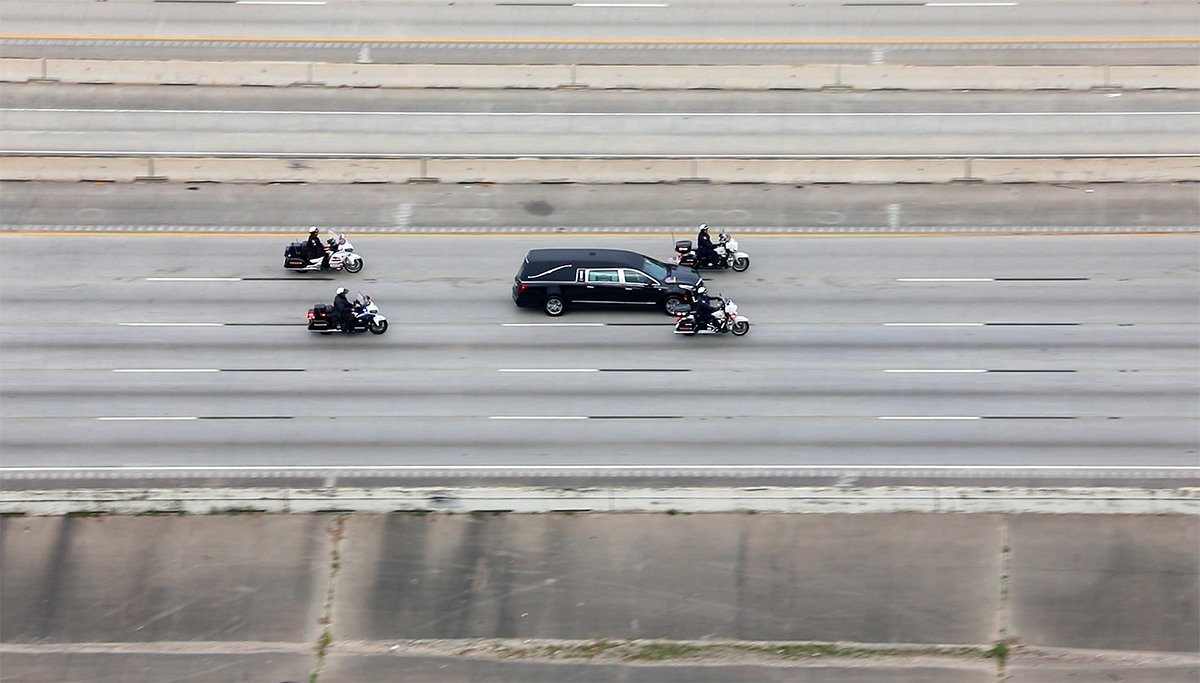 Jennifer Chavis
Authorities in Houston said a drunk driver of a Ford F-550 utility truck plowed into the patrol vehicle of Harris County Precinct 7 Deputy Constable Jennifer Chavis on Saturday, April 2, causing the deputy's SUV to erupt in flames.
First responders pronounced Chavis dead at the scene. She was 32.
Bystanders detained the suspected drunk driver, 36-year-old Adolfo Serrano, as he allegedly attempted to drive away from the crash. He remains incarcerated in the Harris County Jail on a $750,000 bond.
"It's people that are only thinking of themselves out there on the freeway, not thinking of others," Capt. Anthony McConnell of the Harris County Sheriff's Office Vehicular Crimes Division said during a press conference. "And tonight, we have a hero that died."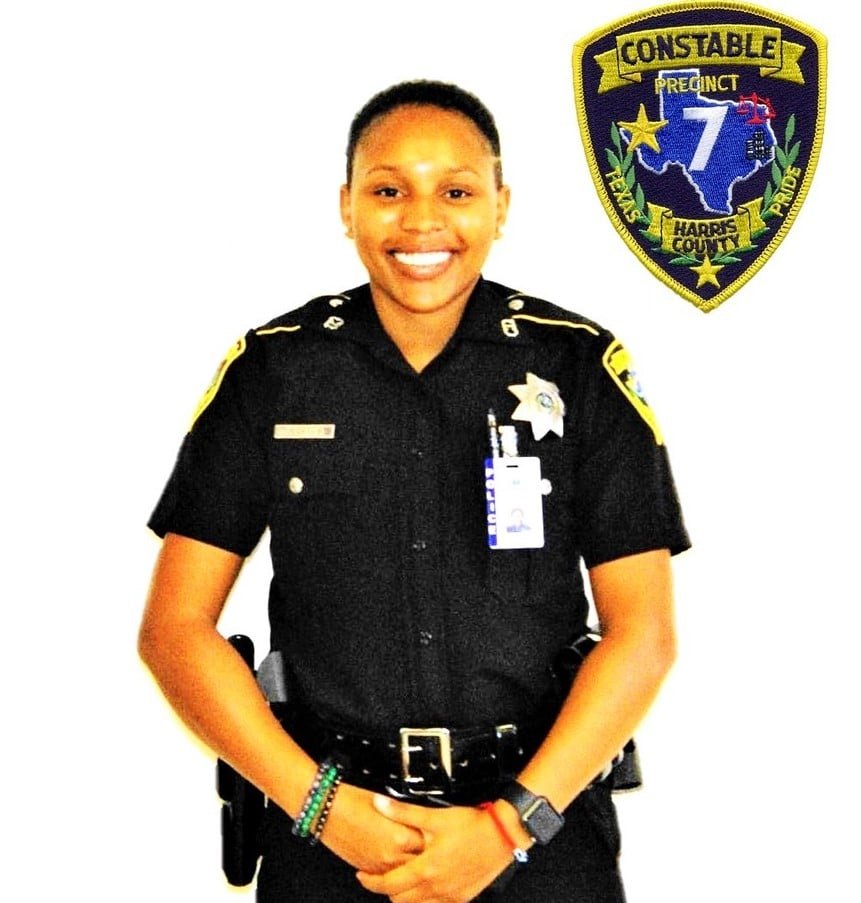 McConnell mentioned that every agency had a special unit tasked with getting drunk drivers off the streets. He thanked the bystanders who detained Serrano.
"My heart is hurting," McConnell said.
Chavis, a retired US Army soldier, was assigned to the Harris County Precinct 7 Constable Toll Road Division. She became a full-time sworn deputy in late 2020.
Chavis was born on May 4, 1989. She's survived by her husband; her 4-year-old son; and her 11-year-old nephew, whom she was raising.
Her funeral is slated for Wednesday at the Fountain of Praise Church, with burial to follow at the Liberty Cemetery in Liberty, Texas.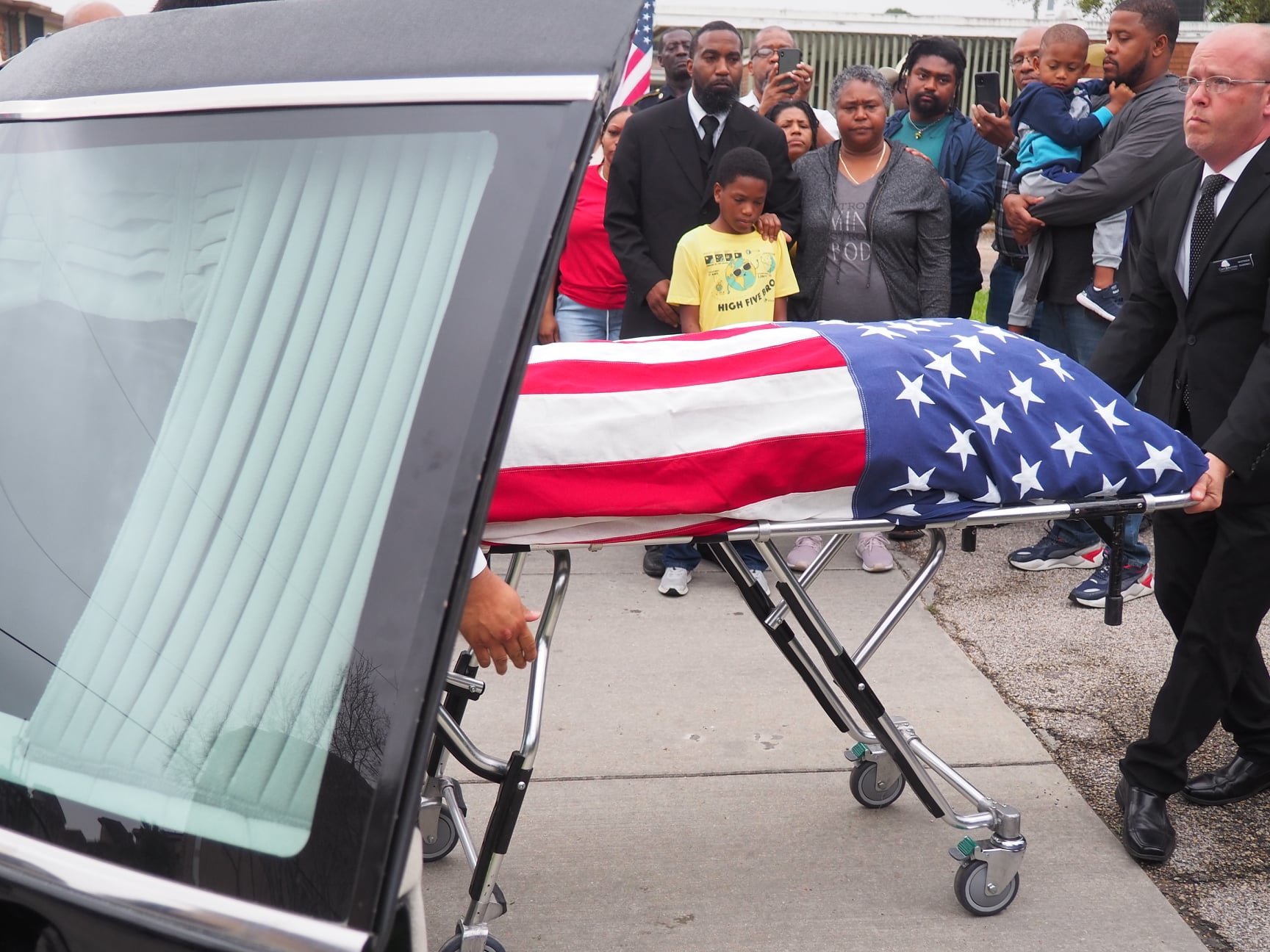 Trey Marshall Sutton
Henrico County Police Officer Trey Sutton died on March 31, the day after his police vehicle was hit by a pickup truck in Richmond, Virginia.
He was 24 and had graduated from the police academy in February of 2022.
Authorities said a southbound Dodge pickup truck had slammed into a vehicle that Sutton and his field-training officer, Greg Petrohovich, were using to transport a prisoner to the Henrico County Jail. Their marked police vehicle was then pushed into a third vehicle, according to Henrico Police investigators.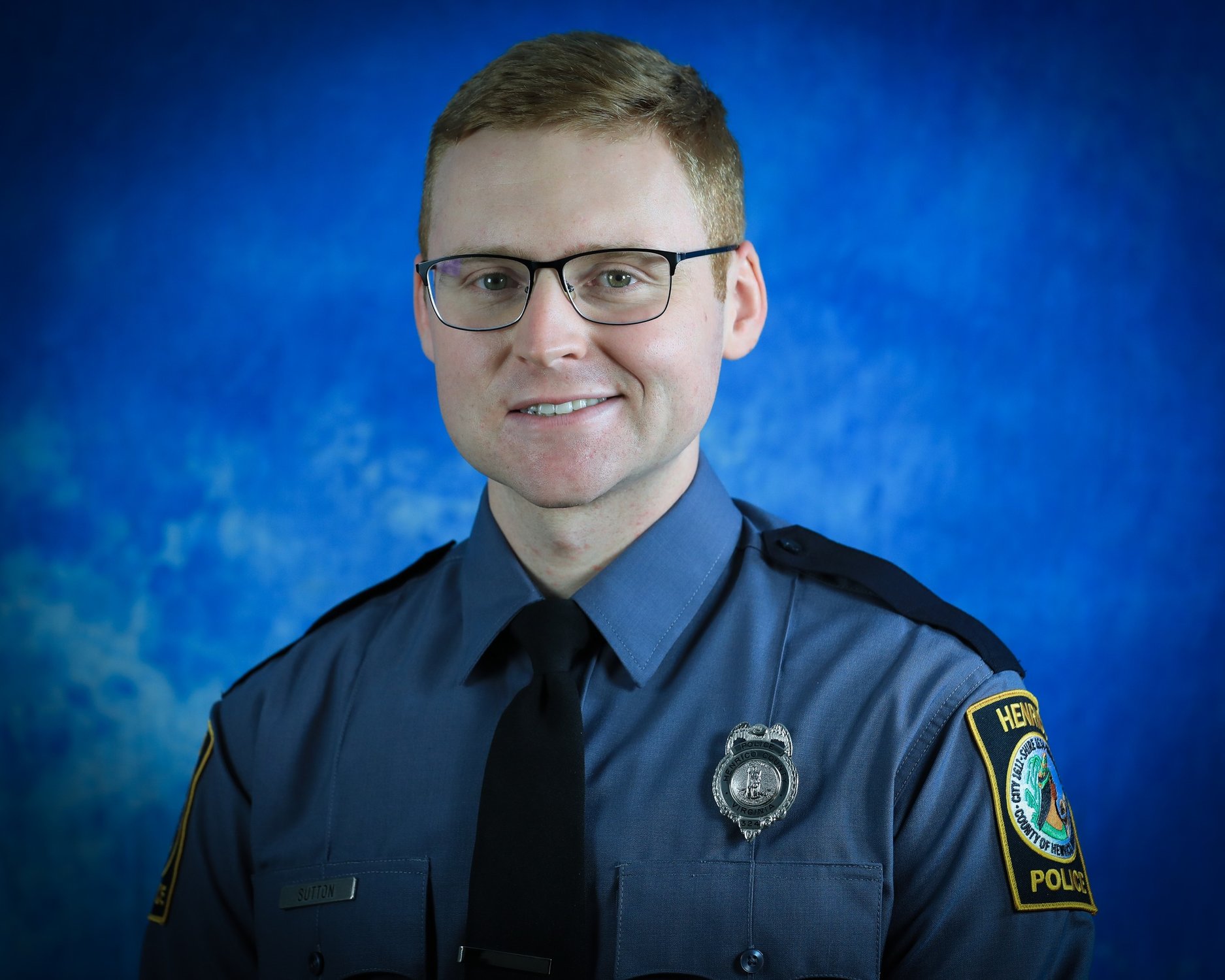 Officials said first responders had rushed four adult patients to area hospitals. One unnamed person was treated and released. The most serious injuries were to the three men in the police transport vehicle.
Sutton died the next day.
During Sutton's Wednesday funeral service at Victory Tabernacle Church of God in Midlothian, fellow Henrico County Police Officer Andrew Lehatto urged mourners to also remember Petrohovich as he recovers from his injuries.
"He is still fighting to get back to his wife, Iliza, his 18-month-old son, Marshall, and his soon-to-be second child, and the rest of his family," Lehatto said. "We have been very encouraged with the progress updates that we have been hearing and praying that he continues to improve."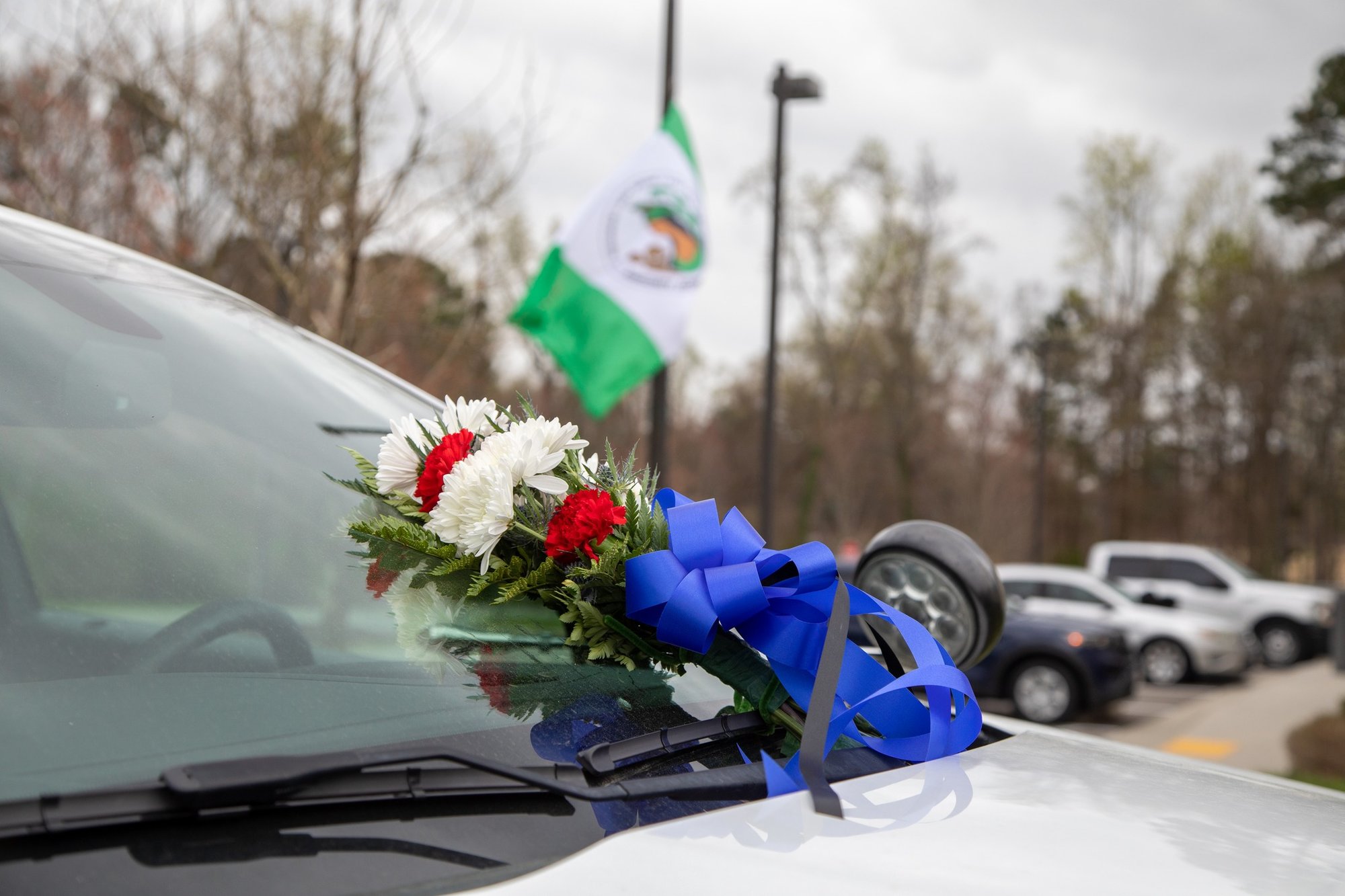 Lehatto read a letter from Sutton's parents, who wrote that a call from a doctor about their son changed their lives.
"Now he's surrounded by his family, friends, and whole community in a sea of law enforcement brothers and sisters," they wrote. "He would have given the world just to know a fraction of the people here today, experienced the tight bond that we see with police officers and to serve and help people."
Henrico Police Chief Eric English said during a March 31 press conference, "I know he was doing what he wanted to do."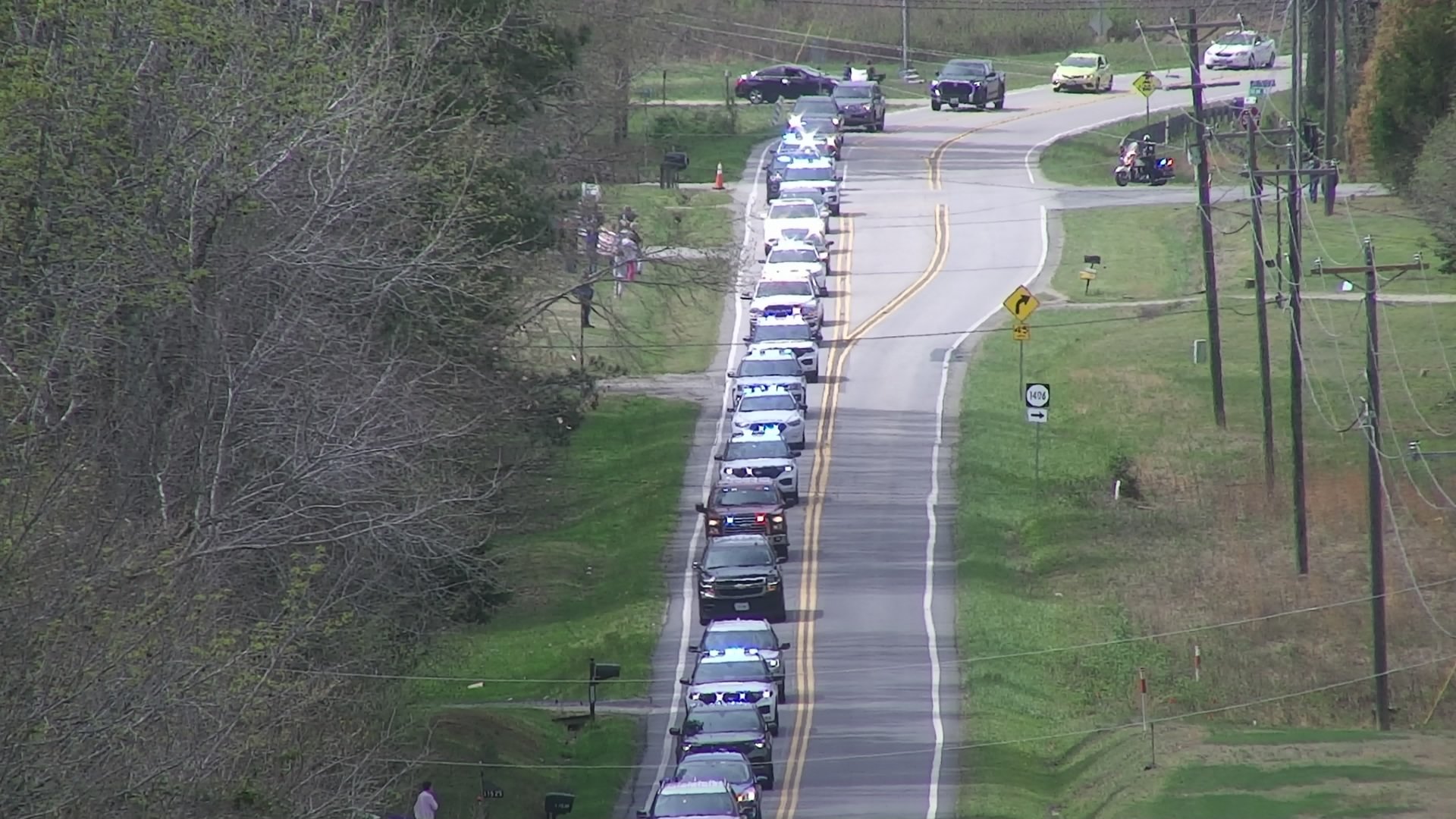 Sutton loved the Red Sox, the Patriots, hunting, golfing, and his Great Danes, Avery and Iris, according to his obituary.
Sutton was born March 19, 1998, to Duane Sutton and Carol Sutton.
He is survived by his parents; his fiancee, Zoe Pierson; and his brother, Jared.
Lehatto addressed Sutton's fiancee during the service to tell her, "Zoe, you were a part of our memory of Trey. We will always be here for you. We want you to stay in our life because that means that we still have a piece of Trey in our life. We are bonded through love for Trey."
Sutton was buried in Merchants Hope Memorial Gardens in Hopewell, Virginia.
Read Next: