Two suspects in the vandalism and burning of the Minneapolis Police Department's (MPD) 3rd Precinct headquarters on May 28 have been identified and arrested. The building was overrun and set on fire after police officers received the order to abandon their precinct, leaving it unprotected.
The arrests come after intense and thorough investigation involving the Bureau of Alcohol, Tobacco, Firearms and Explosives (ATF), the FBI, and several local and state law enforcement departments. Branden Michael Wolfe, a 23-year-old from St. Paul, Minnesota, and Dylan Shakespeare Robinson, a 22-year-old from Brainerd, Minnesota, were arrested on two separate dates, and both have been charged with one count of aiding and abetting arson.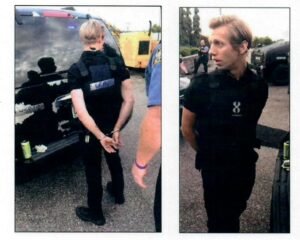 Wolfe was arrested on June 3 after police responded to a potential break-in at a home improvement store. According to the Department of Justice press release, Wolfe was a security guard for the store and had been fired earlier that day for referring to stolen 3rd Precinct items on social media posts. He later returned to the store and attempted to break in. Wolfe was still wearing various items stolen from MPD, including a police baton, body armor, and a police duty belt.
After his arrest, Wolfe admitted to being in the precinct during the time period it was set on fire, taking MPD property from the building, and pushing barrels into the fires to keep them burning. Wolfe identified himself in several witness photographs and videos showing him in front of the precinct holding various stolen items while the building was on fire in the background. When police searched his residence, they found a riot helmet, 9mm pistol magazine, police radio, and police-issue overdose kit.
Wolfe first appeared in court on June 9, and his trial is ongoing.
Robinson was arrested Sunday in Breckenridge, Colorado. According to an ATF press release, Robinson was identified in various Snapchat videos posted to his account. The press release also reported that in the videos, off-camera individuals were providing instructions to people appearing to craft Molotov cocktails. In the videos, Robinson can be heard saying, "These guys have never made a Molotov … Rookies," and "We need gasoline." He was also identified in a video setting a fire in a stairwell of the precinct.
U.S. Marshals, with FBI agents in support, took Robinson into custody. It is unclear why he was in Colorado at the time of his arrest. Robinson's trial is ongoing at this time.
The in-custody death of George Floyd, an unarmed black man, on May 25 in Minneapolis set off widespread civil unrest throughout the United States, including both peaceful protests and destructive rioting and looting. Law enforcement agencies have seen increased violence, and threats of disbanding entire departments. On June 16, President Donald Trump signed a new executive order implementing nationwide police reform.
The ATF has reached out on social media asking for the public's help in identifying those responsible for the arson in during Minneapolis protests.