Video shared online by Ukrainian officials shows a Tuesday, March 1, missile strike on a government building causing a fireball to erupt in Freedom Square in the city of Kharkiv, as Russia's invasion of the country entered its sixth day.
The advance on Ukraine's capital city remains largely unchanged over the past 24 hours, with a 40-mile convoy of Russian tanks and military vehicles stalled about 25 kilometers, or 15 miles, north of Kyiv, according to a senior US defense official, with "no appreciable movement from the Russians coming down from the north." The official also told reporters Tuesday that heavy fighting continues in Kharkiv, Ukraine's second-largest city with a population of around 1.4 million, and that the city "remains heavily contested."
The US defense official said the Pentagon believed that Russia has now committed 80% of its pre-staged invasion forces into Ukraine.
Local authorities said Tuesday's attack killed at least 10 civilians and injured dozens more. In addition to the government building, missile strikes hit an opera house, concert hall, and other buildings in Kharkiv's Freedom Square, which is among the largest city centers in Europe.
Ukrainian Minister of Foreign Affairs Dmytro Kuleba called the missile strikes "barbaric" in a tweet and said the "world can and must do more" to isolate Russia.
"Putin is unable to break Ukraine down," Kuleba wrote. "He commits more war crimes out of fury, murders innocent civilians."
Russian forces have targeted Kharkiv for days, and 16 people died before Tuesday's bombing, President Volodymyr Zelenskyy said. Around 90 apartment buildings have been damaged and some parts of the city are without electricity and water, according to local officials.
While logistical failures and dogged resistance from Ukrainian citizens have slowed Russia's advance, the sixth day of the Russian invasion has seen renewed attacks on multiple fronts. The southeastern port city of Mariupol has endured constant shelling, while Kherson, another southern port, appeared to be surrounded by Russian troops on Tuesday.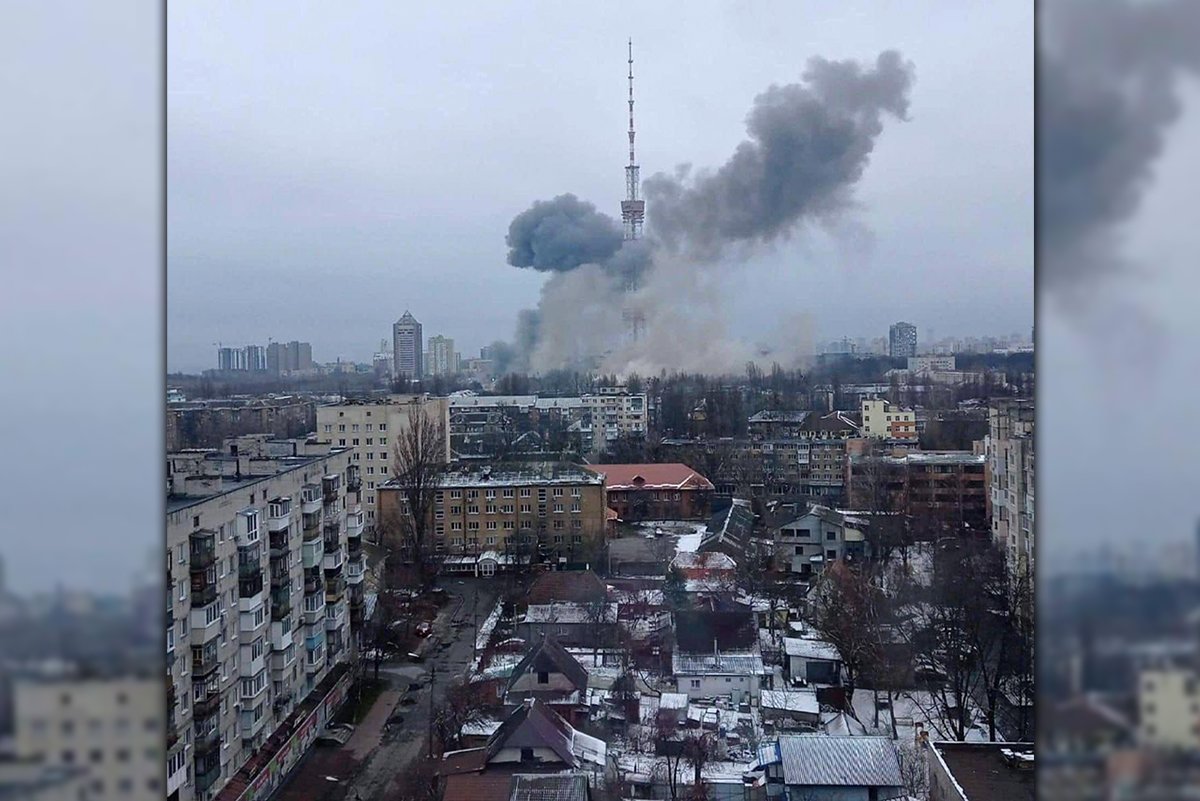 Video reported on by The New York Times shows Russian military vehicles in Kherson and Russian soldiers patrolling streets on foot. Local officials said two apartment buildings were destroyed by projectiles. Casualty figures were not immediately clear, but Kherson's mayor, Ihor Kolykhaiev, implored civilians to remain calm.
"Kherson was and will remain a Ukrainian city!" Kolykhaiev wrote on Facebook.
Satellite imagery appeared to show a 40-mile-long convoy of Russian military vehicles heading toward Kyiv this week, but the senior defense official told reporters Tuesday "the main advance on Kyiv basically remains where it was yesterday."
Russian forces have struck a TV tower in Kyiv, and Ukraine's Defense Ministry warned television channels would temporarily be unavailable.
US officials have counted more than 400 missiles fired by Russia since the invasion began, according to the defense official.
An official Ukrainian Twitter account posted that Belarusian troops had entered Ukraine, but Belarusian leader Alexander Lukashenko has denied those claims and the senior US defense official stressed that American authorities have not seen any evidence that Belarusian troops have joined Russia's invasion.
"No confirmation that Belarusian troops are entering Ukraine," the defense official said. "We've seen no indication of that."
Read Next: