KYIV, Ukraine — Aliona Guseva rose early on Sunday, June 26, to go stand-up paddleboarding. The Dnipro River remains off-limits to water sports due to the threat of Russian mines, so she planned on using a small inlet off the river in Kyiv's Obolon district. The day promised to be sunny and warm, a good day to be on the water and, Guseva hoped, to take a small mental break from the war.
She'd just woken up when multiple explosions destroyed the early morning calm. Windows rattled. Startled birds took flight. Moments later, plumes of smoke rose from a central, residential neighborhood, evidence of the worst attack against the capital city in weeks.
"The attack caught me just when I woke up. I heard an explosion in the distance," said Guseva, a 28-year-old public relations professional who stayed in Kyiv after the full-scale war began.
"I am not afraid of explosions, unfortunately, we have adapted to them here," Guseva told Coffee or Die Magazine. "But it is impossible to adapt to death and, in principle, to war."
Russian defense officials claimed their so-called precision missiles against Kyiv targeted a weapons factory. Contrary to the Kremlin's claim, the strike hit an apartment block in Kyiv's Shevchenkivskyi district, killing one person and wounding at least six others, city officials said. One nine-story apartment building was heavily damaged. A Russian missile also struck a kindergarten yard, which was empty at the time, leaving a massive crater in the earth.
Rescuers spent hours on Sunday pulling survivors from the rubble, including a 7-year-old girl who was seriously wounded. The girl's father was killed in the strike, according to Ukrainian news reports. Her mother, Ekaterina Volkova, who is a Russian citizen, survived after being pulled from the rubble by first responders.
"As usual, the strikes were conducted at night or in early morning for stronger psychological impact on the population," said Oleksiy Melnyk, co-director of Foreign Relations and International Security Programs at the Razumkov Centre, a Ukrainian think tank.
An April 28 Russian missile strike in the same Shevchenkivskyi neighborhood killed Vira Hyrych, a Ukrainian journalist from Radio Liberty. Russian missiles had not struck Kyiv since June 5. For her part, Guseva said the intermittent Russian missile strikes against Kyiv have actually hardened the civilian population's will to resist.
"I know that the Russians are doing this in order to intimidate us. For Kyivans to flee the city, for Kyivans to be afraid, and for Kyivans to pressure the government to negotiate and agree to Putin's terms," Guseva said. "But Kyivans know the price of victory. And we will not make concessions, in the same way as the residents of Kherson, Kharkiv, Mariupol, Lysychansk […] did not make them."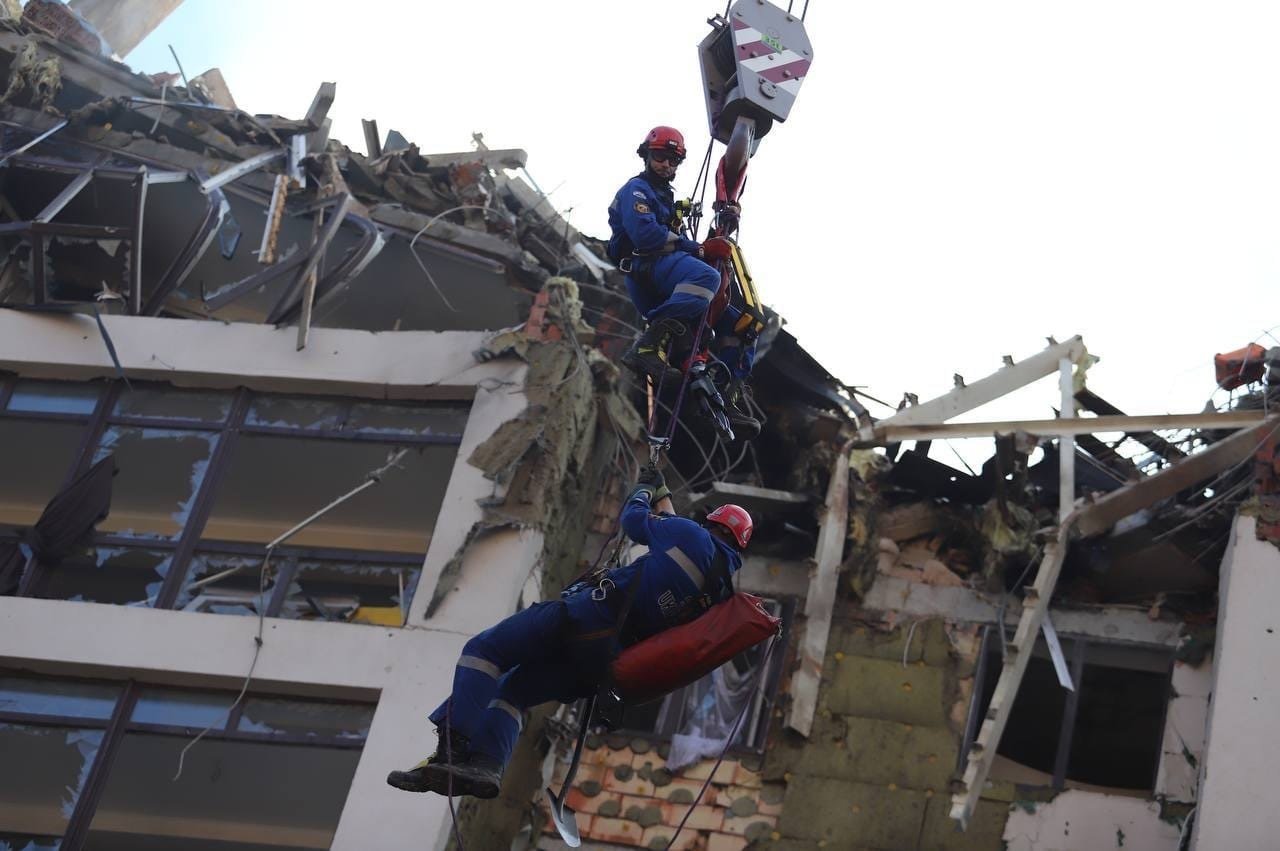 In a Sunday TV appearance, Ukrainian air force spokesman Yuriy Ignat said Russian Tu-95 and Tu-60 bombers fired "four to six" Kh-101 missiles at Kyiv. The warplanes were likely flying over the Caspian Sea, roughly 1,400 miles away from the capital city.
"The bombers don't even have to fly into the Ukrainian airspace, they only have to take off, define a target and launch missiles," Ignat said Sunday, adding that Ukrainian air defense systems "worked well" and successfully intercepted some of the inbound missiles.
Underscoring a marked surge in long-distance strikes, Russia fired a barrage of missiles across Ukraine over the weekend, including air-, sea-, and ground-launched systems fired from within Russian and Belarusian territory, as well as from the Black Sea.
A missile strike hit a shopping center in the central Ukrainian city of Kremenchuk on Monday. At the time of this article's publication, emergency officials are still on the scene, and the scale of casualties is uncertain. Ukrainian President Volodymyr Zelenskyy said Monday that some 1,000 people were inside the shopping center when it was struck.
John Chaney, an American citizen who lives in Kremenchuk, said he was out for a walk with his wife along the Dnipro River on Monday afternoon when he heard two loud explosions and saw a thick plume of smoke rise from the direction of Kremenchuk's city center.
"There are lots [of casualties]," Chaney told Coffee or Die. "I heard the ambulances from other cities coming to Kremenchuk to help."
Melnyk, a former Soviet fighter pilot and retired Ukrainian air force commander, said the surge in Russian missile strikes may be in retaliation for recent, successful Ukrainian attacks against Russian military targets, such as a suicide drone strike against an oil refinery in Russia's Rostov region earlier this month. Ukraine has also conducted multiple strikes this month against Russian natural gas platforms in the Black Sea.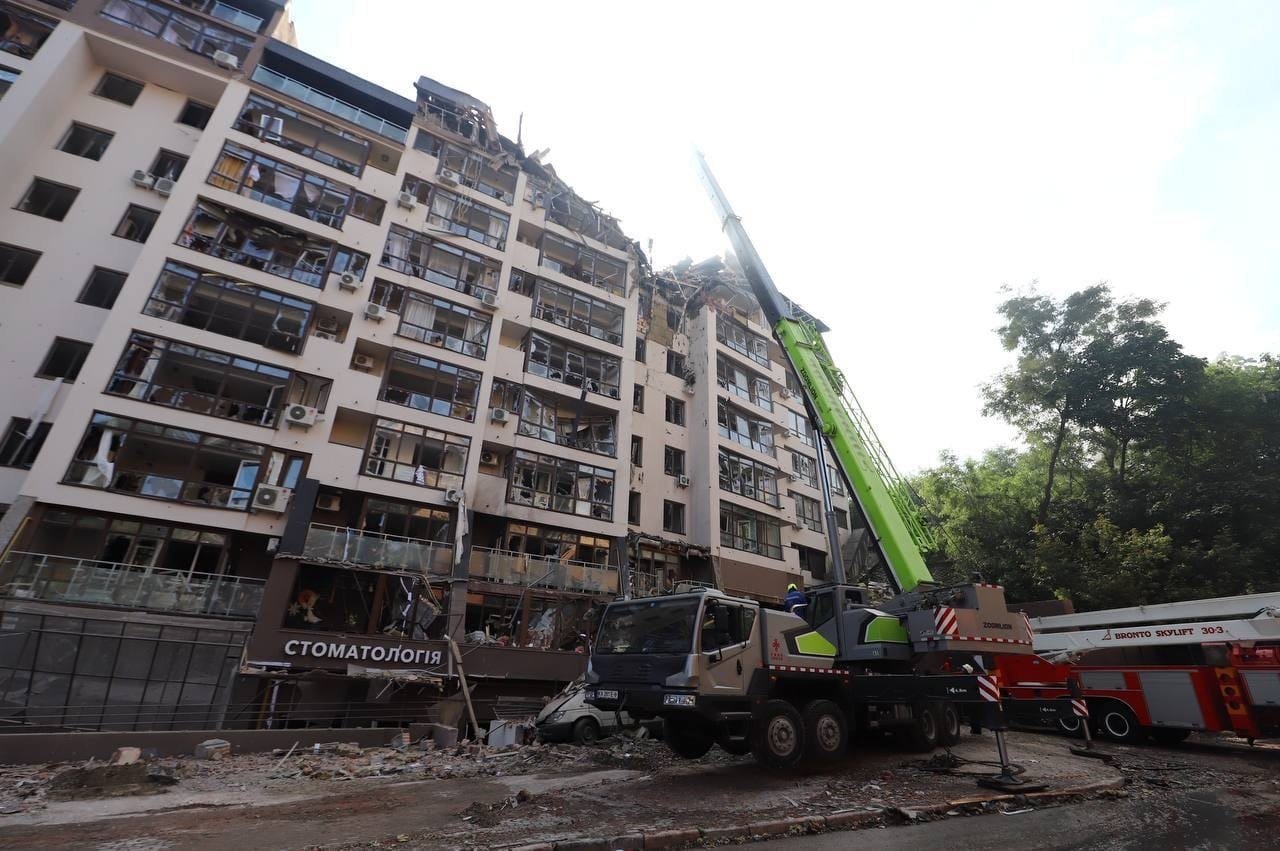 "As for the strikes, I think that in addition to the military purpose they also carried a kind of retaliation," Melnyk said about the latest Russian missile strikes. "A week before, the Ukrainian military conducted a number of successful attacks that were both painful and humiliating for Russians."
Other Russian missile strikes over the weekend targeted locations near Cherkasy in central Ukraine, the northern city of Chernivtsi, as well as Kharkiv, Ukraine's second-biggest city.
The weekend's missile attacks marked the first time Russian Tu-22M3 bombers flying in Belarusian airspace fired missiles against Ukraine, a Ukrainian air force release stated. In addition to Kh-22 missiles fired from bombers inside Belarus, Russia also fired Iskander missiles from Belarusian territory against northern Ukraine on the evening of June 25, the Ukrainian air force reported.
As part of the weekend strikes, Russia also employed Bastion mobile coast missile defense systems to fire P-800 Oniks cruise missiles at targets in southern Ukraine, as well as Kalibr cruise missiles fired from the Black Sea, the Ukrainian air force reported in a release.
This weekend's attacks came as G7 leaders convened for a summit in Switzerland, and Russia's grinding, artillery-driven offensive in eastern Ukraine continues to gain ground.
"There is military intel about this week, that it's going to be very hard on Kyiv and many other cities," a Ukrainian soldier deployed to the front lines in the east, told Coffee or Die.
"They are not bombing military facilities, but ordinary civilian children and adults," Guseva said about the missile strikes against Kyiv. "I feel a great sadness that our beautiful city is being destroyed, that we are forced to spend enormous forces and resources of the government, rescuers, and ordinary volunteers to rebuild and protect the city, not to improve our well-being and economy."
Despite the indiscriminate nature of Sunday's strikes, Kyiv quickly resumed its normal rhythms. In fact, city life seemed not to miss a beat.
Shevchenko Park in the city center was full of people on Sunday. Kyiv's main thoroughfare, Khreshchatyk, was also packed with pedestrians and street performers. A long line of people stood waiting to order food from a recently reopened Kentucky Fried Chicken restaurant near Kyiv's central square, the Maidan.
Despite the outward appearance of calm, Kyiv city officials issued a stark warning after Sunday's attacks, urging residents to not become complacent about air raid sirens, which typically sound several times a day.
In a video message posted to Facebook on Sunday, Kyiv Mayor Vitaliy Klitschko said: "The enemy is satanic and wants to intimidate us, sow panic and contempt. We are maintaining our vigilance. We follow basic rules that can save lives. When you hear the alarm signal, do not neglect your safety. Go down to a shelter."
For Guseva, this weekend's attacks were a sober reminder that, although life is slowly getting back to normal in the city, the threat of lethal Russian attacks persists. For that reason, she remains ready to evacuate on a moment's notice.
"We cannot be afraid of the Belarusian or Russian soldier. […] We have to live in such conditions and adapt our psyche, because it is impossible to live in Kyiv all the time and be afraid," Guseva said. "But it forces me to reconsider my own emergency suitcase with documents and necessary things, to have spare things in hiding, and to plan life only for the short term."
Read Next: