Imagine you were best friends with your co-worker or employee — that the day-to-day challenges at the office didn't interfere with your relationship. Your loyalty to your employer and friend would never pose a conflict of interest. What if this friend could lead you up any mountain, sniff out bombs and bad guys, and even lay down his life for you? Now you're getting close to understanding the relationships between working dogs and their handlers in law enforcement and the military.
What happens to these four-legged veterans when their missions are complete? Thanks to organizations like the Texas-based Mission K9 Rescue (MK9), many of them have a bright future. Since 2013, MK9 has been coming to the aid of retired service dogs who return from foreign and domestic assignments.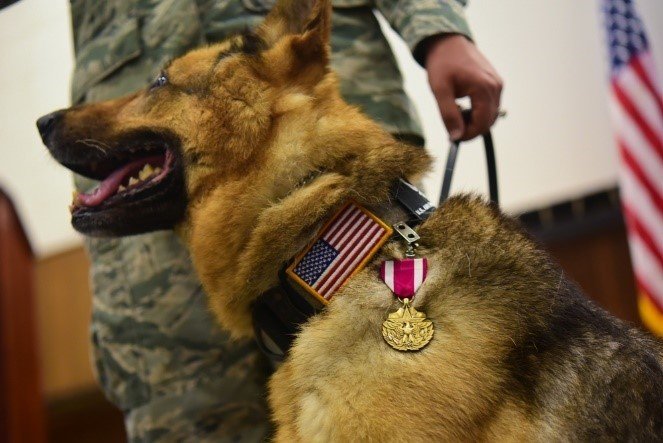 What is a "Working Dog"?
Most working dogs fall into two general categories: contract working dogs (CWDs) or military working dogs (MWDs).
CWDs are owned by private contractors and generally go overseas to work with the military in combat zones and other areas as needed. Typical assignments include various types of explosives detection. In most cases, CWDs do not return home from combat environments until they are ready to retire — usually between 7 and 10 years of age. Handlers change frequently during a CWD's career.
MWDs are owned by the Department of Defense. They are trained at Lackland Air Force Base in San Antonio, Texas, then assigned to various operational units within the DOD. Like their CWD counterparts, they are often used to detect explosives and narcotics but can also be deployed for specialized search and rescue operations. On average, MWDs work with four to five handlers from initial deployment to retirement.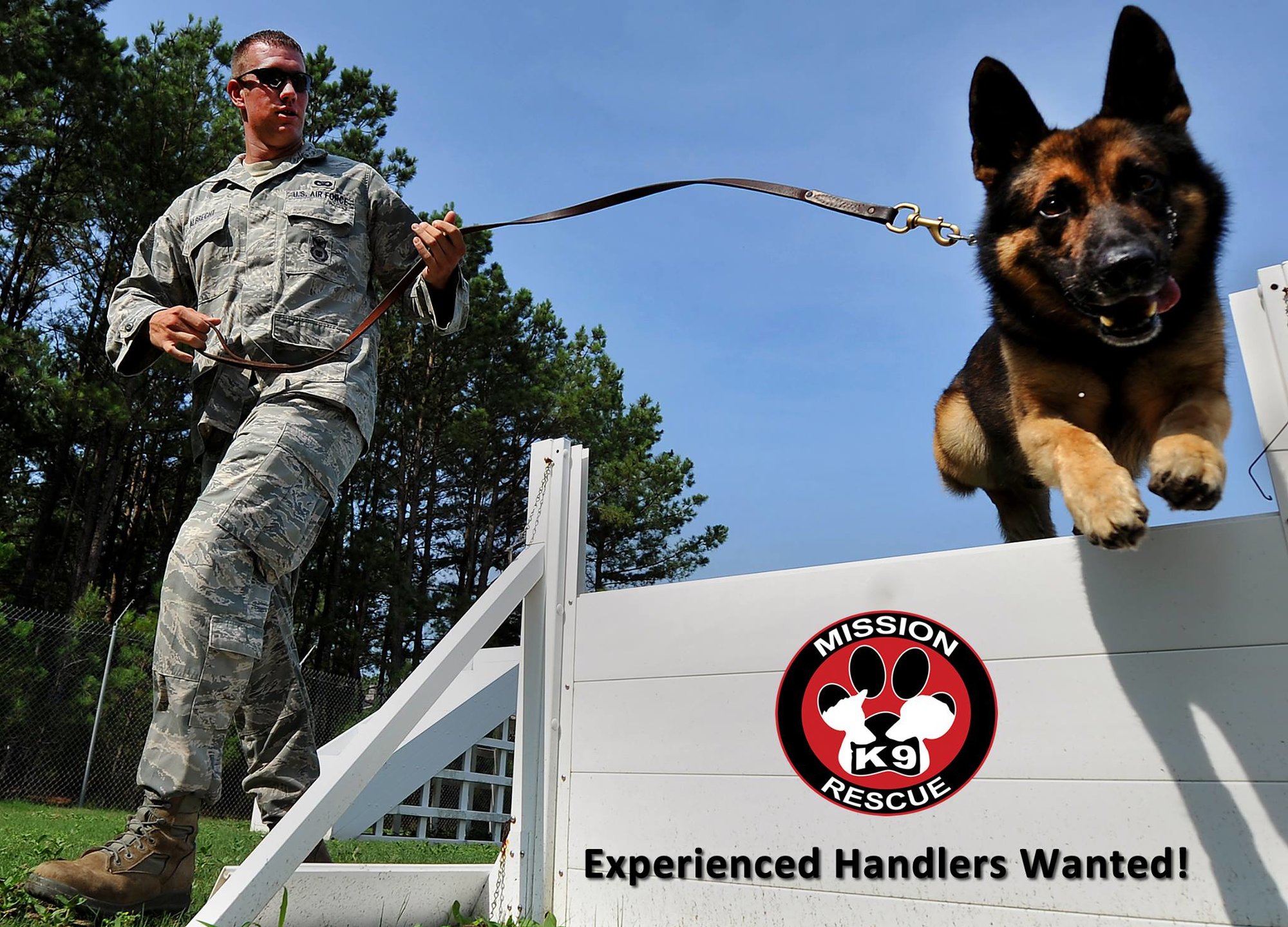 There are other miscellaneous categories as well, such as police K9s and border patrol K9s. These dogs perform similar duties as their CWD and MWD counterparts (narcotics and explosives detection) but ownership can vary between agencies.
Both male and female dogs can be working dogs. The most popular breeds are German Shepherd, Belgian Malinois, Labrador Retriever, and Springer Spaniel. However, it's not uncommon to see mixed or other sporting/herding breeds among the ranks as well.
Many are surprised to learn that dogs have been deployed for military use since World War II. Early on, it was common practice to leave retired K9s behind. In fact, after the U.S. pulled out of Vietnam, many K9s were released to wander as strays and fend for themselves. Today, many retired working dogs are euthanized if they are deemed a risk to human safety or if the owning entity is unable to find a suitable home. Fortunately, thanks to increased public awareness, there are now private organizations to help retired working dogs find forever homes.
Enter Mission K9 Rescue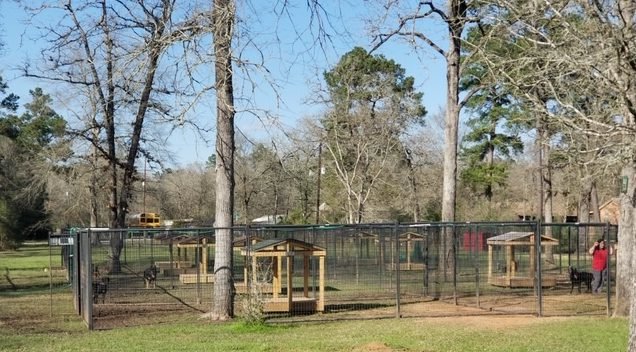 Mission K9 Rescue is a nonprofit organization based in Houston that supports retired K9 veterans in various ways. These include:


Rescuing

working dogs from poor environments, overseas or stateside, and finding them happy homes for a retirement they deserve



Reuniting

retired working dogs with former handlers who demonstrate the desire and ability required to provide a good home



Re-homing

working dogs who cannot be reunited with a designated handler



Rehabilitating

dogs who may be suffering from post-traumatic stress disorder or similar anxiety



Repairing

dogs who may be injured and require costly medical attention



In return for these services, MK9 requests a small donation from adopters, which is waived for veterans, active duty military personnel, and first responders.


Kristen Maurer, co-founder of Mission K9 Rescue, first heard her calling in 2009 when she began training a narcotics dog for her private investigation firm. The experience put her in contact with various K9 trainers in the law enforcement community. One trainer asked Maurer if she would drive from Houston to Dallas with a military dog being flown in from Kuwait. She agreed, completely unaware that the experience would change her life.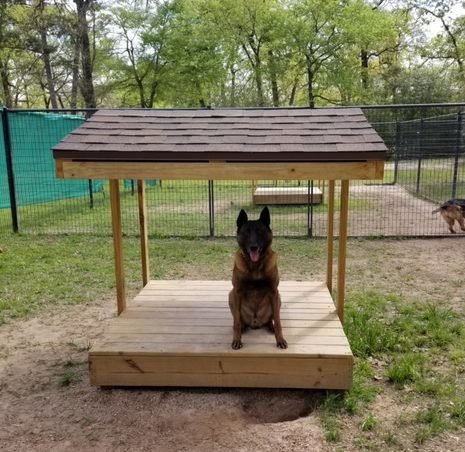 Maurer's contact in Dallas was a woman who had been involved in re-homing military working dogs. The meeting revealed the desperate need of K9 veterans. Shortly thereafter, the same woman introduced Maurer to Louisa Kastner, a veterinary technician in the U.S. Army, working to get retired MWDs adopted. In the months that followed, Maurer and Kastner met Bob Bryant, who had expertise in social media marketing and a gift for fundraising. The trio joined forces to create Mission K9 Rescue. They embarked on an expanded scope of service that included CWDs, as well as police and border patrol K9s.
"I wish I could tell you we had some well-organized, grand master plan," Maurer said. "The truth is, we were making it up as we went along."
Since its inception, Mission K9 Rescue has reunited 200 working dogs with their handlers, and they've adopted out over 250 more.
As plans swirled and began to gel, Maurer realized she needed to educate herself about running the business. At that point, she began pursuing a graduate degree in nonprofit management.
In 2013, Maurer registered the business as a 501(c)(3) nonprofit entity, and Mission K9 Rescue was born. Since then, Maurer and her team have paid out more than $500,000 in medical bills for their rescued dogs. As a testament to the transparency and integrity of the organization, an impressive 91 percent of donations pass through to support the working dogs — in other words, only 9 percent of the money raised is spent on operational expenses.
Maurer is quick to point out that her team has had help along the way. In particular, she credits the United States War Dog Association and its president, Ron Aiello, for putting MK9 on the map.
"Ron is the one who really launched Mission K9 because he gave us the credibility in the K9 world to do what we do," Maurer said. "U.S. War Dog was the first organization to send care packages overseas to K9 handlers, and Ron used his reputation to back us."
Success Stories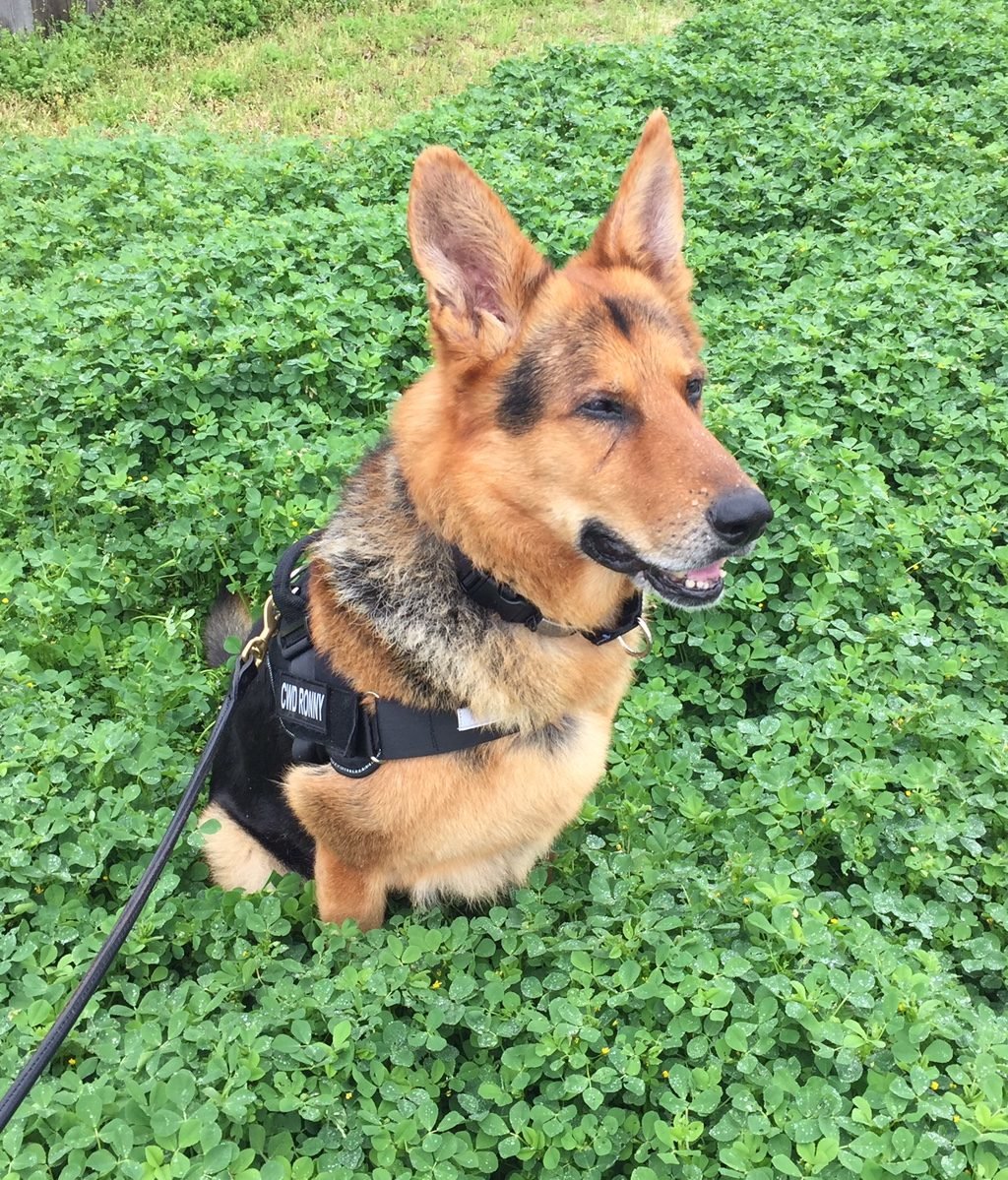 Ronny, 9
Breed: German Shepherd
Rank: CWD, Explosives Detection
Deployed: Kuwait, 2010–2018
Lisa and her husband, Chris, are from College Station, Texas. They adopted Ronny in January 2019. They wanted a dog but were concerned they lacked the time and energy required to train and raise a puppy. Lisa found Mission K9 Rescue online and filled out the adoption paperwork. The couple lived close enough to MK9 to visit the dogs. When they met Ronny, it was love at first sight.
Lisa and Chris learned that Ronny was born in Holland, trained by Dutch handlers, then promptly deployed to Kuwait where he served until retirement. Before coming to the United States, he only responded to Dutch commands. This presented an early challenge for his new family, so back to the internet Lisa went. She searched YouTube for "Dutch dog training commands," where she found plenty of helpful educational videos.
After three months, Lisa said he is assimilating to American culture quite well and gradually learning English commands. However, it's apparent that learning a new language is not his only interest. Lisa revealed that Ronny has adopted her Roomba [robotic vacuum cleaner] as his own interactive toy. "He's even learned how to turn it on," she said with a laugh.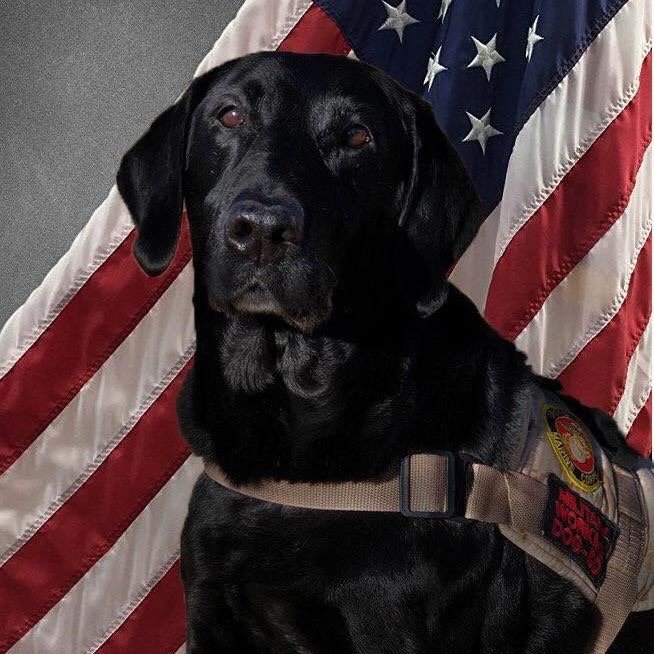 Mick, 11
Breed: Black Labrador Retriever
Rank: MWD, Improvised Explosive Device Detection
Deployed: Afghanistan, 2009–2014
Mick and his handler Matt were U.S. Marines deployed in Afghanistan for 12 months between 2012 and 2013. While serving together, Matt filled out the necessary paperwork to request adoption upon Mick's future retirement. Due to the long list of previous handlers, Matt would have to get in line.
The pair returned stateside in 2013. The night after arriving home, Matt partied with his buddies while Mick bunkered down in a kennel trailer, slated to move out 24 hours later. The next day, the soldiers went to see the dogs for one last walk. Matt was convinced it would be the last time he'd see Mick.
"That was a tough day," Matt remembered. "I spent every day with that dog for a year. He kept my platoon alive and boosted our morale over there. The guys had a lot of fun throwing balls for Mick and the other dogs."
Several months later, after returning home to Denver, Matt heard from the contract firm that owned Mick. He learned Mick had retired and was available for adoption. There was a catch though: Matt would be responsible for more than $2,000 in expenses to fly Mick to Denver — a monumental sum of money for a newly discharged veteran. It seemed like a potential deal-breaker. Fortunately, a close friend who happened to be a military dog trainer went to work on Matt's behalf.
In 2014, Matt received a call from Kris Maurer at Mission K9 Rescue. Maurer offered to cover the cost of flying Mick to Denver. The two Marines were reunited on Aug. 7, 2014. He and Matt still live in the Denver area. Semper Fi, guys.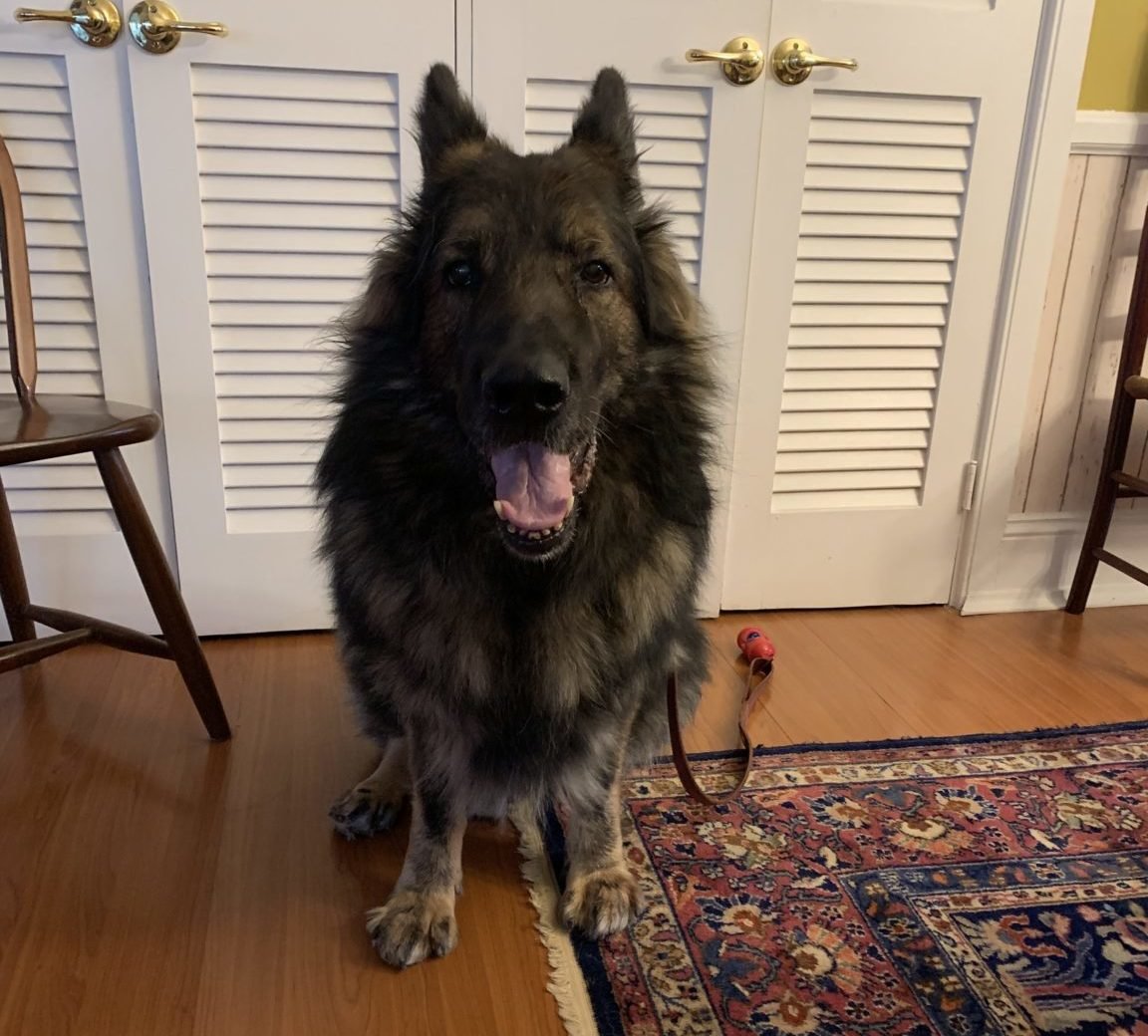 Billy, 10
Breed: Shiloh Shepherd
Rank: Police K9, Narcotics Detection Specialist
Deployment: Lee County Sheriff Department, Georgia, 2011 – 2017
In June 2017, Charles and his wife, Sandy, lost the last of three brown Labrador Retrievers due to natural causes. Unbeknownst to his wife, Charles began to investigate the possibility of adopting a retired working dog. His research eventually led him to the Mission K9 Rescue website, where he completed the application forms. "It was amazing," Charles said. "They called me back in less than 10 minutes."
He was informed that the waiting list for a retired working dog was at least six months. That was fine with Charles because he knew he needed time to talk to Sandy. Three weeks later, Maurer called to tell him about Billy, a long-haired Shepherd, who needed to relief from the blazing Texas summer heat.
Charles wondered aloud how he would arrange transportation so quickly. His home in Milford, Delaware, was a long way from Texas. However, Maurer already had it covered. She offered to personally drive Billy to his new home. That left it to Charles to drop some big news on his wife — Billy was on the way.
"I told Sandy, and she thought I was out of my mind," Charles said. "But after talking it over and watching some videos of Billy, she eventually came around."
Not long after, Maurer, Louisa Kastner, and Billy rolled up the driveway. Charles remembers it well: "Billy got out of the truck, came in the house, sniffed around a bit, then hopped up on a small bed and just laid down. It was like, 'Okay, I'm home now!'"
With the assistance of MK9, Charles recently contacted Billy's former handler at the sheriff's department in Lee County, Georgia. That's when he learned about his new dog's achievements. Billy had been a narcotics dog with rock-star status — a local media celebrity with a decorated history.
Charles said that his dog has "a few issues," such as occasional anxiety, but he's quick to point out that Billy's quirks aren't worrisome. "I could tell from Kris' videos that Billy wasn't aggressive. Other dogs would steal his toys, and Billy would just walk away. This dog gets along with everyone. Everyone loves Billy."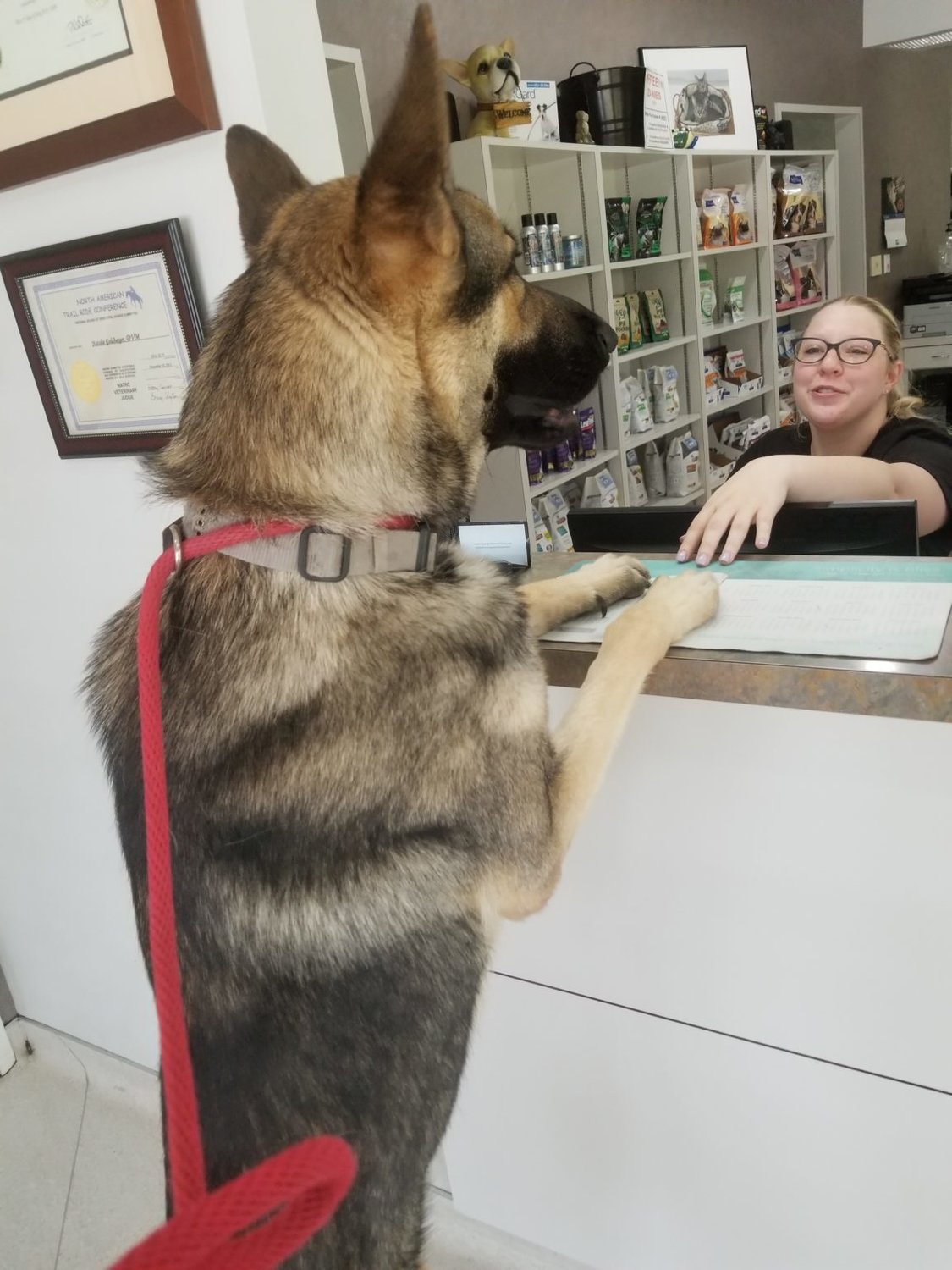 The Mission Continues
Since its inception, Mission K9 Rescue has reunited 200 working dogs with their handlers, and they've adopted out over 250 more. They operate a well-equipped facility that resides on 4 acres outside Houston. Resources include air conditioned and heated kennels and 30×30-foot outdoor play areas for each dog.
"This is where we house our dogs while they are being rehabilitated or waiting on a home," Maurer explained. "We are blessed with an incredible crew that realizes what these amazing hero dogs have done for our soldiers, first responders, and citizens. Together, we see to it that the dogs who stay here have a fun and peaceful visit."
---
Editor's Note: This article has been updated to clarify that the $500,000 spent on medical bills does not reflect the total funds raised by Mission K9 Rescue.