He dug trenches to shield wounded soldiers, snuck food to fellow prisoners, rebelled against Chinese reeducation programs, and spurned the rules by holding a sunrise Easter Mass while in captivity. Now, 70 years after he succumbed to illness and malnourishment in a prisoner-of-war camp, Medal of Honor recipient Chaplain Emil Kapaun is finally home.
Massive crowds welcomed the recently identified remains of Kapaun — now on the path to sainthood — back to Kansas this week, paying tribute to the Korean War hero Wednesday at his long-delayed funeral service.
Kapaun was born April 20, 1916, in Pilsen, Kansas. He was ordained as a priest at age 24 and later served as an auxiliary chaplain at Herington Air Base, Kansas. In July 1944, he became an Army chaplain and served for the rest of World War II in the China-Burma-India theater. He rejoined the Chaplain Corps in 1948 as a captain. When the war in Korea broke out two years later, he deployed with the 3rd Battalion, 8th Cavalry Regiment, 1st Cavalry Division.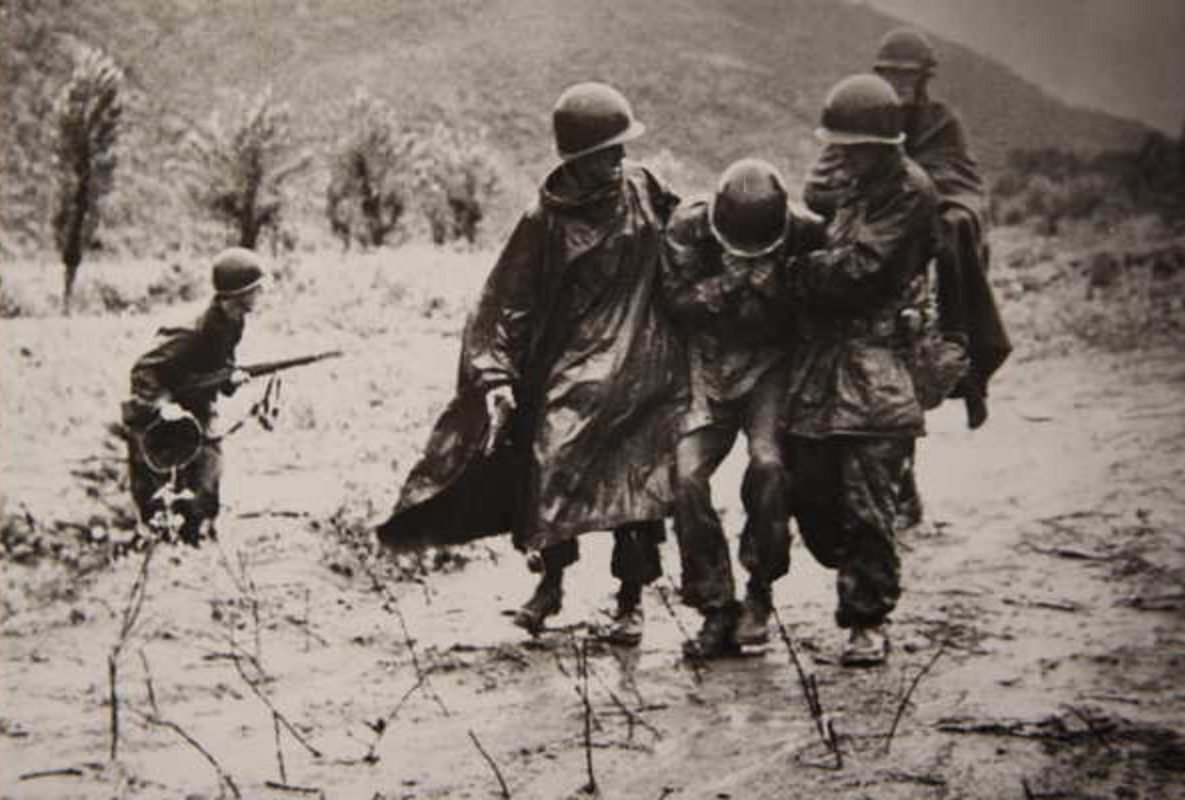 As Chinese Communist forces encircled his battalion in the Battle of Unsan, Kapaun darted from foxhole to foxhole, dodging enemy fire and dragging wounded men to safety. When he couldn't carry the men, he dug shallow trenches to shield them.
Facing certain capture, the able-bodied soldiers were ordered to evacuate, but Kapaun stayed back to care for the injured. Chinese forces took him as a POW on Nov. 2, 1950. As he was being led away, Kapaun saw a Chinese soldier prepare to shoot a wounded American. He pushed the enemy soldier aside, picked up his fallen brother, and carried him for miles. As the prisoners marched north for several days, anyone who dropped out was shot dead. Kapaun begged his fellow soldiers not to give up.
Kapaun's heroic acts continued inside the brutal prison camp in Pyoktong, North Korea. Under cover of darkness, he foraged for food and tended to sick prisoners.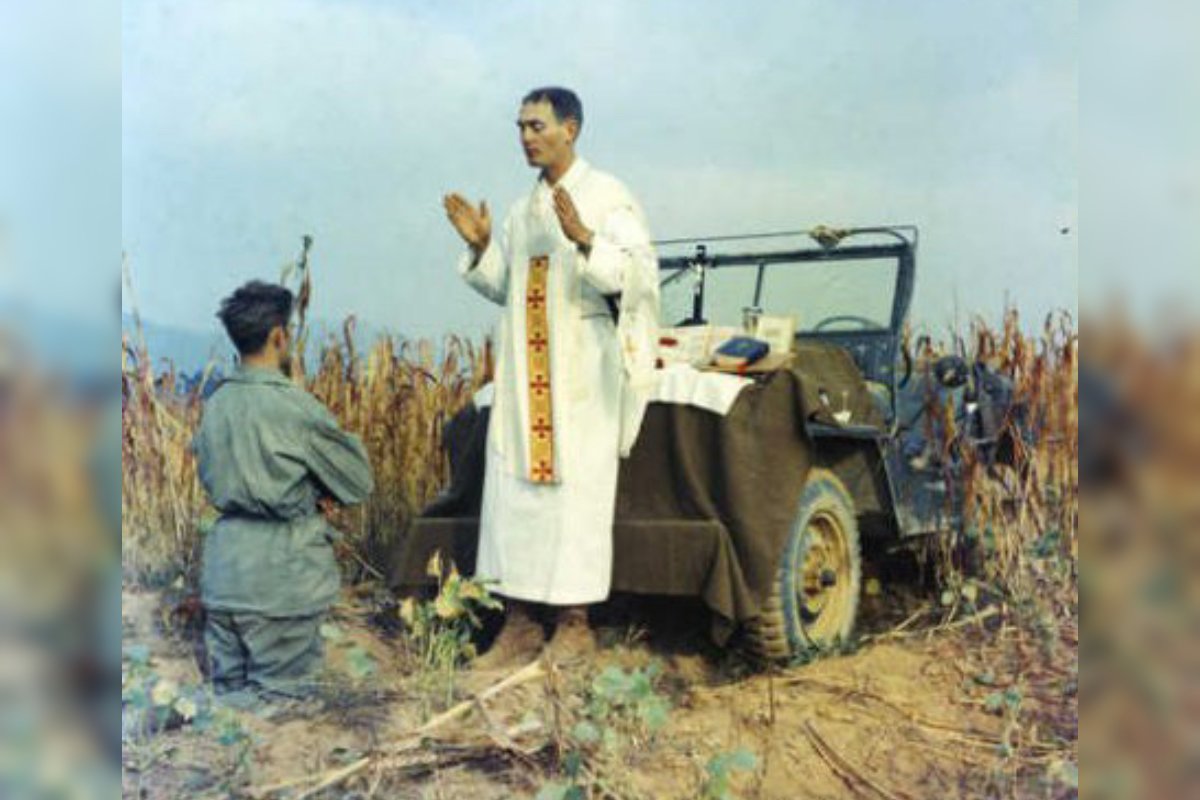 "He was the best food thief we had," Army Capt. Joseph O'Connor, a fellow POW, said after his repatriation in 1953. "He always used to say a prayer to St. Dismas [the penitent thief] before he went out scrounging. Once, he came back with a sack of potatoes. How he got it I'll never know — it must have weighed 100 pounds."
In the mandatory reeducation programs, Kapaun "patiently and politely rejected every theory put forth by the instructors," according to the Army. On Easter morning 1951, Kapaun boldly flouted the rules and held a sunrise service, donning a purple stole, leading dozens of prisoners to the ruins of an old church in the camp, and raising a crucifix he had made from sticks. Under the glare of the guards, the men sang the Lord's Prayer and "America the Beautiful" so loudly that other captives across the camp joined in, filling the air with song.
Brutal punishments followed Kapaun's acts of disobedience. On at least one occasion, guards forced him to sit naked outside in subzero weather.
"The Chinese just couldn't put up with the image that he created of resistance to them: the spirit of confidence of a free man dedicated to his country and his religion," former POW Mike Dowe recalled.
When Kapaun's health deteriorated from the hellish conditions of captivity, the Chinese saw an opportunity to rid themselves of the rebel. Over the protests of the other prisoners, they transferred Kapaun to a decrepit hospital known as the "death house," a tiny building with "nothing in it but bugs and vermin," Dowe said.
"I'm going where I always wanted to go," Kapaun told his friends as he left. "When I get there, I'll say a prayer for you." On his way to the death house, he prayed for his captors.
Kapaun died alone on May 23, 1951. Officials learned of his death only after the armistice was signed two years later and Kapaun's fellow POWs were released.
Pope John Paul II declared Kapaun a servant of God in 1993, the first step toward sainthood. Two decades later, President Barack Obama posthumously awarded Kapaun the Medal of Honor.
"[Kapaun was] an American soldier who didn't fire a gun but who wielded the mightiest weapon of all — the love for his brothers — so pure that he was willing to die so they might live," President Obama said.
Kapaun's remains had been returned to the US along with those of several other unknown soldiers after the end of the war. They were buried at the National Cemetery of the Pacific, on the Hawaiian island of Oahu. Soldiers dug up the remains in 2019 and sent them to the Pearl Harbor laboratories for identification. Earlier this year, the Army announced Kapaun's remains had been accounted for.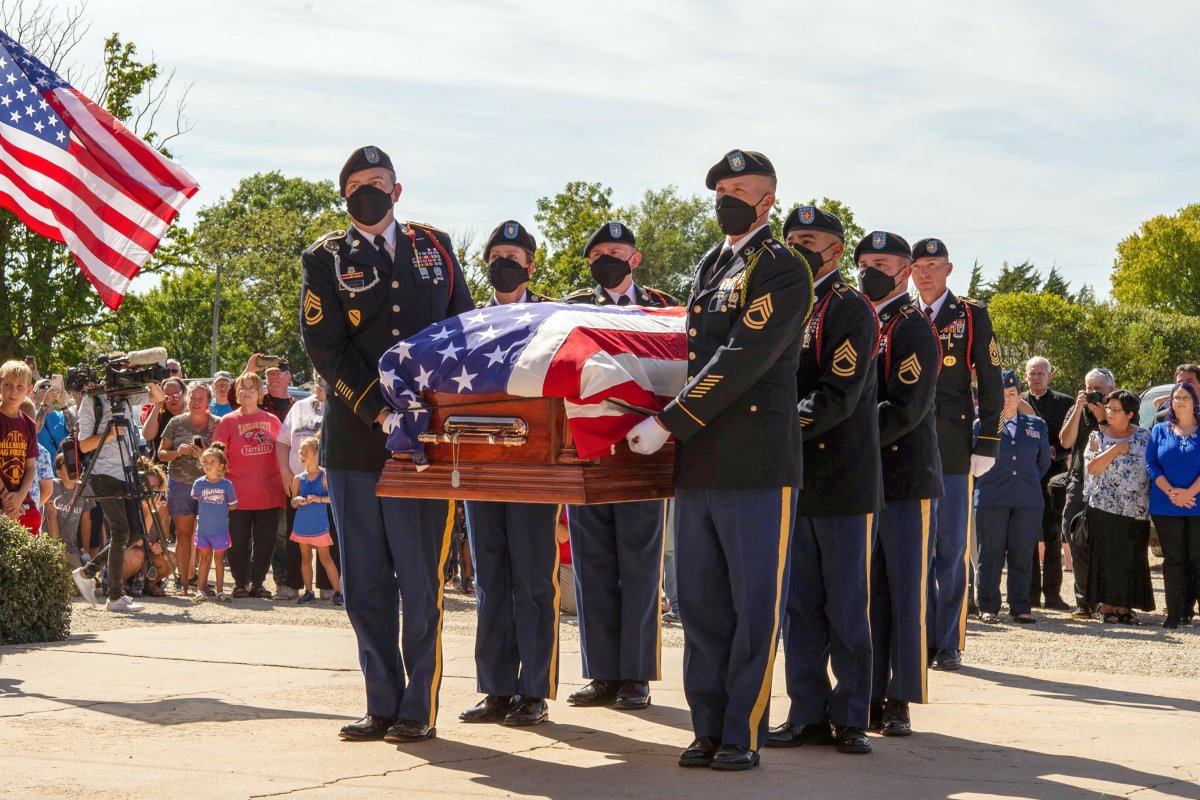 Kansas Catholics have honored Kapaun for the past 13 years with an annual pilgrimage, trekking 60 miles from Wichita to Marion, Kansas — Kapaun's home parish. Now, they finally have a chance to pay their respects in person.
Kapaun's remains arrived Saturday in Wichita, Kansas, accompanied by family members, military personnel, and a representative of the Catholic Diocese of Wichita. Thousands attended a vigil Tuesday night. Hartman Arena in Park City, Kansas, was packed Wednesday morning for Kapaun's funeral. In homage to the 1951 Easter Mass Kapaun conducted in the POW camp, attendees ended the service by singing "America the Beautiful."
A horse-drawn caisson then transported his remains to the Cathedral of the Immaculate Conception where Kapaun was laid to rest in a 5,400-pound tomb.
Read Next: