Marvel finally released a full trailer for the upcoming Disney+ series Moon Knight, and it looks dark as hell. Backed by Kid Cudi's "Day 'n' Nite," the two-minute trailer reveals a hulking superhero who's entangled with Egyptian gods and tormented by dissociative identity disorder.
The Marine-turned-superhero is played by Oscar Isaac, and even with a forced British accent, the Star Wars actor looks like the perfect casting choice for Marvel's mentally unstable counter to the caped crusader.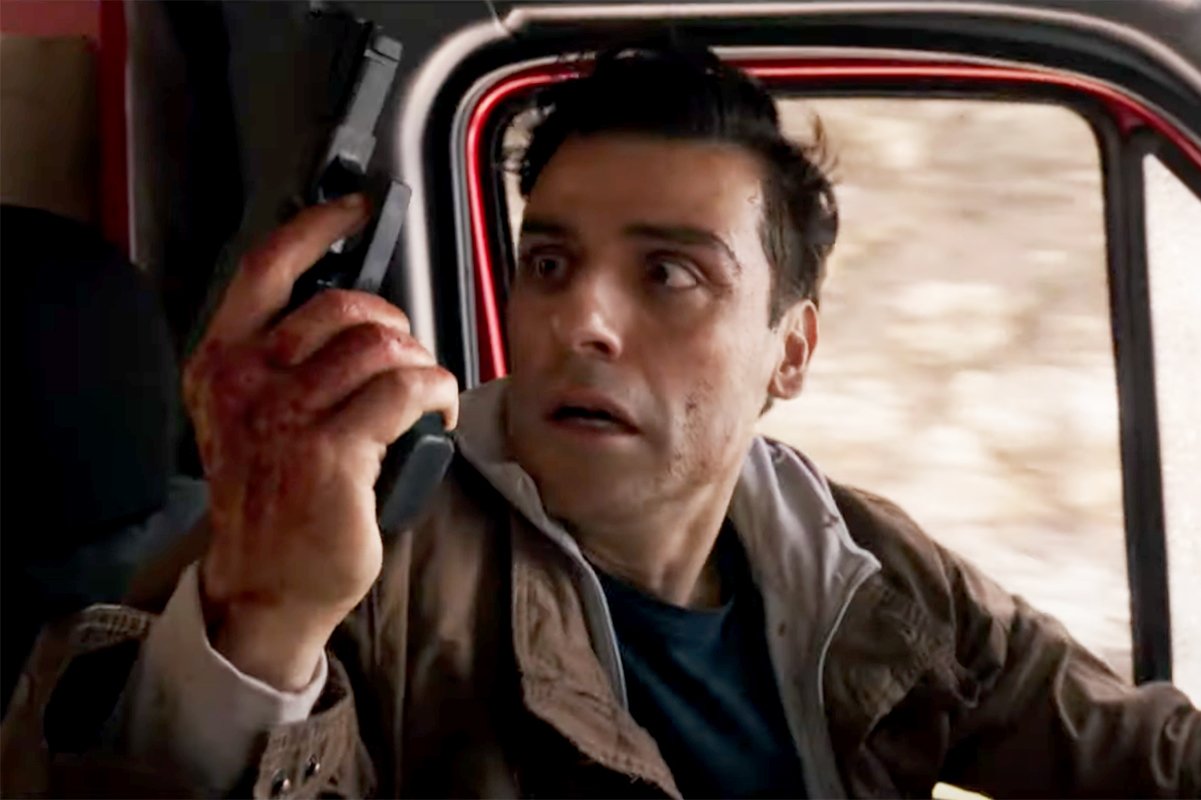 Fans of Batman know the Dark Knight is committed to never killing the villains he's pitted against (let's just pretend Zack Snyder's horrendous Batman v Superman never happened). Instead of using deadly force, Batman captures villains and sends them to live out their days in Arkham Asylum. This CollegeHumor sketch provides a hilarious satirization of Batman's "one rule."
Moon Knight — also a wealthy man turned nocturnal vigilante who relies on impressive detective skills and high-tech gadgetry — has no such limitations. Whether it's from constantly screaming "kill" at the behest of his Marine drill instructors or his time spent behind the trigger as a mercenary, one thing is clear: The mummified badass has no qualms with killing.
As a crime fighter whose brain is both augmented and handicapped by the cycle of the moon, Isaac's gauze-white superhero lives up to the label "lunatic." In a slight deviation from the comics, the upcoming series appears to focus on Steven Grant, an employee in a museum gift shop and one of Moon Knight's multiple personalities. When embracing Grant, Isaac seemingly has no memory of his alter egos, including that of Marc Spector, the Marine and mercenary who provides Moon Knight's deadly skills. And while Grant is a small, timid man, Moon Knight is a towering figure resembling a caped mummy. The ghost-white vigilante is definitely here for the violence, as the trailer provides a glimpse of the mummy-like superhero pummeling an equally large and menacing creature.
The Moon Knight trailer also reveals Ethan Hawke as Moon Knight's primary adversary: Arthur Harrow. In the comics, Harrow is a mad scientist who embraces Nazi pseudoscience experiments in a bid to achieve superhuman levels of pain tolerance. Hawke's take on the villain more closely resembles a cult leader, complete with linen pajamas and unkempt hair. Harrow's appearance comes as no surprise, considering Hawke took inspiration for the character from real-life cult leader David Koresh.
"There's chaos in you. Embrace the chaos," Harrow goads Grant in the trailer's final moments.
Harrow likely doesn't realize what he's asking for. If the deadly vigilante leans into his psychosis, heads will surely roll.
Read Next: 7 Marvel and DC Superheroes Who Served in the Marine Corps