While deployed to East Africa as a member of the 4th Combat Camera Squadron, US Air Force Staff Sgt. Corban Lundborg sought to create a unique illustration series inspired by his time in the region. Looking around the combat camera office, he found an old box of Meals, Ready to Eat. He mined the MREs for their instant coffee packets and used the supplies in the pack to mix up his "paint."
"Coffee works pretty similar to watercolor," Lundborg said. "It uses a value system to get different tones, so you just saturate the water more or less to achieve the tones you want."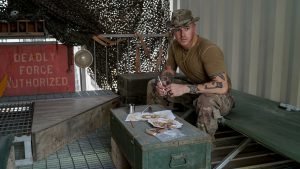 Lundborg said he started experimenting with how the coffee took to paper and ink, and after some time, he came up with a series of works inspired by his environment and experiences in East Africa.
Most of the paintings are scenes or equipment Lundborg used or traveled in. He painted some of the aircraft that flew him to and from different locations and missions and gifted the works to members of the aviation units. Among his subjects were a Mine-Resistant Ambush Protected vehicle, a lion, a Nikon film camera, a skull, and a calligraphed "Merry Christmas" card.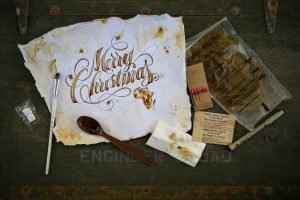 The sepia tones of the paintings and their ragged, burnt edges tell a story of the conflict and the creative necessity from which they were born. Central to the works is Lundborg's impulse to create and the austere conditions that inspired him to experiment with a new medium.
"For as long as I can remember, I've always been drawing on stuff and making art," said the Minneapolis native. "I think just about every day of the week, I'm doing something creative. I try not to go a day without doing some kind of art."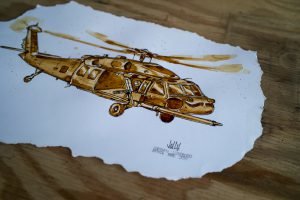 Lundborg said his parents were supportive of his artistic inclinations and creative adventures. He started out as a graffiti artist back in Minneapolis.
"I was kind of an angsty teen and was always looking to get into trouble," he said. "I kind of ran with a bad group of friends and got into some legal trouble for vandalism and other minor crimes. The military provided the means I was looking for to get out of the city."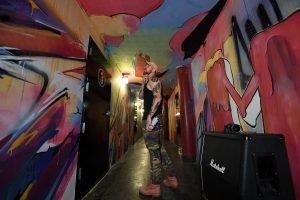 As a young airman working in supply and logistics, Lundborg was assigned to Osan Air Base in South Korea. He found his way into a tattoo apprenticeship and picked up another means of artistic expression.
"When I got to Korea and got the apprenticeship, the Korean artists took me in and showed me what art life was all about," he said. "I started doing tattoos for other service members in the dorms overseas. These days, I mostly just kind of tattoo myself."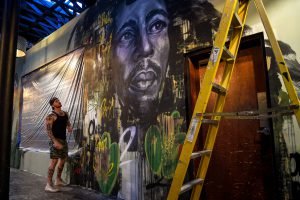 After a year in Korea, he was sent to Aviano Air Base in Italy, where he spent his days "counting aircraft screws, doing inventories, snowboarding in the Alps every weekend, and hitting all the major cities in Europe."
After four years in an active-duty job he didn't care for, Lundborg transferred to the Air Force Reserves and went home to Minneapolis, where he attended the Minneapolis College of Art and Design for a year before dropping out.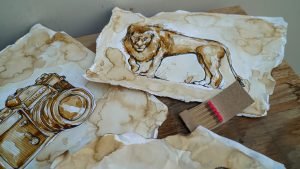 "In college I discovered I don't really like art theory and history," he said. "I just like making art, and I still consider myself mostly self-taught."
When a slot for a photographer opened up on his reserve base, Lundborg jumped at the chance to retrain into a new specialty. After six months of on-the-job training, the Air Force sent Lundborg to the Basic Photojournalist Course at the Defense Information School at Fort Meade, Maryland, in 2015.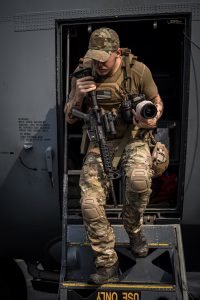 He was later assigned to the 4th Combat Camera Squadron and deployed to East Africa in 2018 for eight months.
"I took a few brushes with me, but I had to get everything else from the accessory packets in the MREs," he said of his time in Africa. "I used the plastic spoon to mix the coffee and hold some grounds, and I used matches to burn the edges of the paper and TP to clean the brushes."
Lundborg self-produced a video of himself working on the MRE-coffee paintings.
He said he picked up a cheap set of watercolors and taught himself to paint with the medium while living in South Africa a few years before his deployment to the continent.
He tends to pick up new mediums with relative ease and excels in whatever creative endeavors he pursues. He earned recognition as Air Force Reserve Photographer of the Year three years in a row, and was selected as Air Force Photographer of the year in 2018.
Acrylic and spray paint are his favorite media, and he often uses them together interchangeably.
A prolific creator, Lundborg is looking ahead to a bright future of doing what he loves. He plans to expand his work in cinema and film production.
"Ideally, I would like to produce, direct, and shoot films," he said. "But painting is something I will do until the day I die."