Across the Atlantic Ocean lies a place rich in history, folklore, and maritime traditions that have permeated its existence for centuries. A place where paying homage to the efforts of the working class, as well as reminiscing harrowing aspects of life were done through performance, art, and song. The destination? Glasgow, Scotland — a city that has earned a reputation for being a source of enlightenment in the West, yet is undoubtedly renowned as one of the most politically turbulent, violent, and mysterious urban centers on the planet.
During the advent of the Industrial Revolution, Glasgow's population and economy began to thrive. This especially holds true with respect to shipbuilding and marine engineering, two pinnacle foundations upon which the city was built. It became a favored son of the British Empire, with the city's prowess for navigating the high and mysterious seas making it a prime hub for trade routes to North America and the West Indies. Given such, it's no surprise that sea shanties and maritime music became a pre-eminent and definitive aspect of Glaswegian culture.
While those traditions still exist, they aren't as common as they once were. Thankfully, there are those who want to carry forward the heritage of their homeland and ancestors through musical endeavors and creative ingenuity. That's where the Trongate Rum Riots come into play — a band whose finesse and ethos are spawned by the lore and harrowing tales that have captivated Glasgow for generations. Their boldness and imagination commence in a euphonious musical voyage that allows individuals to tap into the deepest roots of their soul and leaves them wanting more.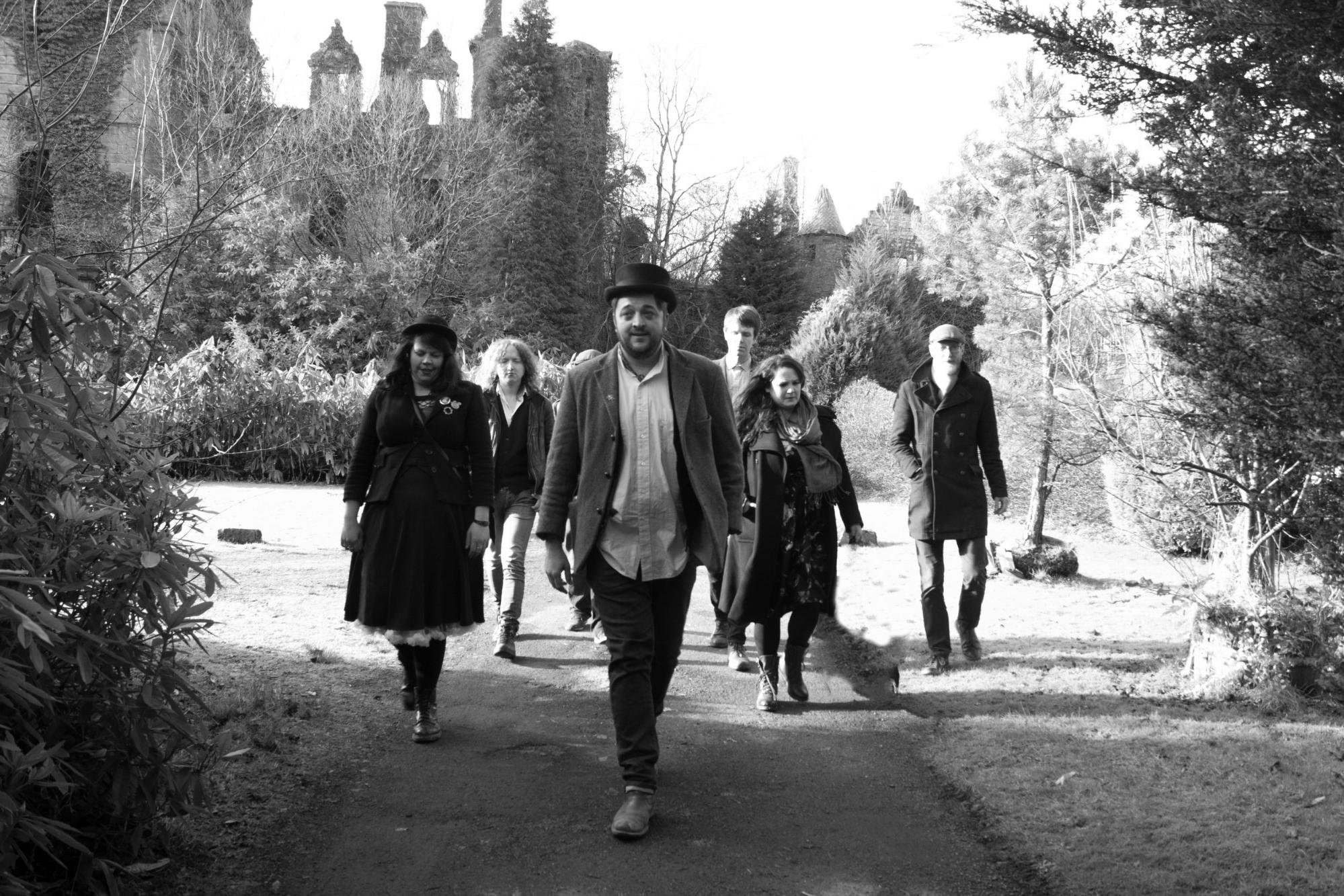 "Our name came from a book I was reading years ago about old stories in Glasgow. Trongate is an area in Glasgow on the east end. It has a big clock tower where they used to hang people. That part of the city has a very dark history," said Darren Slevin, lead vocalist and rhythm guitarist. "Crazy riots, people strangling each other over a last bottle of rum, battles between slaves and slaveowners, and death and despair. To this day it can be a very rough area, but it is full of character. We love the Victorian-era vibe of the district, so a lot of our motivation for our songs come from there."
Nearly a decade ago, the band came together in the pursuit of reviving the emotive ambience of well-known folk songs and sea shanties. Without question, the Glaswegian six-piece have hit their original onset to a remarkable degree of transcendence. Their aesthetic is reminiscent of the maritime traditions that permeate the United Kingdom, but their overall sound is as unique as the individuals in the band.
It starts up front with Slevin, who hails from a small town called Little Ireland just outside of Glasgow. His efforts are supplemented by the soulful and heartfelt vocal talents of Teresha Marie Kelly, a native of Balloch, which sits on the banks of the famous Loch Lomond. While scouring the music landscapes, you would be hard-pressed to find two vocalists who complement each other with such mellifluous harmony. Slevin and Kelly are accompanied by native Scotsmen Craig Ralston, Raymond Gallacher, and Terry Watt (lead guitar, bass, and drums, respectively), and Irish violinist Sinéad Fortune.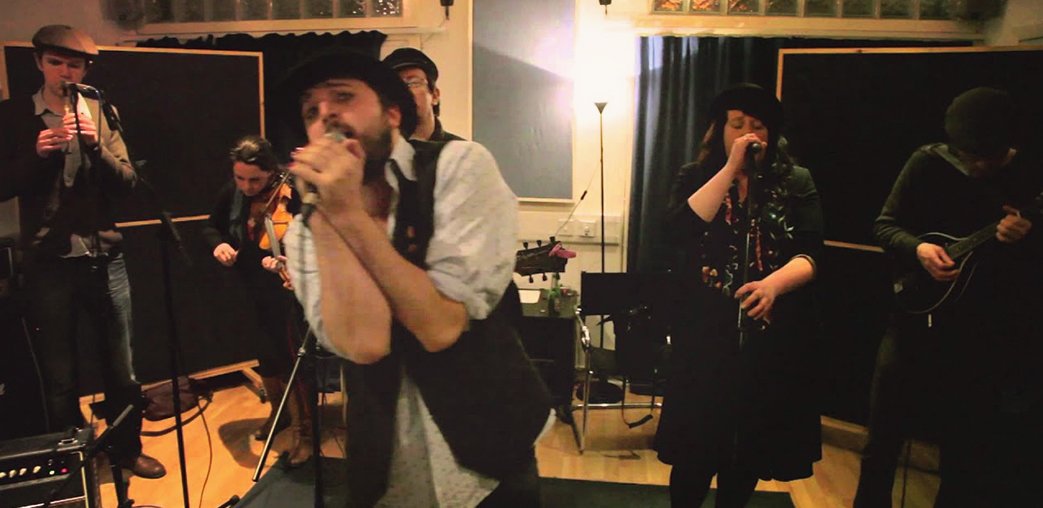 Over the years, the Rum Riots have experienced a handful of lineup changes, with their membership sometimes exceeding eight musicians. After all, juggling the day-to-day grind of life as well as being a touring musician can be a daunting task that not all are able to live up to. Despite that, the core of the band has remained the same. Moreover, their musical artistry is genuinely reminiscent of ages past and embodies a variety of lyrical topics that aren't for the faint of heart — misfortune on the high seas, murder, slavery, heartache, battles with others or within oneself, and, of course, copious amounts of drinking.
"We've always written songs about the sea. It's a kind of muse for us. We take inspiration from the old tales of the sea. But all of us have been in bands previous to this, all with very different styles, and this all comes into the mix," said Slevin. "Glasgow's a rough city, so we also take inspiration from the characters who live here. We tend to stick to songs that we find make us feel good when we play them over and over again."
In terms of artistic style, it's almost impossible to pinpoint the band to an exact genre. Some have labeled them "turbo sea shanty" or "speed folk," but those designations don't do their efforts justice. They have been influenced by a smorgasbord of well-known artists such as The Pogues, The Dubliners, The Doors, Howlin' Wolf, and Janis Joplin. The Rum Riots have traveled many places and integrated aspects of those countries' musical traditions into their style — and it shows in their trio of releases.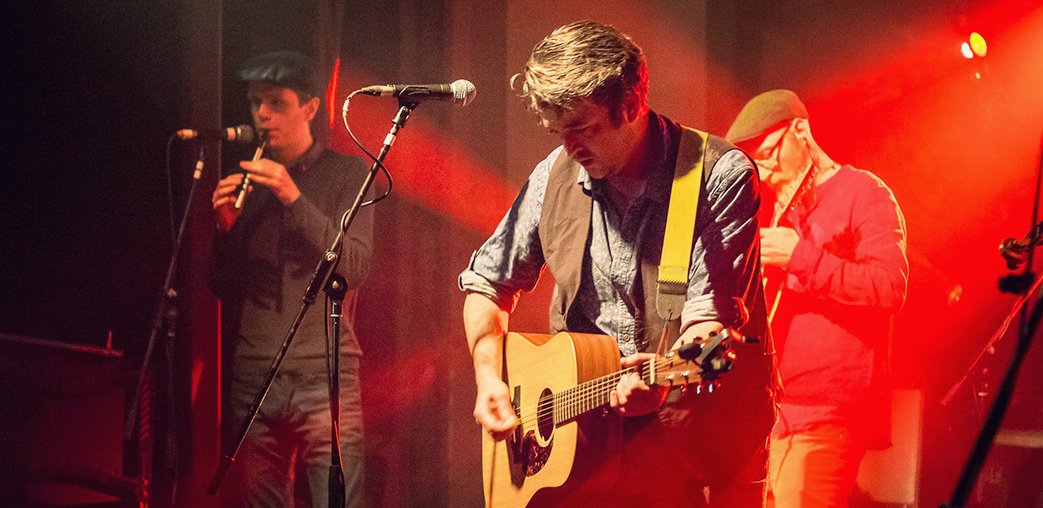 Their first EP, "Maria of the Sea," was released through CSK Music in 2013. It was followed up by "Captain Barnacle's Dinner Music," an effort of famous folk songs and sea shanty covers, in 2015. Last year, the group made its way to Headhunter Studios in Glasgow to compile their first original full-length album. "Hymns of the Deep" is an 11-song musical journey that takes the listener down the avenues of jealousy, heartbreak, sorrow, and revenge. The vocal and instrumental precision on display are impeccable and a testament to the passion, love, and dedication the sextet have in respect to impacting people's lives through the beauty of music.
"The style varies depending on which of us has written the song, but our sound is always evolving as well. We've got the sea shanties and folk tradition in there, but there are also elements of punk, blues, and even the odd Balkan or Creole bit. It keeps things interesting but makes it hard to classify," said Fortune. "We try to not take ourselves too seriously with our themes. When we play, our goal is to be genuine, have fun, and allow people to enjoy themselves and have an existential feeling at our performance."
No matter where they go, the Trongate Rum Riots mesmerize their audience and have amassed quite the following. They have established themselves as a highly sought-after attraction headlining prominent venues in the United Kingdom, but their recent album's success has allowed them to embark on several tours across mainland Europe. In the modern era of music where the internet reigns supreme, the band has bypassed the traditional use of labels and agents; instead, they navigate their journeys on the road by social engineering and friendly contacts. In the past two years, they have become a staple in the European festival scene, playing in front of large crowds at the Festival du Chant de Marin in Paimpol, France, on the famous timber ship the Earl of Pembroke, as well as in the middle of the Belgian Ardennes at the La Truite Magique Festival.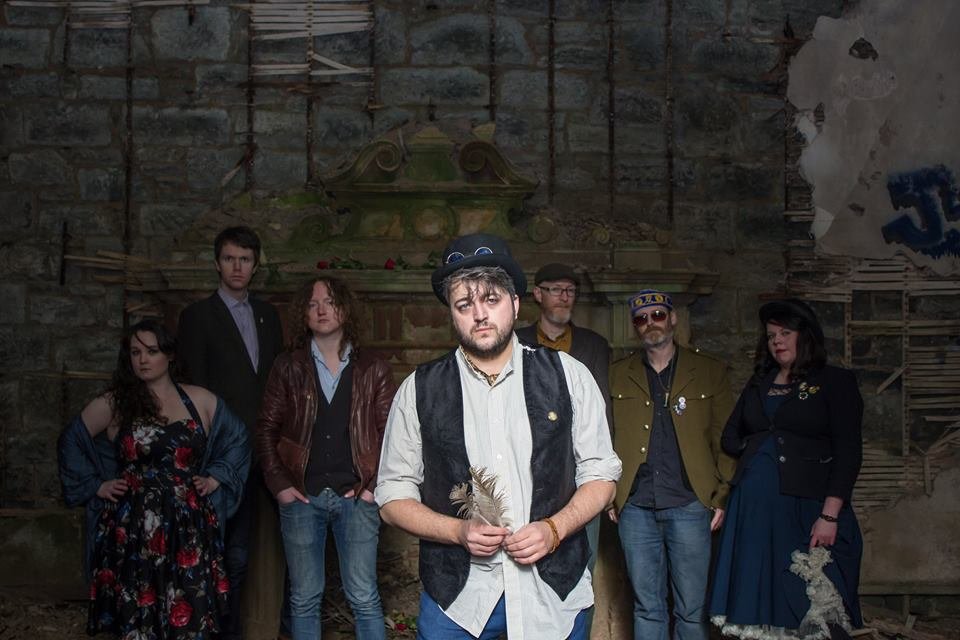 "When the Trongate Rum Riots play a live show, the band connects with every single person at their gig, whether it's a small pub or a festival. The crowd has always immediately engaged with them through their fantastic tunes and personality," said Angelina Della Rocco, a fan who grew up in Glasgow and has known the band since their inception. "I had the pleasure of getting to experience them back in 2012 and have loved them ever since. It's hard to say in a just few words how fantastic, diverse, and captivating they are on stage. They know how to put on a show where folks are always having a great time dancing to their songs, drinking their favorite drink, and enjoying the aura of their performance."
Nearly a decade into their musical endeavors across the seas, the Trongate Rum Riots show no signs of slowing down. With the wind at their back and behind their sails, the band is ready for whatever happens next. They are currently working on their second full-length album, which is scheduled to be released in 2019. Additionally, the band has been in the studio recording another extended-play effort filled with sea shanties tentatively titled "The Back of Brian Wilson's Head," named after a brief encounter Slevin had with the founding member of The Beach Boys at a pub in Glasgow.
Every band has a goal when they form. Many seek fame, wealth, and the desire to be on MTV or win a Grammy Award, but that's not the Trongate Rum Riots. For them, it's about carrying on tradition, living in the moment, making their fans happy, and being grateful for everything that has transpired.
"I've been playing in bands since I was 19, and I'm 35 now. At the beginning, most artists think, I'm going to be famous one day, but that imagined state of fame almost never happens because it's usually an illusion. If we had that mindset, we would lose sight of what we love," Slevin said. "It's one thing to look forward to the next stage, make plans, and set goals, but if you aren't realistic and get attached to them, you will end up disappointed. Being a signed full-time musician, being told what to write and how to play, it wouldn't stimulate the creativity that comes along with being an artist. Right now we are working on our next releases, and they are sounding great. We aren't going to rush things because we want to make the best music we can and want them to be prodigious. "
If the band's past releases and success are any indication of where their musical odyssey will take them next, they are assuredly on their way to greater heights and seas unexplored. The vivacity of the band's music and personalities are palpable and serve as a great learning tool for any band wanting to take the road less traveled.