After trumpeting the delivery of Starlink satellite internet terminals to Ukraine Saturday, Feb. 26, Elon Musk appeared to have a sudden realization Thursday of the dangers that several electronic warfare experts have been warning about all week: His Starlink internet system — in which a user connects to the internet directly through a satellite overhead, using a satellite dish — could be a nearly perfect targeting beacon for Russian airstrikes.
In an "important warning," Musk tweeted Thursday afternoon that Starlink's "probability of being targeted is high."
When Musk announced his donation of Starlink units to Ukraine Saturday, several analysts — including John Scott-Railton, a senior researcher for Toronto's Citizen Lab, who tracks threats against secure connectivity — said the units could pose real danger to anyone using them in Ukraine.
Targeting the user of an internet satellite station would be a relatively simple task for Russian air forces and even artillery. Targeting radio signals — be it from hostile radars, normal voice radios, or satellite communications — is a core skill practiced by all modern air forces and underlies tactics broadly known as suppression of enemy air defenses, or SEAD, missions.
SEAD came of age in the Vietnam War as US fighter-bombers hunted North Vietnamese ground-based surface-to-air missile systems, or SAMs, using "anti-radiation" missiles built to find targets by following their radio waves. The Russian-supplied SAM batteries would generally target high- and slow-flying bombers. To find the SAMs, US pilots flew fighter jets equipped with sensors built to pick up SAM targeting radar. Flying below radar coverage, the jets would wait for a SAM site to activate its targeting radars. Then the jets would hone in on the SAMs locations, following the signal.
The anti-SAM squadrons were known as "Wild Weasels" for the low-altitude, "in the dirt"-style flying required for the missions, which they flew in EF-105s, EF-4s, and Navy EA-6s (the E is a designator for the electronic warfare component of the mission).
The Russian military is also known to have robust SEAD and anti-radiation capabilities. During the First Chechen War between the Russian Federation and the Chechen Republic of Ichkeria during the mid-1990s, Russian military assets triangulated Chechen President Dzhokhar Dudayev's position during a satellite call and dropped an airstrike, killing him in 1996. According to Radio Free Europe/Radio Liberty, Dudayev was "reportedly discussing possible peace talks with a prospective Russian mediator."
In 2012, journalists Marie Colvin of the Sunday Times of London and French photographer Rémi Ochlik were killed in a mortar strike in Homs, Syria, that may have been targeted by the Syrian army tracking the journalists' satellite phones.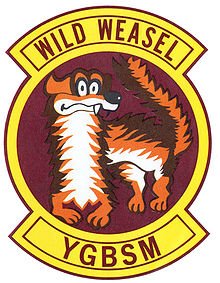 Retired US Gen. Michael Hayden wrote in a 2017 study on Russian electronic-warfare capabilities that "Moscow relies on—and has heavily invested in—[electronic warfare] as an asymmetrical response to NATO's technological edge across the spectrum of conflict and as an integral part of its anti-access/area denial strategy."
Starlink uses a small satellite dish to connect to its network, according to Starlink's website. The terminals aren't cheap. "Starlink Premium requires a $500 refundable deposit and charges a $2,500 fee for hardware and $500 per month service fee," according to Fox Business.
Musk's foray into battlefield communications began Saturday, when Mykhailo Fedorov, vice prime minister of Ukraine, tweeted at Musk, "While your rockets successfully land from space — Russian rockets attack Ukrainian civil people! We ask you to provide Ukraine with Starlink stations and to address sane Russians to stand."
Later that day, Musk responded to Fedorov's tweet, "Starlink service is now active in Ukraine. More terminals en route."
On Monday, Fedorov tweeted a photo of a truckload of Starlink boxes — they'd arrived less than 48 hours after Fedorov had asked for them.
Read Next: Famed Ukrainian Fighter Pilot 'Grey Wolf' Killed Over Kyiv