On Sept. 28, curious beachcombers discovered an odd vessel wedged into some rocks on a remote Scottish island. The roughly 10-foot-long, surfboard-shaped watercraft was bedecked with an array of solar panels and antennas. Not knowing what to make of it, the party of discoverers alerted the UK Maritime and Coastguard Agency.
The vessel had washed up on the Isle of Tiree, about 100 miles from Her Majesty's Naval Base, Clyde, at Faslane, home to Britain's four Vanguard–class nuclear-powered ballistic missile submarines. Looking for clues, the UK Maritime and Coastguard Agency shared photos of the mysterious craft on its Facebook page on Sept. 30. No country or agency ever claimed ownership of the vessel, and it was ultimately dragged to the home of a local man.
"As yet the owner of the robotic boat has yet to be found," the agency wrote on Facebook.
Military experts later identified the craft as identical, at least in exterior appearance, to the Wave Glider maritime drone — a Boeing-produced unmanned surface vehicle system, or USV. Both the British and American navies have experimented with the Wave Glider in anti-submarine warfare operations.
According to news reports, the British Ministry of Defense suspected the mysterious craft was probably operated by the Russian military — perhaps a Russian copy of the Wave Glider design called the "Fugu." The vessel's gray paint scheme and absence of exterior lighting suggested it was almost certainly being used for covert military purposes, rather than scientific research, experts say.
"I have no proof, obviously, but would not be surprised if the drone was part of a Russian effort to track US and British submarines," said Bernard Cole, a retired Navy captain who is now professor emeritus at the National War College.
"Commercial drones will certainly be used whenever applicable; no doubt [they're] much less expensive than a drone developed by and built by a military service," Cole told Coffee or Die Magazine.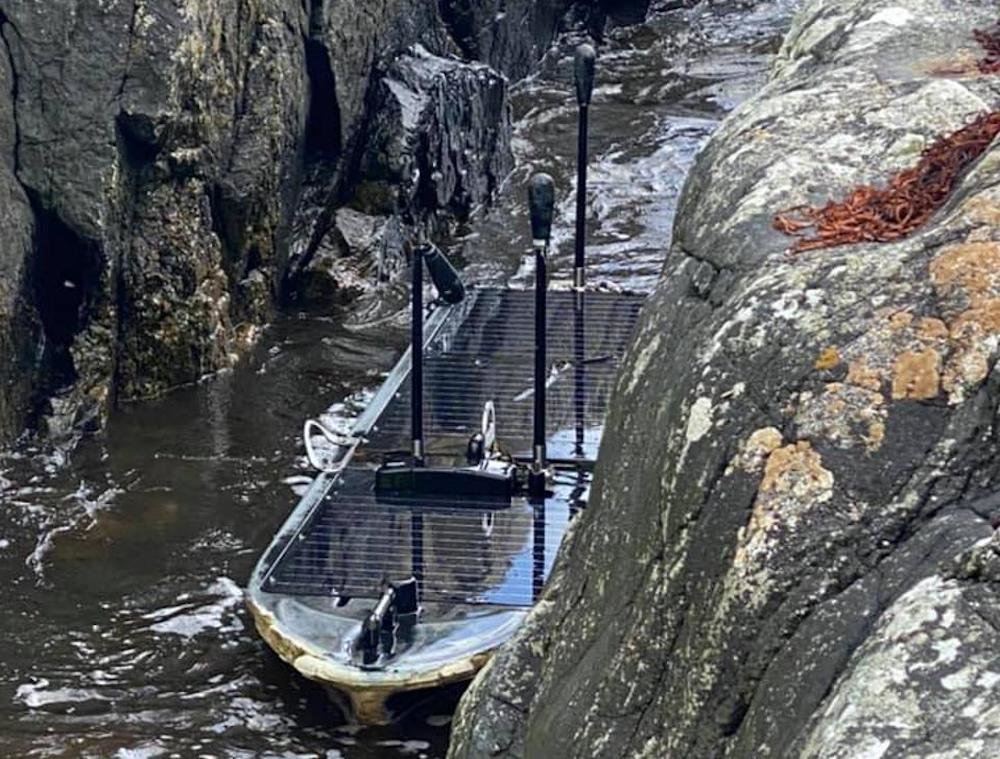 The Royal Navy reportedly operates four Vanguard-class submarines, each of which is equipped to carry up to 16 Trident II D5 missiles. The Trident II is a submarine-launched missile capable of carrying multiple thermonuclear warheads.
Located near Glasgow on Scotland's western coast, submarines at the Faslane naval base reach the North Atlantic Ocean via a narrow waterway called the Gare Loch. The Isle of Tiree, where the mysterious maritime drone washed ashore, sits smack on that route.
According to news reports, one line of thinking among British military officials is that the wrecked drone was part of a Russian operation to collect the so-called acoustic signature of the Vanguard submarines as they head out to sea from Faslane. Successfully recording the submarines' telltale sounds would give the Russians a baseline standard by which to track the submarines amid the undersea background din of the open ocean — providing an invaluable advantage in anti-submarine warfare.
"Capturing the acoustic signature is quite the prize in the cat-and-mouse game of submarine hunting," a UK-based defense industry expert told the MailOnline. "The Russians know our four Trident boats are a potent threat and knowing exactly what they sound like can help pick them out in a noisy ocean."
Mysterious Origins
But the case is far from closed, and the mystery of the shipwrecked drone persists. For one, US Navy submarines occasionally make port visits at Faslane, raising the prospect that the shipwrecked drone could, in fact, belong to the US Navy. Last month, a Popular Mechanics article raised that prospect, speculating that the beached Wave Glider "almost certainly" belonged to the US Navy and formed part of a "picket line of submarine detection drones."
"Not only is it American-made, but really, only the Navy would lose a potentially $350,000 drone and be in no hurry to pick it up," wrote Kyle Mizokami, the author of the Popular Mechanics piece.
Moreover, the US Office of Naval Research reportedly deployed a team of science and technology experts to a 2016 British naval exercise off the coast of Scotland called Unmanned Warrior. During the exercise, British and American naval forces tested a wide array of unmanned aerial and aquatic vehicles to track surface vessels and a submarine. That effort included "the largest ever UK deployment of ocean gliders," the Royal Navy said in a statement posted to its website.
"At the British Royal Navy's Unmanned Warrior exercise, Liquid Robotics and Boeing used a network of persistent USVs to detect, report, and track a live submarine," Hawaii-based Liquid Robotics, the Boeing subsidiary that builds the Wave Glider, wrote on its website.
For its part, the US Navy reportedly used 10 separate unmanned vehicles in the exercise, including "ocean gliders that collect oceanographic information," US Naval Institute News reported in 2016.
There are no reports of a militarized Wave Glider being lost during the 2016 Unmanned Warrior exercise. And the Wave Glider that washed up in Scotland in September did not, at least by outward appearances in the available photos, appear to have weathered four years of exposure to the open sea.
Cold War Part Deux
Recent advances in Russian and Chinese submarine capabilities have spurred the US Navy to put a new premium on anti-submarine warfare technology, including the use of drones. Even the Marine Corps is adapting to become a more robust anti-submarine warfare asset.
"Marine expeditionary advanced bases (EABs) could make a significant contribution to undersea warfare campaigns, including holding Chinese and Russian submarines at risk," Marine Corps Gen. David Berger wrote in a November article for the US Naval Institute.
Underscoring the Russian threat, Berger added: "Now, nearly three decades after the Cold War ended, the Russian submarine force is reemerging as a highly capable force, closing the technology gap with the United States."
In addition to upgrading its submarine fleet, Russia is also developing an atomic-powered underwater drone — the "Poseidon" — that will creep up to an adversary's coast, detonate a nuclear weapon, and create a 500-meter, or 1,640-foot, tsunami. Russia's new Khabarovsk-class nuclear-powered submarines are reportedly built to carry Poseidon weapons.
Russian submarine activity in the Atlantic is now at its highest levels since the Cold War, US and NATO officials say. Reflecting the burgeoning threat to military sealift ships, in September NATO stood up its newest command, Joint Force Command Norfolk.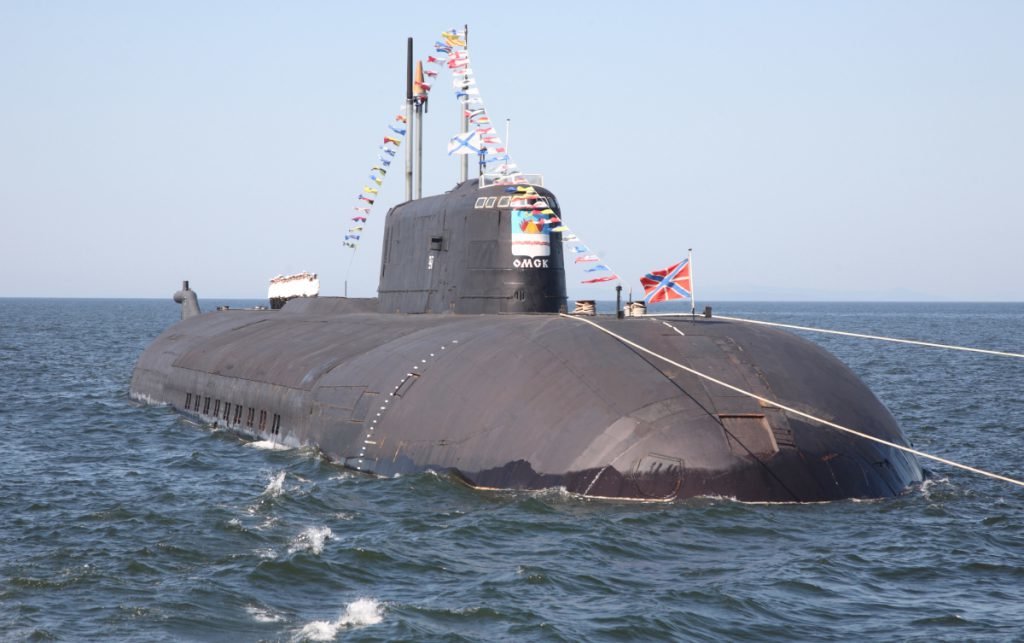 Based in Norfolk, Virginia, the new NATO command has an overarching mission to defend NATO's northern Atlantic sea lanes from Russia's navy.
"We have entered the 4th Battle of the Atlantic. Last fall, the Barents Observer reported 10 Russian submarines underway in the Arctic and North Atlantic at one time. That number would have grabbed the attention of Lieutenant Foggo at the height of the Cold War," then-Adm. James G. Foggo, who was commander of United States Naval Forces Europe-Africa at the time, told the US Naval Institute in April.
"The Russians are operating first-rate submarines. We still have an advantage in the undersea domain, but they are very good," said Foggo, who retired this year.
Similarly, a recent spike in Russian naval activity near the United Kingdom has spurred calls from within the Royal Navy to beef up their country's anti-submarine warfare capabilities.
"We face a stark choice. If Britain is to be protected in any future conflict, there will need to be substantial investment in our anti-submarine technologies and skills. We have catching up to do," Royal Navy Rear Adm. Chris Parry recently said, according to British agencies.
During the Cold War, Soviet submarines and naval vessels typically traversed a nautical chokepoint in the Atlantic Ocean called the GIUK gap — so named after Greenland, Iceland, and the United Kingdom, the coastal countries bordering the passage. In October, the head of the Royal Navy, First Sea Lord Adm. Tony Radakin, warned that Russia is "more active in the Atlantic — our backyard — than it has been for over 30 years."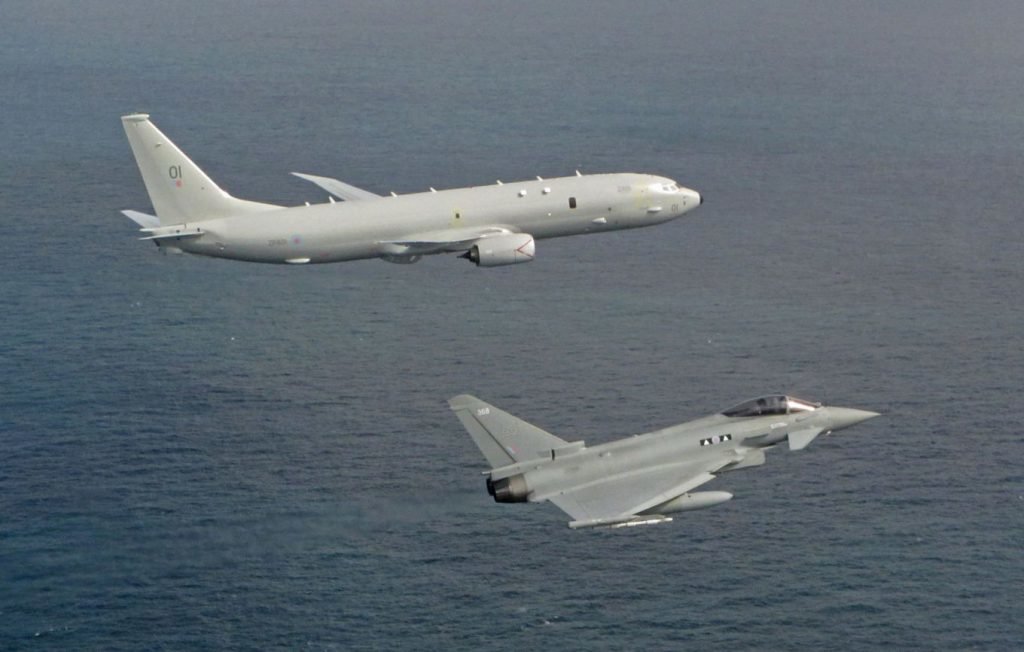 The Royal Air Force unveiled its new Boeing Poseidon MRA1 submarine-hunter aircraft in February. The modified 737-200 jet airliner is equipped with a suite of advanced surveillance equipment as well as torpedoes "for engaging sub-surface targets," the Royal Air Force reported.
"The UK's purchase of the Poseidon is in response to increased threats such as Russian submarine activity in the Atlantic returning to Cold War levels, while China is also investing heavily in new Arctic facilities, infrastructure and ice-capable ships," the Royal Air Force said in a statement.
The Royal Navy has also formed a new, elite unit to hunt for Russian maritime drones and underwater acoustic equipment in the vicinity of its naval bases, the British news site MailOnline reported on Nov. 1.
"Members of the team are understood to have been deployed to Faslane to track down underwater drones or surveillance equipment placed around the Clyde estuary — the route the Trident missile-armed Royal Navy fleet take to reach open sea," MailOnline reported.
It remains unclear if this new unit is related to the Royal Marines' new Vanguard Strike Company, which comprises a "select group of commandos" who will have "access to game-changing technology and weaponry," according to a Royal Navy release in July. This specialized outfit is officially slated to deploy for the first time in the summer of 2021.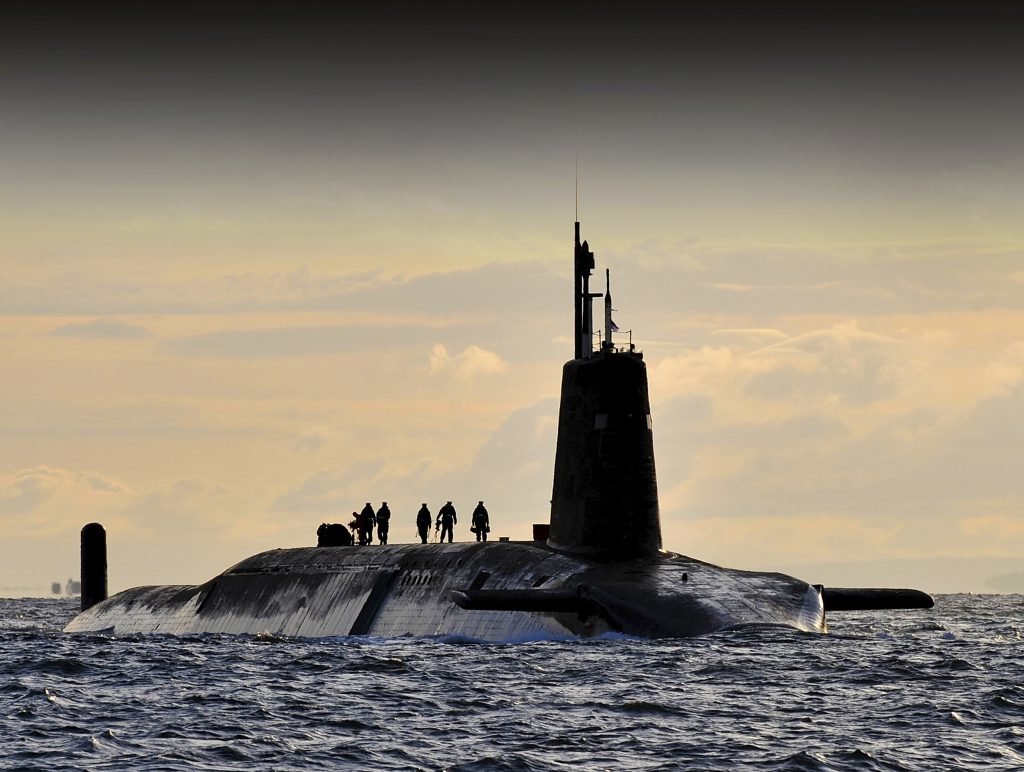 Unusual Floating Objects
The Wave Glider drone — alternatively known as an unmanned surface vehicle, or USV — has a price tag of about $300,000 and is capable of operating for up to a year without refueling. According to Boeing's website, nations "around the world" use the Wave Glider for various military applications, including anti-submarine warfare; surface warfare; and intelligence, surveillance, and reconnaissance.
According to a 2012 Defense Update report on the Wave Glider's military potential: "Naval applications could utilize constellations of Wave Glider based sensors that could deploy into an area of operation on their own power, by motherships or submarines. Future versions could also be air-dropped from aircraft for quick reaction. Typical missions could range from anti-submarine and counter-mine operations, to persistent surveillance of strategic hotspots in littoral areas."
The Wave Glider is also marketed for use in offshore energy exploration, seismic surveying, fish and marine mammal monitoring, tsunami monitoring, and meteorological and oceanographic assessments.
The Wave Glider concept dates back to a 2005 effort to design a sensor for listening to humpback whales. Hawaii-based Liquid Robotics built the first Wave Glider in 2007. Over the years, the innovative USV has been used by the Navy Research Laboratory for various missions. The oil giant BP also reportedly used the Wave Glider to monitor wildlife recovery in the Gulf of Mexico after the 2010 Deepwater Horizon oil spill.
The Wave Glider can navigate autonomously as well as receive real-time updates from an operator via a satellite feed. According to a Liquid Robotics fact sheet: "Wave Gliders can operate individually or in fleets to create a network effect for data collection and monitoring."
Due to its low radar signature, at-sea endurance, and capacity for carrying a wide variety of sensors, the Wave Glider is particularly useful for military operations. However, the Boeing-produced USV does not fall under the purview of the US government's International Traffic in Arms Regulations, or ITAR, Defense Update reported in 2012.
The ITAR laws are meant to prevent US military technology from ending up in the wrong hands. But the State Department determined the Wave Glider's technology was not militarily sensitive, and therefore did not limit its dissemination to foreign countries. The State Department and Liquid Robotics did not respond to multiple requests for comment by Coffee or Die Magazine regarding the Wave Glider's current ITAR status.
In 2012 Liquid Robotics reportedly created a special division, called the Federal Business Unit, to direct sales to federal agencies and the military, as well as sales to foreign governments. Foreign sales began in 2013, according to industry reports. A list of clients published on the Liquid Robotics website does not appear to include any organizations connected to Russia.
Liquid Robotics did not reply to multiple requests for comment as to whether the company had ever sold Wave Gliders to the Russian government, the Russian military, any Russian research institutes, or any Russian energy companies. As well, Liquid Robotics did not reply to multiple requests for comment regarding potential acts of industrial espionage by foreign agents.
The Wave Glider is propelled by an underwater "thruster" component, which looks something like a torpedo and is attached by a 26-foot umbilical to the surface-skimming component of the vehicle. Thanks to an innovative design, the Wave Glider is able to transform wave energy into forward motion — providing the unmanned craft with virtually unlimited range and endurance.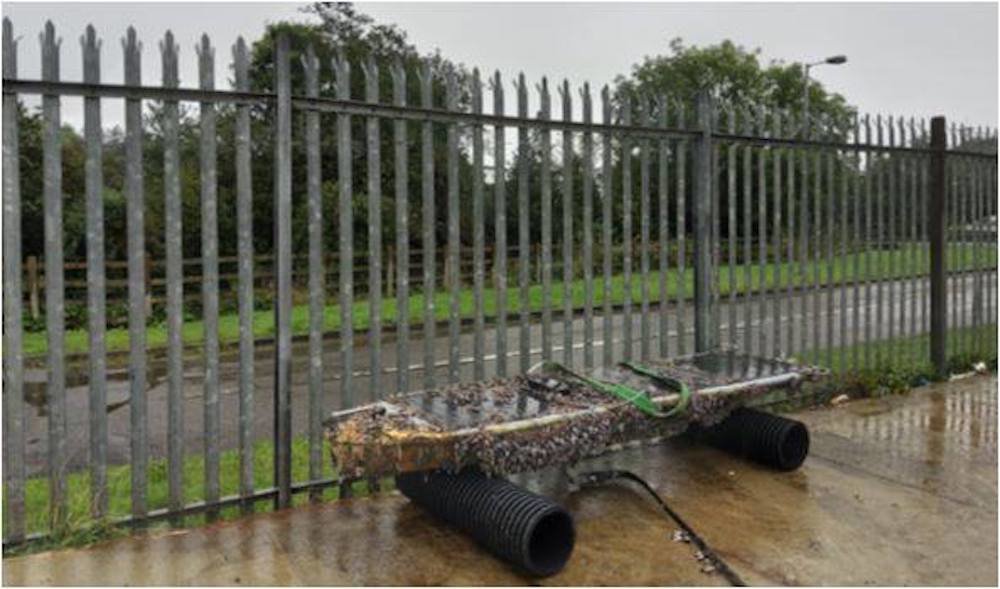 As of this article's publication, there have been no open-source reports about the discovery of the underwater component of the Wave Glider that washed up in Scotland at the end of September. However, another maritime drone that washed up in Ireland's northern Donegal County in September 2019 was similar in size and design to a Wave Glider. This vessel was also painted gray, similar to the craft that recently washed up near the Faslane naval base.
On its Facebook page, the Donegal County Council described the "unusual object" as shaped like a surfboard with a full-length solar panel and "what appears to be a recording unit housed in a plastic casing."
"The underside has built in probes, possibly for collecting data. No identification marks were found on the unit. We'd like to return this to its owner as they might be keen to retrieve any information stored in the unit," the Donegal County Council wrote on its Facebook page.
No one has claimed the unusual watercraft.
Commercial unmanned aerial vehicle technology is already being used for military applications. On the front lines in eastern Ukraine, for example, both Russian and Ukrainian forces have modified commercial aerial drones for use in combat — in some cases, jury-rigging them to drop anti-personnel grenades.
"Since commercial gliders have been used for oceanographic surveys for years — and some of them can remain at sea for up to five years — I would be surprised if navies are not using them," T.X. Hammes, a senior research fellow at the Institute for National Strategic Studies at the National Defense University, told Coffee or Die Magazine. "In addition to being cheap with very long dwell times, the fact that they are used widely commercially can provide deniability if one is found."