The 2021 space program for the United States has blasted off in historic fashion with no plans of slowing down. As we reach the midway point of an exciting year filled with both crewed and unmanned expeditions, the valuable data extracted from these adventures are sure to provide scientists a wealth of knowledge for future missions.
Watching the successful private Blue Origin and Virgin Galactic missions this July got us thinking about the ways in which similar test flights have provided earthbound coffee farmers valuable data on the sustainability of coffee farms.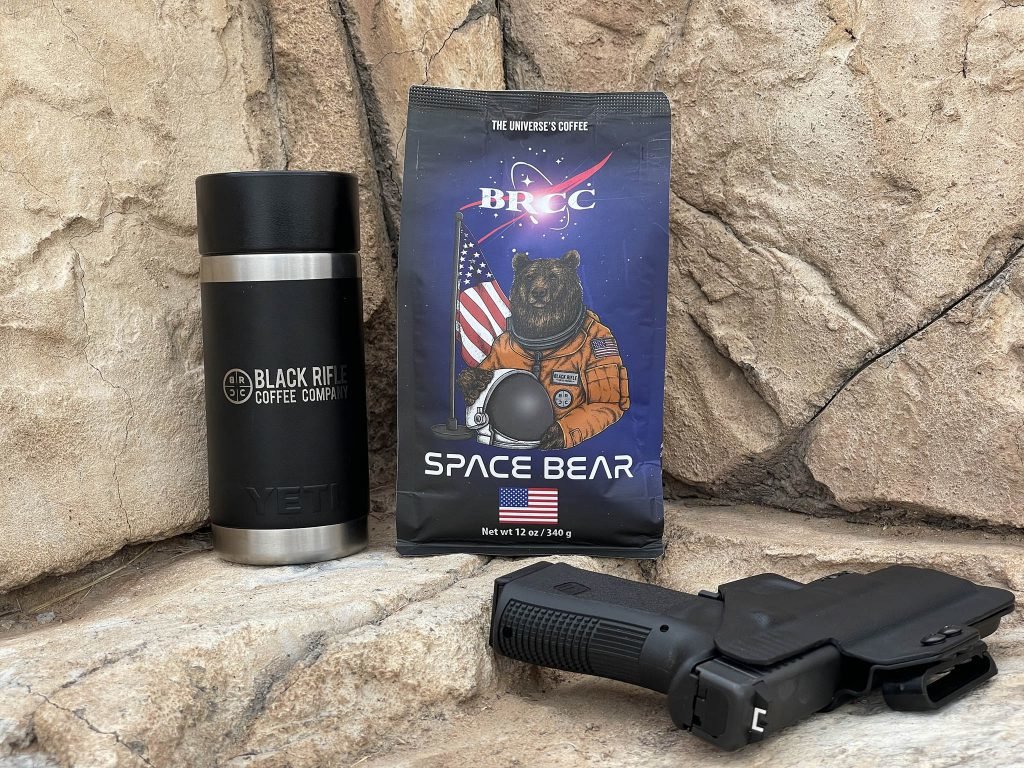 Our nonstop quest for coffee knowledge brought us to NASA's official website. And what we found was the Uninhabited Aerial Vehicle (UAV) Coffee Project.
The research was initially established in 2001 under a $3.76 million grant from NASA's Earth Science Enterprise. Coffee is one of the world's top agricultural commodities. And one of the most important factors in producing exceptional coffee is identifying the ideal time to harvest the ripest coffee cherries.
NASA and Clark University researchers used NASA's lightweight solar-powered UAV called the Pathfinder-Plus aircraft to monitor the Kauai Coffee Plantation on the island of Kauai, Hawaii. The 3,600-acre plantation was the largest coffee farm in the United States, with the dominant variety of coffee cherries turning yellow when they ripened. The plantation was an ideal test site to showcase the UAV's capabilities due to its overall size and large production scale, with an estimated 4 million to 5 million pounds of coffee produced each year.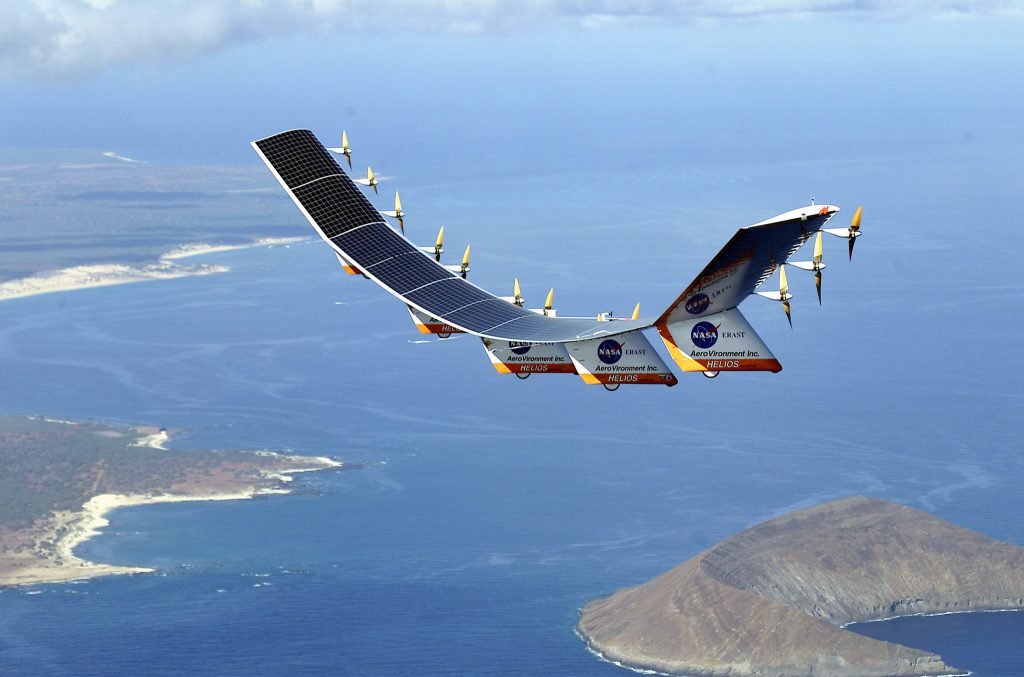 The original Pathfinder solar-powered aircraft was designed and built by AeroVironment in the early 1980s to support a classified program. With a wingspan of 98 feet, the Pathfinder set unofficial world altitude records in 1997 for propeller-driven aircraft. In 1998, the larger Pathfinder-Plus, with a wingspan of about 125 feet, reached an altitude of 80,201 feet.
For this project, the lightweight flying wing was flown remotely from the US Navy's Pacific Missile Range Facility at Barking Sands in Kauai County, Hawaii.
Pacific Missile Range Facility Barking Sands is the world's largest instrumented multi-environmental range that can support simultaneous surface, subsurface, air, and space operations. The range comprises over 1,100 square miles of instrumented underwater area, and more than 42,000 square miles of controlled airspace.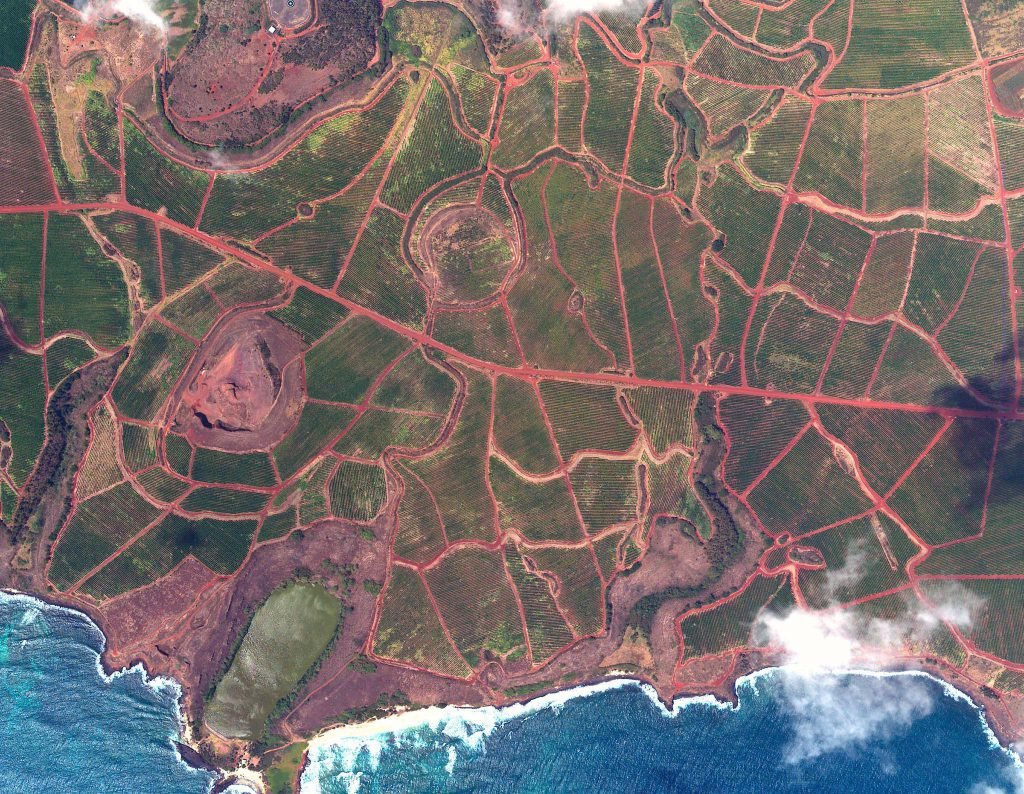 "The mission demonstrated the capability of this type of aircraft, with downsized digital imaging systems, to collect and quickly deliver high-resolution imagery over localized regions, overcoming the challenging conditions of tropical cloud dynamics," said Stanley Herwitz, then a professor of earth sciences at Clark University in Worcester, Massachusetts. Herwitz was the principal investigator for NASA's UAV Coffee Project.
Although there is no sound, this 32-second video taken Sept. 30, 2002, shows NASA's solar-powered Pathfinder-Plus photographing Hawaiian coffee fields and the coffee fields being harvested after the flight data was analyzed.
Pathfinder-Plus Aircraft Specifications


Wingspan: 121 feet.


Length: 12 feet.


Wing chord: 8 feet.


Wing aspect ratio: 15 to 1.


Gross weight: About 700 pounds.


Payload: Up to 150 pounds.


Cruise airspeed: Approximately 17 to 20 mph.


Power: Arrays of solar cells with a maximum output of about 12,500 watts.


Motors: Eight electric motors, each with a maximum power of 1.5 kW.


Endurance: About 14 to 15 hours, daylight limited with two to five hours on backup batteries.


Glide ratio (power off): 21 to 1.


Primary materials: Carbon fiber, Nomex, Kevlar, plastic sheeting, and plastic foam.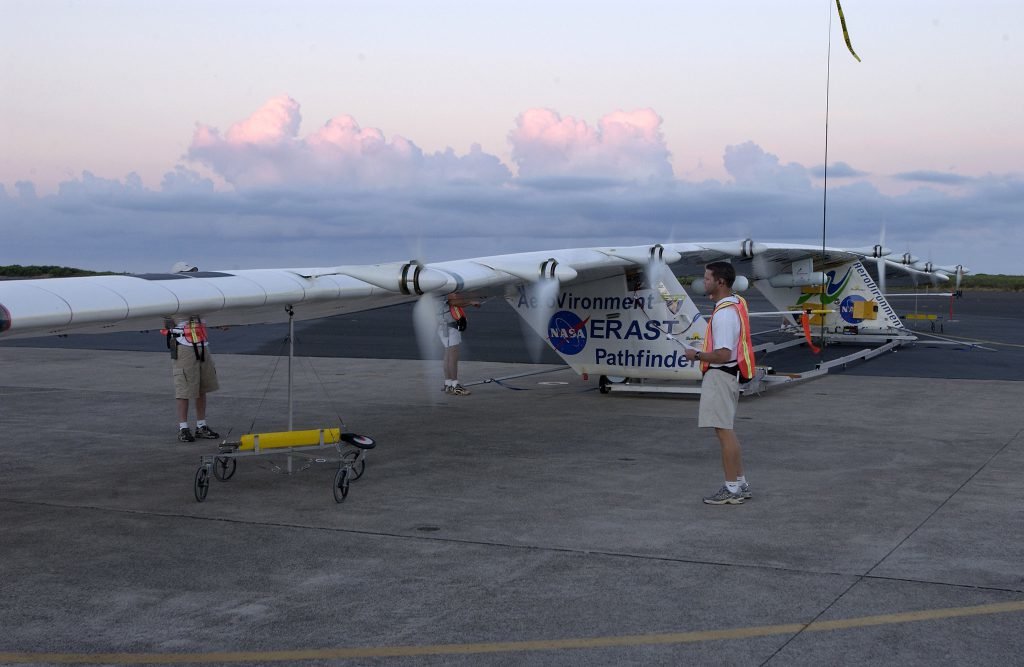 Results of the UAV Coffee Project
Although NASA's use of remote sensing to monitor the earth's surface was not a new technology, aerial photography obtained by onboard pilots at the time of this project was expensive. Satellites orbiting Earth could provide remotely sensed data, but they only focused on large areas of the planet's surface. Herwitz believed a UAV had several advantages over other platforms.
With the digital cameras mounted directly on the aircraft itself, no onboard pilot was needed. The aerial imaging system installed on the solar-powered UAV was ground-controlled; however, during one part of the flight, an undergraduate student, 2,500 miles away at California State University, operated one of the digital cameras remotely.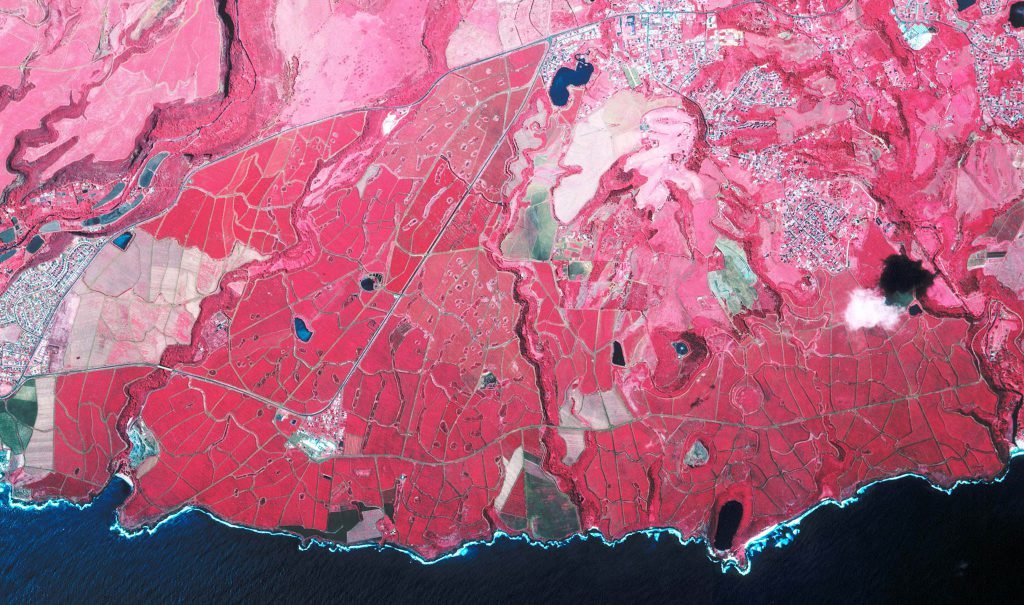 The team at NASA conducted the experiment on a cloudy day in Hawaii, with cloud cover at times as high as 80%. To combat the lack of visibility, the UAV performed controlled maneuvers into cloud-free areas over the coffee fields, in addition to its preplanned fixed flight lines.
More than 300 high-resolution images were taken during the mission and transmitted to the ground station in less than 20 seconds. It took only three minutes after researchers received the snapshots from Pathfinder-Plus to generate glossy prints showing the coffee fields.
After the flight tests were complete and the data was collected, the research team led by Herwitz conducted a detailed brief to the coffee industry on its findings.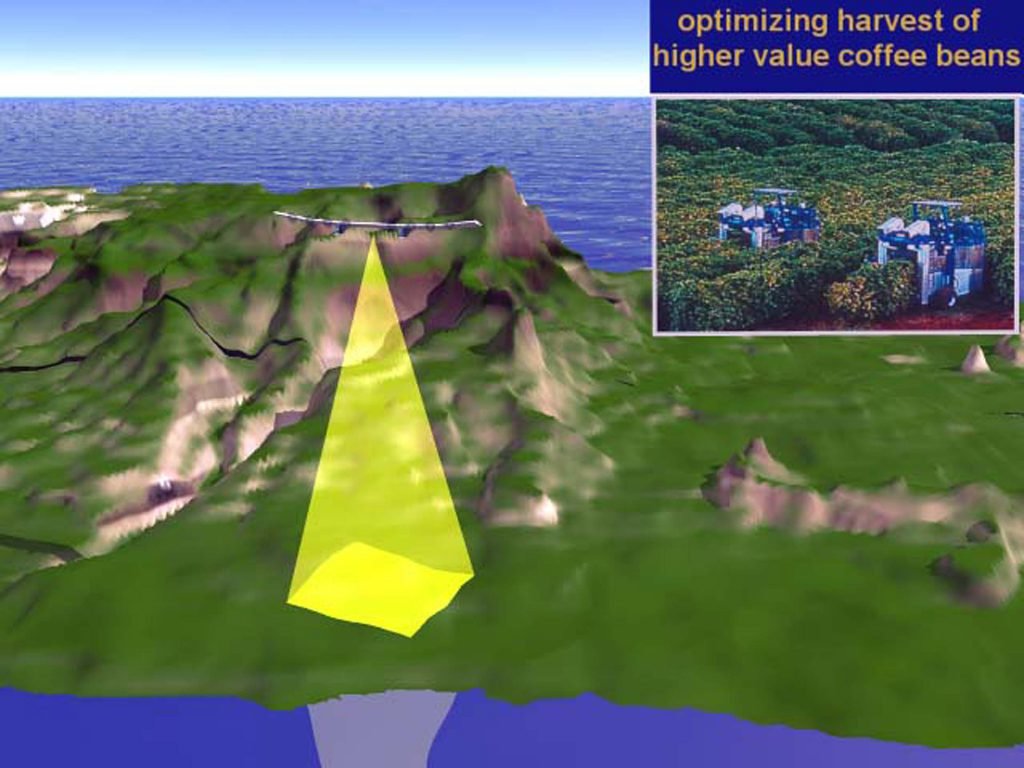 The results were a clear-sky composite of the coffee plantation with none of the images showing cloud cover. "I never thought I'd be this excited on a cloudy day in Kauai. We achieved everything we set out to do and much more," Herwitz said.
According to the published findings, imagery from the two onboard digital camera systems was analyzed to determine coffee field ripeness and to identify any water irrigation problems or coffee weed infestation. The differences in the color of the coffee beans spotted by the UAV's instruments indicated their ripeness. Using this data, the harvest manager was able to direct machines to harvest only those fields with the highest percentage of ripe coffee cherries.
The project allowed NASA to provide usable real-time data to a multibillion-dollar American industry. The demonstration also helped pave the way for many of today's unmanned aerial vehicle missions, involving agricultural advancements, environmental concerns, and civil emergency response measures.
Read Next: