Industrial Donut in Champaign, Illinois, gets a lot of requests for wild designs on their custom doughnuts. But last week, a customer who insisted on anonymity came in and ordered eight dozen police-themed donuts. Covered in blue, black, and white sprinkles and icing, they were a first for Industrial.
The customer delivered them to the Champaign Police Department as a token of support and respect after the on-duty death of Officer Chris Oberheim on May 19. Oberheim was shot during an early morning confrontation with 24-year-old Darion Lafayette in an apartment-complex parking lot. Oberheim's partner, Jeffrey Creel, was also shot but managed to shoot and kill Lafayette.
The act of doughnut-kindness came this week, just a few days before today's National Donut Day today. And although Donut Day is a holiday for everyone, for some reason, police departments tend to find themselves mentioned more.
Fair or not, a number of police departments have shown that they are happy to be in on the joke, and a number of doughnut makers have turned the confection's reputation as a first responder treat into a chance to donate or otherwise support local police, fire, and EMS.
The day of doughnuts was created and first recognized by the Chicago Salvation Army in 1938. Today, first responders and doughnut makers use the first Friday of every June to honor the women, nicknamed "Doughnut Lassies," who served doughnuts to soldiers in World War I. They would serve coffee and doughnuts to the troops on the front lines, even using soldiers' bowl-shaped helmets to fry up the delightful treats.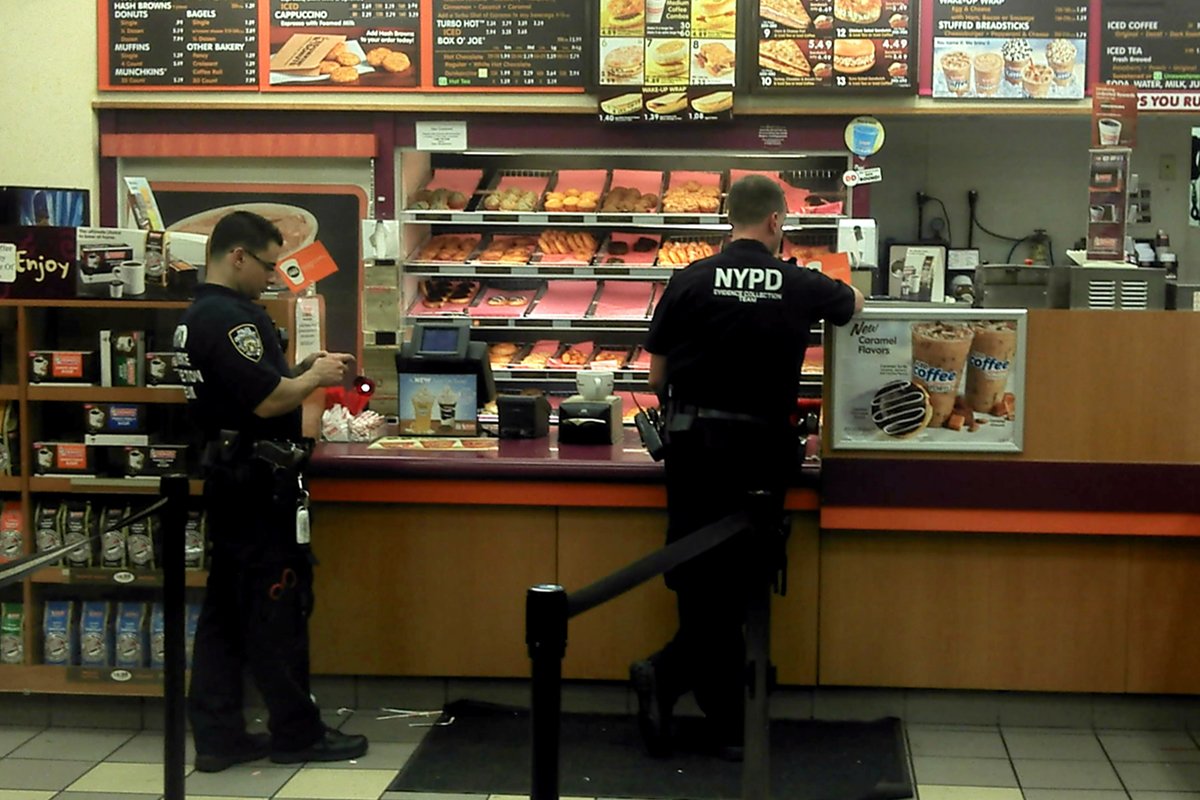 But the connection between cops and doughnuts has always been real, says Michael Krondl, author of The Donut: History, Recipes, and Lore From Boston to Berlin. He quotes former Seattle Chief of Police Norm Stamper's memory that "graveyard cops in the forties and fifties had few choices. […] They could pack lunch, pray for an all-night diner on their beat, or fill up on doughnuts. Doughnuts usually won out."
William Rosenberg, the founder of Dunkin' Donuts, wrote in his autobiography, "I made our stores hospitable places for the police. […] It protected the stores and it kept the crime rate very low."
Here's a list of police departments with a sense of humor about Donut Day, and local shops that want to keep those officers smiling.
1. Wausau, Wisconsin
A tradition like no other.
2. Athens-Clarke County, Georgia
"Let the donut jokes begin!" says the Athens-Clarke County Police Department in Georgia. The officers there are teaming with a local Dunkin' Donuts to support Special Olympics Georgia.
3. Tullytown, Pennsylvania
Police in Tullytown aren't afraid to just ask.
4. Mount Pleasant, Michigan
Come one, come all. This historic doughnut shop founded in 1896, now called Cops and Doughnuts, was saved by police, and now everyone in the vicinity of Clare, Michigan, can enjoy its doughnuts. Its website welcomes everyone and says, "Join us for a warm fresh doughnut and a steaming cup of cops coffee while you enjoy the police decor and friendly, and very safe, atmosphere."
5. St. Cloud, Minnesota
The Stearns County Sheriff's Office will be recognizing National Donut Day by giving away doughnuts all day. Kwik Trip donated doughnuts to make it all happen.
6. Valdosta, Georgia
And finally in Valdosta, members of the local fire department decided to have some fun with their fellow first responders at the police department, delivering a few dozen to police to celebrate "their" special day.
Read Next: