Read the original article on Military.com. Follow Military.com on Twitter.
From New Jersey to Washington state, National Guard members across the country are gearing up for election-related missions — ranging from cybersecurity support to responding to civil unrest — in an already record-breaking year for state activations.
Governors have continued to activate National Guard troops in the final days leading up to the presidential election, which has been transformed by the coronavirus pandemic. Soldiers and airmen are supporting polling stations, leading cybersecurity missions, and even preparing for civil disturbances in the wake of what could prove to be a contentious election in which results might not be known for weeks.
As of Friday, 10 states were actively planning for Guard members to handle election-related missions and 15 were indicating they plan to do so. Those missions include working polling stations and cybersecurity missions.
No Uniforms, No Weapons
Armed troops won't be guarding polling places on Tuesday.
Leaders in several states said the hundreds of Guard members activated by their governors will be wearing civilian clothes and won't be carrying weapons. That's true in Wisconsin, New Jersey and Nebraska, officials from those states say.
"Our service members are placed on state active duty, and they show up in civilian clothes to the polling stations, so any member of the community that is coming into a polling station isn't going to be able to recognize that they are in the Guard," said Brig. Gen. Robyn Blader, assistant adjutant general of the Wisconsin National Guard. "They are going to look like anyone else from the community."
Several hundred Guard members assisted at polling places during the primaries, Military.com reported this summer. They were under strict orders to stay out of the actual voting process, filling gaps created during the pandemic since older people who tend to volunteer at polls were staying home to prevent contracting COVID-19.
In New Jersey, one of the states where Guard members assisted during the primaries, troops are helping process mail-in ballots. The country has seen a huge uptick in mail-in ballots during the pandemic. About 240 New Jersey National Guard soldiers and airmen are already supporting 18 counties' board of elections, Lt. Col. Barbara Brown, a Guard spokeswoman there, said.
"This support is an extension of the Guard's active role in preventing the spread of COVID-19 in New Jersey," she said. "The [New Jersey National Guard] is fully capable and prepared for this mission."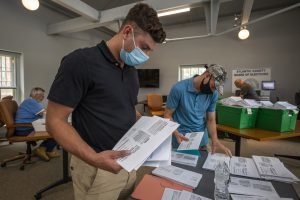 Guard members in other states, such as Washington and Delaware, are taking on cybersecurity missions. U.S. intelligence officials warned earlier this month that Iran and Russia obtained voter registration information, and were already attempting to interfere in the election.
The National Guard has 59 cyber support units, Wayne Hall, a National Guard Bureau spokesman, said.
"Each state is different and has the advantage of tailoring its National Guard forces to their specific requirements to support elections, especially the states with cyber units," he said. "We consider this flexibility one of the National Guard's primary strengths."
The National Guard for Washington State has been working with state officials since the 2018 midterm elections, performing vulnerability assessments on firewalls and ensuring that software is up to date, Air Force Brig. Gen. Gent Welsh, assistant adjutant general for the Washington Guard, said this week.
"One of the unique things about the Guard is we dip into the talent that we've got in the civilian areas so having companies like Microsoft and Amazon … allows us to draw those folks into the Guard that have got cutting edge experience working in a tech company is able to pair that with the military training they have," Welsh said. "And then when we have issues like we are having with our election system, we've got some really, really talented and qualified folks to do that work."
Bracing for Conflict
Guard members say they're not anticipating trouble at the polls, but if a problem breaks out, they say troops working on election day would respond the same way a civilian would.
"In that case it's a 911 event to call in local law enforcement to handle any violence or any threats of violence," Air Force Maj. Gen. Daryl Bohac, adjutant general for the Nebraska National Guard, said.
If violent protests erupt after the election, Guard officials said it will be up to state leaders to coordinate with law enforcement units for potential National Guard response.
"I think the chief executives of each state are already thinking about these kinds of issues and they would be the focal point for any use of the National Guard for any civil unrest or disturbance following the election," Bohac said.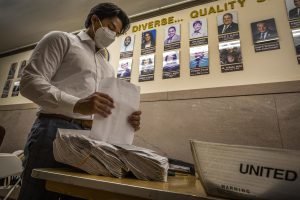 After a long and often contentious campaign though, some National Guard members have for months been preparing to respond. In Tennessee, the Guard has a contingency plan to support the state highway patrol, Army Maj. Gen. Jeff Holmes, the Tennessee National Guard's adjutant general, said.
"That has been a pretty established drill we have been executing since May and we do have a number of contingency plans," he said. "We do talk with them more frequently; we have had a number of planning meetings just so we have a multitude of options that might be available."
Guard personnel would primarily be tasked with providing protection for state and local facilities to free up the highway patrol to conduct law enforcement activities, Holmes added.
"We know our mission," he said. "We have had to deploy for civil unrest, so we have a very good working relationship with them."
In New Jersey, the Guard has a reaction force to assist the state for contingency responses when requested by proper authorities, Brown said.
"Our 8,500-member force remains committed to responding to our state and its citizens during times of need," she said. "We live, work and raise families in these communities and will stay during this critical time for as long as we are needed."
For now, though, leaders say they're focused on ensuring troops aren't burned out after a busy year for the National Guard.
"Our state leadership worries about our Guardsmen being overworked during our state call ups, but they work with our soldiers and airmen to ensure they are getting the rest they need and they are rotated out so they can take leave," Joseph Siemandel, director of public affairs for the Washington National Guard, said.
The state activations follow National Guard missions for the pandemic, wildfires, border missions and protests across the country. Missions inside the U.S. peaked for the Guard in June, when more than 86,000 of its soldiers were engaged in domestic missions.
The National Guard provided 8.4 million days of support for domestic operations in fiscal 2020, which ended on Sept. 30.
"Due to all the peaks we've had, there's no way that we would have been close to that in any previous year," Hall said.
The missions haven't come without controversy though, particularly after tens of thousands of Guard members were called on to support law enforcement personnel in responding to protests in dozens of states following the May death of George Floyd, a Black man who died in police custody.
As Americans brace for the possibility of more unrest, National Guard leaders say they've reinforced law enforcement earlier this year and are prepared to do so again.