This article was originally published on Sept. 30, 2019, by the Indiana National Guard.
CAMP ARIFJAN, KUWAIT — Outside, the orange sun settles in for the night and slowly slips down the horizon while Sgt. 1st Class Teddy Waggoner eagerly anticipates his son, Sgt. Cole Waggoner's arrival at Camp Arifjan, Kuwait.
Teddy described his relationship with Cole with a spark in his speech sitting in a brown chair surrounded by coffee machine hisses and pops.
Hour upon hour passes crawling toward Cole's arrival while Teddy enthusiastically shares stories about his military career and his family.
While the sun set hours ago, the temperature outside finally begins to drop providing some relief to the wait.
Teddy waited with some of Cole's 101st Airborne Division battle buddies at a camp building known as the theater gateway, and the father excitedly chatted about his 22 years in service and cheerfully exchanged stories of his military career.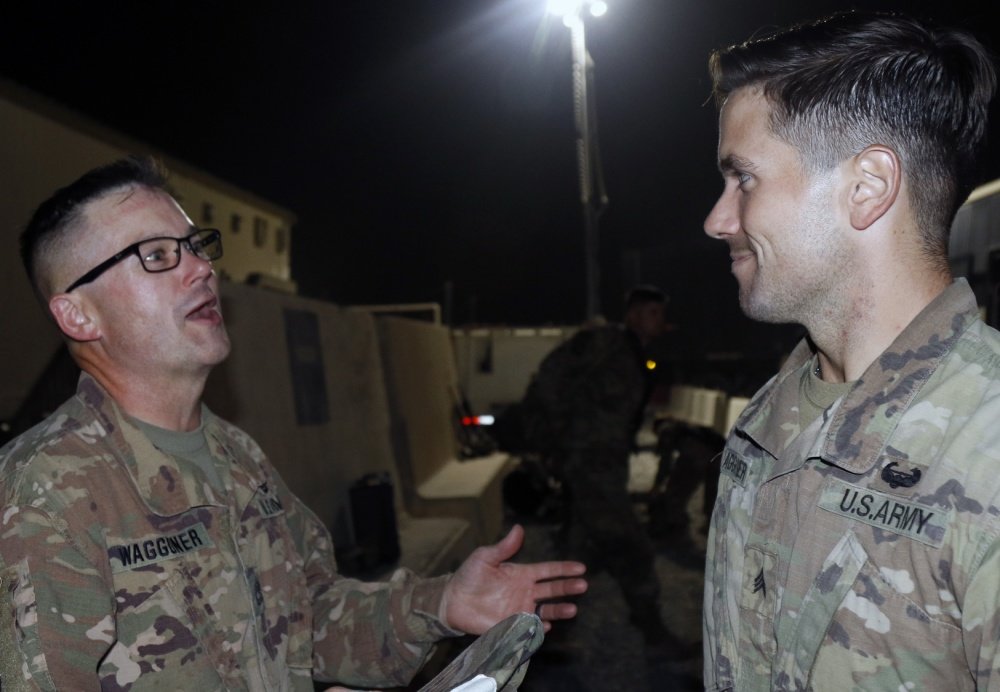 Around midnight, the long-awaited text arrived! Cole would soon greet his father after Cole's 9-month deployment in Iraq.
As Cole exited the bus, Teddy looked for Cole, yet Cole immediately locked onto his father.
While Teddy glanced from bus to bus searching for his son, Cole said, "Hey!"
They embraced with grins and cheers following hours of waiting, many travel changes and anxious anticipation.
"It's good to see you," exclaimed Teddy.
"Ooooonly six hours late," Cole replied as he adjusted his M-4 rifle and grinned up at his father.
"It's OK. It's OK," reassured Teddy with glee.
Families sacrifice time, experiences and shared memories when troops are deployed, but keeping in touch alleviates much of that absence felt through the long distances.
The bond between Teddy and Cole continues during their visit together.
The two soldiers share a lot in common from choosing an Army signal career field, beliefs and investing in family.
Teddy, 50, continues to serve in the signal branch with the 38th Infantry Division with 17 of his 22 years with the Indiana National Guard.
Cole, 27, provides signal intelligence expertise in the 101st Airborne Division and will return home after supporting Operation Inherent Resolve in Iraq.
Families sacrifice time, experiences and shared memories when troops are deployed, but keeping in touch alleviates much of that absence felt through the long distances.
Cole grew up with his father deploying and remembers receiving calls from a room with telephone service at the United Services Organization.
"Growing up with him deploying, using a room much like this to call us once a week, it's surreal that we can talk so regularly. But as we've found electronic media, social media, whatever aren't a replacement for seeing families," said Cole now sitting in USO telephone room himself.
Cole explains seeing his father happy in his military service encouraged him to join, but there was not any pressure from Teddy.
"Yes, I am a sergeant first class, and yes, he's an E5, but I am a father, and he's my son," said Teddy who's proud of his soon regardless of his military service.
Cole participated in sports while growing up and would run with his dad two or three times per week. During one of those runs years ago, Cole expressed interest in joining the military and Teddy often shared advice during their time together.
While Teddy and Cole were going uphill on one of those runs, Teddy talked with Cole about the Noncommissioned Officer Creed to prepare him for the day that his son may be a noncommissioned officer.
"We have the NCO creed. If you stay long enough, you will know the NCO creed. The important part of the NCO creed is how someone applies it to being a noncommissioned officer," said Teddy.
Noncommissioned officers are the backbone of the Army and leadership takes time to cultivate.
"It's easy to know who you don't want to be like than to know what NCO you want to be," said Teddy as he reflects on his years past and his son's future.
Now father and son are cultivating the types of leaders they want to be. One, the father, in the National Guard, a few months in his deployment, but at the tail end of his career. The other, the son, in the active-duty Army, at the tail end of his deployment, but his career just beginning.
While Cole visited his father during the quick stop in Kuwait, the two attended religious services together, chatted about the time past and played a little music together.
Cole will head back to Fort Campbell, Kentucky, where his family will greet him with gratitude, excitement and cheering.
Teddy and his unit are slated to return home in spring 2020, and that same family will enjoy his homecoming, back home again in Indiana.