Roughly 300 National Guard members will soon join approximately 700 others already mobilized in support of a massive operation to fight widespread wildfires that have destroyed hundreds of homes, killed at least 10 people, displaced tens of thousands, and left at least 50 people missing in Oregon.
Maj. Gen. Michael E. Stencel, adjutant general and commander of the Oregon National Guard, said in a press conference that by the end of the day Monday, the number of Guard members mobilized in Oregon was to reach nearly 700; by end of week that number will grow to around 1,000.
Officials said the Guard members are part of a multistate and federal coalition of at least 5,600 personnel currently involved in firefighting operations across the state. They are dealing with widespread destruction wrought by multiple fires that have already burned approximately 1 million acres across the state.
Oregon Gov. Kate Brown said in Monday's press conference that crews from all over the country and Canada are coming to Oregon's aid.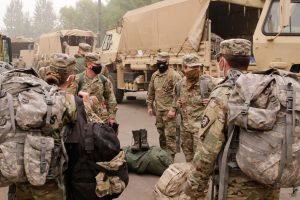 "We expect structural firefighting teams from North Dakota and Michigan to join our response this week," Brown said. "Michigan, California, and Washington are providing resources to our emergency coordination center. Vermont and Nevada have reached out, asking how they can help. Scores of representatives from FEMA are now on the ground assisting the response effort."
Brown also said she sent President Donald Trump a letter today, asking that he declare a major disaster in Oregon.
"We are incredibly grateful for this national support. I want to thank these crews for joining us in the firefight," Brown said. "We can certainly use all the help we can get."
Brown said the state is also working with the National Guard to deploy approximately 250,000 N95 masks to agricultural workers and impacted tribes across the state.
Maj. Stephen Bomar, director of public affairs for the Oregon Military Department, told Coffee or Die that the Oregon National Guard has approximately 140 members supporting 46 tactical control points (TCPs) across five counties. TCPs help facilitate evacuations and prevent entry into dangerous areas. Jackson County in southern Oregon, where the Obenchain Fire has consumed more than 32,000 acres, has the most TCPs at this time with 25.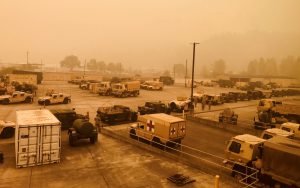 Five TCPs are supporting efforts in central Oregon's Lane County. Two are in neighboring Linn County. Eight are in Marion County, where the state capital of Salem is located, and six TCPs are in Lincoln County, which covers parts of the central Oregon coast.
Stencel said the department has received requests from other Oregon communities for an additional 30 TCPs, which will require approximately 150 additional Guardsmen.
The Guard has eight H-60 Black Hawk helicopters and two UH-72 Lakotas committed to firefighting and search and rescue operations, but poor visibility from smoke clouds and dangerous conditions have kept them on the ground since Sept. 8, according to Bomar.
"As you can imagine, our pilots are pretty frustrated waiting for this weather to lift, but we're anxious and hopeful that we're going to be able to fly in support of this, most likely down in southeast Oregon in Lakeview here in the next 24 hours," Stencel said at Monday's press conference.
Five of the Black Hawks are equipped with water buckets and have already dropped more than 20,000 gallons of water since being activated, according to Bomar.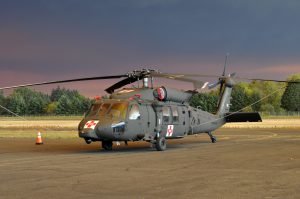 Six of the Oregon National Guard's CH-47 Chinook helicopters and approximately 60 soldiers assigned to Bravo Company, 1st Battalion, 168th Aviation Regiment, are unavailable to support the firefighting operations because the unit deployed in May to Afghanistan, where the aircraft are carrying cargo and equipment while resupplying areas around the country.
A CH-47 crew from the California National Guard recently made three daring flights in treacherous conditions to rescue 214 campers who had been trapped by fires there.
The 168th Chinooks are equipped with large Bambi Buckets capable of holding 2,000 gallons of water, which can cover 100 meters of forest. While Black Hawks can fly faster than Chinooks, they can only carry around 10 people and support around 2,600 pounds, and their Bambi Buckets only carry 600 gallons of water.
Bomar said the absence of the Chinooks is "not a hindrance" currently.
"We have a total of 40 aviation assets that also include civilian assets," he said. "And even if we had those back in the state, they would be grounded right now."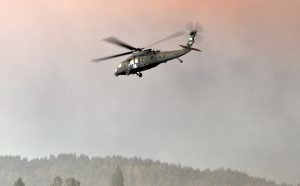 Bomar said more than 325 Guard members who were trained and certified to fight wildfires earlier this summer have been activated to support the Oregon Department of Forestry with ground support. The Guard is also beginning training for two additional teams to be certified to assist and has requested additional trained teams from other states to assist as well.
Stencel said he expects those being trained to be able to depart for firefighting support in a week. He said a team from Idaho is coming to help, and Montana and Florida have offered up teams as well.
Stencel said the Guard placed its fatality search and recovery team in Albany, a town in central Oregon's Linn County, yesterday, and 10 Guardsmen from the Guard's emergency response force have deployed in support of the Federal Emergency Management Agency's urban search and recovery teams.
Andrew Phelps, director of Oregon's Office of Emergency Management, said the state is getting help from all over the country, but they can still use more support.
"If you have the capacity to give and want to be of assistance, reach out to reputable nonprofit and voluntary organizations that are supporting this response — the Red Cross, the Oregon Food Bank, Team Rubicon, and others," he said.
Team Rubicon is a veteran-run nonprofit that utilizes the skills and experiences of military veterans with first responders to rapidly deploy emergency response teams to provide immediate relief to those impacted by disasters and humanitarian crises.