KYIV, Ukraine — Ever since Russia invaded and seized Ukraine's Crimean peninsula in 2014, the Black Sea has emerged as a geopolitical hotspot, pitting NATO and Russian forces against each other in a tit-for-tat chess game of dueling exercises and patrols, reminiscent of the Cold War era.
Today marks the beginning of a major U.S.-led naval exercise in the Black Sea called Sea Breeze, which is cohosted by Ukraine. Including 26 ships and 19 aircraft, this will be the 20th iteration of Sea Breeze. Altogether, this year's exercise will comprise some 2,000 personnel from eight countries, including 400 U.S. military personnel from the USS Porter destroyer, as well as a U.S. Navy P-8 patrol squadron. The P-8 aircraft is used in a variety of roles, including anti-submarine warfare.
"I don't see that Russia does dominate the Black Sea," said Vice Admiral Gene Black, commander of the U.S. 6th Fleet, during a telephonic press briefing Monday. "It's international waters. The United States Navy operates there, as do the navies of many other nations, peaceably, and doing the things that navies do in exercises like Sea Breeze."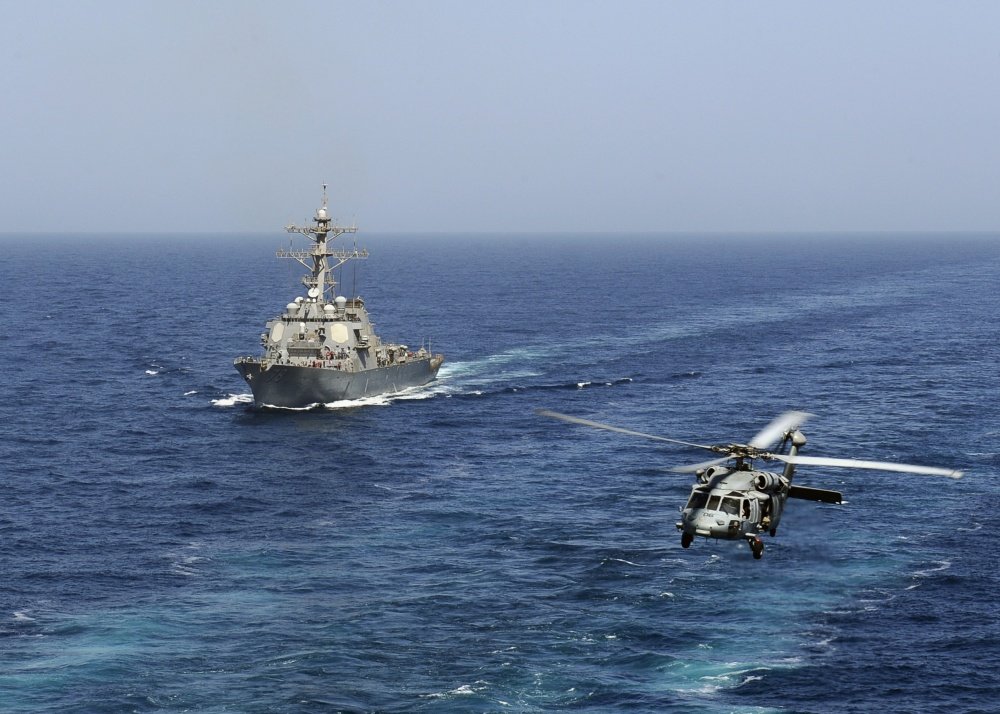 On Sunday, the USS Porter transited through the Bosphorus Strait into the Black Sea — marking the fifth U.S. warship to enter that body of water in 2020.
"Porter's return to the Black Sea reaffirms U.S. 6th Fleet's and the U.S. Navy's commitment to our NATO allies and partners," Black said. "Our participation in multinational exercises like Sea Breeze are a tangible representation of U.S. resolve for the collective defense of Europe."
Apart from the U.S. and Ukraine, the other countries participating in Sea Breeze this year include Bulgaria, Georgia, Norway, Romania, Spain, and Turkey. Of those countries, only Georgia and Ukraine are not members of NATO. And they both face ongoing, so-called frozen conflicts on their territories against Russian forces.
This week's Sea Breeze exercise will focus on maritime interdiction, air defenses, and anti-submarine warfare. The exercise will also hand over more responsibility to Ukrainian naval commanders, highlighting the growing sway of Ukraine's navy in the Black Sea region.
Ukrainian officials say Sea Breeze will help ensure peace in the Black Sea region. The exercise will also help grease the skids for the slow but steady evolution of Ukraine's post-Soviet military to adopt NATO operating standards.
"For the Ukrainian side, this is the main tool for entering NATO," Rear Admiral Oleksiy Neizhpapa, commander of the Naval Forces of the Armed Forces of Ukraine, said during Monday's briefing.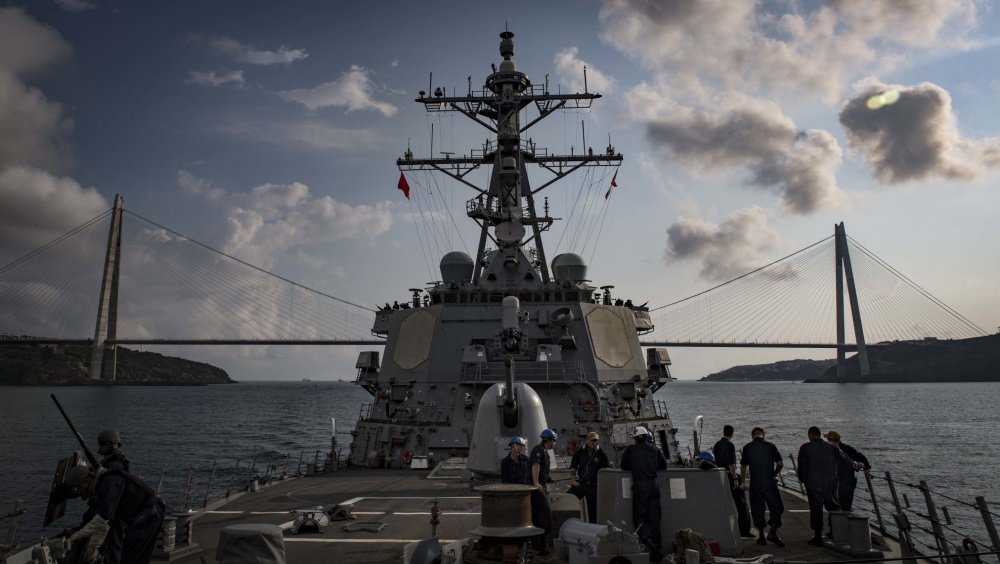 The beginning of Sea Breeze comes three days after Russian President Vladimir Putin ordered large-scale snap drills meant to test the combat readiness of Russia's armed forces. These previously unannounced military exercises are meant to guarantee "security in Russia's southwest," and comprise some 150,000 Russian troops and hundreds of naval vessels and aircraft, according to Moscow.
The Black Sea region is on Russia's southwestern frontier. Nevertheless, during the Monday press briefing Black downplayed the significance of Russia's parallel drills.
"The Russians have every right to exercise their forces and train, as we do," Black said, answering a reporter's question about Russia's snap drills. "And I doubt that we will have any interaction at all, and if we do, I'm sure it'll be professional and in accordance with the laws and norms of maritime operations at sea."
Russia is planning to hold a major military exercise of its own in September called Caucases-2020. Comprising troops from 17 countries, according to Moscow, Caucases-2020 will test Russia's southern defenses.
Crimea — the peninsular territory Russia invaded and seized from Ukraine in 2014 —has become a fortified redoubt from which Russian can project power across the Black Sea basin.
Russia deployed its advanced Bastion coastal defense missiles to Crimea in 2015. In December 2019, Russia conducted exercises to test those coastal missile defense batteries.
"Bastion systems are defensive systems that protect the coastline, protect territories. They are believed to be the most efficient coastal systems in the world as of today. So, at a certain point, we deployed these coastal systems Bastion to make it clear that Crimea was under safe protection," Putin said in a 2015 documentary film.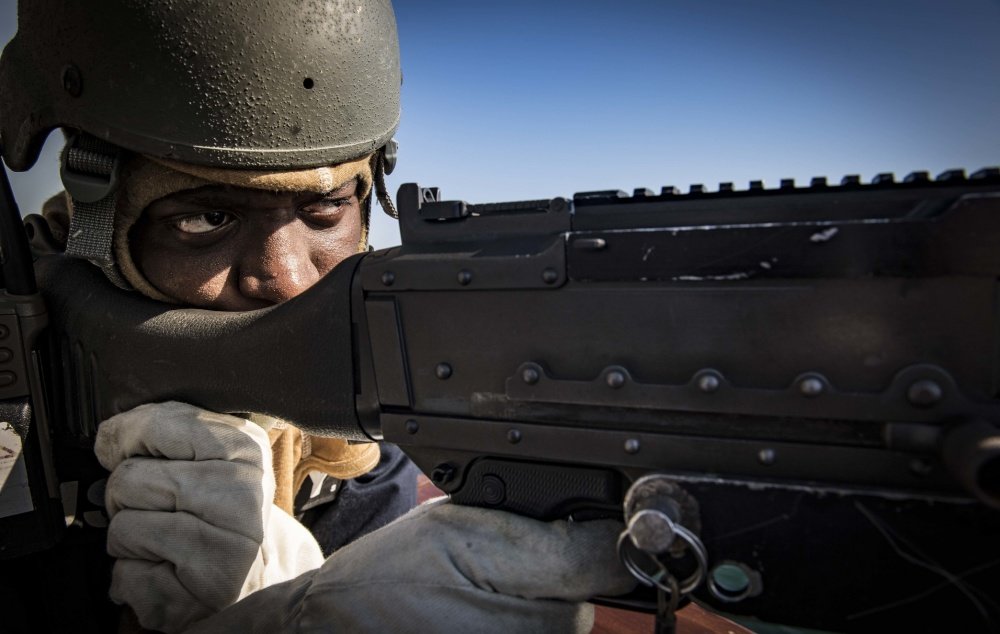 Moscow has garrisoned some 40,000 troops in Crimea and deployed nuclear weapons-capable missiles and bombers to the occupied territory, as well as Russia's most advanced surface-to-air missile systems, according to Ukrainian and NATO officials.
Thus, the entirety of Ukraine's Black Sea and Sea of Azov coastlines remains under the shadow of Russian surface-to-air missiles — a lethal prospect for Ukraine's air force. Russia has also begun to build new warships in Crimea; a move that Washington has criticized.
"Russia's unauthorized construction of warships on sovereign Ukrainian territory, which it seized by force, violates international norms once again. Sanctions will stay in place until Russia returns control of Crimea to Ukraine and withdraws from the Donbas," the U.S. Embassy to Ukraine said on Facebook on July 20.
Amid Russia's militarization of Crimea, the U.S. Navy has taken an interest in asserting its presence in the Black Sea.
"The Black Sea is a vital waterway that is critical to maritime commerce and stability in Europe," Black, commander of the U.S. 6th Fleet, said Monday.
To that end, the U.S. has taken steps to help build up Ukraine's navy as a regional counterbalance against a more aggressive Russia in the Black Sea.
Russia's 2014 takeover of Ukraine's Crimean Peninsula left 80% of Ukraine's navy in the Kremlin's hands. Rather than replace the blue-water warships lost in Crimea, however, Ukrainian military leaders have prioritized the creation of a "mosquito fleet" of shallow-water craft armed with advanced anti-ship weapons.
To help in that effort, in September 2018 the U.S. Coast Guard handed over two decommissioned 110-foot armed cutters to Ukraine. The Ukrainian Embassy to the United States announced on Saturday that Washington had approved the transfer of 16 Mark VI patrol boats to Ukraine's navy. The U.S. will pay for six of the modern coastal defense vessels, and Ukraine will reportedly purchase the remainder with its own funds.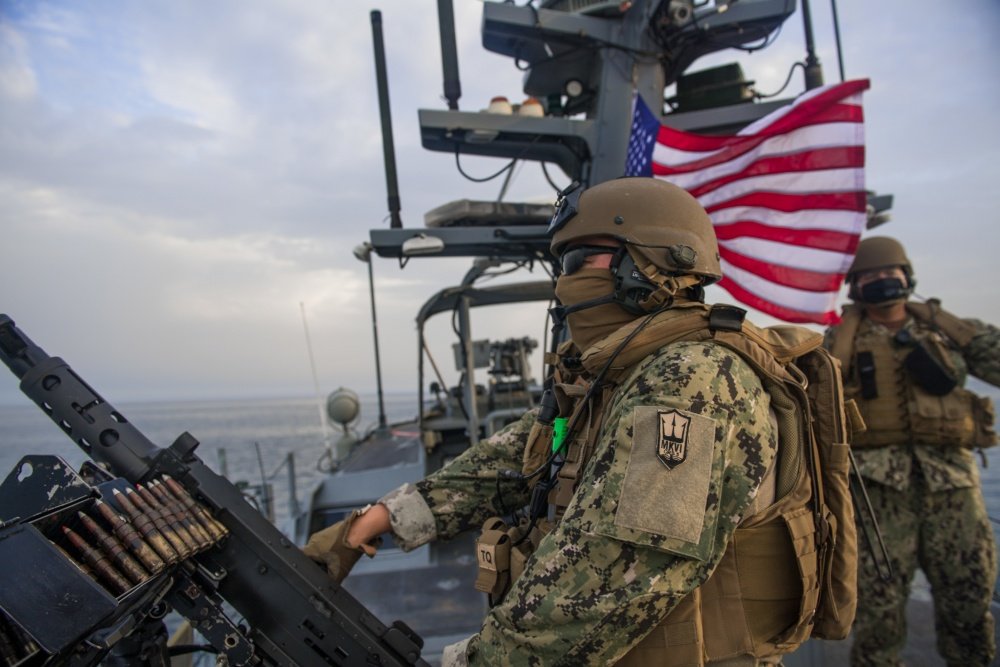 Moreover, Ukraine has started production on its own $30 million, 54-ton "Gurza" artillery cutters, able to operate in the shallow draft conditions of the Sea of Azov, which has an average depth of about 30 feet. Ukrainian news agencies have reported that the Ukrainian navy has asked for 20 Gurzas by this year.
Ukraine is also developing new weapons for maritime combat, including an anti-ship cruise missile called the Neptune. Designed and built in Ukraine, the Neptune can hit targets about 200 miles away and sink warships with displacements of up to 5,000 tons, Ukrainian defense officials say.
"The main priority for our Ukrainian navy is the rocket programs, missile programs," Neizhpapa, commander of Ukraine's navy, said on Monday. "We have finished the training of our coast missiles, Neptunes, which will be used starting from the next year in the Ukrainian navy […] The next stage is the launching of these missiles on sea platforms."
The specter of a Russian amphibious landing has also influenced the posture and training of Ukrainian military forces in the Sea of Azov and Black Sea regions. Along its coastlines, Ukraine has built a network of coastal defenses to repel an amphibious landing by Russian forces — in some places, such as the city of Mariupol, those defenses look like something from a photo of Normandy in World War II.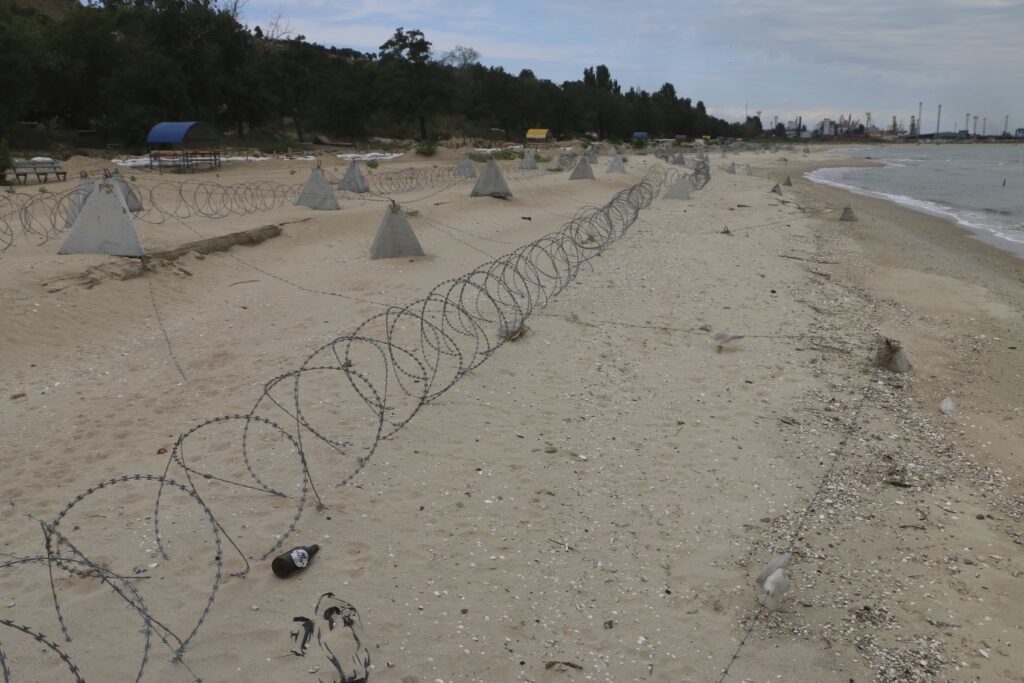 Russia, too, has its own special interests in the region.
In January, a new Russian gas pipeline under the Black Sea called TurkStream went operational. TurkStream comprises two gas lines that deliver natural gas from Russian territory to both Turkey and southeastern Europe.
Thus, with Russia's economy heavily dependent on energy exports, defending the TurkStream pipeline is certainly one reason for Russia's increased interest in extending its military sway over the Black Sea.
From the Earth to Sea
Since April 2014, Ukraine has been locked in a land war in its eastern Donbas region against a combined force of Russian regulars, pro-Russian separatists, and foreign mercenaries.
For years, that conflict had remained landlocked to the front lines in the Donbas. However, a November 2018 confrontation between Russian and Ukrainian naval forces at the Kerch Strait raised the prospect of a maritime clash between the two erstwhile Soviet allies in the Sea of Azov.
The Kerch Strait divides mainland Russia from the Crimean Peninsula. The narrow maritime passage is the only inlet from the Black Sea to the Sea of Azov, where Ukraine has two major ports. In May 2018, Russia opened a bridge across the Kerch Strait. Since then, all maritime traffic in and out of the Sea of Azov has to pass under Russia's new bridge.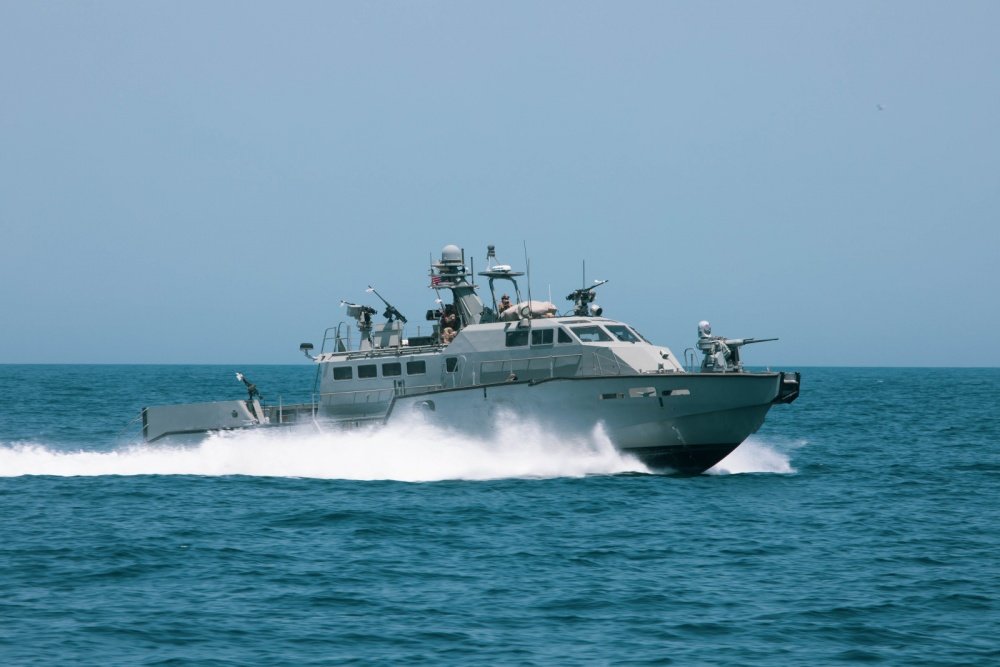 Russian officials swiftly moved to limit the tonnage of ships passing through the Kerch Strait. That paralleled a spike in activity by Russian naval forces to board and harass Ukrainian merchant ships entering the Azov Sea. This harassment of Ukrainian merchant vessels spurred Kyiv to respond to what it said amounted to a de facto Russian blockade.
During the November 2018 skirmish, Russian ships fired on and captured three Ukrainian navy vessels approaching the Kerch Strait. The three Ukrainian vessels — two artillery boats and a tugboat — were transiting from Odesa to the Ukrainian port of Mariupol on the Sea of Azov. Russian forces took 24 Ukrainian crew members prisoner during the raid.
"So when people question why non-Black Sea nations participate [in Sea Breeze] — it is because the U.S., NATO Allies, and partner nations recognize the importance to not only maintain a stable and prosperous Black Sea region, but also the importance of being able to seamlessly operate together and deter adversary aggression," Black said.