Thousands of US Navy and Marine Corps veterans will have their general and other-than-honorable discharges reviewed following a settlement agreement announced Tuesday, Feb. 15, in a class-action lawsuit. The suit, Manker v. Del Toro, stemmed from complaints made by two plaintiffs alleging that the Navy and Marine Corps wrongly discharged service members for behavior that may have been tied to undiagnosed post-traumatic stress, traumatic brain injury, or related mental health problems.
Under the settlement approved by US District Judge Charles Haight, the Naval Discharge Review Board must now reconsider all discharge-upgrade cases decided between March 2, 2012, and Feb. 15, 2022, in which the appeals were either partially or fully denied. The review is automatic, so service members don't need to take any action. In addition, veterans of the Iraq and Afghanistan wars who were discharged prior to March 2012 will have the right to apply for reconsideration again.
Marine Corps veteran Tyson Manker received a less-than-honorable discharge in 2003 after marijuana was detected in his bloodstream. Manker claimed that he had developed post-traumatic stress symptoms during his time in Iraq and smoked marijuana as a form of self-medication. In 2016, Manker applied for a discharge upgrade but was denied. According to his legal team at the Yale Veterans Legal Services Clinic, the NDRB denies 85% of the upgrade applications it receives.
"This imposes a lifetime of stigma," a press release from the clinic reads.
Any other-than-honorable discharges — also known as "bad paper" discharges — cause veterans to lose their GI Bill and Department of Veterans Affairs medical and disability benefits. Bad paper discharges can also impact a veteran's employment prospects.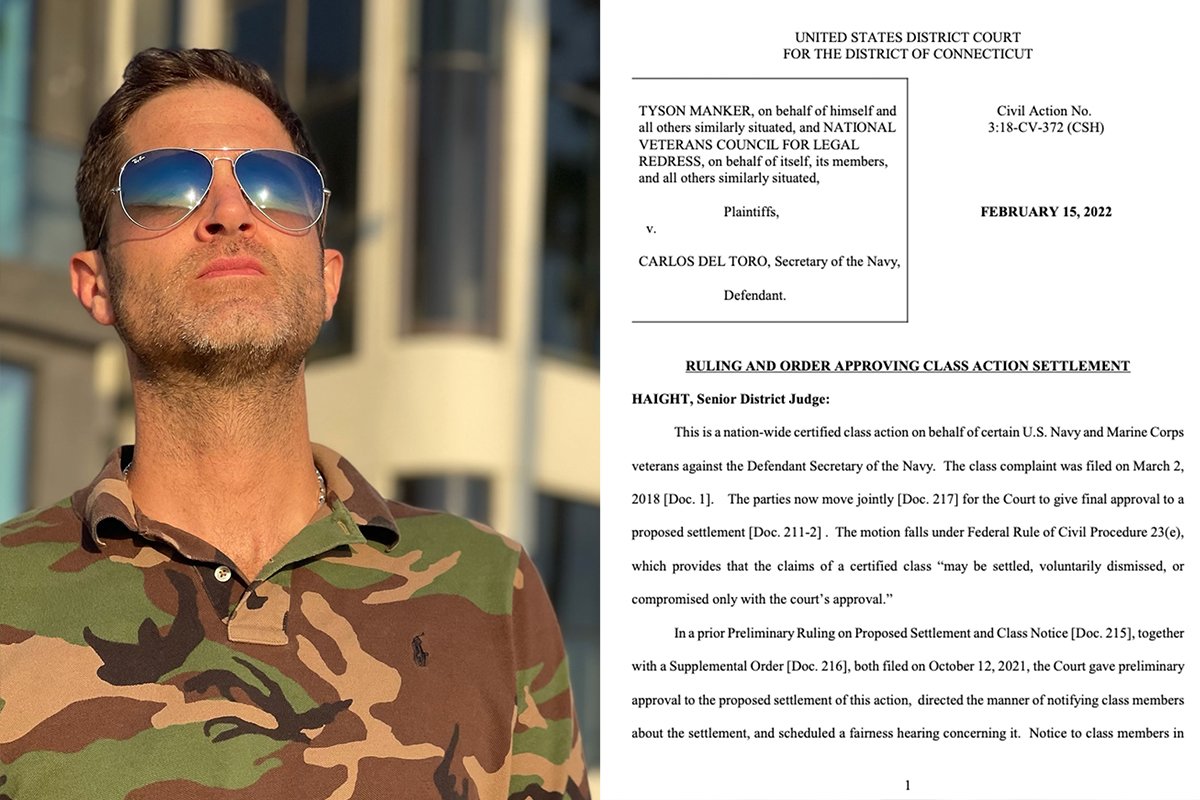 A second plaintiff, referred to only as "John Doe" in the suit, is a member of the National Veterans Council for Legal Redress. He received a less-than-honorable discharge from the Marine Corps following a "pattern of misconduct" he said was due to heavy drinking to deal with post-traumatic stress.
The plaintiffs argued the Navy and Marine Corps had habitually failed to follow what's known as the Hagel Memo standards in discharge cases. Issued in 2014 by then-Secretary of Defense Chuck Hagel, the memo states that service members with mental health issues due to post-traumatic stress, traumatic brain injury, or military sexual trauma should be subject to special or liberal consideration when being discharged. It directs military discharge boards to consider these as "potential mitigating factors in the misconduct that caused the under other than honorable conditions characterization of service."
The plaintiffs alleged the inconsistent application of the Hagel Memo by the NDRB was a violation of veterans' due process rights under the Fifth Amendment to the Constitution.
"Mr. Manker and Mr. Doe's applications provided clear evidence of mitigating service-connected PTSD," the original case filing stated. "Nevertheless, the NDRB denied their petitions. What neither Mr. Manker nor Mr. Doe knew at the time was that the NDRB denies almost 90 percent of applications alleging PTSD or PTSD-related conditions."
The settlement comes nearly a year after a similar settlement applicable to the Army, Kennedy v. McCarthy, in which two Army veterans sued for their right to have their discharges fairly reviewed under the Hagel Memo standard. That case also proceeded as a class-action suit and was also ruled on by Haight, who leaned heavily on his prior ruling when making his final determination in the Navy case.
"The proposed settlement is manifestly fair, adequate and reasonable," Haight wrote. "Just as in Kennedy, able and experienced attorneys for the Class and for the service department involved came together, with manifest good will, and, under the guidance of a gifted Magistrate Judge, arrived at a settlement which confers a fundamental reform and substantial benefits in favor of veterans, while avoiding the risks, delays and expense inherent in complex litigation."
Read Next: Military Medical Malpractice Claims Hang in Limbo Despite New Law