Some uniform changes are welcome in the U.S. military (goodbye, ABUs!) and some are very much not. There are uniform features troops love because it actually makes their jobs easier. There are fabrics that are easier to wear, and there are styles that just became iconic over time. For instance, imagine if the Marine Corps suddenly changed their dress blues to an all-white uniform to match the Navy whites – there would be rioting from Lejeune to Pendleton.
That's almost what happened when the Navy ditched the bell-bottoms on its dungarees.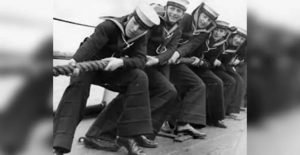 The U.S. Navy had been sporting the flared cuffs on its work uniforms since 1817. The idea was that sailors who would be working on the topmost decks, who were presumably swabbing it or whatever sailors did up there back then, would want to roll their pants up to keep them from getting wet or dirty. Sailors were also able to get out of their uniforms faster in the event that they had to abandon ship for some reason.
When in the water, then-woolen pants even doubled as a life preserver. Now, that's a utility uniform. In 1901, the fabric of the uniform was changed to denim, and the Navy's dungarees were born. They still sported bell-bottom pants.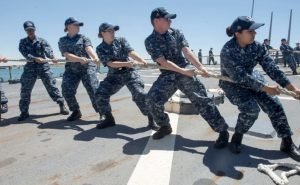 Bell-bottoms even appeared on the sailors' dress uniform as far back as the early 19th century. The Navy got rid of the bell-bottom on its dungarees at the turn of the 21st Century, some 180 years later. In 1999, the Navy phased out the pants with flared 12-inch bottoms for a utility uniform that features straight-legged dark blue trousers. Sailors were not thrilled.
"They are trying too hard to make us look like the Coast Guard and the Air Force," said Petty Officer Chad Heskett, a hospital corpsman on the frigate USS Crommelin. "It's taking too much away from tradition. It will cost the Navy more to buy these new uniforms."
By 2001, the bell-bottoms were gone.
Heskett wasn't alone in his disdain for the new uniforms. The loss of "tradition" was echoed throughout the Navy, as is often the case with new uniforms. The Navy was adamant about the change, however, and the new utility uniforms were phased in on schedule. It turned out to be a good decision.
For tradition, the Navy will always have its crackerjacks.
This article was originally published on We Are The Mighty. Follow @WeAreTheMighty on Twitter.