After a senior Navy chaplain interviewed a submarine commander, he wrote to his superiors that the commanding officer was "an active and devoted participant in his Christian faith."
The Navy still denied Capt. James Lembo a religious exemption to the military's COVID-19 vaccine mandate.
Now Lembo, whose 22-year career included commands of highly secret ballistic missile submarines, is suing the Pentagon, claiming that the military's less-than-1% approval rate for religious accommodations is a deliberate and systemic attack on religious freedom.
Lembo's lawsuit calls the exemption process "illusory and futile" and claims "the Navy condoned and even fostered a culture of officers that was hostile to people of religious faith and wantonly discriminatory."
The lawsuit names Secretary of the Navy Carlos Del Toro and Secretary of Defense Lloyd Austin and was filed in the US District Court for the District of Columbia Tuesday, Feb. 8. The suit, obtained by Coffee or Die Magazine, claims the "denial of Captain Lembo's fundamental right to the free exercise of religion and protection from agency action that is unlawful, contrary to law, unconstitutional, and arbitrary and capricious."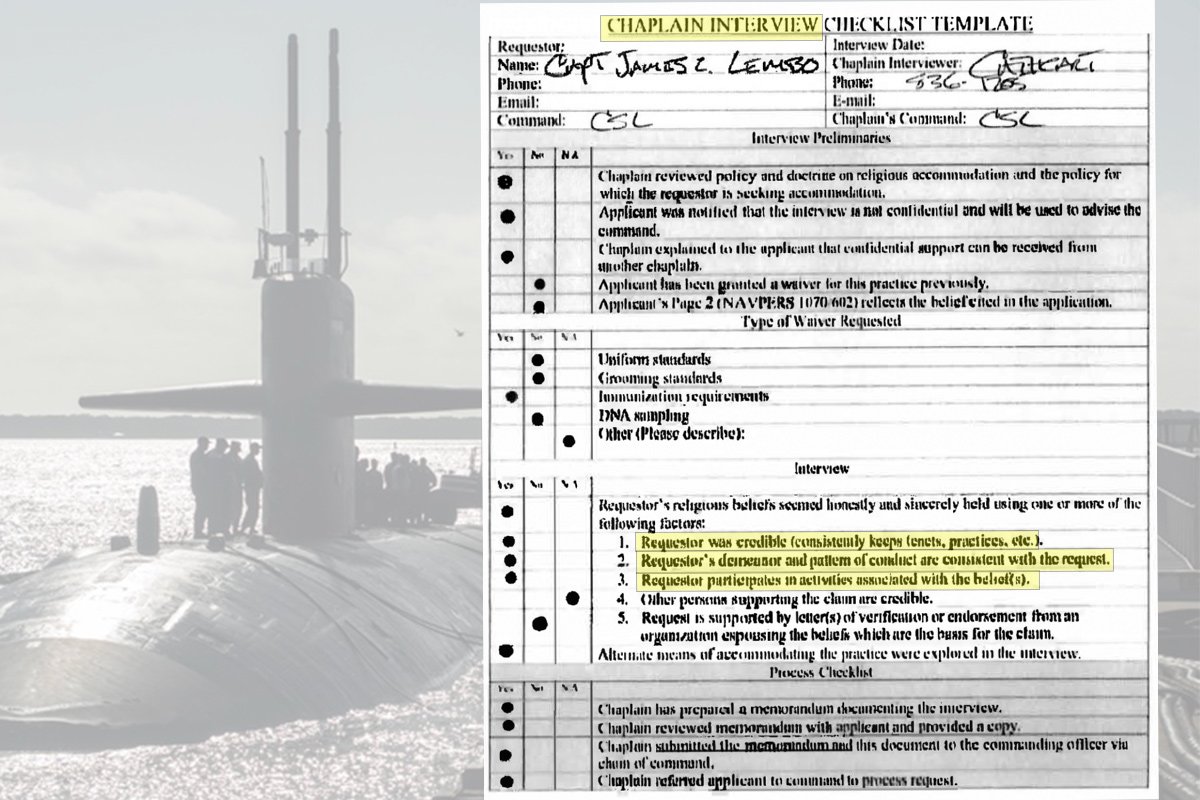 Lembo has spent his career in submarines and is now the Combat Readiness Evaluation senior team member assigned to Submarine Force Atlantic. He is also a Bronze Star recipient.
Lembo said in the suit that his Roman Catholic faith prevented him from taking COVID-19 vaccines because of the use of aborted fetal stem cell lines in the vaccines' development.
"That all three vaccines are compromised by abortion is indisputable," Lembo wrote in his request for waiver of policy in support of religious practice. "While later pronouncements from the Pope, the Vatican, and various other Catholic institutions have proclaimed all three vaccines 'morally acceptable,' that does not mean they are not morally uncompromised or morally pure."
Lembo's lawsuit includes the record of his required meeting with a high-ranking Navy chaplain, Capt. Gregory Cathcart. The chaplain interview checklist template that Cathcart completed notes that the chaplain believed Lembo did base his anti-coronavirus vaccine stance on strongly held principles of Christian faith.
"It is my professional opinion that this represents an important religious belief for Capt. Lembo personally," Cathcart wrote. "While his religious conviction has deepened substantially only in the last several years and did not guide his medical decisions earlier in his career, his request is rooted in a strong desire to continue serving in uniform while living consistently with his faith."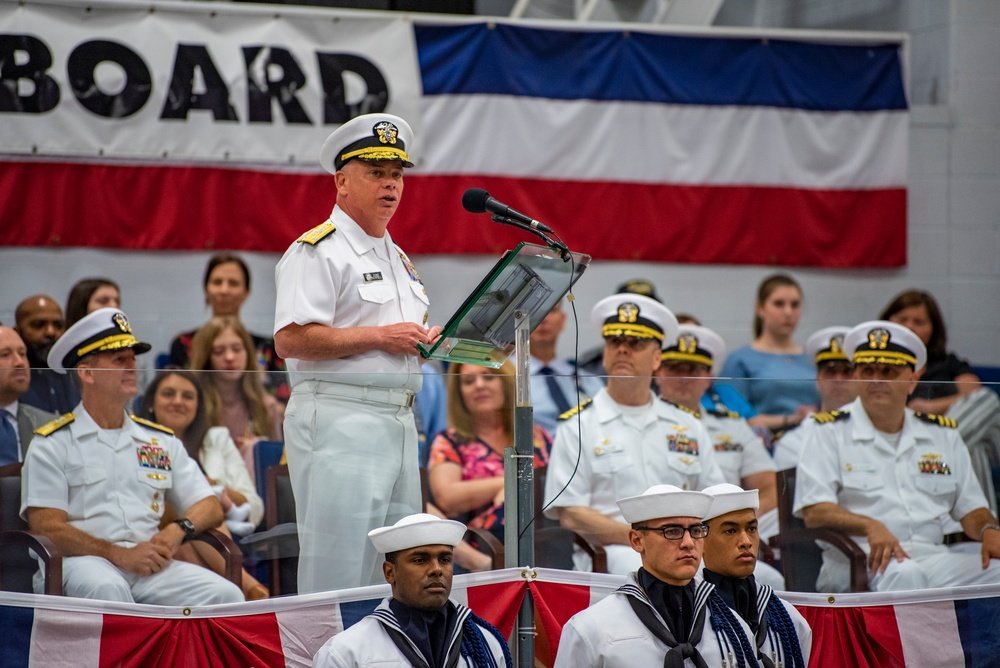 Lembo also wrote at length in his waiver request that he had already had an asymptomatic case of COVID-19 and therefore was not a danger to other sailors because of his post-infection immune response. "As I have met my moral obligation to not be a vehicle for transmission, my opposition to abortion and the use of product derived or tainted by abortion weighs heavier than any 'greater good' argument."
According to the suit, Lembo "spent months and dozens upon dozens of hours painstakingly following the Navy's process to seek a religious accommodation only to receive blanket form-letter denials lacking any explanation of the result."
In Lembo's case, his request for accommodation was recommended for disapproval by the chief of staff for Submarine Force Atlantic, Capt. Andrew Miller, and officially denied in a letter signed by the Navy's chief of personnel, Vice Adm. John Nowell Jr.
"Vice Admiral Nowell failed to adequately explain his decision, addressing none of Captain Lembo's specific circumstances, arguments or individualized concerns," the lawsuit reads. "Vice Admiral Nowell denied Captain Lembo's request for religious accommodation using the same form letter provided to the thousands of other Sailors who have been denied a religious accommodation."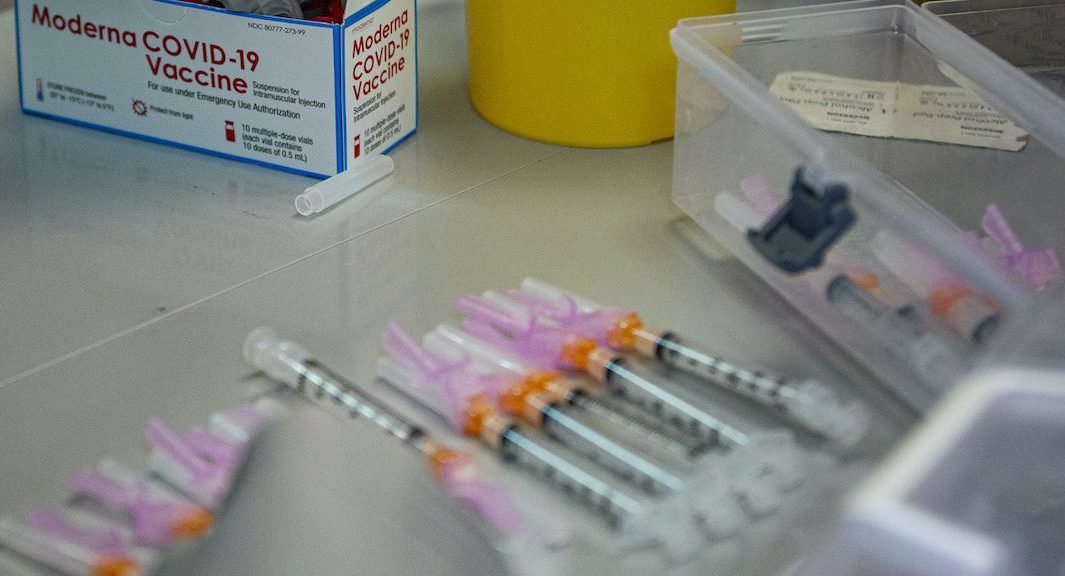 Lembo's appeal landed on the same desk as his initial request, that of Capt. Miller, who again recommended disapproval. That final denial was signed off on by the Navy's highest ranking officer, Chief of Naval Operations Adm. Michael Gilday.
With no other routes for appeal, Lembo is now ineligible for the major command assignment he was recently selected for and instead faces the possibility of immediate administrative separation.
Lembo's suit is unique in that he has identified himself publicly, whereas most vaccine-related lawsuits brought by service members have been anonymous.
But all the lawsuits cite the vanishingly few exemptions approved by the Pentagon.
In the Navy, 3,288 active-duty sailors have submitted requests for exemptions. None have been granted.
The Air Force released numbers Tuesday afternoon showing that the service had granted a total of nine exemptions — eight directly and one after an appeal — against 3,222 disapproved requests with about 2,500 more pending. Those nine approvals appear to have all come in February and are the first reported by the service since its Nov. 2 vaccine deadline.
The Marine Corps said in a press release this week that of 3,458 requests, it has granted just three.
The Army, which does not publish its exemption numbers, told a judge in another lawsuit Friday that it has also not granted any exemptions from 3,253 requests and has denied 391.
In all, the success rate of religious exemption requests across the military appears to be well below 1%.
---
Editor's note: This story was amended to clarify that Vice Adm. John Nowell Jr., the Navy's chief of personnel, was not directly in Lembo's chain of command and was not involved in the process that Navy officials followed in Lembo's final appeal.
Read Next: