Senior Chief Petty Officer Jayme Thomas Pastoric comes from a long line of artist-warriors.
As one of the Defense Department's few dive-qualified, underwater photographers, the Navy mass communication specialist and Cleveland, Ohio, native is a truly elite military photographer. He has deployed to austere environments in support of operations with Navy SEALs and other special operations forces.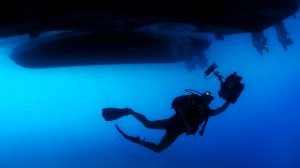 "I would estimate there are less than 10 underwater photographers still working and diving in the DOD today and less than 100 in all of American military history," he told Coffee or Die Magazine.
Artistry seems to run in Pastoric's DNA. While attending the Cleveland Institute of Art, Pastoric's paternal grandfather, Marion "Pat" Pastoric, was recruited by the Army to join the Ghost Army of World War II as a painter.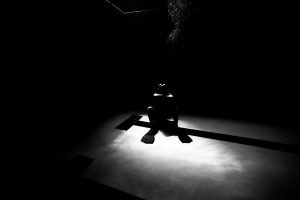 Officially known as the 23rd Headquarters Special Troops, the Ghost Army was a 1,100-man unit whose mission during World War II was to impersonate Allied Army units to deceive the enemy. They used inflatable tanks, sound trucks, fake radio transmissions, scripts, and pretense to stage more than 20 battlefield deceptions, often operating close to the front lines.
"My grandfather was a painter, and he was recruited alongside actors, sound techs, and other creative artists," Pastoric said. "He painted fake tanks to look like real mechanized machinery."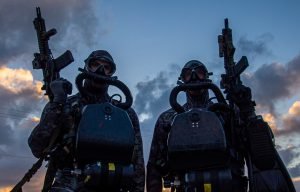 Pastoric's father, Thomas, earned a degree in photojournalism from Kent State before he was drafted into service as an Army artilleryman in Vietnam. He took his own camera to the war and took photos when he wasn't raining fire on the enemy. After the war, he opened Clix Photography in Cleveland and worked as a commercial photographer for 40 years, retiring in 2017.
Pastoric said he inherited his father's love of manipulating and shaping light to create beautiful images.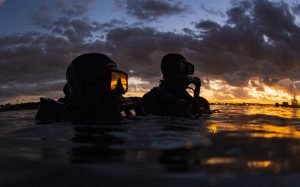 "Growing up in a family that has a number of artists, you tend to float toward that love of creative expression," he said. "My dad would let me take photos and play in his studio, so I learned a lot about lighting, controlling background and environment, and dealing with models. Most importantly, I learned to love photography and the creative process."
When Pastoric decided to join the military, picking a job was a no-brainer. He enlisted as a photographer's mate (PH) in 1999. In 2006, the Navy merged its photographer's mate rating with three others to make the mass communication specialist (MC) rating.
By 2003, Pastoric was making waves in the PH community with his signature style of photography. His intricately lit and meticulously orchestrated images of Navy personnel and equipment stood out among his peers — not just in the Navy but across the DOD.
His affinity for using remote speedlights to creatively light complex subjects made his portfolio of images stand out among the Navy's pool of candidates for the Pentagon's advanced Military Photojournalism program in 2004, and he earned the privilege of attending a yearlong course of study at one of the best photojournalism programs in the country. Syracuse University's S.I. Newhouse School of Public Communications is home to the program some affectionately refer to as "Top Gun" for military photographers. Only a handful of sailors are selected annually, and graduates are expected to return to duty as force multipliers for their respective services as they pass on their training to those they serve with.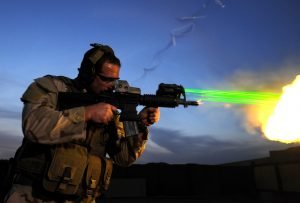 "I love to take my time with a subject," Pastoric said of his signature style. "What is cool or interesting to me in photography are things that are going to evoke emotion. I love playing with light, and I incorporate a lot of that into my work. I really enjoy making environmental portraits and finding unconventional ways to highlight a person and capture their spirit or character in a unique way."
Pastoric's career has taken him to the USS John C. Stennis, the Navy Recruiting Command's marketing and advertising branch, Joint Task Force Guantanamo Bay Cuba, Naval Special Warfare (NSW) — including a combat deployment with SEAL Team 2 — and other assignments.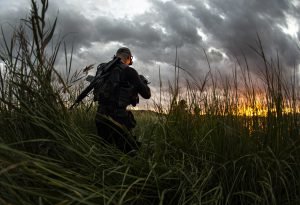 "My favorite assignment was working with Naval Special Warfare," he said. "They definitely make you earn your way into the austere environments they operate in, and they put me in a position where I could excel. It's the type of unit that forces you to push your boundaries. You've got to be able to hang with them mentally and physically, and even though you're a photographer, you've got to get to that level where you're an asset rather than a burden. Everything you do is about making the team better, so that experience made me hyperfocused on a team mentality."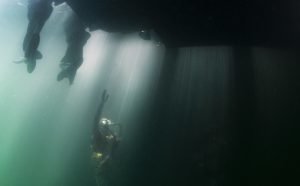 Pastoric said he's extremely proud to be part of the Underwater Photo Team and its legacy.
"I love being in the water," he said. "Underwater photographers inspire me, and being a part of this small group and getting to share the experience with these incredible folks is really special."