The Navy has recovered an F-35 that crashed off the deck of the USS Carl Vinson into the South China Sea after a fiery missed landing in January.
According to a Thursday, March 3, statement from the US 7th Fleet, the commercial deep-diving and salvage vessel Picasso, owned by Ultra Deep Solutions, recovered the F-35C Lightning II Joint Strike Fighter from a depth of approximately 12,400 feet.
A specialized, remotely piloted submarine known as the CURV-21 attached rigging to the aircraft as it sat on the seafloor, according to the Navy. A crane on board the Picasso then lowered a cable "to the seafloor and connected to the rigging, and then lifted the aircraft to the surface and hoisted it onboard Picasso," the statement reads.
The F-35C, assigned to Carrier Air Wing 2, crashed while landing on the Carl Vinson after approaching the ship at too low of an altitude. Based on video of the incident, the fighter slid down the deck at about 95 miles per hour, rotating 180 degrees, and fell off the edge of the ship. The pilot ejected before the plane hit the water and was one of seven sailors injured in the incident.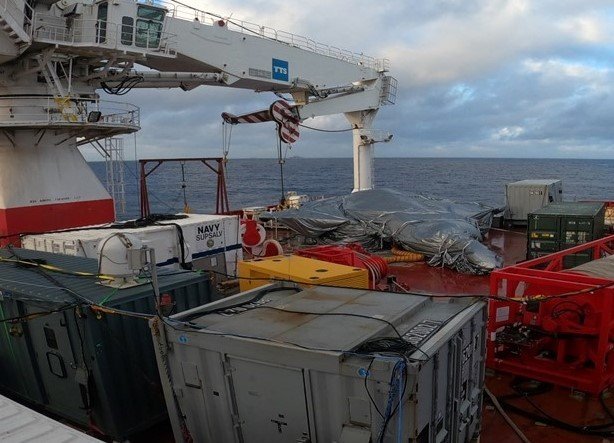 Following the crash, feverish media coverage theorized that the US would now need to race against Chinese naval forces to recover the wreckage. Lawrence B. Brennan, an adjunct professor of admiralty and international maritime law at Fordham Law School and retired US Navy captain, dismissed those concerns in a conversation with Coffee or Die Magazine at the time, calling them "overly anxious."
The recovery operation was conducted by members of the 7th Fleet's Task Force 75, Naval Sea Systems Command (NAVSEA), and NAVSEA's supervisor of salvage and diving.
"The task force's expertise in rapid, scalable command, control, and communications, agile logistics, organic security, and explosive ordnance disposal was the most flexible choice for the fleet commander to respond in a timely manner," Task Force 75 commodore, Capt. Gareth Healy, said.
"Ultimately, this deliberate approach resulted in the correct capabilities conducting recovery operations within 37 days of the incident," Healy said.
The plane's wreckage will aid an ongoing investigation into the incident, according to the Navy. The 7th Fleet did not indicate where exactly the plane was recovered, but salvage operations were reported to mariners in late January by the Japan Coast Guard west of the Philippine island of Luzon.
Read Next: