On Sept. 30, the US Navy and Marine Corps celebrated an aviation safety milestone — the first time in nearly a century of record keeping that American naval aviation had gone a whole fiscal year without a single aviation-related fatality.
"It's a remarkable achievement that's really the result of years of training, proficiency and adopting a good safety culture," Capt. Scott Kramarik, Naval Safety Center director of aviation safety programs, said in a release announcing the historic news.
That achievement turned to tragedy on Friday when a Navy T-6B Texan II trainer aircraft crashed in Foley, Alabama, killing Navy Lt. Rhiannon Ross and Coast Guard Ensign Morgan Garrett. There were no civilian casualties on the ground, the Navy said.
Ross, 30, an instructor pilot, and Garrett, 24, a student aviator, took off from Naval Air Station Whiting Field in Florida on what the Navy described as a routine training flight. The T-6B crash was the latest in a series of recent naval aviation crashes, spurring Navy officials to order a servicewide safety stand-down on Monday for all non-deployed units.
"The safety of our personnel and our local communities is a top priority," the Navy said in a statement, "[and] we take all aviation incidents extremely seriously."
On Oct. 20 a Navy F/A-18E Super Hornet fighter jet crashed in California. The pilot safely ejected. And on Sept. 29, a Marine Corps F-35B Lightning II warplane crashed after colliding with a KC-130J aerial tanker during an air-to-air refueling operation over Southern California. The F-35 pilot ejected and survived. All eight crew members of the KC-130J survived after a harrowing forced landing in a farm field.
A safety stand-down is a move normally taken in the wake of an accident or a series of accidents, allowing military aviation units a chance to pause, regroup, and evaluate safety procedures. Even during domestic training missions, the pace of military aviation operations can be grueling.
"We remain the greatest aviation force in the world and are committed to learning from these incidents in order to avoid these tragedies in the future," the Navy's statement concluded.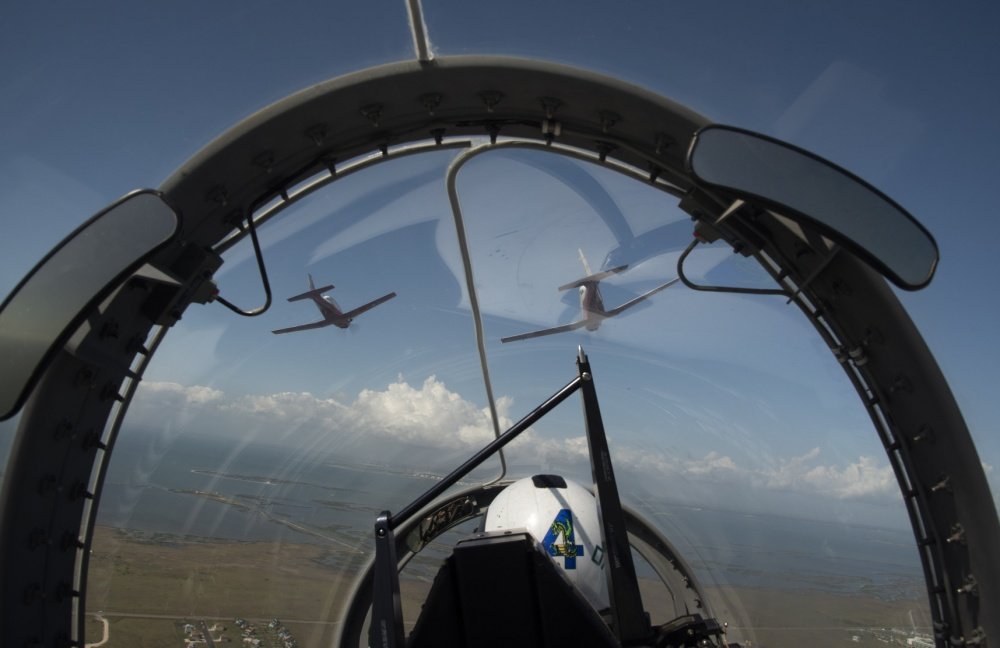 Prior to Friday, the last Navy aviation fatality occurred on July 31, 2019, when a Navy F/A-18E Super Hornet fighter jet crashed into a canyon wall while performing a low-altitude training flight in California's Death Valley National Park. The pilot was killed.
The T-6B is a high-performance single engine turboprop used by the Navy and Air Force for primary flight training.
Navy aviators begin their training in primary flight school flying the T-6B. In this phase of training, student aviators learn basic aviation skills such as instrument procedures and formation flying. Student pilots in the Air Force begin in the T-6B, as well.
Overall, the Navy and Marine Corps saw a 10% reduction in flight hours this past fiscal year due to the COVID-19 pandemic. Safety briefings have largely been done virtually this year due to the pandemic, spurring some Navy officials to warn that in-person safety support missions need to resume in order to prevent accidents.
Even before the pandemic, portions of the Atlantic fleet saw their flight hours slashed by some 10% in 2019 due to budget cuts.