The temperature soared into triple digits, and the few clouds overhead offered almost no relief from the blistering sun that was punishing civilians and sailors alike on the beaches of Little Creek, Virginia. The heat was brutal, but that wasn't going to stop some of our nation's most elite maritime warriors from putting on one helluva show.
Every year, The UDT/SEAL Association works with Naval Special Warfare (NSW) Group 2 based out of the Norfolk, Virginia, area to put on a capabilities exercise (CAPEX) for veterans and their families during an annual East Coast reunion. It's a daring display of helicopters, boats, and U.S. Navy SEALs doing what they are uniquely qualified to do: storm a beach and take down enemy boats — in style.
The event is closed to the general public, but Coffee or Die was granted exclusive access to cover the event under the agreement that we wouldn't reveal any names, faces, or sensitive tactics, techniques, and procedures (TTPs).
The exercise started with an aircraft circling high above. A few small dots appeared, hurtling toward the earth below. They were Navy SEALs conducting a military free fall (MFF) jump with an American flag in tow. Before long, they deployed their parachutes and began executing an impressive display of aerial maneuvers, some of which had the jumpers under canopy practically on top of each other while streaking through the sun-bleached sky.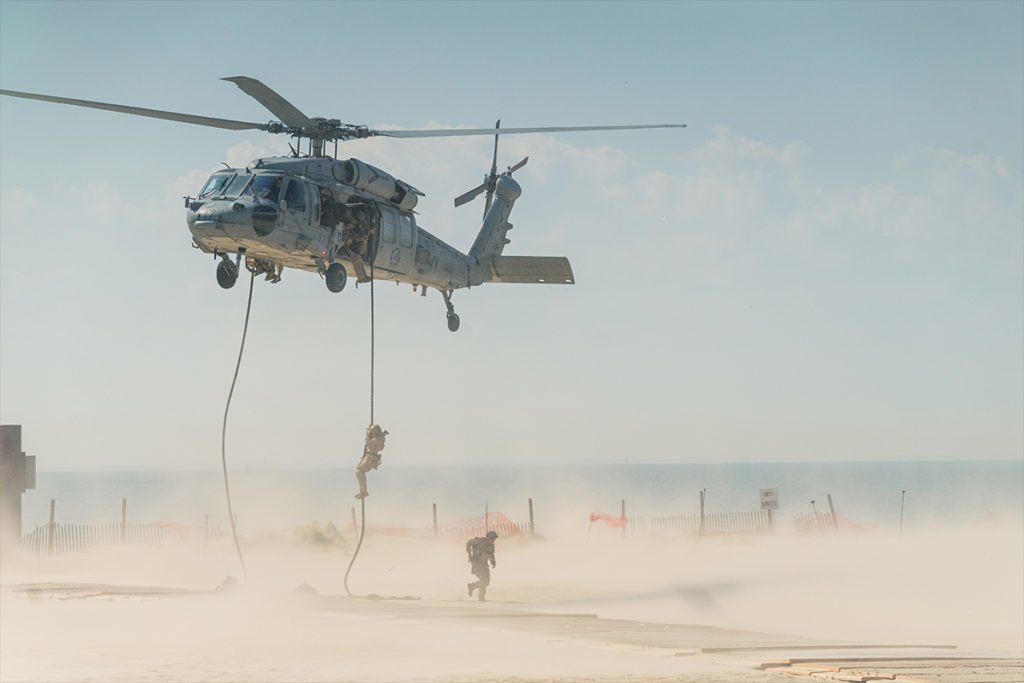 They eventually landed with perfect precision, waving to the small crowd that was cheering and clapping them on. Two of the jumpers climbed onto a small stage and affixed to a pole the American flag they carried, raising Old Glory high for all to see. The red and white stripes and the stars on a field of blue whipped in the breeze coming off the Atlantic Ocean.
The crowd removed hats and placed hand over heart as the National Anthem echoed over the blonde sand. Everyone present had a deep appreciation for the flag. They had either served in the military — many of them combat veterans — or were family members who knew exactly what it meant to say goodbye to a loved one leaving on yet another combat deployment. The "rockets red glare" and "bombs bursting in air" aren't just words to a song; they are vivid memories for some, and nightmares for others.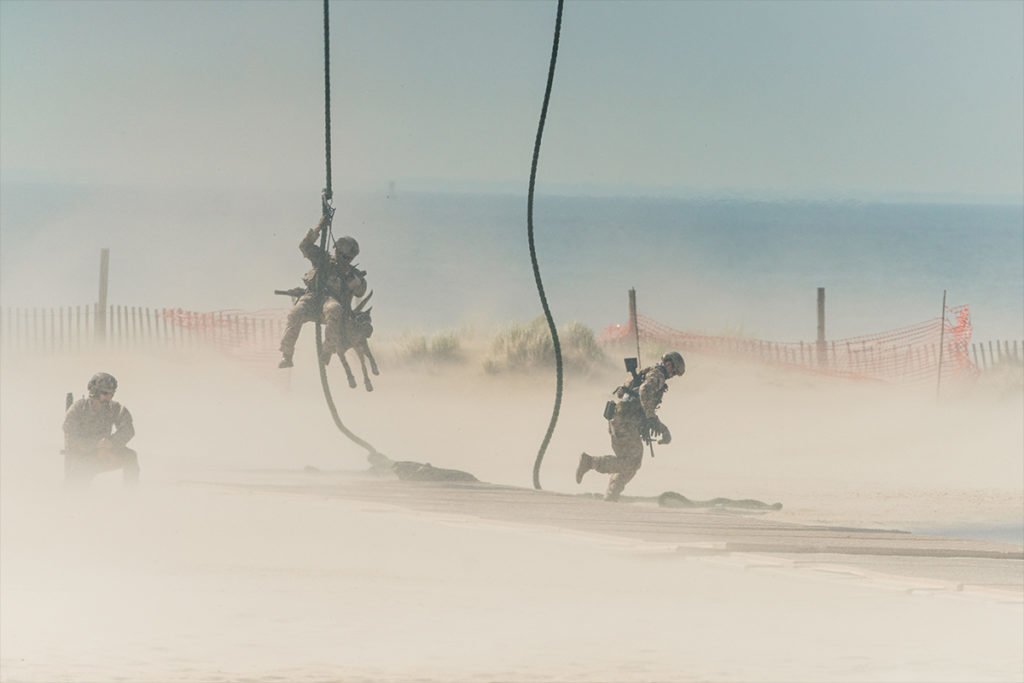 After the conclusion of the anthem, two Navy SEALs in khaki UDT shorts presented a display of flowers to the crowd in remembrance of Jerry "Buck" Pope, who was killed in a traffic accident on October 16, 2002 in Yemen. They walked it down to the ocean's edge, waded in, and placed the arrangement in the water.
Not long after the ceremony, the action of the CAPEX picked up. A SEAL sniper took out two targets (mannequins dressed as enemy fighters whose "heads" exploded), clearing the way for his fellow SEALs to come ashore. Much to the audience's surprise, he emerged from the sand right in front of them, showing just how effective a sniper's camouflage can be.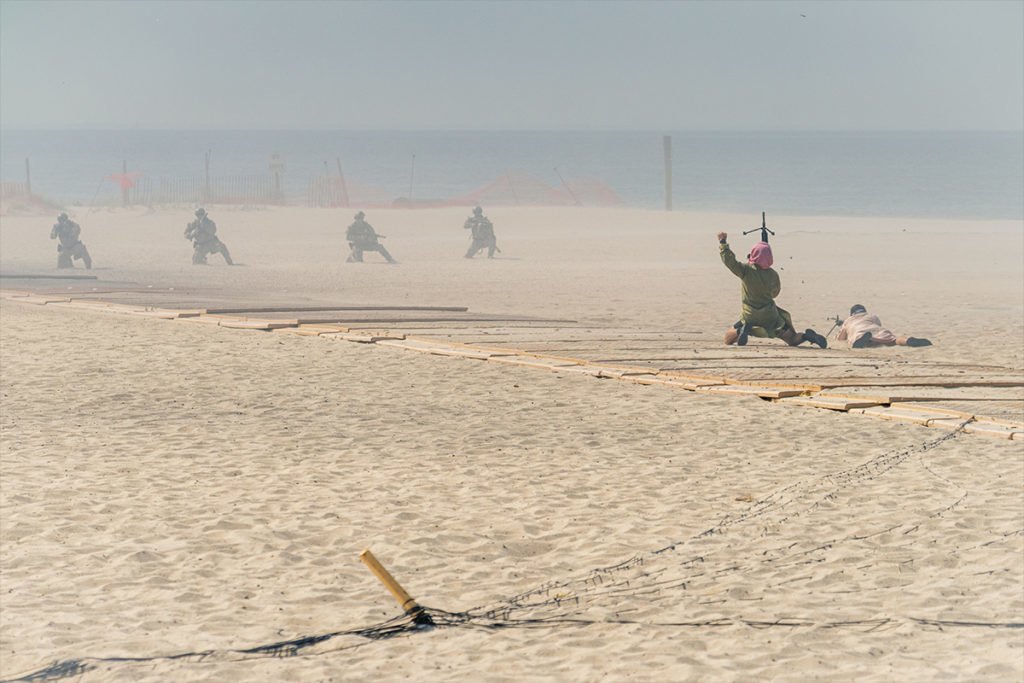 What came next was a raw display of American military might. Navy SEALs dropped into the ocean from a hovering helicopter and swam ashore, right before another helicopter swooped in and SEALs fast-roped to the beach below. One of the SEALs even used a special descender that allowed him to carry his military working dog with him. Boats from the Navy's elite Special Warfare Combatant-craft Crewman (SWCC) provided support by fire.
The SEALs assaulted a mock objective that included a few small shacks and took down a couple of role players posing as the enemy. One role player made it out of the hail of gunfire only to be quickly and viciously taken down by the dog. No one had any doubts about the effectiveness of a Navy SEAL-trained dog on the battlefield.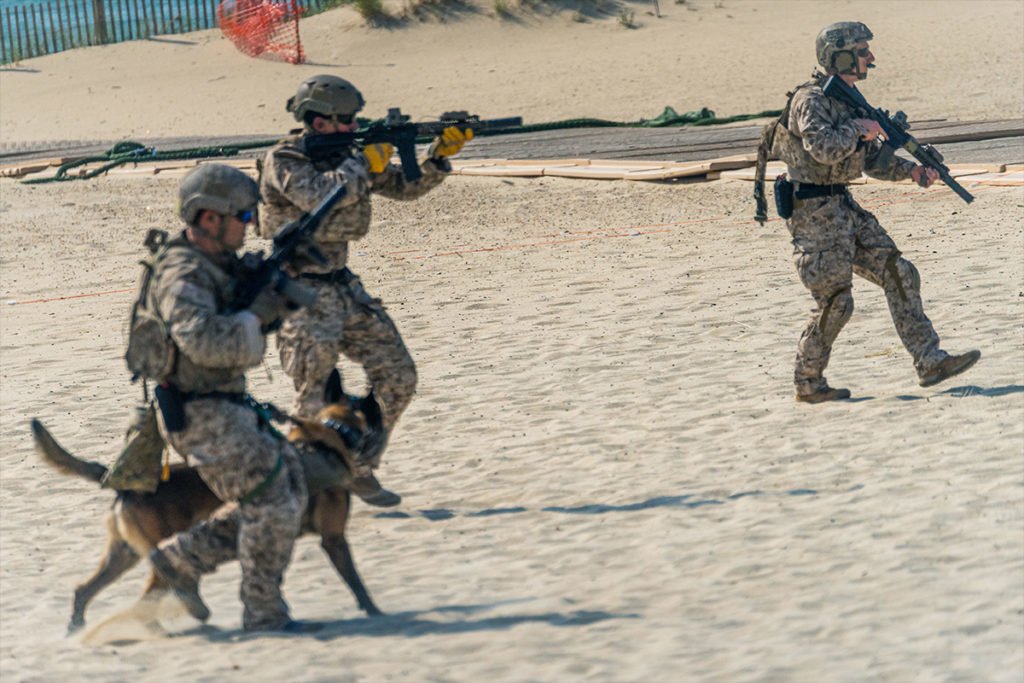 The SEALs called for exfil. As with all special operations units, there is more than one way to get off the objective. In this case, ground vehicles sped in, picked them up, and left under the cover of smoke. A series of explosions rippled across the beach, simulating the objective being blown in place.
Some spectators began to leave, assuming that was the conclusion. Not so. In the distance, a boat full of pirates gunned its engines through the waters directly in front of the crowd. The faux pirates confronted what many real-life pirates have experienced off the Horn of Africa and other key waterways. Multiple helicopters swooped down from the sky again, guns a-blazing, and the SWCC boats circled menacingly with all of their machine guns "talking" in one violent maritime concert.
Then, in a display of capabilities that are particularly relevant as of late, a boat full of SEALs sped toward the pirated craft and conducted a Visit-Board-Search-Seizure, or VBSS as it's commonly called. Of course, the mission was successful.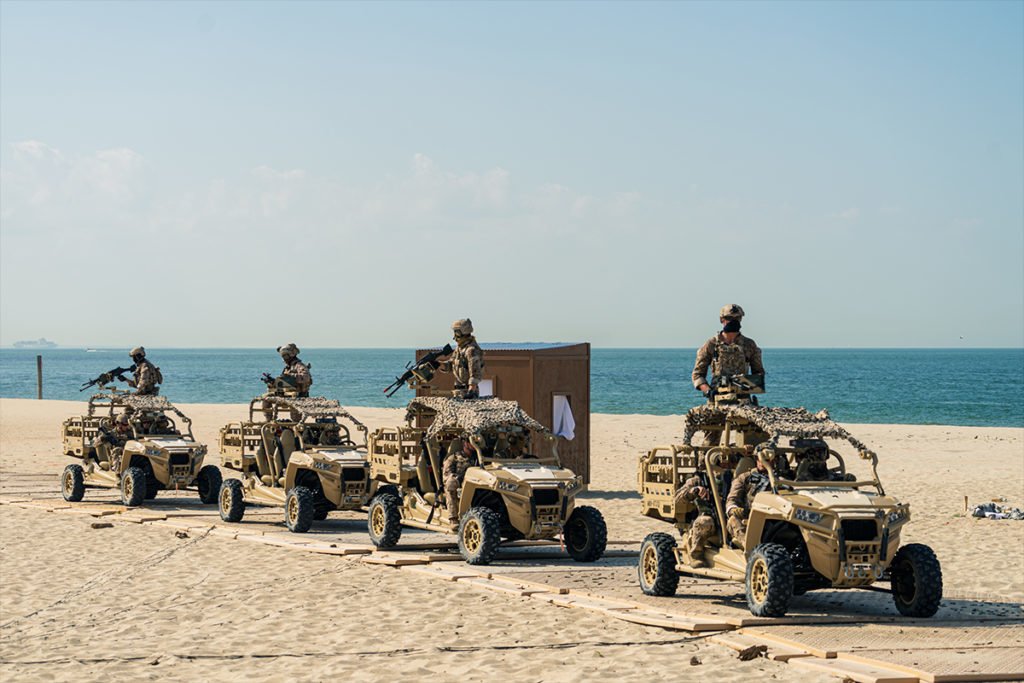 The annual CAPEX went off without a hitch. The bleachers emptied and the small crowd of SEALs, family members, and veterans retreated to the cover and shade of tents to view static displays of equipment and weapons commonly used by "Team Guys." It was good to see men of action showing their sons and daughters what Dad did at work, and others walking hand-in-hand with their wives and girlfriends.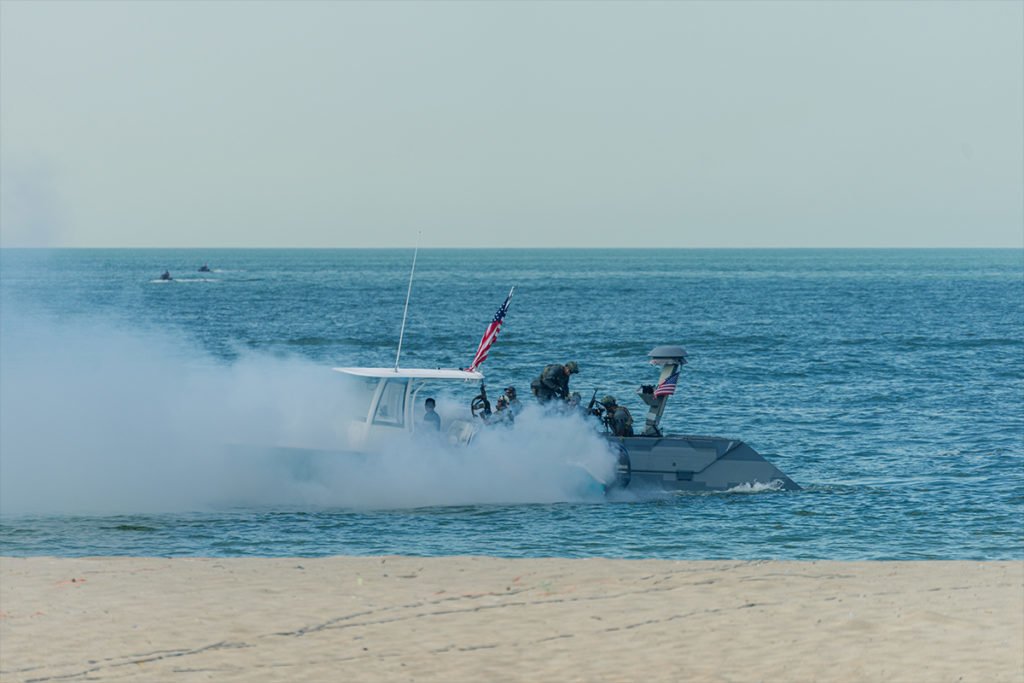 So much of a SEALs work must be kept quiet, so an opportunity to give their family a glimpse into their world while "at work" is precious indeed.
Some of these special operators are just returning from deployments around the world. Others are getting ready to leave their loved ones yet again for another trip executing U.S. foreign policy abroad. It's the life of a SEAL, and it's the life these hardy men chose. After all, the only easy day … was yesterday.