CBD is everywhere. From Target to grocery stores, it's having a moment that doesn't seem to be going anywhere. But that doesn't mean the military is following this latest wellness trend. In fact, the Navy recently made it super clear that no one affiliated with the branch is allowed to use CBD products.
The Navy claims that sailor exposure to CBD products might negatively impact mission readiness and disqualify a sailor from service. Officials cited the potential for CBD mislabeling and the lack of regulation as reasons for the updated ban.
The FDA has no regulation guidelines created regarding CBD, and since it's an unregulated market, there's really no telling what a person is buying when they purchase a lotion or a salve. In order to be legal under the 2018 Farm Bill, CBD has to have less than 0. 3 percent THC. Hemp that contains less than 0.3 percent THC is currently legal in fifty states. But that doesn't mean that what a person buys actually contains only the legal amount of CBD. There are no checks or safeguards in place, putting service members at risk.
Research is ongoing to explore whether or not the benefits can be scientifically proven or if they're largely anecdotal. Amid the veteran population, the use of CBD is definitely growing. But since most CBD products are sold in the form of teas, oils, and salves, there's no federal jurisdiction about the purity of the product. That means that an unsuspecting sailor might purchase a CBD product for its purported benefits and end up failing a drug test because the product contained more than the legal amount of THC.
THC is the active ingredient in marijuana that makes it a psychoactive substance. Advocates for CBD claim that because there's little to no THC, it has no psychoactive effects on the brain. But the Navy isn't so sure.
The recent policy update includes language relating to sailors who currently hold a valid prescription for FDA-approved CBD products. These are still permissible, as are clothing products made from hemp. But sailors who test positive for THC or other banned substances for which they have no valid prescription will be administratively separated and face an "Other than Honorable" discharge.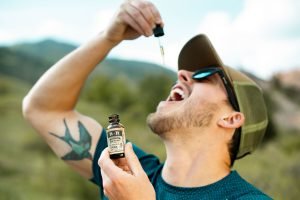 The latest Navy update follows the House of Representatives' approval on an amendment to the National Defense Authorization Act that would allow service members to use legalized CBD products. The amendment passed by a vote 336-71. It stipulates that the SecDef can't prohibit based on a product containing hemp or any ingredient derived from help, the possession, use, and consumption of the product by a member of the military. That's as long as the product meets the federal definition of hemp. It's a step in the right direction for CBD advocates, but there's still a long way to go.
Advocates for CBD are pushing for its inclusion in the military, and there's no stronger voice than from the veteran community. Veteran owned CBD companies are cropping up all over the country, in part because of its lucrative business model and in part because CBD really does seem to be working. Specifically, for veterans who are suffering from combat stress, PTSD, or MST related mental health issues, CBD advocates think that it offers a non-pharmaceutical approach to treatment and wellness.
Of course, as with all things, the military is going to take its time in making a final decision about the legality of CBD products. But with backing from big-name veteran organizations like the IAVA, maybe there's a chance that CBD will be coming to a commissary near you.
This article was originally published Sept. 28, 2020, on We Are The Mighty. Follow @WeAreTheMighty on Twitter.