During a rare New Year's Day session, Congress overrode a presidential veto for the first time in President Donald Trump's term in office. The 2021 National Defense Authorization Act will go into effect over Trump's objection, passing the Senate by a vote of 81 to 13, more than the two-thirds majority necessary to override a veto.
"It's our chance to remind brave service members and their families that we have their backs—with facilities, resources, and support befitting the finest fighting forces in the world," stated Senate Majority Leader Mitch McConnell in remarks before the vote.
The bill passed the House of Representatives by a vote of 322 to 87 the previous Monday.
Trump vetoed the bill due to a number of provisions he found unacceptable, including name changes of military installations and ships that are currently named after Confederate historical figures, limitations of executive power to determine timing and levels of troop drawdowns, and the lack of a repeal of Section 230 of the Communications Decency Act.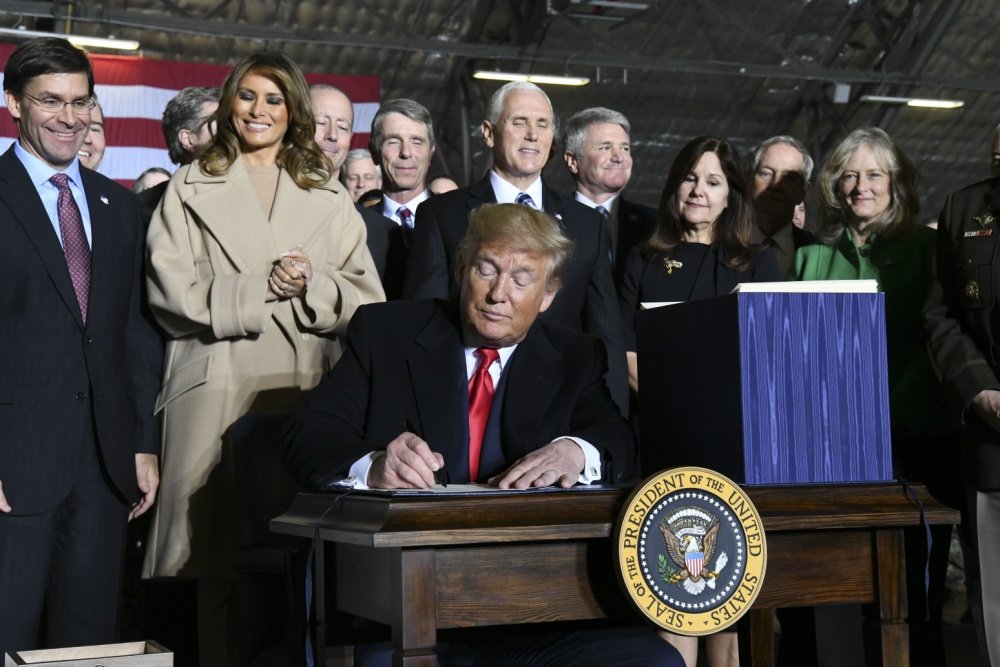 In response on Friday, Trump tweeted, "Our Republican Senate just missed the opportunity to get rid of Section 230, which gives unlimited power to Big Tech companies. Pathetic!!!"
McConnell, however, is hoping to tie the repeal of Section 230 to a larger individual stimulus payment of $2,000, a measure for which President Trump has tweeted his support.
The NDAA has passed into law every year for the past 59 consecutive years. This year's bill is titled the William M. (Mac) Thornberry National Defense Authorization Act in honor of retiring Rep. Mac Thornberry of Texas, who has served in the House since 1995 and has been either ranking member or chair of the House Armed Services Committee since 2015.
The bill allocates $740 billion for Department of Defense spending, including a 3% pay raise for active-duty troops. The passage of the NDAA also means troops will receive special pay such as hazardous duty pay and jump pay, which would have been delayed if the bill had not passed. Also in the bill, in Section 1238, is the authorization of rewards for providing information on foreign election interference.
Trump has vetoed eight other bills during his time in office, none of which faced a serious threat of override in Congress. This is the first veto override since 2016. Every president since Lyndon Johnson has now had at least one veto overridden. The past three presidents all vetoed an annual NDAA at one point but signed the vetoed bills after they were modified by Congress.