Killed Thursday, Oct. 28, when a truck crashed into his cruiser at a Portsmouth highway exit, New Hampshire State Police Staff Sgt. Jesse Sherrill was buried on Wednesday in the Granite State.
"Jesse took advantage of every minute of every day and never took one second for granted," state police director Col. Nathan Noyes said during a public service inside Southern New Hampshire University Arena in downtown Manchester.
Noyes recalled Sherrill, 44, as a devoted father, a loving husband, and "a trooper's trooper" who dedicated his adult life to keeping New Hampshire safe.
Noyes pointed to the background investigation completed on Sherrill shortly before he joined the force on Dec. 13, 2002. It described Sherrill, a football and baseball star who graduated from Westfield State University a year earlier as a man in "top physical condition" with outstanding test scores, amazing "physical agility," and high praise from both his police-academy peers and instructors.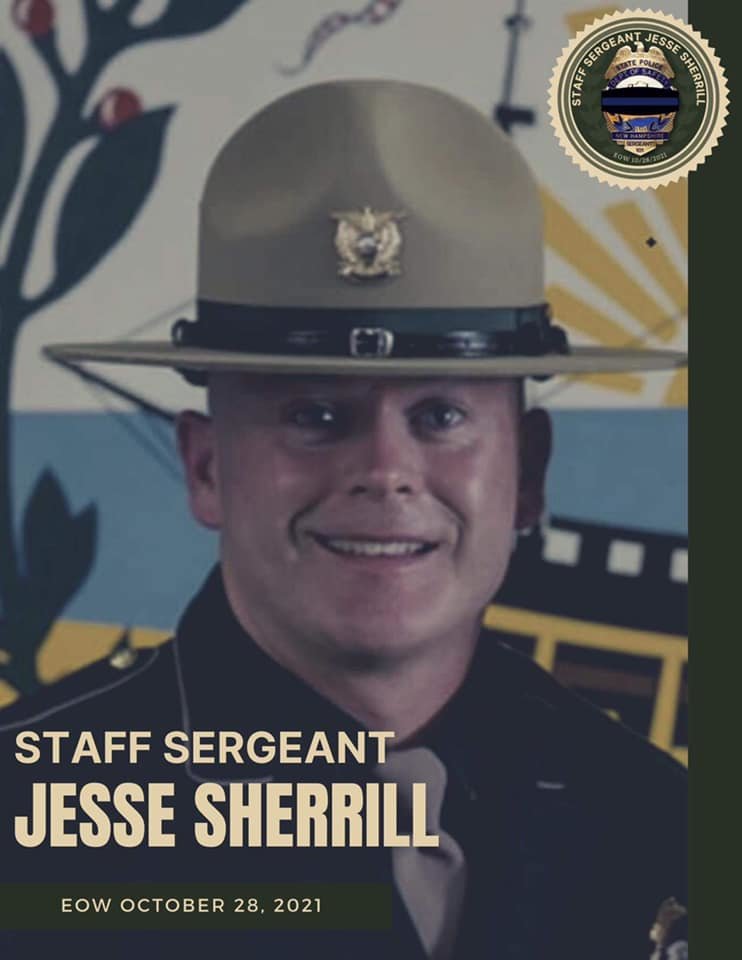 Sherrill, a Barrington resident, would go on to serve in Troop A and Troop F, plus the attorney general's task force, over a career that spanned nearly two decades. He was promoted to assistant troop commander on Aug. 13, less than four years after he made sergeant.
Sherrill's wife, Nicolle, nicknamed him "Superman" because of his strong character and a fierce inner drive to excel as a husband, father, coach, and trooper.
"He was able to squeeze all 24 hours of every day," Sherrill's longtime friend Daniel Mariotti said during Wednesday's public tribute. "Every day."
"Jesse, you will be missed beyond measure and never forgotten," he added. "Rest easy, my friend. We will take it from here."
Sherrill was buried at Pine Grove Cemetery in Barrington later in the afternoon during a private ceremony. Services were handled by the Wiggin-Purdy-McCooey-Dion Funeral Home.
In lieu of flowers, Sherrill's family asked that contributions be made to the Barrington Youth Association or Seacoast Pirates Baseball.
Jesse E. Sherrill was born Aug. 2, 1977, in Exeter, New Hampshire, to Richard and Jeanine "Jeanne" Endres Sherrill.
He graduated from Dover High School and Westfield State University.
He's survived by his parents; wife, Nicolle Jean Sherrill, née Bonenfant; daughter, Peyton; son, Quinn; and brother, Corey Sherrill.
"Nicolle, you will always be Jesse's girl," another of Sherrill's longtime friends, Jeremy Tsakiris, said during the public ceremony. "Peyton, Quinn, you are without a doubt your father's greatest loves. He cherished the time you spent together. Whether watching dance shows with Peyton or hitting baseballs with Quinn, nothing made him happier than being with you."
Read Next: