Staff Sgt. Jesse Sherrill of the New Hampshire State Police died early Thursday following a collision between his cruiser and a semitrailer truck, authorities announced.
The Oct. 28 crash occurred around 12:30 a.m. near Interstate Highway 95's Exit 3 in Portsmouth. Sherrill, 44, had been detailed overnight to a mobile construction site just north of the exit, according to the State Police.
Both the truck driver and Sherrill were transported to Portsmouth Regional Hospital. The unnamed driver was treated and released. Sherrill was pronounced dead at the emergency room.
New Hampshire State Police Col. Nathan Noyes told reporters in Concord that Maine State Police Troop K's Commercial Vehicle Enforcement Unit is probing the accident. The Piscataqua River that runs east of the accident site forms the border between the two states.
"Staff Sgt. Sherrill was known as a trooper's trooper, a consummate dedicated professional, and a true family man," Noyes said.
Sherrill entered law enforcement in 2001 when he joined the Hooksett Police Department. He moved to the New Hampshire State Police on Dec. 13, 2002, and held assignments with Troops A and F and the attorney general's task force during his career, Noyes said.
A resident of Barrington, Sherrill was promoted to assistant troop commander on Aug. 13, less than four years after he pinned on sergeant.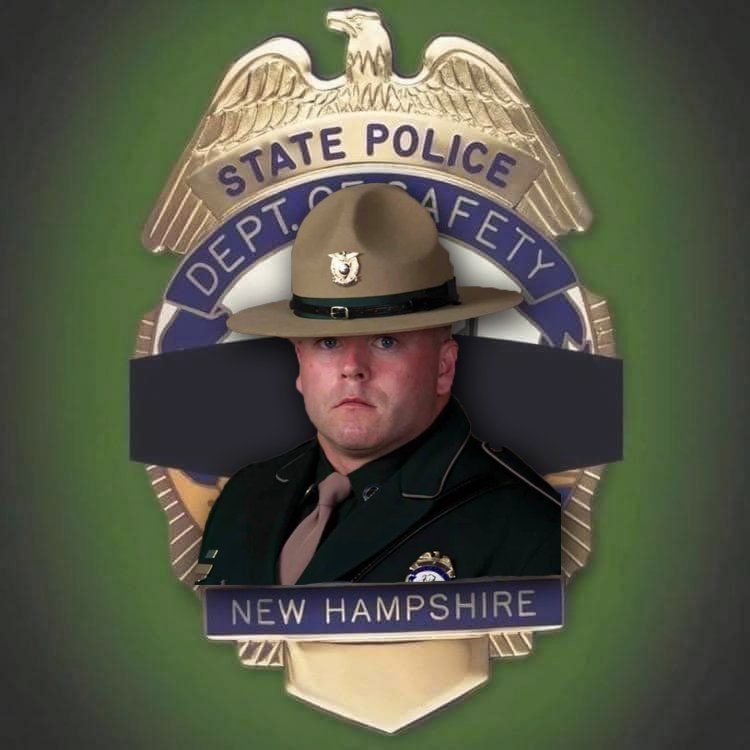 "Staff Sergeant Sherrill was an incredible member of the law enforcement community and, more importantly, a loving husband, father, son and brother," said New Hampshire Attorney General John Formella in a written statement released Thursday. "This morning's tragic events are a reminder that our men and women in law enforcement put their lives on the line every time they go to work. Today of all days, I urge every Granite Stater to take a moment to reflect upon and appreciate the service and sacrifice that these men and women, and their families, provide to their communities and our State every day."
Noyes urges anyone with information about the incident to contact the New Hampshire State Police at 603-223-4381 or [email protected].
"The New Hampshire State Police would like to take a moment to thank members from the Portsmouth Police and Fire departments and the staff at Portsmouth Regional Hospital," Noyes added. "They all provided exceptional selfless service throughout this tragedy. We would also like to thank our partners with the Department of Transportation for their assistance on Interstate 95."
The New Hampshire Department of Transportation closed down sections of I-95 on Thursday morning for the investigation.
New Hampshire Gov. Chris Sununu ordered all flags at public buildings to be flown at half-staff until sunset on Sunday to honor Sherrill's service.
"We want to extend our sincerest condolences to the families, to the men and women serving beside him, and to the State Police," Sununu said.
Read Next: