The FAA designated the airspace over former Vice President Joseph R. Biden's Wilmington, Delaware, home a no-fly zone on Friday, warning that pilots who violate the restriction may be "intercepted, detained, and interviewed" by law enforcement or security personnel.
The "National Defense Airspace" extends for a radius of 3 nautical miles from Biden's home up to an altitude of some 3,000 feet. The FAA designated the prohibition, set to last through Friday and Saturday, a "Presidential Temporary Flight Restriction."
"The United States government may use deadly force against the airborne aircraft, if it is determined that the aircraft poses an imminent security threat," the FAA said in its notice to airmen, or NOTAM, underscoring the security procedures put in place. Only under extraordinary circumstances may aircraft enter the designated no-fly zone, the NOTAM said.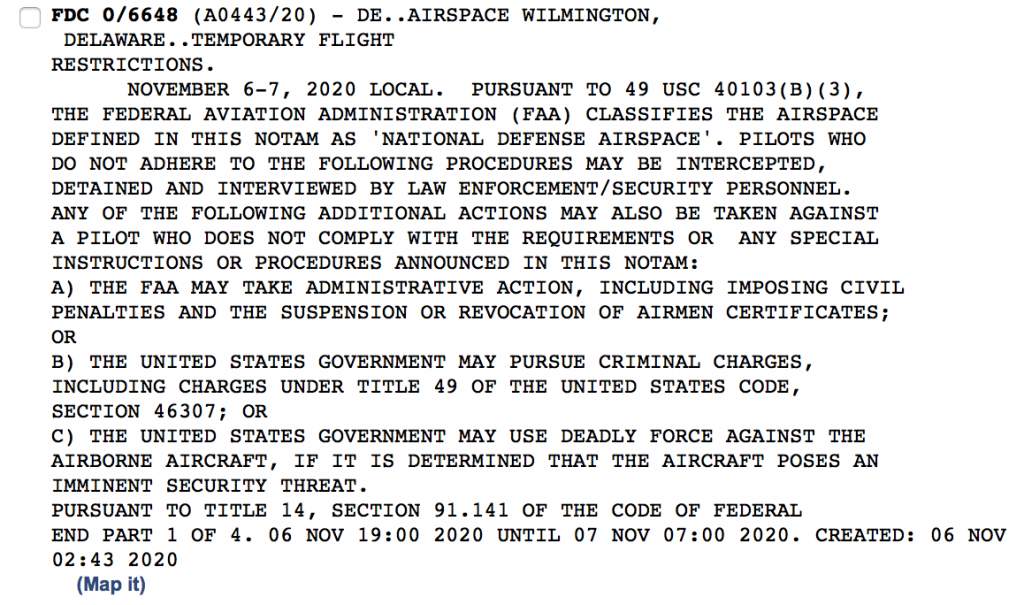 An earlier FAA NOTAM, issued on Wednesday, restricted a smaller airspace around Biden's Delaware home — extending for a radius of 1 nautical mile and up to an altitude of 1,000 feet.
NOTAMs provide information on temporary changes to the National Airspace System.
Some experts say that the heightened level of security reflects standard protocols in advance of a presidential candidate winning an election and becoming president-elect. In 2016, the FAA established similar restrictions in the airspace surrounding President Donald Trump's residence at Trump Tower in New York City, as well as Vice President Mike Pence's Indianapolis home, before they took office.