The governor of Oklahoma believes he can declare the state's National Guard exempt from the Pentagon's COVID-19 vaccine mandate, and he appears to have fired the Guard's top general and installed a different one who agrees with him.
On Thursday, Nov. 11, Oklahoma Gov. Kevin Stitt replaced Maj. Gen. Michael Thompson with Brig. Gen. Thomas Mancino as commander of the Oklahoma National Guard, a position known as the state adjutant general. Mancino immediately released instructions that Oklahoma National Guard and Air National Guard members did not need to follow the vaccine mandate.
Mancino cited the Oklahoma state constitution and federal Title 32, which covers National Guard units when not federalized. Mancino said the governor was the lawful commander in chief of the Oklahoma National Guard when the Guard was not federally mobilized, and he noted that Stitt was seeking to exempt the Oklahoma Guard from the Pentagon mandate.
"I hereby order that no Oklahoma Guardsmen be required to take the COVID-19 Vaccine, notwithstanding any other Federal requirement," the new policy reads.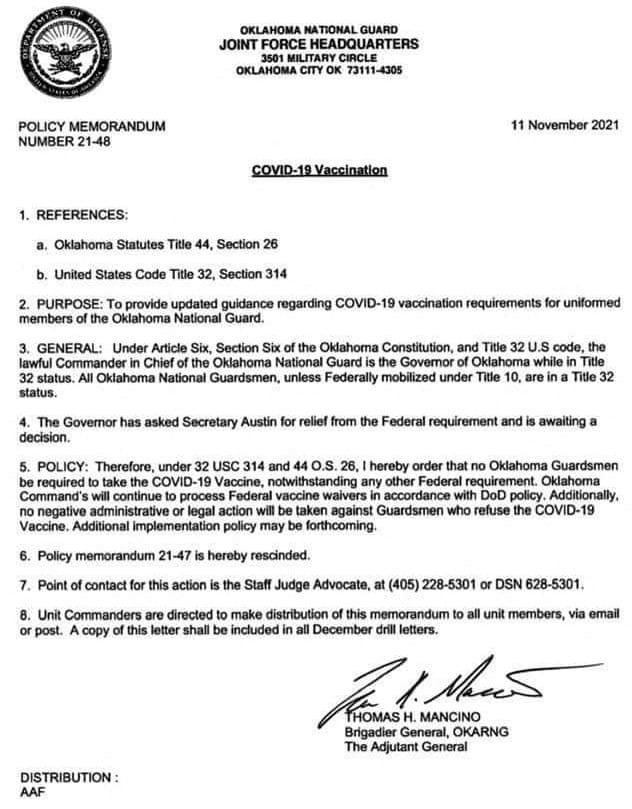 That a governor or state official can override Department of Defense-wide medical policy is not a view shared by the Pentagon. Components under the National Guard Bureau follow the same guidelines as active-duty troops for nearly all military medical requirements, from the entry-level height, weight, and vaccination-status requirements for new recruits, to routine annual physical fitness tests, to specialized medical and vision standards for flight crews.
Stitt jumped into the Guard's vaccine policy earlier this month, sending a letter to Secretary of Defense Lloyd Austin requesting an exemption from the mandate.
"We estimate that over 800 Oklahoma guardsmen have not and do not plan on receiving the COVID-19 vaccine," Stitt wrote. "This constitutes 10% of Oklahoma's overall force. It is irresponsible for the federal government to place mandatory vaccine obligations on Oklahoma national guardsmen which could potentially limit the number of individuals that I can call upon to assist the state during an emergency."
Austin has yet to respond to the governor. Neither the governor's office nor the Pentagon replied to Coffee or Die Magazine's request for comment.
It is unclear why Stitt abruptly replaced Thompson with Mancino prior to the policy change. Both generals are career members of the Oklahoma Guard. The governor's office told Tulsa World that Thompson's firing was not related to the vaccine mandate.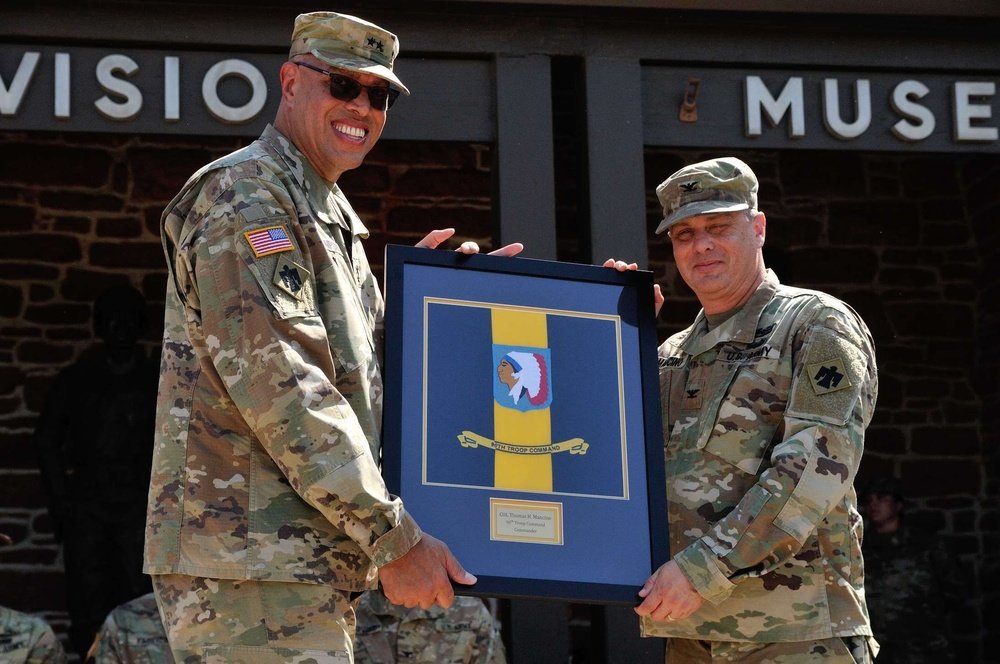 Thompson told Tulsa World that the governor had called him to let him know he had been relieved of duty, but Thompson discovered via Twitter that Mancino would replace him. Thompson said that he had agreed to leave his post in January and that the governor had accepted his request. His sudden firing was a surprise.
"He is the boss," Thompson said of Stitt's decision. "That is his style. At the end of the day, nobody can tell him differently."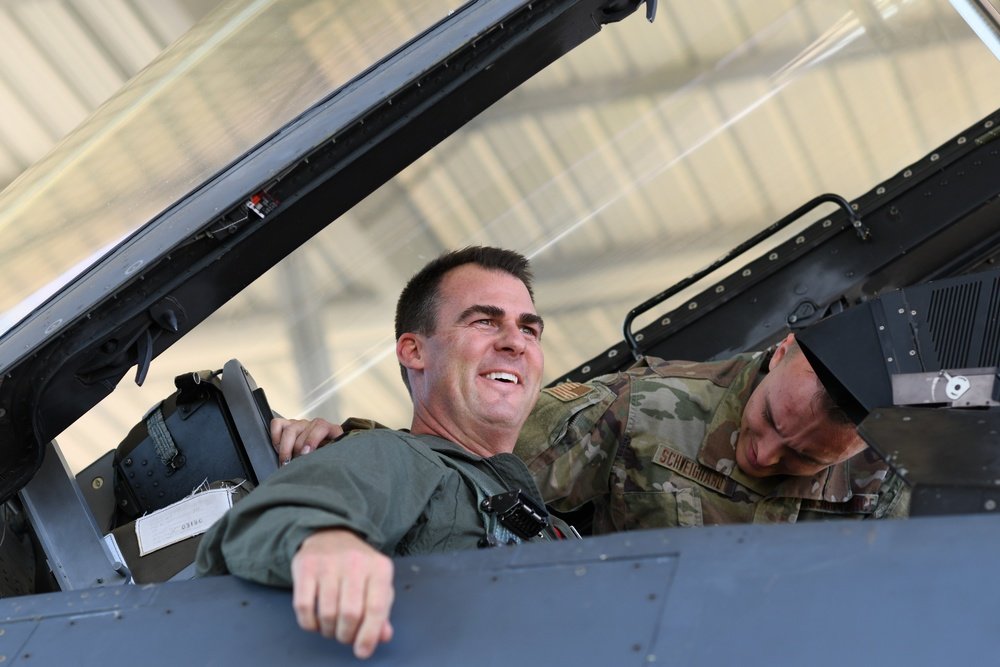 Thompson was a career infantry officer who, according to his official bio, led a security unit in Iraq — the first infantry unit from Oklahoma to earn the Combat Infantry Badge since the Korean War. He also led units that responded to an Oklahoma City federal building bombing and to Hurricane Katrina.
Mancino was enlisted for six years in the state Guard and commissioned in 1992. He was director of information technology/G6 for the Guard and was awarded two Bronze Stars and a Combat Action Badge during deployments.
Thompson told Tulsa World that, when he was adjutant general, he had expected his soldiers to meet the vaccine deadline.
"It is a requirement," he said.
The Oklahoma National Guard had not responded to Coffee or Die's request for comment at the time of publication.
Read Next: