Combat Flip Flops has created a limited-edition "Floperator" shoe, with proceeds going to benefit the charitable foundation One More Wave.
One More Wave provides custom-built surf equipment, including surfboards and wetsuits, to injured veterans from all branches of the military. Veterans are also involved in art therapy to design the boards.
"It's special operations-led, so Navy SEALs run it," said Combat Flip Flops co-founder and CEO Matthew Griffin, a graduate of the US Military Academy at West Point and former Army Ranger, about One More Wave.
"SEALs and Rangers don't typically get along," he said with a laugh, "but these guys are really cool."
Combat Flip Flops is a veteran-owned company that sells a variety of apparel, from the titular flip-flops to hoodies and masks. It donates a portion of profits to Aid Afghanistan for Education, a charity that provides education to girls in Afghanistan, as well as to the anti-land mine Mines Advisory Group and special operations-oriented nongovernmental organization The Station Foundation. But its new collaboration with One More Wave is particularly meaningful for Griffin.
"If you've been around the veteran community enough, you have friends that have lost legs," Griffin said. "It's challenging to see them not be able to enjoy a sport that drives so much community just because of their disability."
Griffin was impressed by the atmosphere at One More Wave gatherings. "A lot of these veteran nonprofit events are very organized and agenda-driven and start to feel like 'mandatory fun,'" Griffin explained. "But I showed up at this one, and everybody rolled into the parking lot, gave each other high-fives and hugs. Everybody got on their surfboards and went and had a great time — then afterwards they had coffee and burritos. You're hanging out with your friends, giving veterans that type of community."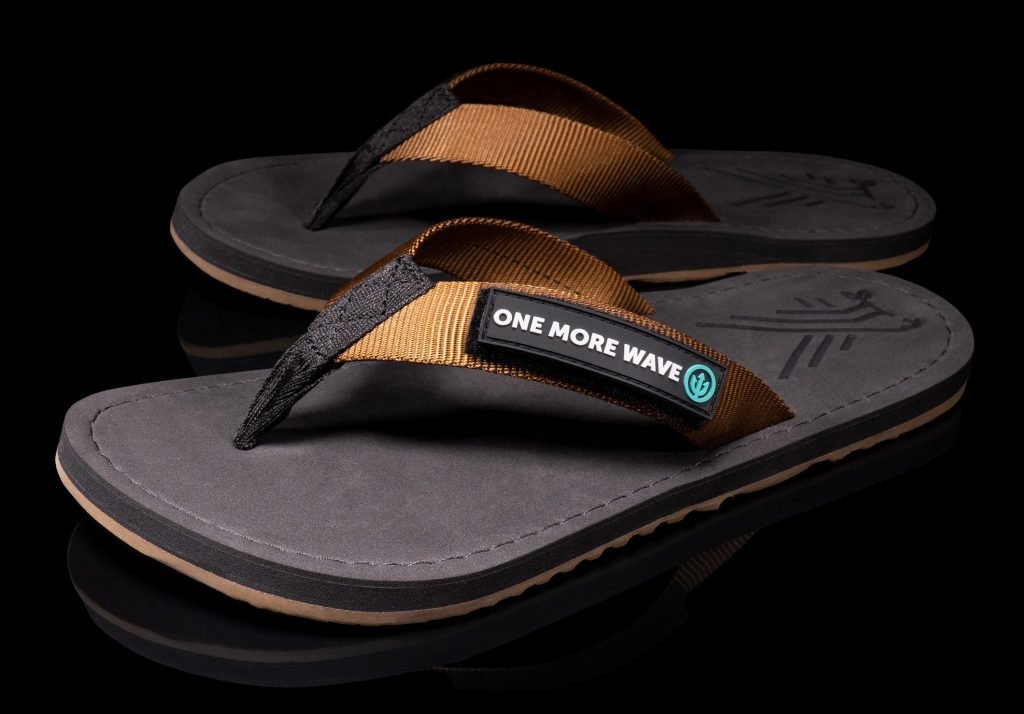 Combat Flip Flops has addressed the needs of amputees before, designing a retrofit strap that allows lower-limb amputees to wear its shoes. So seeing how One More Wave tailors its operations to help the individual needs of veteran surfers impressed Griffin. Amputees need specially fitted wetsuits and armor-lined surfboards to accommodate them. One More Wave also provides buddy swimmers for upper-limb amputees who cannot paddle into the waves on their own.
The limited-edition fundraising shoe is a version of the company's Coyote Floperator flip-flop that adds a custom patch showing One More Wave's trident logo. It costs $49.99.
Griffin is glad his company can support the foundation in this way, remembering some of the impressive feats he has seen in his time working with One More Wave. "There was a triple amputee doing 180s, literally flipping his board and riding backwards in waves," he said. "If he hadn't had that support, he wouldn't have had that ability. The most valuable part of this is being able to give that ability and community to veterans."
Read Next: