On Dec. 20, 1989, the United States military invaded Panama, code-named Operation Just Cause, in an effort to oust Panamanian narco-dictator Manuel Noriega from power. The former US government asset on the CIA's payroll was wanted on several drug-trafficking charges and suspected of rigging the 1989 Panamanian presidential election. He had gained too much power, threatened the suppression of democracy, and endangered the lives of Americans living in his country, and thus President George H.W. Bush put him in his crosshairs.
The month-long campaign was ultimately declared a strategic US victory. We've gathered a list with important background on Noriega's significance and his violent paramilitary following, a daring hostage-rescue mission, and a controversial psychological warfare attempt to get the dictator to surrender.
Manuel Noriega's Dignity Battalions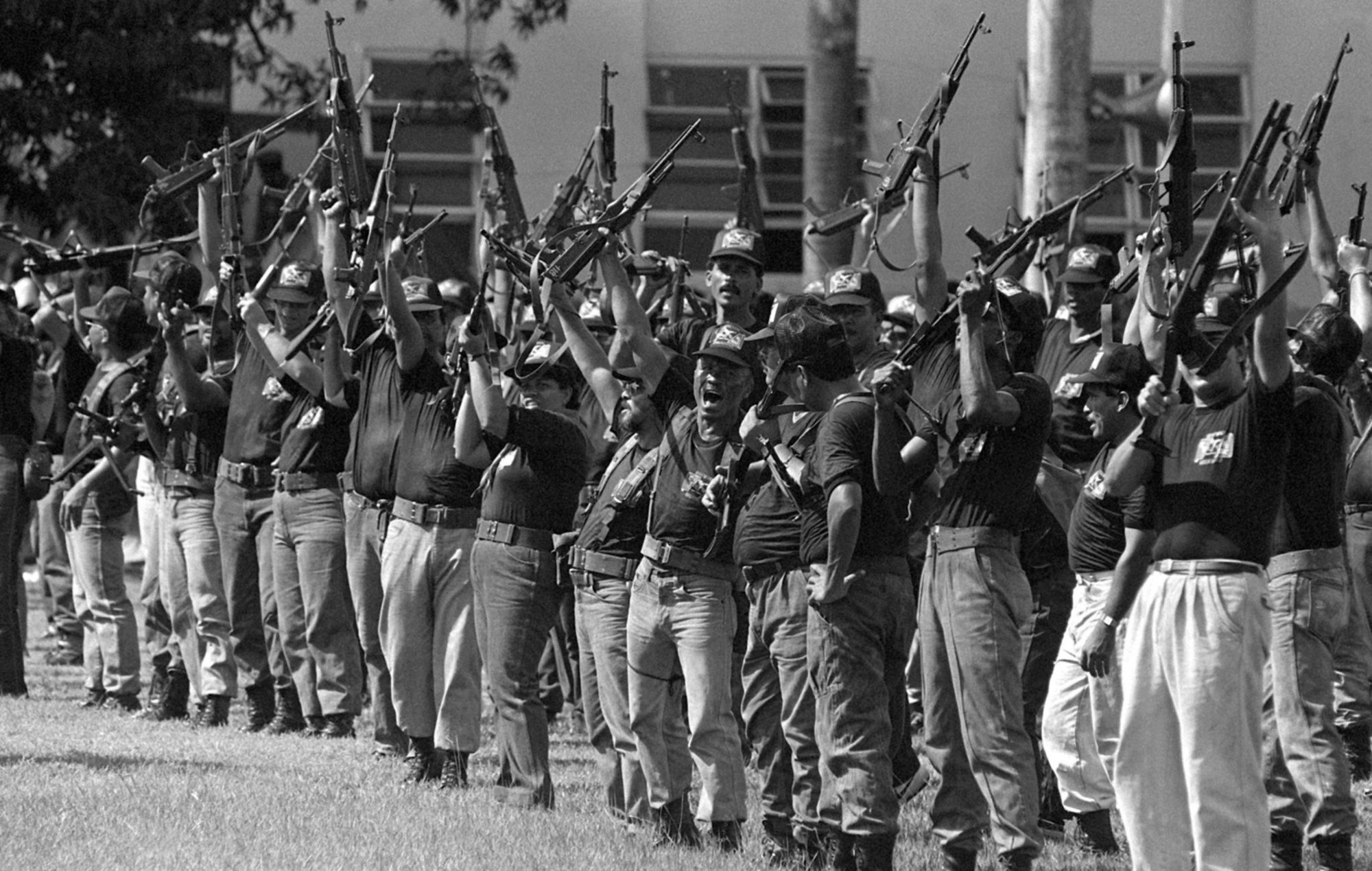 Omar Torrijos was the dictator of Panama in the decade between 1968 and 1978. Torrijos once referred to Noriega as "my gangster" and put him in charge of military intelligence. Noriega was responsible for the army's corrupt off-book deals and secret police force. Before he took power, Noriega was recruited as a CIA asset and helped set up listening posts across Panama. He was also the go-between for Central American dirty wars fought in El Salvador and Nicaragua.
When Torrijos died in a plane crash in 1981, Noriega assumed power two years later, promoting himself from lieutenant colonel to four-star general. He commanded the Panama Defense Forces, which comprised the military, law enforcement, customs, and investigative services. The vicious dictator controlled hotels, liquor stores, and the press, and he was personally responsible for extorting millions of dollars through his protection rackets.
"You could not buy Manuel Noriega, but you could rent him," said Gen. Colin Powell, the chairman of the Joint Chiefs of Staff.
Noriega's Batallon Dignidad, or "Dignity Battalions," were ruthless paramilitary squads that murdered innocent civilians and political rivals without mercy. US officials estimated the ruthless force of loyal supporters and street thugs numbered between 7,000 and 10,000. The Dignity Battalions trained for a year in the event of a US invasion but were ultimately no match against the full military might of the United States.
Operation Acid Gambit
The day before Kurt Muse was scheduled to be executed in the Cárcel Modelo prison, operators from the US Army Special Operations Command (USASOC), commonly known as "The Unit," swooped in to rescue him. Muse was a former US Army officer who rolled around Panama with a band of Panamanian patriots from 1987 to 1989 in a plot to overthrow Noriega. He also worked at a clandestine radio station that disrupted government frequencies and broadcast anti-Noriega messages. He received payroll from the CIA until he was betrayed, arrested, imprisoned for nine months, and faced execution.
On the night of Dec. 20, 1989, MH-6 helicopters belonging to the 160th Special Operations Aviation Regiment (SOAR) carried the assault force to the roof of the prison. The operators made entry into the prison, located Muse through the smoke and gunfire, placed an explosive charge on his jail cell, and breached it. The operators rushed the American hostage to a waiting SOAR helicopter and lifted off. Muse later recounted he thought his rescue took between 15 and 30 minutes, but these operators pulled off the hostage-rescue mission codenamed Operation Acid Gambit in just six minutes.
The Panama Defense Forces, however, opened fire on the helicopter and it was shot down twice during their exfiltration. "It was the first Little Bird to be used on a rescue," Muse recounted. "It was so heavily damaged it couldn't be repaired." All Americans made it out alive, and Operation Acid Gambit became The Unit's first successful hostage-rescue mission.
Merry Christmas to Everyone — Except Manuel Noriega
Open Spotify and go to the search bar and type in "The Playlist That Broke Manuel Noriega." While the music is blasting through your headphones from artists like Judas Priest, Guns N' Roses, Bruce Springsteen, Kenny Loggins, and other popular rock 'n' roll bands of the time — think to yourself that at least the music is not being played on maximum audio from loudspeakers on a 24/7 loop while impatient American soldiers wait outside to take you into custody. Because that reality was what Noriega faced when he took refuge in the Vatican Embassy in Panama City on Christmas Day 1989.
The music came from the Southern Command Network, the US military radio station in Central America. Before Rick Astley's "Never Gonna Give You Up" became an internet meme and prank, it was among many other songs according to George Washington University's National Security Archive that was used as a means of psychological warfare. Gen. Maxwell "Mad Max" Thurman ordered a "musical barrier" around the compound. They even took personal requests from some of the soldiers. Noriega surrendered to US forces on Jan. 3, 1990, and Operation Just Cause was a success.