In the wake of several questionable arrests and violent tactics by federal agents during ongoing protests in Portland, both of Oregon's U.S. senators and the two House members who represent Portland sent a letter Friday to U.S. Attorney General William Barr and acting Department of Homeland Security Secretary Chad Wolf demanding the immediate withdrawal of federal special operations units from Portland.
Senators Ron Wyden and Jeff Merkley and Representatives Earl Blumenauer and Suzanne Bonamici joined a chorus of local and state leaders calling for the federal agents to leave Portland.
Homeland Security officials have acknowledged that federal agents using unmarked vehicles have arrested and detained American citizens in Portland.
According to a CBP press release, "While the U.S. Customs and Border Protection (CBP) respects every American's right to protest peacefully, violence and civil unrest will not be tolerated. Violent anarchists have organized events in Portland over the last several weeks with willful intent to damage and destroy federal property, as well as injure federal officers and agents. These criminal actions will not be tolerated."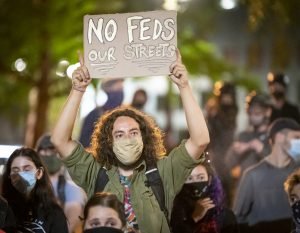 In one arrest caught on video June 15, armed federal officers in camouflage uniforms and full body armor grabbed a protestor off the street and put him in an unmarked van without giving a reason for the arrest or reading his Miranda Rights. The video shows the detainee putting his hands up and saying, "I haven't done anything wrong," while people off-camera can be heard saying, "What are you doing? What is going on? Who are you?"
"These actions are chillingly reminiscent of autocratic governments that 'disappear' critics and opponents," the Oregon lawmakers wrote in their letter. "Federal agents only have the authority to make arrests if they have probable cause that a person has violated a federal law."
The four lawmakers joined Oregon Gov. Kate Brown, Portland Mayor Ted Wheeler, and other local and state leaders accusing President Donald Trump of seeking a confrontation in Oregon to win political points with his base. The confrontation between local and state leaders and the federal government are raising important questions about state's rights in addition to the constitutional implications of the arrests.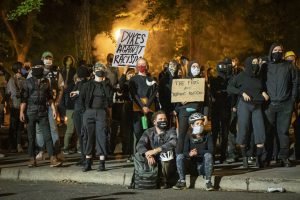 "We've done a great job in Portland," Trump said during a press conference Monday. "Portland was totally out of control, and they went in, and I guess we have many people right now in jail. We very much quelled it, and if it starts again, we'll quell it again very easily. It's not hard to do, if you know what you're doing."
Brown said Trump's response showed her "he is on a mission to provoke confrontation for political purposes. He is putting both Oregonians and local law enforcement officers in harm's way."
"I came down here today because of the federal police presence in Portland," said Garrett Anderson, a U.S. Marine combat veteran and Portland resident who wore a sign Friday that read "Gestapo out of PDX." "I find it offensive and unjustified. I think it's further politicizing the Black Lives Matter movement, and it bothers me that that's happening. I was especially activated when I read the Washington Post article this morning about the federal police in Portland detaining people."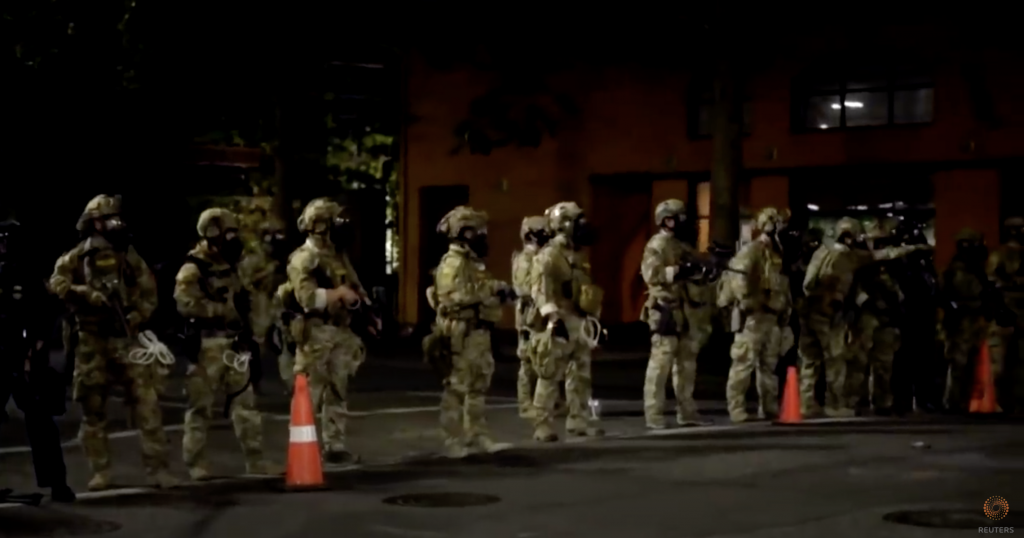 DHS acting Secretary Wolf said there are approximately 100 federal officers on the ground in Portland. He said Portland Police, who have been dealing with nonstop demonstrations since May 29, "want to be a partner; they want to protect their community." The Portland Police Bureau did not respond to a Coffee or Die query asking if the bureau supports the agents' presence in the city.
Officers from the U.S. Marshals Special Operations Group and U.S. Customs and Border Protection's Border Patrol Tactical Unit, or BORTAC, have been sent to Portland to protect federal property during the protests against racism and police brutality. Although these elite federal policing units are routinely used in fugitive hunts and other domestic operations, crowd control is typically not one of their responsibilities.
Customs and Border Protection said in a press release that its agents are operating as members of the DHS Protecting American Communities Task Force (PACT), which the Trump administration established July 1 as "a special task force to coordinate departmental law enforcement agency assets in protecting our nation's historic monuments, memorials, statues, and federal facilities."
The agents have been granted additional policing powers under the Homeland Security Act of 2002 and 40 U.S.C. § 1315, which gives the department's secretary the power to deputize other federal agents to assist the Federal Protective Service in protecting federal property, such as the courthouse in Portland.
The legal authority grants agents the ability to arrest individuals without a warrant for any offense against the U.S. committed in the presence of the officers, "or for any felony cognizable under the laws of the United States if the officer or agent has reasonable grounds to believe that the person to be arrested has committed or is committing a felony."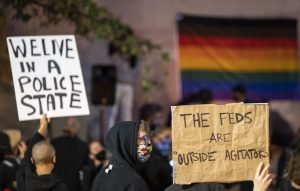 "An interpretation of that authority so broadly seems to undermine all the other careful checks and balances on D.H.S.'s power because the officers' power is effectively limitless and all encompassing," Garrett Graff, a historian who studies DHS's history and development, told the New York Times.
On Friday, Acting Secretary of the Homeland Security Chad Wolf tweeted, "Let's get this right. 'Protestors' imply they were peacefully exercising their 1st amendment rights. Instead, DHS officers were assaulted with lasers and frozen water bottles from violent criminals attempting to tear down federal property. 2 officers were injured. Facts matter."
Disturbing video captured July 11 appears to show the moment federal law enforcement officers shot 26-year-old Donavan LaBella in the face with less-lethal munitions, severely injuring the protester as he held a speaker above his head during demonstrations in front of the federal courthouse in downtown Portland.
Desiree LaBella, Donavan's mother, told Oregon Public Broadcasting that he suffered facial and skull fractures and required facial reconstruction surgery.
Oregon Attorney General Ellen Rosenblum said her office has opened a criminal investigation into the incident, and she also filed a lawsuit in Federal District Court accusing the federal agents of engaging in unlawful tactics and seeking a restraining order.
On Tuesday, Mayor Wheeler summarized on Twitter a conversation he had with DHS Secretary Wolf.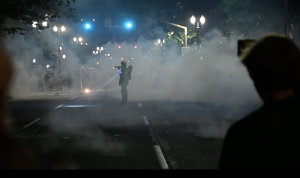 "I told the Acting Secretary that my biggest immediate concern is the violence federal officers brought to our streets in recent days, and the life-threatening tactics his agents use," Wheeler said. "We do not need or want their help … The best thing they can do is stay inside their building, or leave Portland altogether. Our goal is to end these violent demonstrations quickly and safely. And in the meantime, I asked him to clean up the graffiti on local federal facilities."
Wheeler called the agents' presence and tactics "an attack on our democracy."
Gov. Brown said she told Wolf that the federal government should remove "all federal officers from our streets."
On Friday, Homeland Security Acting Deputy Secretary Ken Cuccinelli told NPR's "All Things Considered," "I fully expect that as long as people continue to be violent and to destroy property that we will attempt to identify those folks. We will pick them up in front of the courthouse. If we spot them elsewhere, we will pick them up elsewhere. And if we have a question about somebody's identity … after questioning, determine it isn't someone of interest, then they get released. And that's standard law enforcement procedure, and it's going to continue as long as the violence continues."
In the letter sent to Barr and Wolf, Oregon's representatives wrote, "This is unacceptable under our Constitution. There are undoubtedly dangerous acts being committed by a small number of individuals. Yet a Department of Homeland Security press release refers to 'violent anarchists' 72 times while describing graffiti. Meanwhile, the President's re-election campaign is running ads warning of 'lawlessness' and 'radical left-wing mobs.'"
Jann Carson, interim executive director of the American Civil Liberties Union of Oregon, said in a written statement: "The actions of the militarized federal officers are flat-out unconstitutional and will not go unanswered."
The ACLU has filed a lawsuit seeking to limit what law enforcement can do during protests, and a judge has allowed the organization to add federal agencies to the lawsuit.
In addition, the U.S. Attorney for Oregon has requested an investigation into the tactics by federal agents. "Based on news accounts circulating that allege federal law enforcement detained two protestors without probable cause, I have requested the Department of Homeland Security Office of the Inspector General to open a separate investigation directed specifically at the actions of DHS personnel," Billy Williams said in a statement Friday. Williams is the top federal law enforcement official in the state.