The Oregon National Guard was activated Wednesday night to assist in quelling violence in Portland, Oregon, after "widespread property destruction and attacks on law enforcement officers" had occurred, according to the Multnomah County Sheriff's Office (MCSO).
"Oregon National Guard members are civilian community members helping to protect us. We don't take this decision lightly," tweeted MCSO. "Under the Governor's Order, we continue to work together and share our resources and information to address any public safety concerns."
A riot was declared at approximately 6:45 p.m. local time in Portland after law enforcement officers from the unified command had confirmed widespread property destruction and attacks against law enforcement were ongoing.
Gov. Kate Brown announced the creation of a unified command via a press release Monday. The unified command includes the Oregon State Police, MCSO, and the Portland Police Bureau. The command was established in order to maintain peace, ensure the right to free speech, and stop any violence or intimidation in regard to Election Day and the days following.
"We've seen firsthand what happens when free expression is fueled by hate. We know that there are some people who might use peaceful election night protests to promote violence and property destruction," said Brown in the press release. "This behavior is not acceptable and it's not in line with our Oregon values of being an inclusive democracy."
She continued saying, "Every Oregonian has the right to express themselves freely and to peacefully assemble. However, I want to be clear that voter intimidation and political violence will not be tolerated. Not from the Left, the Right, or the Center. Not this week, not any week in Oregon."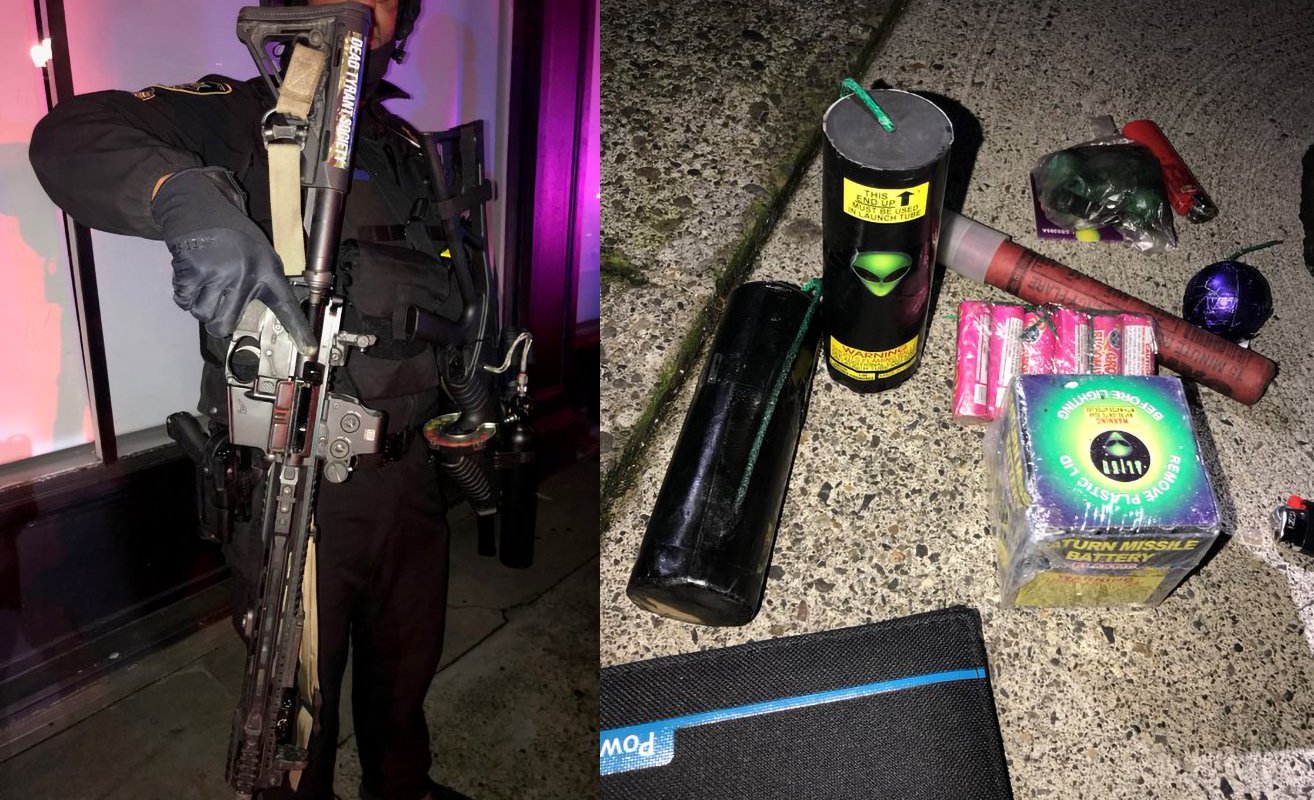 A rioter was pursued after what was initially described as a Molotov cocktail, later determined to be a firework, was thrown at law enforcement officers during the riot Wednesday night, reported KGW. After the man was detained, a loaded long rifle was recovered along with an improvised explosive device, commercial grade fireworks, and various items.
The riot declaration was withdrawn shortly after 9 p.m., according to Capt. Tim Fox, who spoke on behalf of the unified command. Fox said that officers disengaged with the protesters after the criminal activity had stopped. At least 10 arrests were made last night; the charges have not yet been announced.
Demonstrations erupted in multiple major cities throughout the US on Wednesday. Multiple protesters were cited and removed from Interstate 94 in Minneapolis after they had blocked off the major freeway. The Minnesota State Patrol said in a tweet that 646 people had been cited and released for "being a pedestrian on a freeway and public nuisance."
The New York Police Department arrested a woman after she screamed, "Fuck you, fascist" in an NYPD officer's face, then spit on him. The NYPD tweeted Wednesday evening that they had arrested more than 20 individuals who had set fire to various objects as well as "throwing garbage and eggs" in the Manhattan area of New York City. Various weapons were confiscated.
The Seattle Police Department issued a dispersal order early Thursday morning after widespread property destruction, including damage to police vehicles, and demonstrators continued to block off a major intersection. The SPD tweeted that multiple suspects were arrested during the demonstrations lasting from Wednesday into early Thursday morning. Some of the charges reported are obstruction, property damage, and assaulting a police officer.