When the days get short and cold, many people take that as an excuse to hunker down in the comfort of their homes. But a harsh winter often opens up new outdoor experiences, and there's nothing quite as beautiful as a snow-covered landscape under the aurora borealis.
This will not be a list of hikes that stay snow-free or warm through the winter. These adventures are harsh, and some require special equipment and experience. Avalanches and hypothermia kill, so proceed with caution.
However, if sleeping outside in temperatures cold enough to freeze gasoline sounds fun to you, pile on your warm layers and keep reading.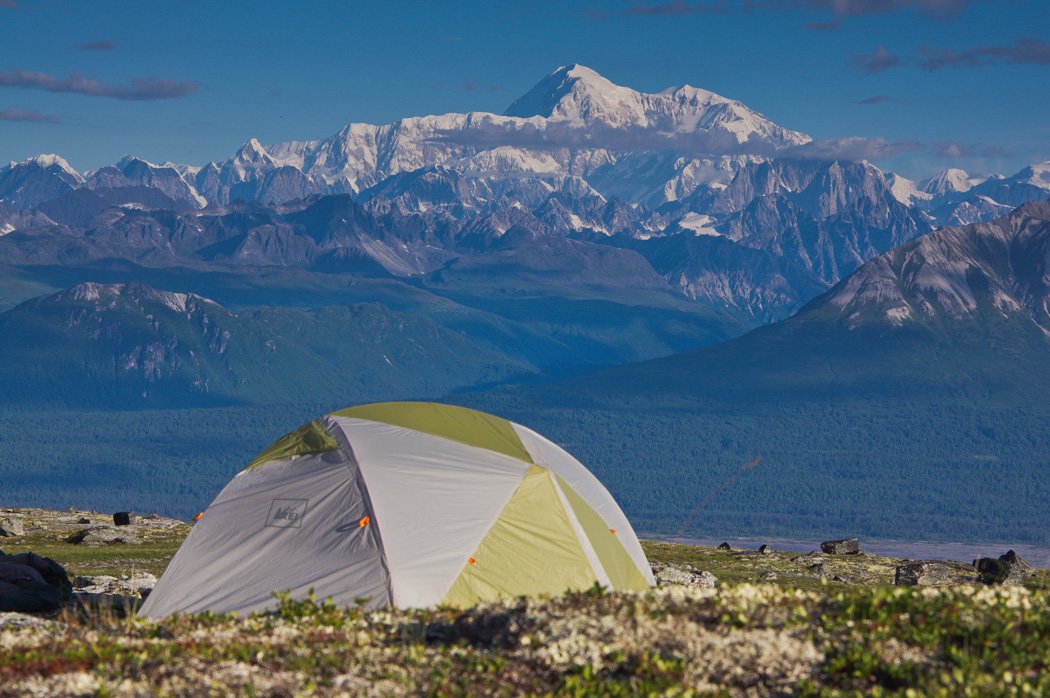 Kesugi Ridge, Denali State Park, Alaska
Normally hiked during the brief Alaskan summer, Kesugi Ridge offers some of the best views of Denali, North America's tallest peak. The entire ridge trail runs about 37 miles and elevation gain is significant though highly variable depending on your route.
So, what makes this a special winter hike?
First, it's important to note that hiking Kesugi Ridge is a strenuous task even in August, and snow will make it more difficult in every possible way. Expect extreme cold.
But if you're willing and equipped to venture into the subarctic winter, on a clear day you will see the Alaska Range in its full majesty. Add to that the possibility of seeing the aurora, and you have yourself a truly spectacular setting.
Just make sure to keep your camera warm so the battery doesn't die!

Rim Road, Crater Lake National Park, Oregon
A typical visit to Crater Lake National Park would be incomplete without a drive around the actual rim of the crater. But in the winter, the National Park Service closes the road due to snow, which makes it the ideal spot for a winter adventure.
If you're ready for some serious cold, Rim Road offers spectacular views of Crater Lake, one of America's most iconic landmarks. However, serious cold requires serious preparation, so make sure you're carrying everything you need in case of an emergency — the odds of getting help if needed are slim.
But if you're willing to strap on some snowshoes or Nordic skis, this trek is one of the best the Pacific Northwest has to offer.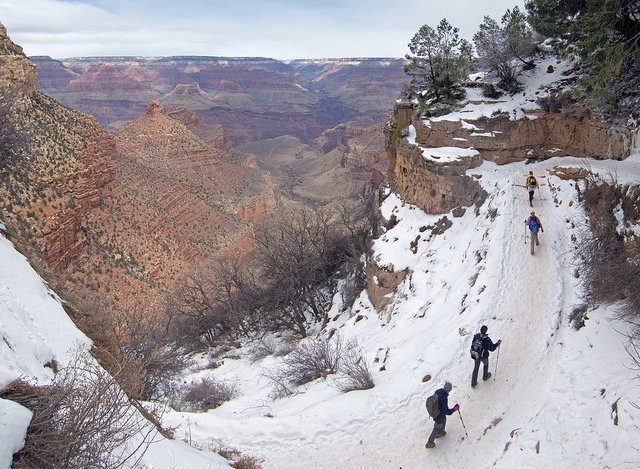 Bright Angel Trail, Grand Canyon National Park, Arizona
While most visitors see the Grand Canyon in the blistering summer heat, traveling to the American Southwest during the winter months may be a better option. You'll avoid the crowds — and the sizzling temperatures — for an improved experience of the region. If you're lucky, you'll even get a bit of snow while you're there.
The steep and challenging Bright Angel Trail follows a fault line and actually has natural sources of water along the way, which means more plant life and shade. While the trail can be unbearably hot in the summer, the winter months make the trip more reasonable, though you may want to bring shoe spikes in case of ice.
Bear in mind, however, that no matter what time of year it is, the Grand Canyon is subject to extreme changes in weather, so be prepared for a wide range of temperatures, and always pack extra water.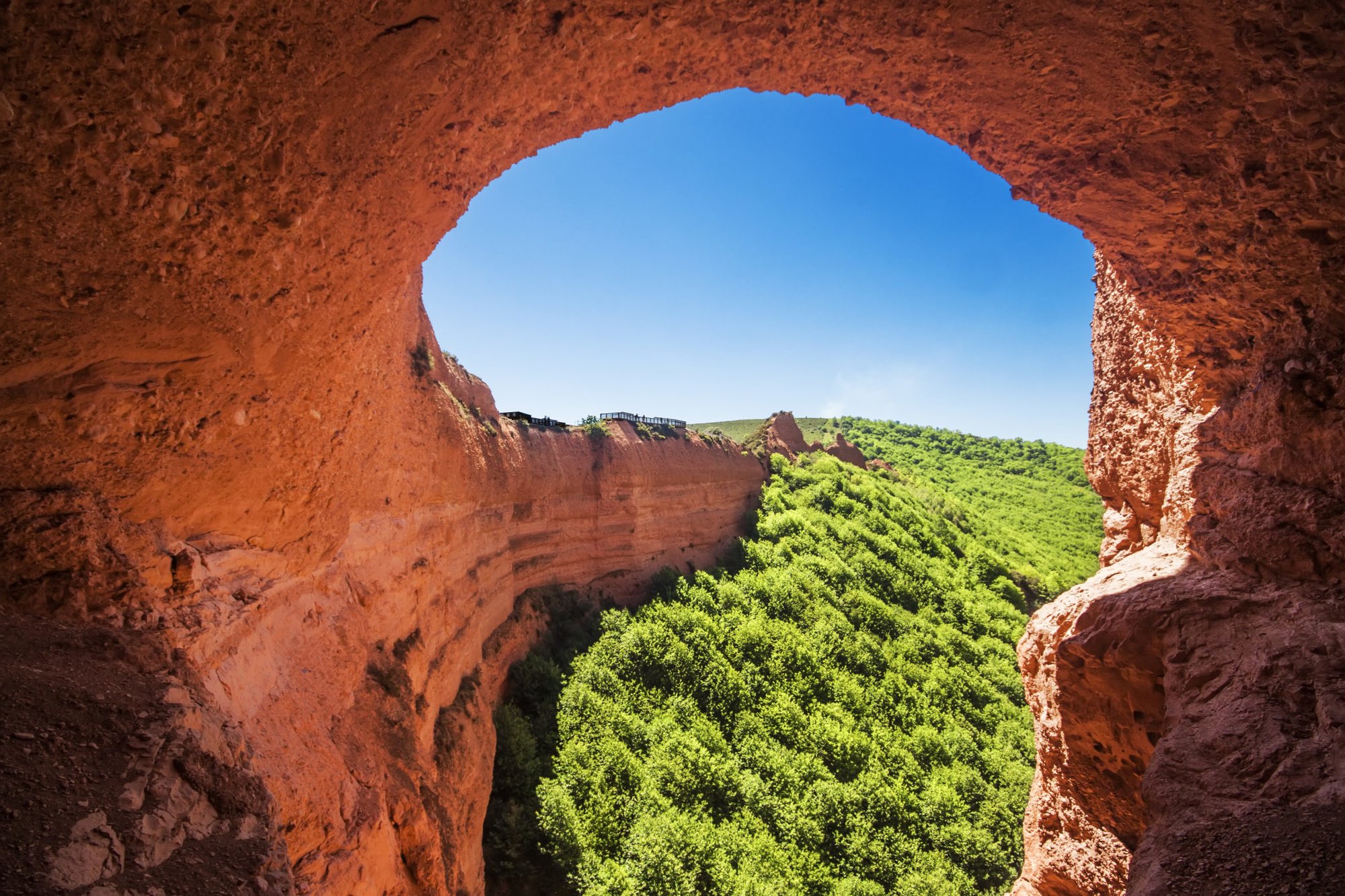 OCONUS BONUS: El Camino de Santiago, Spain
For those of you stationed in Europe, every free weekend is an opportunity for a mini-vacation. One of Europe's most legendary pilgrimages, El Camino de Santiago, runs through northern Spain from the Pyrenees to Santiago de Compostela, a major destination.
Most people make the roughly 500-mile trek in the summer, but you can hike it in the winter without any major safety concerns. The Spanish winter is not particularly harsh, so as long as you pack warm clothes and plan your trip properly, you should be okay.
So, what makes El Camino such a special winter hike? Solitude. This is an old medieval pilgrimage route and can often be crowded in the warmer months.
And as far as a pilgrimage goes, solitude and introspection only enhance the experience.