Wild goose chases, or acts of trickery, in the early morning hours of June 6, 1944 — the infamous date when Allied troops launched a multi-faceted invasion into northern France during World War II — were part of a much larger deception plan to hoodwink German troops. Operation Titanic was a four-stage scheme that consisted of noisemakers, chaff (designed to look like a blob on radar), paradummies, and SAS commandos.
The third stage of the operation involved the deployment of "paradummies," or dummy paratroopers, from four Royal Air Force (RAF) squadrons flying over four separate drop zones across Normandy. From a distance, according to a declassified OSS report, "the actual proportions of these dummies cannot be perceived by the enemy because of the absence of background, which allows for no standard of comparison." These paradummies attempted to draw German troops away from defended drop zones and fortifications. The designs of the decoys were made from hessian cloth, essentially sandbags that looked like mini human figurines.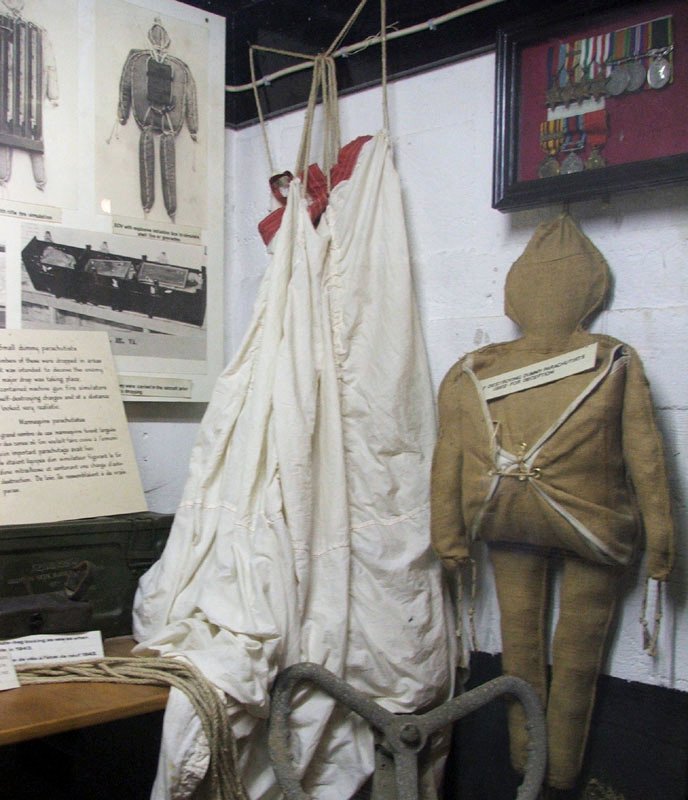 Americans referred to them as "Oscars" and used them to stage ambushes, while the British called them "Ruperts." These deception devices were no more than 3 feet tall, were decked out with dummy boots and dummy helmets, and even carried recordings of battle noise to cause confusion. Outfitted on their backs were tiny explosive charges that detonated upon landing, either to wound an investigative soldier or to erase the evidence of a parachute to give the impression that the soldier was awaiting actions to launch a sabotage mission.
In addition to the dummy drops, two groups of six commandos each belonging to the British Special Air Service (SAS) were among the first troops to parachute behind enemy lines in preparation for D-Day. They were able to provide a sense of realism and spread chaos throughout the region. They used gramophone speakers that amplified sounds of gunfire in discreet locations to appear as a much larger force, conducted 20 acts of sabotage against signal and telephone lines, and even allowed some Germans to escape so they would inform their superiors of a recent parachute drop.
The SAS commandos expected to link up with American paratroopers once they invaded. Instead, they spent six weeks running and gunning 15 miles throughout German territory. SAS commandos Lieutenant Norman Poole was joined by four former U.S. prisoners of war (POWs) whom he had ventured five miles to retrieve. They snuck into no man's land in a desperate attempt to reach Allied territory but were ambushed by a German patrol tracking their trail.
They evaded into a barn and were surrounded, captured, and tortured. Miraculously, through his erudite wit and fluency in German, Poole convinced his SS interrogator to spare his life and another commando in his SAS troop by explaining that they were regular infantrymen. Poole's harrowing ordeal concluded with two bombings of a POW train he was on from Allied aircraft. Ultimately, he was among three SAS survivors of Operation Titanic, a successful and critical deception operation that helped the Allies change the tide of World War II.