Two Air Force pararescuemen assigned to the 48th Rescue Squadron at Davis-Monthan Air Force Base, Arizona, received the Bronze Star Medal with Valor on Oct. 1 for missions supporting Army Special Forces teams in Afghanistan in 2019.
Master Sgt. Adam Fagan and Staff Sgt. Benjamin Brudnicki earned the nation's fourth-highest military honor during a ceremony at the Arizona base.
Both men were awarded for carrying out lifesaving rescues during raids against the Taliban.
While assigned to the 64th Expeditionary Rescue Squadron at Kandahar Airfield, Fagan was attached to a combined force of US and Afghan Special Forces for a raid in Helmand Province on March 24, 2019. As the team approached a Taliban compound in Sangin, they were attacked by small-arms fire from a fortified position as well as an improvised explosive device, according to Air Force Magazine.
Fagan was recognized for his actions under fire in helping to save an Afghan commando who was wounded.
"The heavy small-arms fire, coupled with rocket-propelled grenade blasts and multiple [IED] detonations pinned down the Afghan Special Forces team and hindered access to the critically wounded casualty," Air Force Magazine reported. "Without hesitation and with complete disregard for his own safety, Sgt. Fagan took immediate control of the dire situation and engaged the fortified enemy position, repeatedly exposing himself to heavy fire."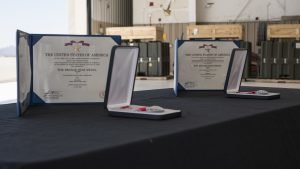 Fagan engaged enemy forces to allow the rest of his team to reach the Afghan commando, who Fagan then treated before calling for a medical evacuation and moving the commando to the helicopter landing zone under small-arms fire and grenade attacks. He also provided cover for the helicopters to land.
"The culmination of Sgt. Fagan's exceptionally brave actions and speed of patient delivery led to the destruction of an enemy weapons cache, the elimination of five enemy insurgents, and ultimately saved the life of a coalition partner," the award citation states.
At the ceremony, Fagan attributed his success to his extensive training in calling in and executing medical evacuations.
"I knew what I was physically able to do, I knew I could treat that guy under fire in the dark," he said at the ceremony.
Brudnicki was also assigned to the 64th Expeditionary Rescue Squadron at Kandahar when he was attached as a medic to a combined force of US and Afghan Special Forces on May 3, 2019, for a counterinsurgency mission in Helmand.
In a village known to be a Taliban stronghold, the commandos breached a compound and were engaged by enemy fighters.
"[Brudnicki] and his team utilized the Taliban's own kill holes against them with decisive small-arms fire," according to Air Force Magazine. "At distances of less than 5 feet, he engaged relentlessly with personal weapons and hand grenades, despite their cover being damaged with a rocket that failed to detonate."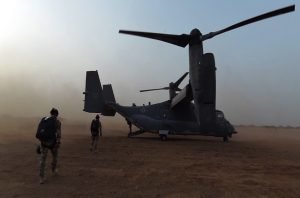 When a civilian was wounded in the fight, Brudnicki braved "effective enemy fire from an adjacent compound" while running through an open courtyard to rescue and stabilize the individual.
When an Afghan commando was severely wounded and pinned down, Brudnicki "rushed to join the fight and engaged the enemy's fortified position by again crossing the open courtyard and exposing himself to grave danger," according to the award citation. "He successfully suppressed the enemy, allowing partner force commandos to remove the casualty from the courtyard."
Brudnicki then set up a collection point for wounded troops and created a plan to transport blood and evacuate people.
"His actions resulted in seven enemies killed in action, including a Taliban commander, and saved the lives of two coalition partners," the citation states.
"My team leader quickly led the assault as we eliminated the enemy with small arms fire and hand grenades at room distance," Brudnicki said in an Air Force release. "I treated multiple casualties with advanced medical interventions and helped coordinate exfiltration while my team continued to eliminate the threat."
Pararescuemen work under the motto "that others may live."
"It is an honor to be recognized, however, the experience and brotherhood created with my team overseas is the most valuable piece for me," Brudnicki said. "The Air Force best utilizes its special warfare assets when putting them to work in the joint environment, and I am proud to be a part of that."