Ooof.
In a recent Instagram post, a Navy chaplain's assistant reposted a video of himself performing an epically, err, jarring parachute landing.
Have a watch here:



View this post on Instagram










Mike Sency, an airborne-qualified Navy Religious Program specialist who has served in both fleet Marine infantry and Naval Special Warfare units, posted the video on his Instagram last week, with a humorous explanation:
"My once a year reminder that I executed an atomic leg drop from 1300 feet," Sency wrote.
An atomic leg drop was the "finishing move" for pro wrestler Hulk Hogan, in which he leapt in the air and landed with his legs out, fully seated. The Hulkster's move is not widely prescribed as a landing technique in the military airborne community but is a perfect description of how Sency lands.
Also: he does it on concrete.
Sency told Coffee or Die Magazine in a series of direct messages that the jump came in 2019 when he was assigned to a Naval Special Warfare unit in Little Creek, Virginia, on a jump with airborne-qualified Special Warfare combatant-craft crewmen from the unit. The video is a tour-de-force of mistakes, bad luck, and bad timing that can occur on parachute jumps.
The first problem is where he lands. As he comes into frame, Sency is descending directly onto a concrete, parking lot-like pad. Approved military drops zones, or DZs, generally are chosen for "soft" surfaces like dirt or grass (although many are adjacent to roadways, runways, and other hard surfaces).
"I got blown away from the DZ and came straight down on the track around the field," Sency told Coffee or Die. "I was coming in super fast and kept lifting my legs to look beyond them to get ready to PLF and I mistimed when the ground would arrive."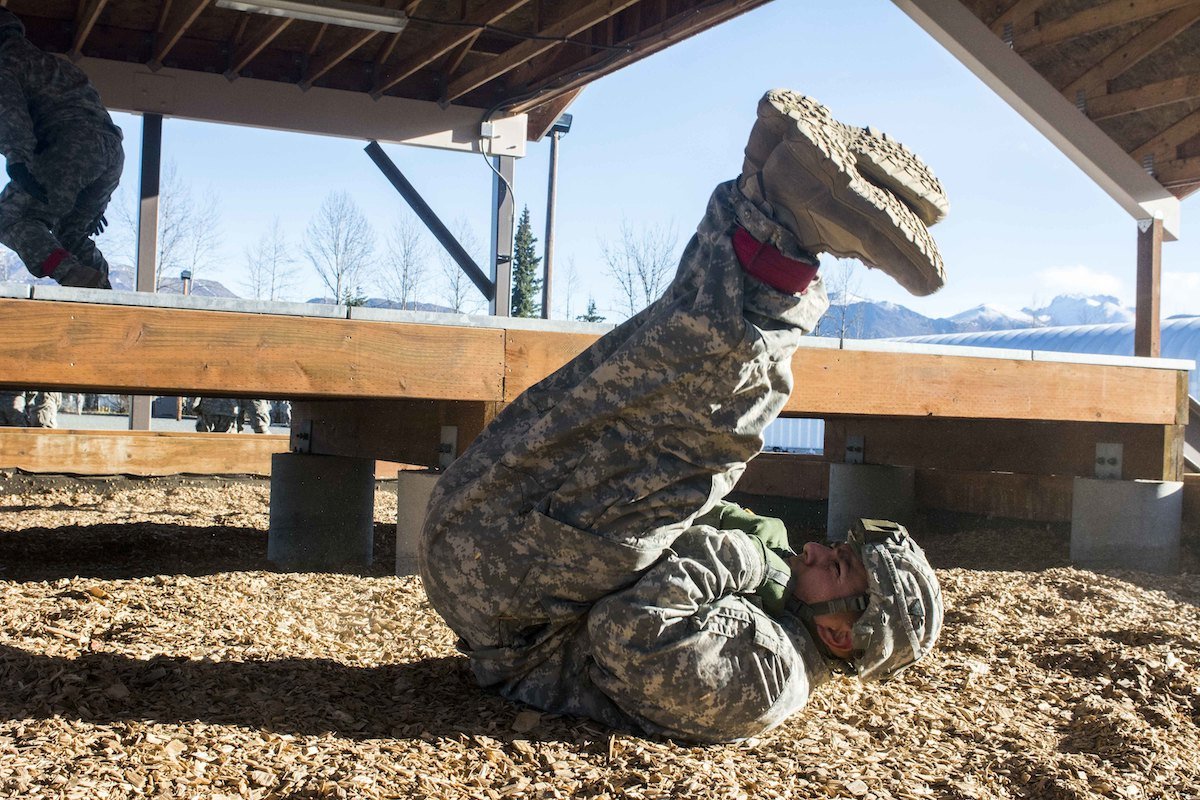 A PLF is a parachute landing fall, a landing technique taught to all US paratroopers that allows jumpers to dissipate the impact of a jump by, well, falling over. In a proper PLF, a jumper lands on their feet and falls onto their side. The five points of contact of a PLF refer to the order in which a jumper's body parts should strike the ground: feet, then calf, thigh, buttocks, and biceps.
But in the video, Sency skips all but one of those.
"So I lifted [my legs] one more time to look and I was already at the ground."
Indeed, as he impacts the concrete surface, virtually all of Sency's weight appears to land directly on his butt.
A paratrooper mistiming or screwing up a PLF is relatively common and often a source of humor in jump-qualified units. In fact, landing on one's rear end is jokingly referred to as a "one-point of contact" PLF. But doing so on a hard surface like a parking lot is … well, just keep an eye on the nearby observers in the video, who, as Sency lands, instantly cringe and let out a collective "Ooooo."
"Compressed spine and some bruising but nothing too serious luckily. Lol," Sency told Coffee or Die.
Sency appears to be flying under an MC-6 parachute canopy, a system slightly different from the more square MC-11 used by large airborne units like the 82nd Airborne. Based on a parachute used by National Forest Service smokejumpers, the MC-6 is in use with many special operations teams.
The jump, said Sency, was proficiency training for his assignment to the Naval Special Warfare unit as a Navy Religious Program specialist. RPs, as they are known, are part of a small, unique career field in the Navy, attached specifically to Navy chaplains as assistants in their religious and spiritual duties but also for the chaplain's security (RPs do not practice actual religious ceremonies or counseling). Chaplains, who are officers, are not allowed to carry weapons, even when assigned to combat units. Instead, RPs act as an armed bodyguard.
Sency remains an RP in the Navy and is currently stationed in Houston. RPs are often assigned to Marine infantry units or Special Warfare teams, where they participate in combat training and deployments alongside operational teams. Because the only other, and far more common, Navy personnel assigned to Marine combat units are Navy corpsmen, Sency says RPs often pick up the nickname of "Doc."
Read Next: