On Sunday morning, Dec. 7, 1941, aviation ordnance Chief Petty Officer John Finn was in bed, resting his head on his pillow, in a debate with his wife, Alice, about who was in charge of making coffee. Finn hadn't a worry in his mind, as he was spending the weekend off-duty in the tropical paradise of Kaneohe Bay, a naval air station located about 15 miles east of Pearl Harbor.
Their three-bedroom quarters were so new that they didn't even have curtains up yet. Finn saw a plane flash by where he knew a plane didn't belong, and he went to investigate the unusual sight. When he got to the window, he looked outside and questioned why the planes in the sky only had single engines. Then came the sounds of machine guns.
"One minute I'm warm in bed with a pretty blonde and the next minute I'm down there," John Finn later recalled in an interview for the book Medal of Honor: Portraits of Valor Beyond the Call of Duty. His neighbor, Eddie Sullivan, didn't say a word as he opened the passenger side door of Finn's Ford. They were only about a mile from the naval air station hangar. As they drove, the chaos grew louder. When they went around a bend in the road, Finn heard the roar of a plane behind him. Finn looked up to see a red ball on both its wings, markers indicating the planes were Japanese Zeros.
"I threw that old Ford into second gear and, man, from then on I broke every speed law that was ever set," Finn said.
On the way, they saw thick black smoke to their left coming from the bay side of their hangar. Finn joined the fight alongside other members from a PBY Catalina flying boat squadron. He opened his door, dashed 50 yards into the hangar, and watched two fellow Americans engage Japanese planes with .30-caliber and .50-caliber machine guns from makeshift tripods. They were using the large hangar for cover but couldn't see over the tall building structure, which hampered their effectiveness.
Finn grabbed his teammate's .50-caliber machine gun and a tripod and dragged it 25 yards into the open. "I shot at a [Japanese] plane," Finn said. "I'd be a liar if I said I hit him. You don't shoot a plane out of the air with a .30 or a .50 caliber or even 20-40 mm guns that can riddle a plane. The damn thing will still come on flying and maybe make it back to base. But I'd be the worst shot in the world if I didn't hit some of them."
For two hours, Finn manned a machine gun in the middle of the open, shooting at every metal flying object with Japanese markings. The planes swooped in low enough that Finn could even see their pilots' faces. In the course of his heroic counterattack he was wounded in more than 20 places: a bullet fractured his left foot, another his left arm, shrapnel to his chest, stomach, elbow, thumb, and scalp.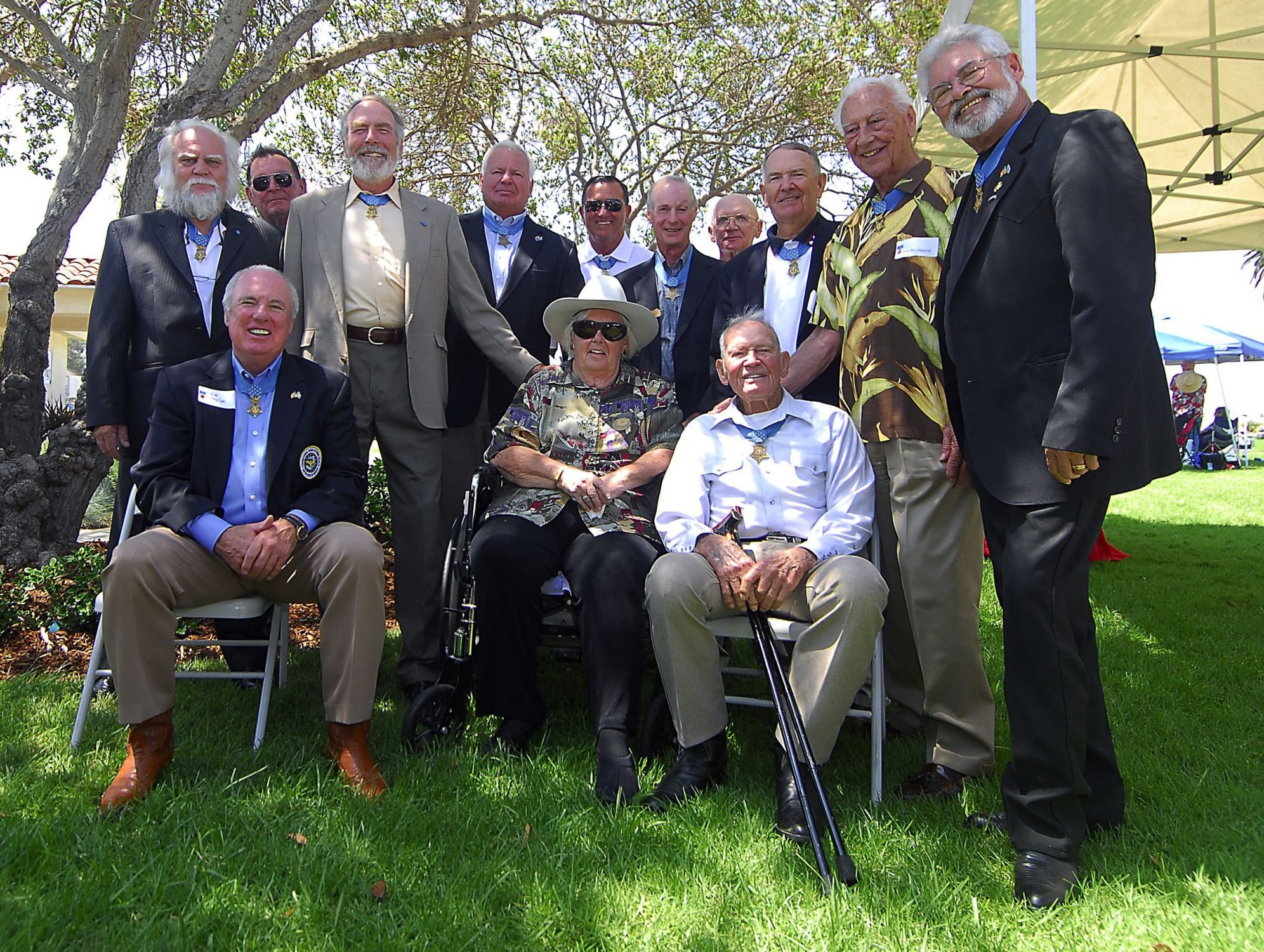 Remarkably, after the battle had ceased and he received first aid, Finn returned to the squadron area to supervise the rearming of returning planes. Finn recovered in a hospital, and on Sept. 15, 1942, Adm. Chester A. Nimitz awarded him the first Medal of Honor of World War II, citing his "magnificent courage in the face of almost certain death."
Finn continued to serve in the US Navy and retired in 1957 at the rank of lieutenant. He and his wife fostered five Native American children from the Diegueño tribe. Finn died on May 27, 2010, at 100 years old. Finn was the last surviving Medal of Honor recipient from the attack on Pearl Harbor, and he is the only aviation ordnanceman to receive the medal.
In 2017, the US Navy commissioned the USS John Finn (DDG 113), an Arleigh Burke-class guided-missile destroyer, in his honor.
When asked what he thought about being heralded as a hero, Finn said, "That damned hero stuff is a bunch [of] crap. You gotta understand that there's all kinds of heroes, but they never get a chance to be in a hero's position."