Ahead of today's 79th anniversary of the Japanese attack on Pearl Harbor, the Defense POW/MIA Accounting Agency (DPAA) announced Dec. 1 that after an extensive effort it had accounted for the remains of four more sailors killed in the attack.
The agency accounted for two brothers from La Porte, Indiana, who were killed aboard the battleship USS Oklahoma: Navy Fire Controlman 2nd Class Harold F. Trapp, 24, and Navy Electrician's Mate 3rd Class William H. Trapp, 23.
Navy Chief Carpenter's Mate Tedd M. Furr, 39, of Mobile, Alabama, also perished aboard the USS Oklahoma, and Navy Seaman 1st Class Carl S. Johnson, 20, of Phoenix, Arizona, served on the battleship West Virginia.
During the attack on Pearl Harbor, the USS Oklahoma sustained multiple torpedo hits and quickly capsized, killing 429 crewmen, including the Trapp brothers and Furr.
The Trapps' and Furr's remains were recovered from the ship following the attack, but they could not be identified at the time and were buried as unknowns at the National Memorial Cemetery of the Pacific — known as the Punchbowl — in Honolulu, Hawaii.
Johnson was assigned to the battleship USS West Virginia, which sustained multiple torpedo hits during the Japanese attack, resulting in the deaths of 106 crewmen, including Johnson. Counterflooding measures prevented the ship from capsizing, and it came to rest on the shallow harbor floor. The ship was eventually rebuilt and saw service later in World War II.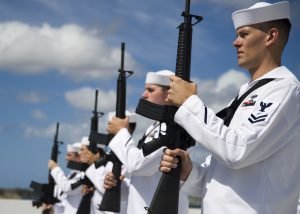 During salvage efforts, Navy personnel recovered the remains of dozens of the deceased USS West Virginia crewmen, and those who could not be identified, including Johnson, were interred as unknowns at the National Memorial Cemetery of the Pacific.
In 2015, the DPAA received authorization to exhume or disinter unknown remains from the attack on Pearl Harbor and use new forensic technology, including DNA testing, to positively identify them. The four sailors were identified as part of that effort.
To identify the remains, DPAA scientists used dental and anthropological analysis and circumstantial and material evidence, and scientists from the Armed Forces Medical Examiner System used mitochondrial DNA (mtDNA) analysis.
All four sailors' names — already recorded on the Walls of the Missing at the Punchbowl — will have a rosette placed next to them to indicate they've been accounted for.
According to Military.com, more than 900 of the 1,177 crew members of the battleship Arizona killed at Pearl Harbor remain entombed permanently aboard the ship, now a national shrine and considered a war grave.
All of the fallen and the few remaining survivors from the Pearl Harbor attacks were honored Monday at the 79th National Pearl Harbor Remembrance Day ceremonies. Adm. John Aquilino, commander of the US Pacific Fleet, made remarks aboard the battleship Missouri memorial and museum.