A Missouri man is behind bars without bail Wednesday, Nov. 24, charged with making threats against Pennsylvania State Police troopers nearly a year after they gunned down a man during a controversial standoff on a highway overpass.
Damian Smith-Birge, 26, of Neosho, was booked into Missouri's Greene County Jail at 5:19 p.m. Tuesday, pending transfer to Pennsylvania by the US Marshals Service. FBI agents have charged him with a single count of making interstate threats.
The criminal complaint filed by FBI Special Agent Nicholas S. Mathis hasn't been unsealed in federal court, and no hearing date has been scheduled for this case in Pennsylvania. But a prepared statement released by the US Attorney's Office for the Middle District of Pennsylvania Tuesday claimed Smith-Birge had phoned the Pennsylvania State Police Stroudsburg barracks and "made threats against law enforcement."
The Thursday calls, which authorities said were recorded, allegedly referenced a December shooting involving an officer in Hamilton Township, Pennsylvania, according to federal prosecutors.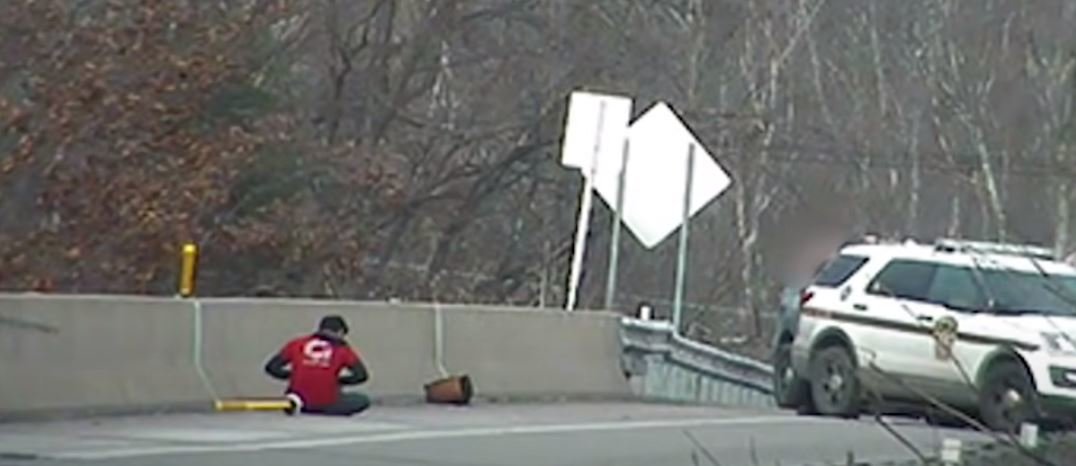 On Dec. 30, 2020, Pennsylvania State Troopers shot Christian Joseph Hall seven times while the 19-year-old Chinese American man from Stroudsburg stood on a highway overpass.
Hall was armed with a pellet gun, and his parents said he had been diagnosed with depression and wanted to surrender to authorities when troopers shot him.
The allegedly threatening calls by Smith-Birge came on the same day NBC News and the nonprofit investigative newsroom Spotlight PA released a joint probe raising questions about how Hall died.
Relying on footage from Pennsylvania State Police videos previously withheld from the public — but provided to Hall's parents as part of a planned federal lawsuit against the agency — the report revealed Hall held his hands above his head for 14 seconds before two troopers shot him.
The Monroe County District Attorney's office previously justified Hall's killing, saying the "classic suicide by cop scenario" appeared to threaten the lives of troopers at the scene. Although Hall's hands were in the air, he also continued to grip a pellet gun that resembled a firearm.
But activists and Ben Crump, the attorney representing the Hall family, have called on federal authorities to launch an independent federal probe into what happened.
If convicted, Smith-Birge faces up to five years in federal prison.
Read Next: