This article was originally published April 30, 2020, on The War Horse.
Included in the $2.2 trillion rescue package in response to the COVID-19 shutdown was $17 billion set aside for firms deemed "critical for maintaining national security." Critics say the provision provided a backdoor to emergency capital for Boeing, a company with a long partnership with the Pentagon.
Yet when the crisis hit, at least one senior Pentagon official seemed less concerned about preserving Boeing than a network of startups a fraction of the size.
In a memo dated March 24, James F. Geurts, assistant secretary of the Navy for Research, Development and Acquisition, instructed officers to use extraordinary measures to keep their small contractors operating. Geurts directed recipients to leverage a network of new defense programs designed to engage small businesses and startups to allow them to see the other end of the crisis.
Geurts's response was telling. Why was the Navy's top procurement official thinking about startups and not solely focused on preserving a multibillion company that has provided the Pentagon fighter jets for nearly a century?
The reason gives us a look into the Defense Department's evolving military acquisitions process and how the relationship between the Pentagon and the technology sector has reversed itself.
Since World War II the Pentagon has funded research in its own labs and at universities to make certain it overwhelmed the world in every field of technology. Silicon Valley was literally built from the ground up with Defense Department grant funding sent to Stanford University's engineering department after World War II to develop technologies to counter the Soviet troop buildup in Eastern Europe.
Then something changed. "Big Tech" firms like Google raced ahead and China threatened to do the same. Instead of funding and building technologies and exporting innovation out, the flow reversed itself. The Pentagon needed Silicon Valley—for artificial intelligence, cyber security, and cloud computing—more than Silicon Valley needed the Pentagon.
Suddenly when it came to technology, the Pentagon was no longer peerless, in charge, or even needed.
"What's different today is that now so much of that innovation happening in the United States is happening outside of DoD," said Paul Scharre, author of Army of None: Autonomous Weapons and the Future of War. "Now DoD is at the mercy of the global innovation ecosystem."
The Geurts memo provides a window into how the Pentagon is determined to step back into the driver's seat.
How it started
In 1993, new Clinton Administration Defense Secretary Les Aspin sat down with the Pentagon's 15 largest defense contractors and issued a stern warning: merge, now, to proactively respond to the Pentagon's declining budget. Aspin wanted the industry to gain efficiencies without losing capacity. He got his wish. The 1990s saw a wave of mergers among defense contractors that joined its suppliers into a handful of mega-contractors: Raytheon, Boeing, Lockheed Martin, Northrop Grumman, General Dynamics.
It wasn't until a proposed 1997 merger between Lockheed Martin and Northrop Grumman—a deal that would have merged the largest and third-largest supplier to the U.S. military—was canceled in the face of a Department of Justice lawsuit that the Pentagon became concerned that its suppliers may have taken Aspin's advice a step too far.
More than two decades later, the Department of Defense is now facing an industry that has more clout at the bargaining table than it has ever had, without the kind of engineering talent the Pentagon has long relied on contractors to deliver. The best engineers, the Pentagon has found, bypass the big defense contractors to go work for Big Tech or a startup with high growth potential, where they can get vested with early stock options and aim for billion-dollar valuations.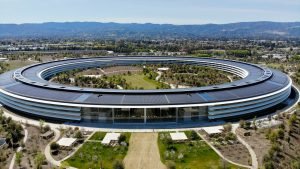 This has led the Pentagon to mobilize programs, research laboratories, and technology scouts across the country in search of engineering talent and alternative suppliers more willing to take on risk than the major defense contractors. Even by the Pentagon's standards, this innovation network can seem overwhelming to understand, let alone manage. Much of this network was launched by Ash Carter, Barack Obama's fourth and final defense secretary, and accelerated in the Trump years.
In 2015 the Department of Defense stood up the Defense Innovation Unit-Experimental (DIUx)—an experiment—to interface with the startup community of the Bay Area. The unit is no longer an experiment, the "X" is now shed from the name, and DIU has offices in the Pentagon, Boston, and Austin, Texas. Its mission is to bring technologies pioneered by startups into the military's acquisitions process.
The most visible symbol of the Pentagon's fascination with tech startups can be found at Capital Factory, a millennial-friendly entrepreneurial working space in downtown Austin, where you will now find among its tenants the Army Futures Command, commissioned in 2018 and given the sole charge of modernizing the force.
And the Pentagon looked in its own ranks for technology champions through programs like AFWERX, the Air Force's effort to allow its airmen to test their own ideas and technologies, and work with a private contractor to build out a product.
The common theme unifying these efforts seems clear: find new pipelines of new technologies untethered to the big contractors and, more importantly, able to produce a product quicker.
A new way of business
Many of these programs are portals to use one of the Pentagon's favorite new tools, Other Transaction Agreements, or OTAs. The Department of Defense issued nearly $4 billion in 2018 to purchase products, services, and (most critically) technologies through OTAs, according to the Government Accountability Office, a nearly threefold increase since 2016.
As the name might suggest, OTAs provide contracting officers freedom to improvise and amend contract clauses. OTAs have been used to allow firms to keep control of their intellectual property (a benefit not often a part of normal contracts), include collaborators and private financiers in the contract, and develop a technology prototype in months, not years.
The more frequent use of OTAs, many defense experts believe, reflects the frustration of the overly bureaucratic process of identifying a technology need, issuing a contact, and buying a product. The contracting process, revised during Donald Rumsfeld's second stint at the Pentagon, was designed—with layers of regulations—to protect the services from outside commercial influences, a perhaps well-meaning approach that has instead led to bureaucratic confusion, interminable delays, and isolation from outside sources of technology.
If there's enough money involved, the losing applicants add almost invariably to the bureaucratic pain. The Trump administration's decision to hand a $10 billion contract to build the Department of Defense a cloud computing service (called the Joint Enterprise Defense Infrastructure, or JEDI) to Microsoft predictably—and to many market analysts and Trump administration critics, justifiably—spurred Amazon Web Services, the favorite to land the JEDI contract, to challenge the decision in front of the U.S. Court of Federal Claims. This was only the most visible of many other legal challenges that have slowed the Pentagon's contract pipeline.
For smaller contracts, an OTA can be a great tool to avoid litigation. OTA contracts under $5 million often don't require audits and are less vulnerable to legal challenges.
Repairing the relationship with Silicon Valley
To appreciate the role of the military—and by extension, the federal government—in driving technologies into the commercial market, one needs to rethink common narratives that have guided capitalism for much of the modern era. As economists like Mariana Mazzucato have argued, technological advancement is not, nor has it ever been, separated from government.
Federal funding is directly responsible for critical technologies—including the touch screen and global positioning system—that comprise your smart phone. More recently, advances in nanotechnology and the human genome would never have been possible without government funding.
The reason is that no private source of funding is likely to pay for high-risk research that may not lead to commercial product for another 10 or 15 years, if it ever leads to a groundbreaking discovery. No surprise, then, that technology firms have closely monitored what the Pentagon's research labs are working on.
"The pattern habitually was a new technology would be born at a DoD research laboratory and migrate to the commercial sector," said Susanna V. Blume, director of the Defense Program at the Center for a New American Security, a Washington, D.C.-based national security think tank. "And the archetypical example of that is GPS."
Yet more recently the pathway connecting the Pentagon's high-risk research and the commercial market has been replete with frustrating, repeated roadblocks. The military research labs invent something, "and then there's a tech demonstration and a prototype and then nothing," said Paul Scharre. Either because of red tape or a lack of interest in the commercial sector, the technologies invented by the military's research labs remain on the shelf. That's a stark contrast from a previous era when Silicon Valley and the military worked hand in glove.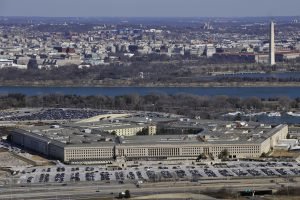 The Pentagon still provides nearly $100 billion to its own research laboratories and research funds at universities, yet with a larger sum of research happening outside of the military, the Pentagon is now forced to look toward the commercial market and get in line with everyone else to purchase technologies.
This presents a fundamental conflict: With private sector engineers unconcerned with what the Pentagon needs, only what a venture capitalist would invest in, the Pentagon is limited in its ability to guide research and development.
One tool the Pentagon has is the Small Business Innovation Research (SBIR) program. The Department of Defense also annually issues more than $1 billion to small businesses and startups in SBIR grants; around $250,000 can be provided in the first phase under the program, and around $1 million in the second, to build technologies that the Pentagon can acquire.
These relatively paltry amounts of money held little sway in a venture capital market that reached record highs in volume and activity in 2019. But 2020 is looking different indeed.
A recent CNBC report found that more than 40 startups—most in the Bay Area, Boston, and Austin—that had collectively raised more than $14 billion cut nearly 3,800 jobs in March alone.
According to PitchBook, a Seattle-based research firm, corporate venture capital funds that injected more than $57 billion into startups in 2019 will likely pause dealmaking and subject investments to a great deal more scrutiny. Pitchbook also predicts that the volume of venture capital investments will decrease at least through the next few quarters.
This kind of cutback in venture capital directly threatens the alternative suppliers that were top of mind when Geurts issued his March 24 memo. And with private financiers hunkered down and private equity ready to scoop up startups that can't make it through the next two or three months, the Pentagon's success in filling the funding void could have impacts well beyond its five walls.