Who is your favorite James Bond? It matters more to some people than is reasonable — like, it's get-into-a-bar-fight serious for them. That may sound absurd, but there's a very definable reason for such allegiances. While the earliest Bond movies were trendsetters to be sure, the subsequent movies were a reflection of their time — a document of trends and anxieties in the United States and the world beyond.
In the older installments, Bond was always thwarting supervillains looking to hijack some weapon — often nuclear, sometimes biological — produced by one side of the Cold War or the other, or to disrupt the burgeoning space race. The clothes, gear, and gadgets were constantly updated, but a variation on that setup worked from the 1960s into the 1980s. Whereas the titular villain of Goldfinger wanted to irradiate the US gold reserve at Fort Knox in 1964 to corner the market, by 1985's A View to a Kill, Bond was thwarting a similar scheme to destroy Silicon Valley via an artificially created earthquake so Max Zorin (Christopher Walken) could dominate the microchip market. Before the decade was over, Bond was doing his part for queen and country in the war on drugs and going up against passenger jet terrorists.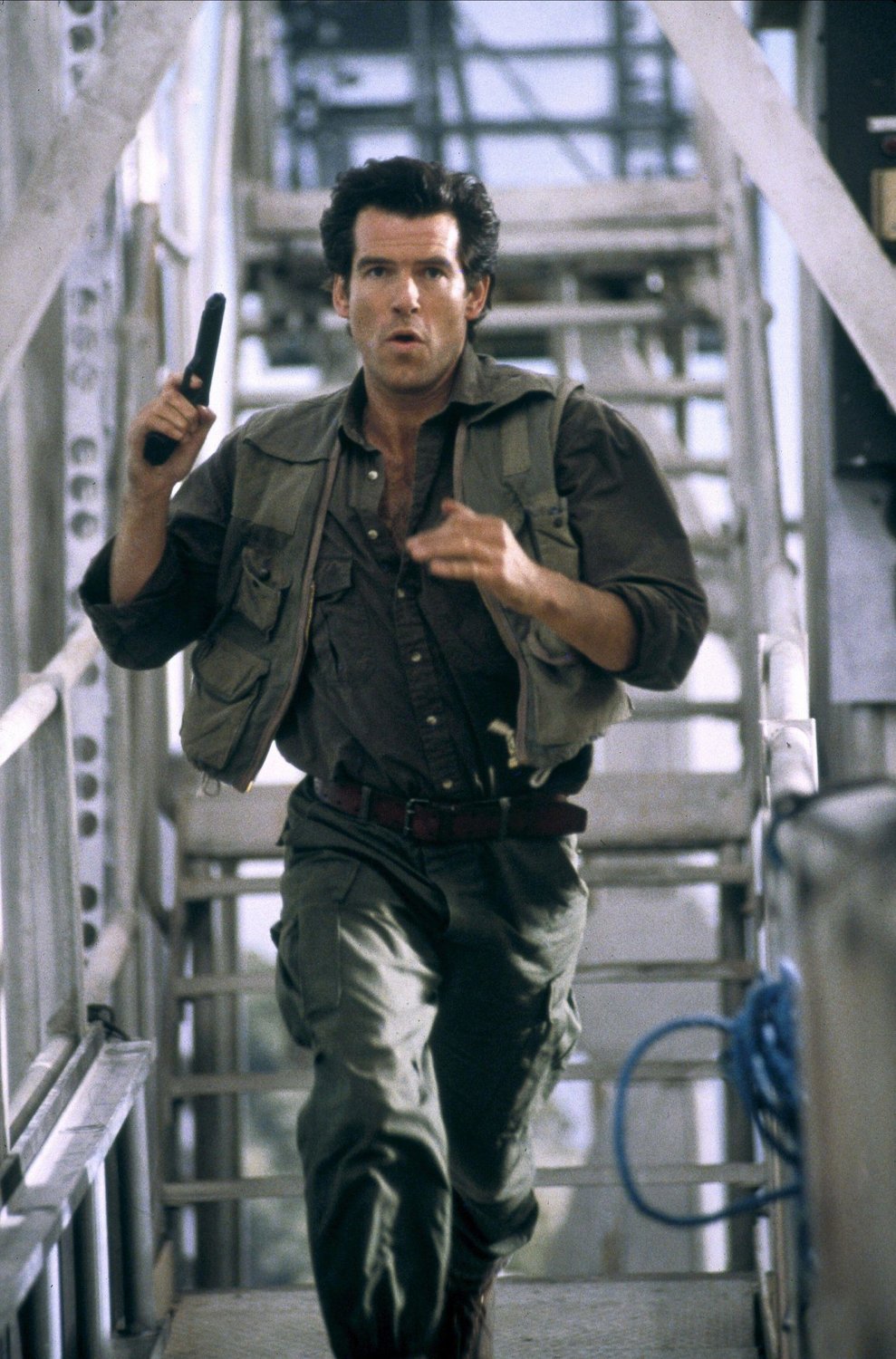 When it comes down to it, what people argue about isn't really who was the best Bond. It's more about who was your Bond. For many people currently hovering around the age of 40, it's most certainly Pierce Brosnan's version of Agent 007 that strikes the deepest chord. When he assumed the mantle, it was a watershed moment for the long-lived character and the film series, which now spans an astonishing 25 movies (26 if you count Sean Connery's non-canonical Never Say Never Again entry from 1983). His Bond also figures in the greatest first-person-shooter console video game of all time: GoldenEye for the N64 (a remake of which may soon be inbound).
When Pierce Brosnan came along, we were well into the 1990s. Bond desperately needed some updating if he was going to make a return to cinema, and it had to be done better than the half-assed revamp attempted when Timothy Dalton took over the role for two forgettable installments in the late 1980s that today feel as if they were cobbled together from a few rejected Miami Vice scripts.
The Cold War was over, and Bond had been born of that espionage-heavy conflict. It was the primary reason for the fictional MI6 to exist in the early films, to stop maniac villains from using the conflict to their advantage and pushing the world into World War III for personal gain. The great backdrop villain of the Soviet Union was gone, and thanks largely to legal disputes, Bond hadn't been on the big screen for six years, the longest gap between films in the series since Dr. No was released in 1962.
When it comes down to it, what people argue about isn't really who was the best Bond. It's more about who was your Bond.
The filmmakers played it just right. They hired the right guy to step into Bond's tux, and instead of pretending it was business as usual, they embraced change.
By 1995, the near-scumbag levels of Bond chauvinism didn't play. Hell, one could argue it didn't play in the '80s, and nobody could get that tone right like Connery anyway. Brosnan's Bond was a bit more self-aware and less overtly sexist, though his fairly innocent tongue-in-cheek jabs and sexual romps wouldn't get positive responses by today's standards either.
The big deal was that Bond's boss was now a woman, with Dame Judi Dench stepping into the role of M, and she wasn't a big fan of 007. She calls him a dinosaur, "a relic of the Cold War," and there's literally a firefight that takes place in a field of decommissioned Soviet statues. Instead of Britain's go-to guy who could do no wrong, he became the underdog who defies orders and relies on his own intuition and old-school spy know-how when things take an unexpected turn to pull out the win in the end, always one fuck-up away from being disavowed.
This was a modern version of a character that debuted in the United States the year JFK was assassinated and human beings had yet to reach the moon. He was high-tech, old enough to be believably experienced, young enough to not make audiences feel weird every time he kissed a woman on screen (looking at you, Connery, in Never Say Never Again).
But, perhaps most importantly, remnants and beloved tropes of Bond films past were wisely kept intact for GoldenEye as service to longtime fans, but also because things like the gun-barrel opening and the Bond music are even more important than the guy playing Bond. Why 007 is still in his 30s and Q is nearly fossilized doesn't make any sense, but the series was never big on continuity, and fans were happy to see Desmond Llewelyn in the role again.
Instead of a sneaky womanizing spy who falls ass backward into most of his successes despite the fact that he's the only spy in history to use his real fucking name, Brosnan's Bond was closer to a suave action hero, who still came out smelling like a rose despite his level of recklessness.
He wasn't as soft as Roger Moore but just a little smoother and obviously more British than the Scottish Connery — from his first quippy line, Brosnan just felt like Bond. It must have been all that practice he got on TV as Remington Steele. He drives the old Aston Martin and carries a PPK in GoldenEye, but this Bond soon trades the '60s wheels for a stylish and deadly little BMW, and by the second of his four appearances as Bond, he's carrying what was then the brand-new Walther P99 under his tuxedo jacket. This Bond wasn't afraid to change.
Brosnan was everything Bond should be, without trying to emulate any of the Bonds before him. He seemed as natural holding a martini in a tux as he did wasting henchmen with an MP5 while dropping quippy '90s one-liners and saving the day with style.
"You don't need the gun."
"Well, that depends on your definition of safe sex."
And let's be honest, GoldenEye looked better than any Bond installment before it. In an ultra high-def world, the 1960s and 1970s Bond movies can have an almost TV quality to them and their special effects. The stunts are, well, bad, or at least wildly and painfully dated.
GoldenEye was polished and modern, full of top-notch stunts and visual effects. Brosnan was surrounded by an amazing cast of character actors and up-and-comers, and Bond had been refreshed for a new audience that wanted a little more depth and complexity to its super spies, but not too much.
The Brosnan Bonds were also the last purely fun Bond movies, though the last one he did is a little more painful than fun at times. We all should collectively forget the invisible car.
Yes, the Daniel-Craig-Jason-Bourne Bond who almost exclusively wears a scowl and is quite tortured most of the time is badass. He may have the most compelling and realistic motivations out of all the Bonds, but did he have a Rolex that shoots a laser? Or a ballpoint pen grenade? Or a dress belt with a high-tensile rappelling cable in it? I think not. He had a defibrillator in his glove compartment. Verisimilitude is not always why people go to the movies.
In the end, the Brosnan movies self-destructed by leaning way too hard into the cartoonish elements of Bond. The script became a series of groan-inducing one-liners, but Brosnan's first two Bond movies struck that perfect balance of action, spy shit, sex, and humor. The world was under threat, but the tone was light and playful, like Bond shooting someone through the heart with a little smirk on his face using that damn teacup two-handed grip. This was peak James Bond, and while everyone's favorite Bond is a reflection of the time in which they grew up, objectively, scientifically, without a doubt, Pierce Brosnan stands alone as the greatest James Bond of all time — because he was my James Bond
---
This article first appeared in the Spring 2022 print edition of Coffee or Die Magazine as "Brosnan's Bond Defined the '90s."
Read Next: