This article was originally published Aug. 9, 2020, on We Are The Mighty.
By Shannon Corbeil
From Military Police to Medical Corpsmen, Gina Elise's 2020 Pin-Ups are continued proof that military veterans aren't just men with high-and-tight haircuts.
Pin-Ups for Vets is a non-profit organization that supports hospitalized and deployed veterans and military families. Founded by Gina Elise, who describes herself (accurately) as a very patriotic citizen, the organization is comprised of volunteers — many of them veterans — who visit service members at their bedside in VA and military hospitals; attend military events; and help raise funds for hospital equipment, gold star families, and deployed vets.
They embody service after service — and they're changing the perspective about women in the military.
Erikka Davis, U.S. Army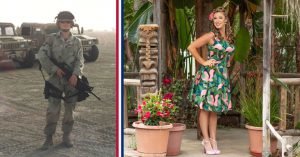 Erikka Davis enlisted when she was 17 and quickly deployed to Iraq as Military Police attached to the 4th Infantry Division, where she helped conduct raids, provide convoy escorts, house inmates, and support local law and order. She survived an IED attack against her three vehicle convoy, hired and retrained local Iraqi Police, and held a leadership position in the early stages of the Iraqi conflict — not an easy position for anyone.
"As a female MP, it is difficult to be respected, so hardening my personality seemed to be an effective way to keep up with my fellow male soldiers. This has been a difficult switch to turn off. Pin-Ups for Vets is slowly reminding me that I am not only allowed to be a veteran, but a lady as well."
Davis is not the first veteran to describe this mentality — that somehow women are expected to suppress a part of themselves in order to earn the respect of male peers. Pin-Ups for Vets allows female veterans to reclaim that part of themselves within a community — and as a bonus, they get to continue to give back to the community at large.
"If I can do anything to aid in the boosting of morale for our veterans and active duty members, I would gladly partake."
Jessica Bowling, U.S. Army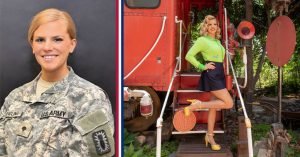 Jessica Bowling supported EOD (Explosive Ordnance Disposal) Operations in the United States Army for eight years, during which she deployed to Afghanistan in support of 10th Mountain Division. Her company was formally recognized for its live-saving efforts by General David Petraeus, the four-star general who served as Commander of U.S. and ISAF forces in Afghanistan.
"We had a code in the Army: 'leave no one behind.' I love that Pin-Ups for Vets is taking care of vets and is doing so much to honor and celebrate women veterans. My passion is women veterans and ending homelessness in our veteran community," proclaimed Bowling.
She's in the right place; Pin-Ups for Vets has supported homeless female veterans with makeovers and gifts of clothing to help them get back on the right track.
Erika Velasquez, U.S. Coast Guard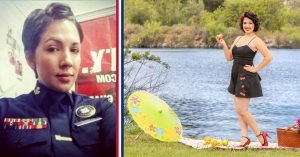 Erika Velasquez served for 15 years as a Medical Corpsman in the U.S. Coast Guard, assisting in search and rescue operations. Medical Corpsmen have fought with their brothers and sisters in "every clime and place" since their creation — it's a competitive and critical career field.
When asked why she wanted to volunteer with Pin-Ups for Vets, Velasquez said, "I always want to acknowledge and remind the community at large of the sacrifices of our veteran community. I am thankful to each individual who has served and contributed to better the world through their service to others."
Gina Elise, Founder of Pin-Ups for Vets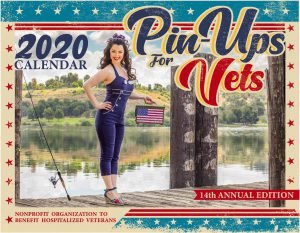 Elise has been creating her iconic calendar for 14 years now. "The calendar images are starting a conversation about women in the military. People see the images, and they want to know the stories behind the ladies. They ask, 'Who is she?' 'Where did she serve?' 'What did she do in the military?' The stories of our lady veterans need to be told. The ladies tell me that people often assume that they are not veterans because of their gender. One of our ambassadors, Jovane Marie, who is a Marine Veteran, has summed it up: 'There is nothing that says I can't be a hard-charging Marine and a lipstick-wearing pin-up — so I choose to be both.' These ladies are changing the narrative of what it means to be a veteran. They are breaking the stereotype."
Finding a community after service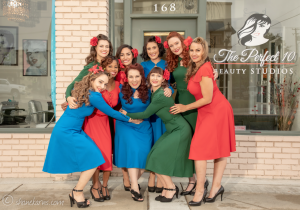 Elise produces the calendar herself, but she has gathered together an incredible team. Ana Vergara styles the retro hair and make-up for each of the models, including Elise. Voodoo Vixen provides the dresses and vintage-inspired fashion for the shoots. Shane Karns photographs the entire calendar.
Her team has allowed the organization to donate over $60,000 to help VA hospitals purchase new therapy equipment and provide financial assistance for veterans' healthcare programs. Her volunteers have visited over 13,000 veterans at 68 hospitals across the country. The organization has also provided makeovers for veterans, military spouses, and gold star wives.
There are good days and bad days when it comes to hospitalization or mourning a fallen hero. When Gina Elise and her pin-up volunteers are around, it usually means it's going to be a good day.
You can support the organization by pre-ordering your 2020 calendar — or donating one to a hospitalized or deployed service member!