pipe hitter (noun) a term used in the US military community to describe special operations personnel in the US military, such as the Delta Force, SEALS, the 75th Ranger Regiment, and Special Forces. Pipe hitters are units of some of the most highly respected, well-trained, and qualified operators. When you depend upon someone to have your back, you call a pipe hitter. — paraphrased from Urbandictionary.com
Prior to 2018, few had heard of US Navy SEAL Eddie Gallagher, a guy who served nearly 20 years in the military without incident. That all changed when he rocketed to public attention due to accusations of war crimes. Among other things, Gallagher was charged with stabbing and killing an ISIS fighter during his final deployment to Iraq in 2017. He was arrested and confined at the Naval Consolidated Brig in Miramar in San Diego, California, awaiting his court-martial trial.
While he was detained, friends and family members alleged Gallagher was denied certain basic rights. In March 2019, President Donald Trump intervened and demanded Gallagher be moved to less restrictive confinement as he prepared for his day in court.
Several months later, after a 10-day trial, he was acquitted of all but one charge by the seven-member jury. The guilty charge stemmed from a photo showing a dead enemy combatant, surrounded by Gallagher and other American service members; it carried a maximum sentence of four months in the brig. Since he had already spent 201 days in confinement, Gallagher was credited for time served and released.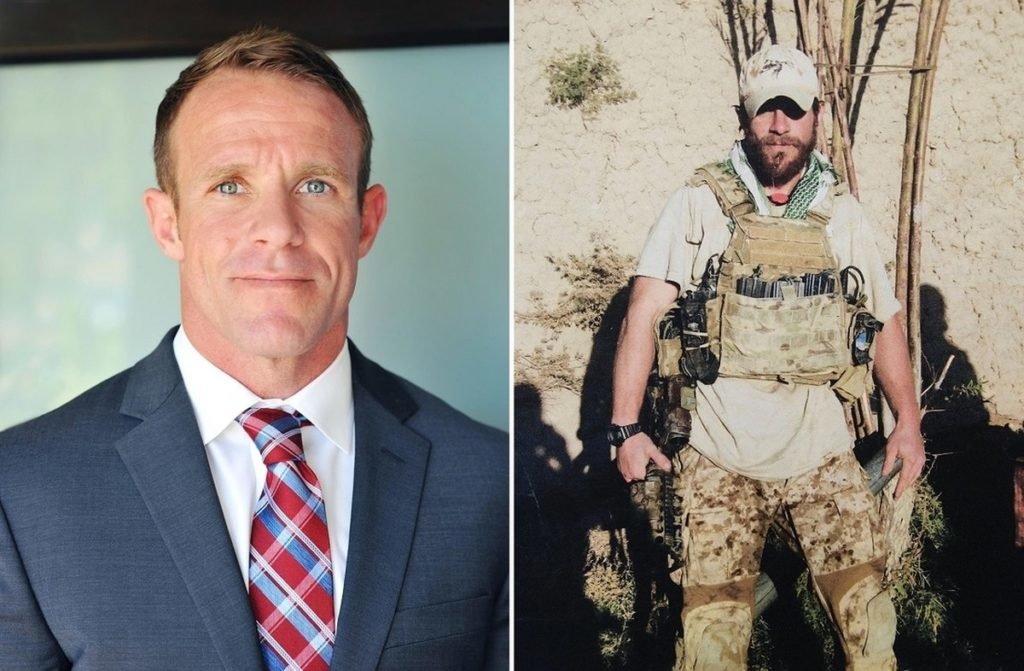 On July 3, 2019, Trump tweeted a congratulatory message to Gallagher: "Congratulations to Navy Seal Eddie Gallagher, his wonderful wife Andrea, and his entire family. You have been through much together. Glad I could help!" Shortly thereafter, Trump rescinded medals that had been awarded to the Navy's prosecution team in the case, restored Gallagher's previous rank of chief petty officer, and halted efforts to strip the SEAL of his Special Warfare Trident medal. The president's order to Navy leaders was short and brusque: "Get back to business!"
Instead of retreating from the public eye, Gallagher and his wife, Andrea, did quite the opposite. After a year of planning, they founded the Pipe Hitter Foundation, a 501(c)(3) nonprofit organization, in June 2020. "Service members and first responders put their lives on the line to protect us. Too often, they find themselves in legal crosshairs simply for doing their jobs. The Pipe Hitter Foundation is dedicated to supporting these brave men and women, helping them find justice, and reforming a system that [frequently] second guesses our heroes," its website states.
"During our family's ordeal, we were exposed to high-level corruption in the military justice system," Gallagher told Coffee or Die Magazine. "This experience gave us an eye-opening look behind a curtain we never knew existed. […] After I was acquitted of all major charges by a jury of my peers, and before I even exited the military, Andrea and I vowed we would use this experience to help others. We have refused to play the victim […] or allow this to define us in a negative way."
"Most people take tragedies and shut the door," Dena Cruden, PHF executive director, said. "But here are two individuals who said, 'Let's do something good with what we learned.' Both Eddie and Andrea want to make sure what happened to them never happens [again]. If it had not been for Andrea and [Eddie's] brother Sean — who put up the fight, who made the calls, who did the digging, who got the support — they really were the ones who made this story come to light and help people understand the injustices that were going on behind it. Not everyone has an Andrea or Sean in their corner, so we want to be that advocate."
In the short time since the official launch of PHF, the organization has already managed to help several service members and a first responder. These success stories have been proudly shared via social media platforms, especially Instagram. PHF provides assistance to its clients in several ways. The first is emergency financial relief, intended to help the recipient deal with day-to-day needs like housing, groceries, and child care while fighting a legal battle. However, some clients simply need guidance in navigating the complex system of researching benefits for which they qualify or answering legal questions. PHF follows a formal grant request process, initiated by completing a form on its website. That form kicks off a thorough review by the organization's board members, an impressive cadre of diverse individuals from the legal profession, military, and law enforcement.
Putting together a brand-new nonprofit in the middle of a global pandemic was no small feat. Cruden and her team encountered many obstacles — perhaps the largest being the prohibition on live, in-person fundraising events. However, due to the broad media exposure Gallagher's ordeal received, PHF overcame the challenges. While funding has thus far primarily come from private individuals, Cruden shared that PHF was also the recipient of a sizable grant from the Charlie Daniels Journey Home Project. With the COVID-19 restrictions seemingly and slowly eroding, Cruden said she's looking forward to 2021 and putting even more financial momentum behind the organization.
The Gallagher family learned the hard way that the justice system is far from perfect — that, through no fault of their own, service members and first responders can be unfairly targeted. However, they also learned the vital role external resources can play in the process of navigating these murky waters. True to the military community's definition of a "pipe hitter," PHF aims to be that someone you want with you during tough situations, that someone who has your back and is willing to sacrifice what's necessary to complete a difficult mission.