The Marine veteran who thwarted an Oct. 20 stickup in Arizona says he's "pogue as fuck" and not some sort of "freakin' Ricky Recon" hero.
"I'm a goddamn air winger, so, it's like I'm not Steven Seagal here," James M. Kilcer, 32, told Coffee or Die Magazine. "I might be fat, but that's about it."
Although TV networks and social media continue to replay surveillance footage of him in a life-or-death struggle with an armed suspect inside a Yuma convenience store, Kilcer says he's just an average married dude who did the right thing at the right time.
"Shit needed to be done," Kilcer said. "I kind of saw what was coming my way and just, you know, I wasn't gonna sit around and cry about it. And I just waited until he took that one extra step and — boom! — fucking hit him and just instinct kicked in."
It all started around 4:30 a.m. on Wednesday, Oct. 20, when the former military tactical air operations and air defense systems technician stopped at the E. North Frontage Road Chevron gas station on his way to work at the US Army Yuma Proving Ground.
Three suspects entered the convenience store, at least one of them armed with a handgun, according to the Yuma County Sheriff's Office.
Kilcer told Coffee or Die that he'd turned to see who ripped the door open and spotted a pistol in the hand of a hooded 14-year-old boy. He remembers thinking, Take one more step, motherfucker. Here it comes.
Video surveillance footage shows Kilcer pouncing on the kid's pistol, slapping it away from himself and the cashier and toward the coolers lining the back of the store.
Kilcer then followed with his right hand — which was still holding a grocery sack full of Gatorade and Monster Energy drinks.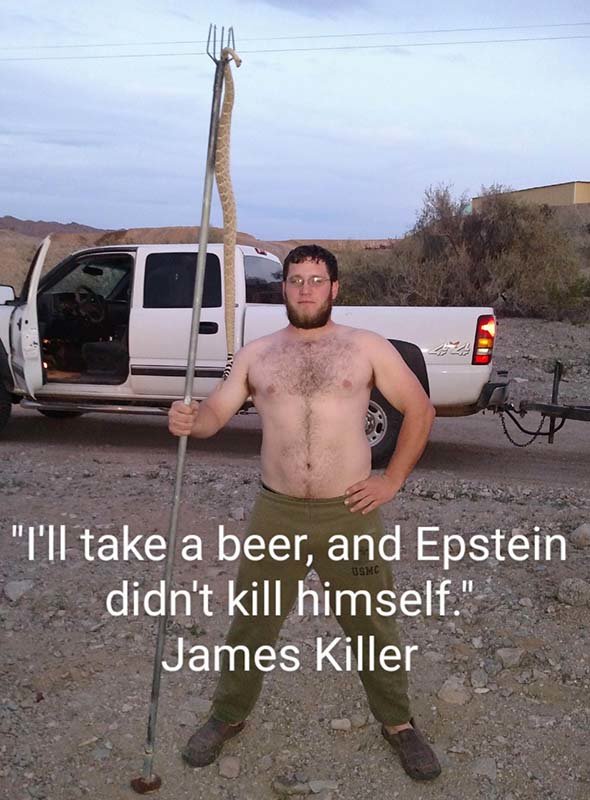 "I actually tried to grab his head and neck, like I was going to take control of the gun — which I got — and try to take control of the head," Kilcer said. "But I didn't even realize at that point, like I had no recollection, that my keys were in my hand, that my bag was attached to me somehow."
Kilcer thinks he might've broken the youngster's nose when the sack socked his face.
What the security video doesn't capture is the struggle in the back of the store for control of the pistol.
Kilcer recalls trying to maintain control of the kid's arm and bend it toward him. They both had their hands on the pistol, but Kilcer said he finally got his finger on the trigger. The Marine veteran tried to fire the weapon four times but it never went off.
"It was really surreal," Kilcer said. "Like, I counted in my head. As all this was happening at frickin' lightspeed I was counting trigger pulls, and I realized I was pulling a trigger, making attempts to pull the trigger, but everything was just jammed up."
Kilcer eventually wrested the weapon from the kid. He "held the gun to his temple" like a hostage, in case the youngster's buddies jumped into the melee.
"By the time I had the gun to his head, he turned into a wet dishrag," Kilcer said. "He probably needed to change his drawers. Yeah, there was no fight from him after that point and I kind of backed off, obviously, once I realized there was no more threat and I kind of cooled the jets a little bit."
Kilcer didn't realize the suspect's buddies fled when the fight broke out. Arizona authorities say they're still at large.
As the fight drained away from the pinned suspect, Kilcer remembers telling gas station employees to call the cops, lock the front door, and urge the customers out front to leave.
"This guy's awfully small, so I asked, I go, How fucking old are you? And he goes, I'm only 14. And he's bleeding all over the floor. And so I told him, You're going to fucking prison for this. And then I turn around, throw the gun off to the side to me," Kilcer said.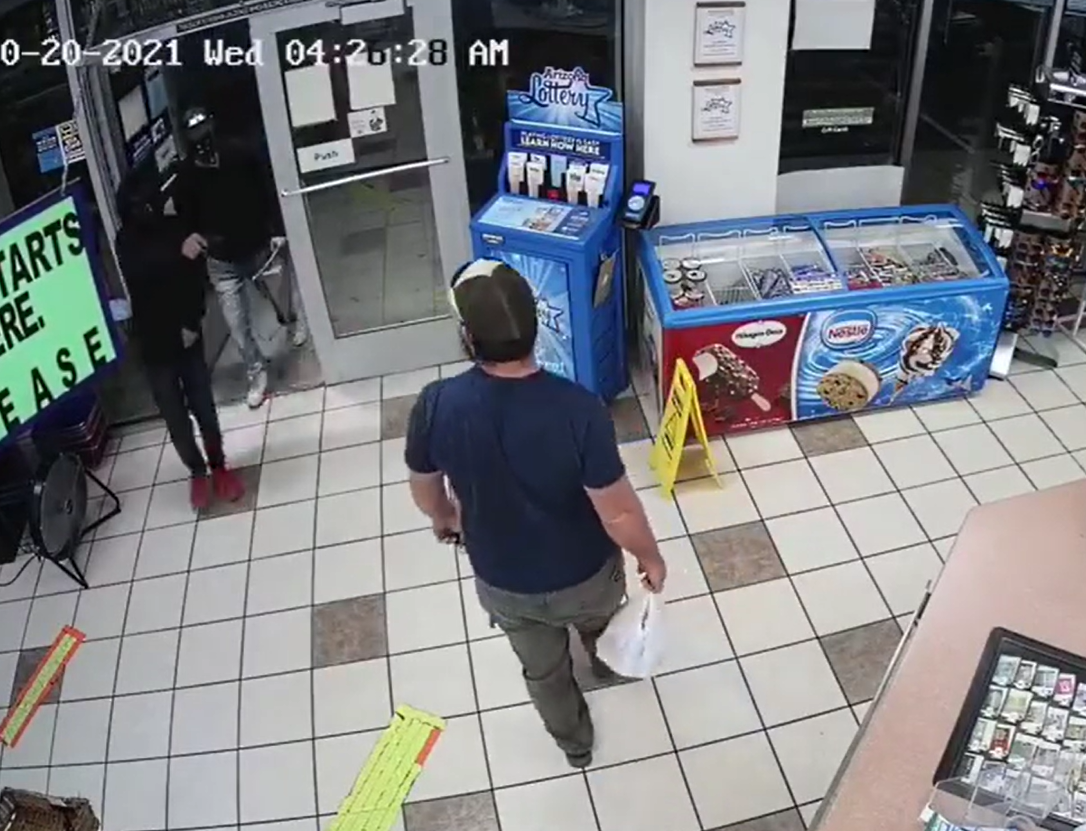 Because the pistol never fired, Kilcer wondered if it was a toy gun. So he exerted pressure on the slide until it finally racked back, ejecting a round.
"I felt the round hit my hand and I'm like, Oh shit. So I locked the slide back and I look in my palm and it was a .22 in my palm," Kilcer said.
He figures the pistol jammed when the kid tried to pull the trigger just as Kilcer grabbed the slide.
He'd begun to feel sorry for the kid, until he realized he was toting a loaded firearm. He wonders if the kid participated in his church's hot rod program. Kilcer volunteers for that.
Kilcer remembers dropping the magazine out of the pistol and throwing it and the firearm away from him. Deputies arrived, retrieved the weapon, and arrested the youngster.
"The suspect detained during the incident was a juvenile and was booked into the Yuma County Juvenile Justice Center for one count of armed robbery and one count of aggravated assault," said Yuma County Sheriff's Office spokesperson Tania Pavlak in a news release.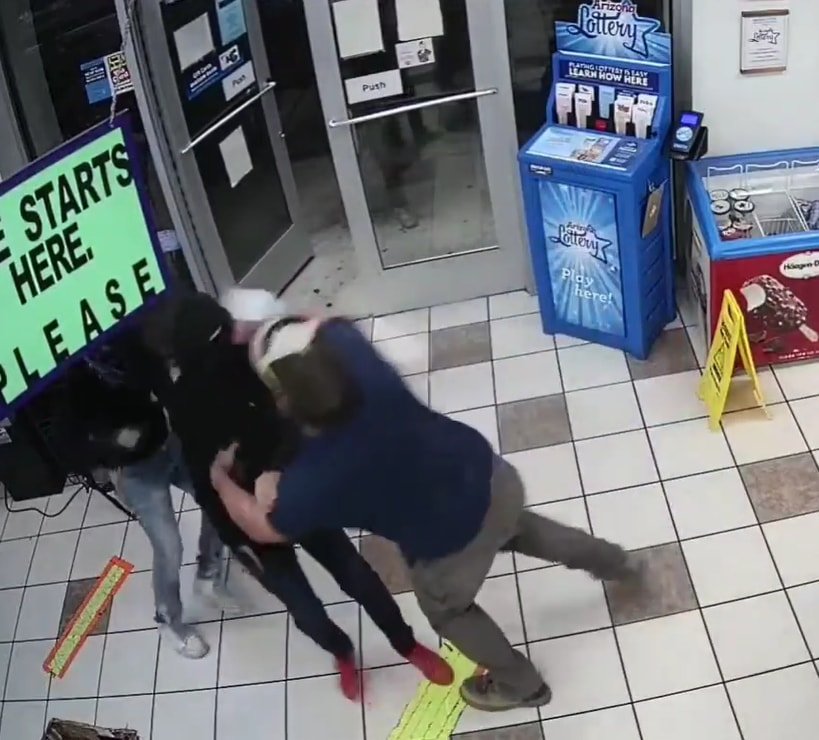 For his quick reaction to the armed suspect, Kilcer credits growing up in a small town in rural New York that had a lot of people around who didn't "fuck around."
"I am constantly in a mind-set of, if I have to I will," Kilcer said. "I take my personal safety and the safety of others seriously at all times."
Now that the media spotlight is on him, Kilcer wants everyone to know he thinks convicted billionaire sex offender Jeffrey Epstein didn't kill himself in his jail cell on Aug. 10, 2019, in New York's Metropolitan Correctional Center.
He kvetches that TV and radio stations keep editing that out after they interview him.
At the end of the day, Kilcer says he's just a normal Marine veteran. He enlisted to "straighten me out a little bit" and serve his country. He deployed once to Afghanistan but wasn't a ninja stacking Taliban bodies.
He loved the Marine Corps electromechanical field and does similar work in his civilian job, wiring Russian tanks, missile launchers, and other equipment the base's opposition forces use during war games.
"I mean, I'm a chubby motherfucker. I'm 245/250 and, you know, and I'm only 5′10″ or 5′11″," Kilcer said. "So, you know, I'm not nimble like a cat."
Kilcer told Coffee or Die he assumes everyone would've done what he did in the convenience store.
"But at the same time, I'd like to think that everyone takes their personal safety and the safety of others," he said. "People need to fucking take control of the damn country and frickin' defend themselves and others."
Read Next: