There is absolutely no logical reason Point Break (1991) should have become a classic. The plot is absurd. The dialogue is goofy. Almost every frame is over the top. Yet many, many people list it as a favorite movie of all time. Or at least one of their favorite action movies of all time. And for good reason. Point Break has all the makings of an utterly forgettable cinematic footnote, yet it's one of the greatest and most unique American action films ever made.
Point Break was a zeitgeist movie — an encapsulation of films and pop culture during that colorful transition from the 1980s to the 1990s — with the perfect director, cast, script, style, and timing. If you purposely attempted to make that magic happen again, the results would be horrendous. Do you doubt that? Try to watch the 2015 remake. Actually, no, don't put yourself through that. Just YouTube that one incredible wingsuit scene.
Part of the genius of Point Break, and why it's so rewatchable, is its structure. The plot revolves around a group of daredevils. Their primary activities are surfing, free solo rock climbing, and robbing banks. The idea of a semi-Zen gang of nonconformist surfers in Los Angeles taking repeated jabs at the system while dressing up like ex-presidents is a darkly attractive conceit that harks back to the American obsession with Dillinger and James. Yet these modern counterculture, anti-establishment criminals work so fast, so clean, that nobody ever gets hurt — until they do.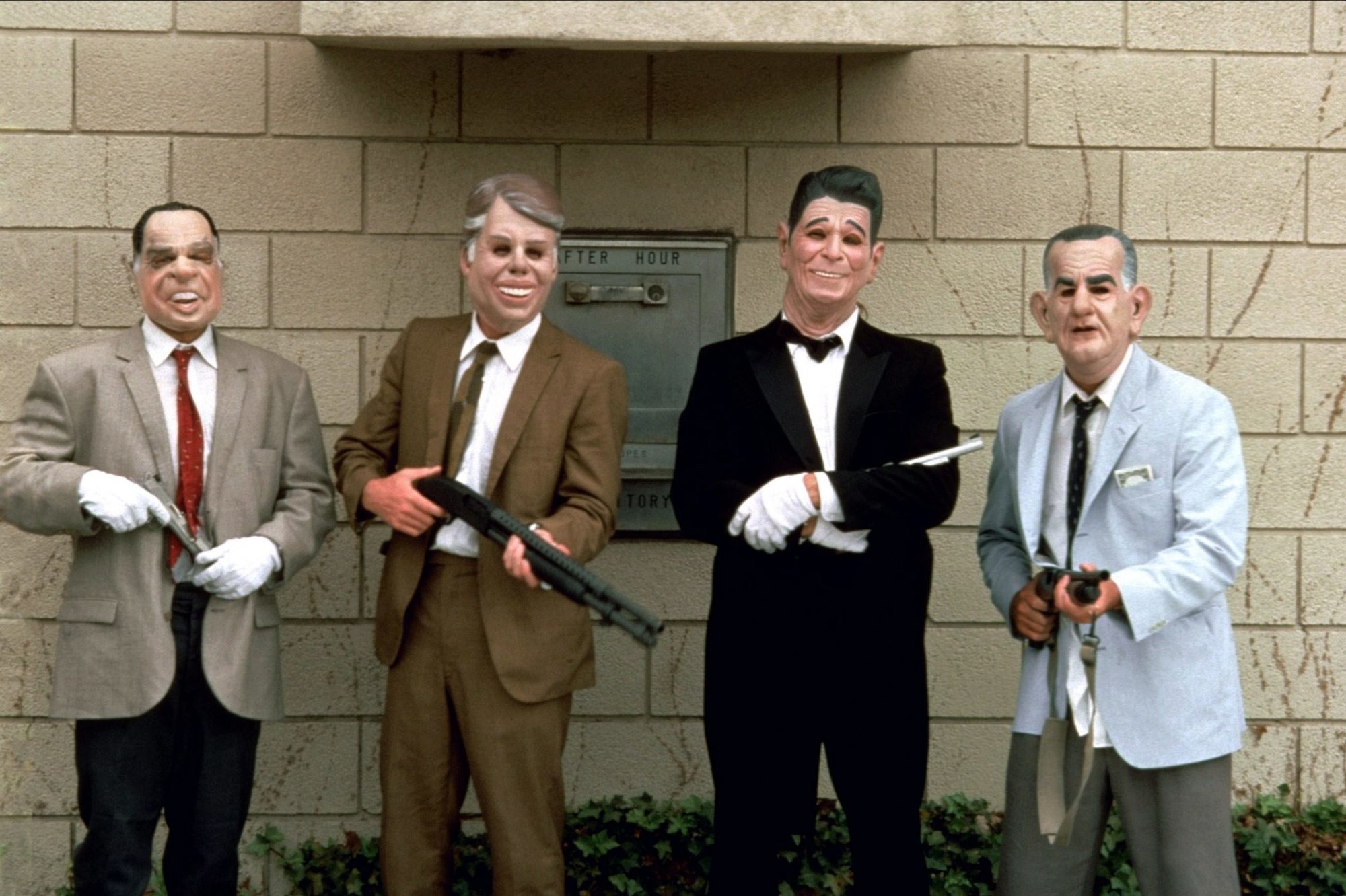 In Point Break these counterculture themes lurk in the background. You're not even certain who the bank robbers are until deep into the film, and you find out they go rock climbing and skydiving from a few photos we see in a panning shot and from what Tyler (the always awesome Lori Petty) explains in a brief exposition dump. You don't have to see it. This creates a distance that makes the gang more mysterious, and the turn in the third act when we find out for sure that Bodhi (Patrick Swayze) and his surfing buddies are indeed the bank robbers is therefore more believable.
The focus of the film is not on the criminals but on Johnny Utah — a name that sounds even more fake coming out of a young Keanu Reeves' peach-fuzzed face. That's another reason Point Break has aged so well: It's honest about how cheesy it is, about how much of a movie it is — from the character names to the setup to the action. This movie knows it's a movie and is winking at the viewer saying, "We know you know. Now enjoy this bit of pure action fantasy."
Nothing about Point Break depicts reality, nor is it meant to. It opens with Utah doing some Hogan's Alley-style combat training in the pouring rain wearing a T-shirt and jeans. A dude in a hat blows a whistle and points to him, and our soaking wet hero looks at the camera over his shoulder like he's so cool that he forgot he was even on a movie set. He puts a piece of gum in his mouth and chews.
Utah hops off his perch on a car trunk, racks his shotgun one-handed in semi-slow motion, and starts blasting wooden targets to pieces while rolling and diving his way through the course. All this is intercut with cinematic slo-mo shots of a silhouetted Bodhi surfing at sunset.
The dude in an FBI jacket scoring Utah's performance hits a stopwatch, writes something down, and yells, "One hundred percent, Utah!" Keanu flashes a movie-star smile with his perfectly wet hair draped across his forehead and gives him a thumbs-up. That is the tone of the entire movie. It's courting eye rolls that will turn into cheers, and it knows it.
'Back Off, Warchild. Seriously.'
Point Break has a solid core of a script, peppered with plenty of crime and cop movie tropes, like the pairing of a salty middle-aged guy with a hotshot rookie, and a boss who perennially has his head up his ass and yells a lot. Once the talented cast was in place, director Kathryn Bigelow produced a roller coaster of a popcorn movie. It's not a political statement about anything, and none of the actors lived like a 17th-century shit shoveler to get into character. Yes, there's some commentary about the evils of capitalism, but it's used merely as a way for the movie's criminals to justify robbing banks.
If any one element of Point Break were removed or tweaked, the film wouldn't have worked. If the strangely unjustified but somehow entirely natural bromance between Johnny and Bodhi had even a slightly different tone, it could have been dull and generic. And nobody could have pulled off the character of Bodhi without making you hate him, let alone root for him, like Patrick Swayze. The man could say anything, and it works. Perfect example: "Back off, Warchild. Seriously."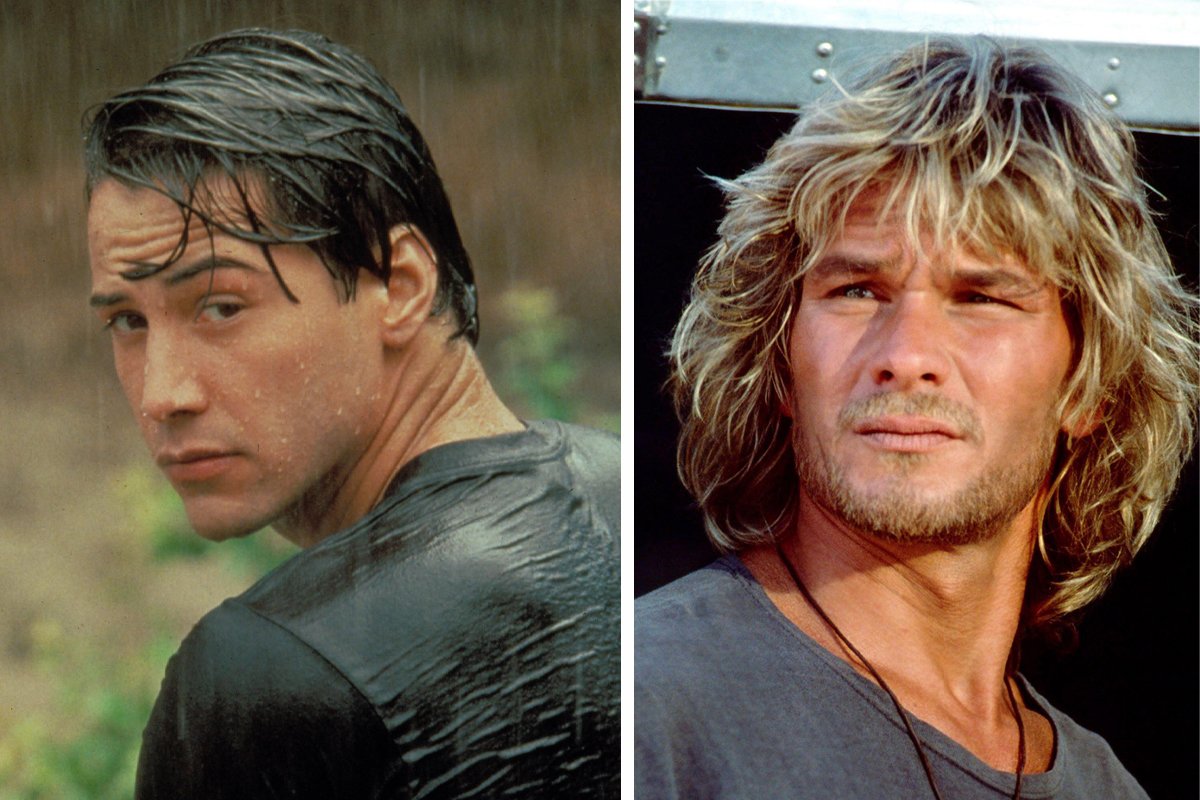 There's a rule in acting that says if you have to do or say something absurd, something that feels utterly ridiculous and untethered to reality, the only way to pull it off is to commit fully. Otherwise, nobody is going to buy it. The late and great Patrick Swayze did this with role after role. You can even imagine him on set coaching the young Keanu Reeves with his delivery: "No, kid. Say it like this: 'Caught my first tube today. Sir.'"
Then there is the classic burned-out, past his prime, self-abusive but honest cop played by an energetic and overweight 1990s Gary Busey. His Angelo Pappas and Utah have great chemistry that somehow hits differently than other police partner movie pairings of the era. Utah is a slightly overconfident blue-flame-special agent, but he's not some cocky little prick. Pappas is an over-the-hill has-been, but he's not a completely miserable old bastard. He has fun with it, and in turn, so do we. And his performance never fails to plant a seed that will grow into a deep meatball sub craving. "Utah! Get me two!"
A movie is generally considered a classic because it's endlessly rewatchable. A rewatchable film is like a catchy song. It has a good hook, and every time you see it, it's satisfying.
The pacing of Point Break is so excellent, and there are so many fun parts — the bank robberies, the house raid, the surfing scenes, the chases, John C. McGinley, the gas-pump flamethrower, the Tom Sizemore cameo, the skydiving scenes, that ending — that it's tough to get tired of watching it. It's a film that pops up on cable at 11 p.m. and cannot be resisted. There's no choice but to shrug and sigh, "Guess I'm staying up late tonight." For this reason, and many more, Point Break is eternal and the kind of outstanding pop-Hollywood action-adventure film we likely won't see again for a long time, if ever. It is as timeless as the waves, and knows it, and knows you know it. Vaya con Dios.
---
This article first appeared in the Winter 2022 edition of Coffee or Die's print magazine as "Point Break: The Perfect Action Fantasy."
Read Next: