If you've ever lived in Wisconsin, you know that a trip "Up Nort" brings with it a special kind of cold. Nothing exemplifies that better than this picture of Cameron Fire Department Chief Mitch Hansen simply doing his job — in the middle of the recent polar vortex.
On January 30, while battling a house fire, Hansen's beard turned into one giant icicle. Assistant Chief Dan "Bimbo" Gifford snapped a picture after the fire was out and everyone had been evacuated safely.
"You really don't even notice the cold until you start slowing down and mopping up," insisted Hansen.
"The sun hit him, and I could see every tiny hair on his head was frosty," Gifford told the Eau Claire Leader-Telegram. Hansen joked with Gifford, "Is my eyelid froze shut? Because I'm having trouble seeing out of my one eye." Once he had leaned forward to push up Hansen's eyebrow, Gifford captured the moment for posterity.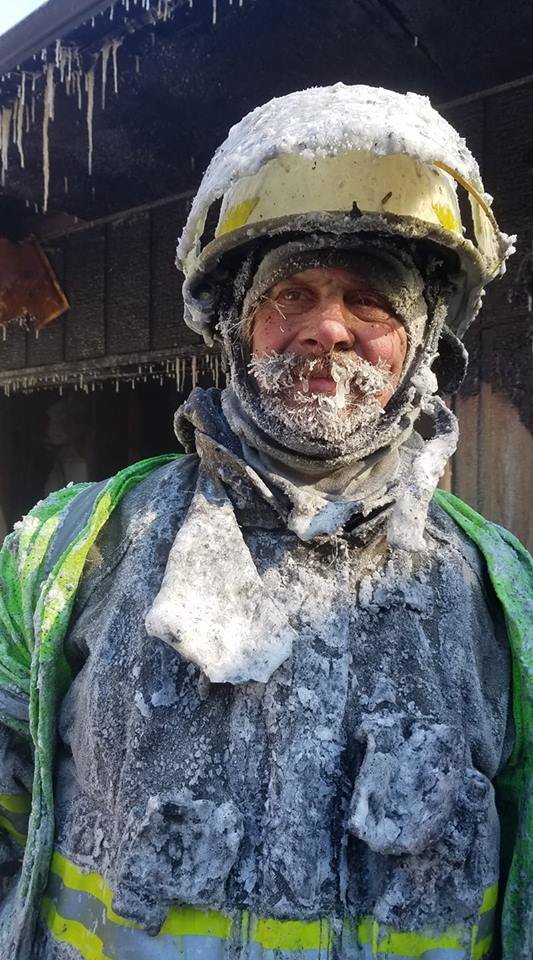 Gifford then posted the picture on his Facebook page, with the caption, "We had a house fire south of Cameron today. Our chief Mitch Hansen thought it was a splash park."
At the time, the entire upper Midwest was bowled over by a record-setting coldfront, bringing temperatures in Cameron, a small town north of Eau Claire, to minus 22 degrees Fahrenheit with a wind chill factor of 52 degrees below zero. But two days later, Hansen said, "we had another fire, and it had warmed up to 30 degrees, so we had an 80-degree swing from one fire to another!"
Hansen comes from a family of firefighters. "My dad had five boys, and four of us served on the fire department at the same time as my dad," he recalled, "and then my son, when he got out of the Marines. At one time, my family and Bimbo's family made up over half the department."
'You really don't even notice the cold until you start slowing down and mopping up,' insisted Hansen.
Early on in his 43-year career, he had his first experience with fighting fire in the frigid cold. "We had a barn fire in 20 degrees below," he said, "but the wind chill wasn't quite as bad." This particular fire was a different breed altogether.
The Cameron fire department is comprised entirely of paid volunteers, and, given the weather, Hansen is proud of how many of them arrived at the scene of the two-alarm fire.
"We had 24 firemen out of 30 show up. The guys realize and leave our jobs if we can," Hansen explained. "I like to give the guys credit. It's pretty cool when people show up in that kind of weather."
The Nelson family, who owned the home that went up in flames, have set up a fundraiser, and the firefighters hope that people who've gotten a smile from the viral photograph might also take a moment to help the Nelsons, a father and his two young children who lost everything.
The neighbors did, however, manage to save or locate all four of the Nelsons' cats. "One of the cats was back in the garage, singed up a little bit but OK," said Hansen. "As far as we know there were no casualties, no loss of life of any kind."
Credit for that goes to the volunteer firefighting force that did their job in some of the most extreme weather Wisconsin has ever seen.