Police are helping families across the US for the Christmas holiday through organizing donations, contributing to families both materially and emotionally, and doing their best to uphold the law to keep communities safe.
In a year ravaged by the pandemic, widespread civil unrest, and far-reaching wildfires, many families have been left financially hindered, if not crippled, by the various factors that prevailed throughout 2020. Police departments across the country have pre-existing events and have set up new events to assist families in need of food, gifts for Christmas, and other items.
Coffee or Die Magazine put together a list of some of the police departments helping people through the Christmas season. This doesn't cover every instance, but it provides a look into the positive impact the men and women of law enforcement are making in communities during a tremendously difficult year.
Officers from the Pittsburgh Police Department and some members of the community teamed up on Saturday to bring gifts to families in need, according to KDKA. The PPD officers and community volunteers loaded up and delivered gifts to those in need.
The number of families in need has dramatically increased from 2019 to 2020. Sgt. Tiffany Costa, a PPD community engagement officer, told KDKA, "Last year we helped about 200 families. This year we have 600 requests from inside the city limits."
Police in Winter Haven, Florida, teamed up with local organizations and businesses to bring Christmas gifts to 48 children from 14 families in need on Saturday, according to Spectrum Bay9 News. In an event the Winter Haven Police Department called Operation Reach Out Shopping 2020, they preselected children from local elementary schools, said WHPD. This has been an annual event for the last three years, although in past years, they would deliver the gifts to families in need.
Due to pandemic guidelines and restrictions, the officers and community volunteers had to set up a drive-thru for the families. Kids received presents and donations like bikes, toys, and food.
WHPD Chief Charles Bird told Spectrum Bay9 News, "It's really special to us this year to be able to get out there and provide Christmas for some families that need it so that they don't have to worry about making the decision of do I pay bills or do I give my kids Christmas?"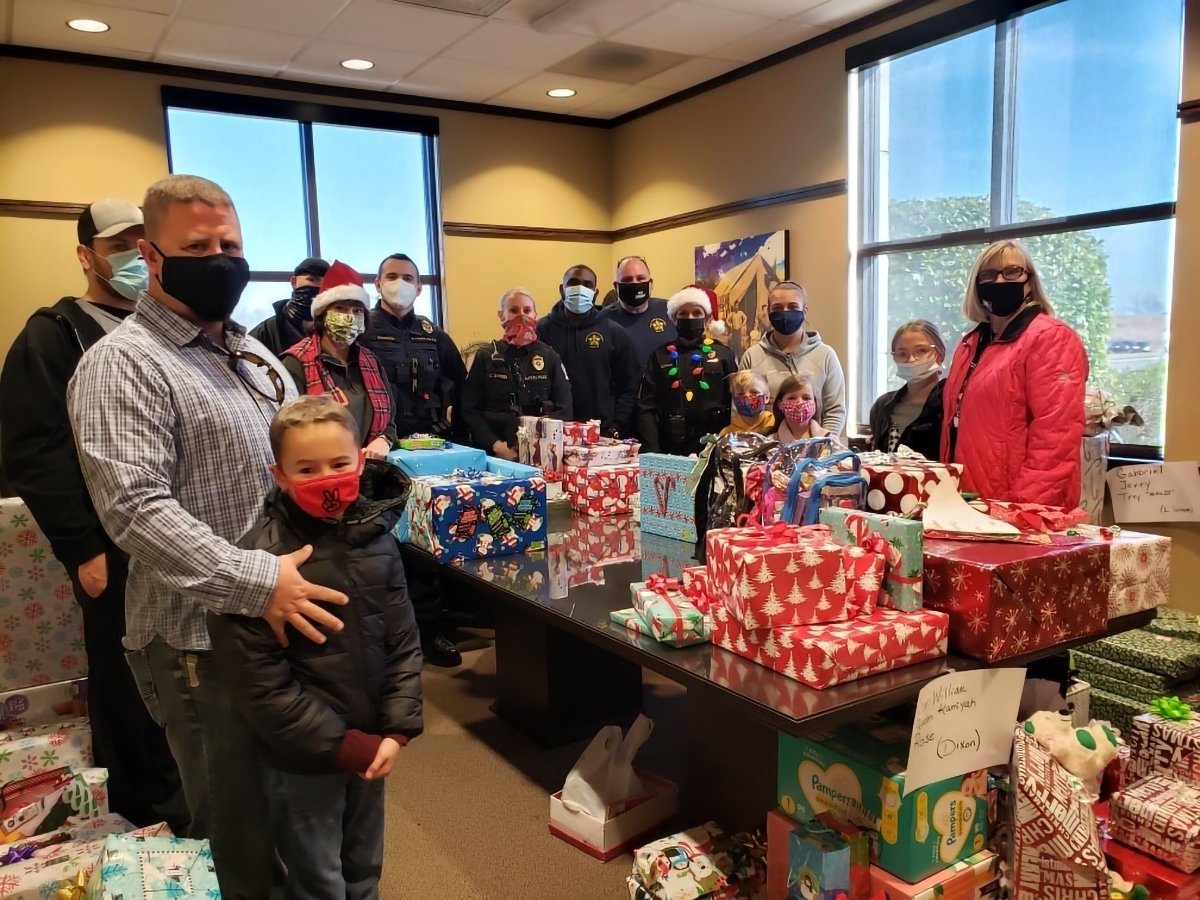 Officers from the Sapulpa Fraternal Order of Police in Sapulpa, Oklahoma, have been partaking in an annual event called Cops for Kids in some way for the past 30 years, according to the Sapulpa Times. This year on Saturday, the SFOP said in a Facebook post that they partnered with the Sapulpa Rotary Club and delivered gifts to several families. Sapulpa police officers were able to deliver gifts to 11 families, helping 25 different children experience a better Christmas, said the Sapulpa Times.
Cagney Owens is a parent of five foster children, including two who recently joined the Owens family. Not only does Owens recognize this opportunity as a way to improve Christmas for their children, but it's also a way to introduce police to their kids in a positive light. Owens told the Sapulpa Times, "We call them heroes. This is the first time that they've interacted with the police in a positive way. We want to make sure they know that the police are here to protect us."
Lt. Amy Nichols, a Sapulpa police officer, told the Sapulpa Times that what Owens said was a huge motivation for carrying out the Cops for Kids events. She said, "We want to make sure we're out there, that the community is seeing us, and that we're interacting with them in a positive way."